jun 24, 2011
OMA / AMO: prada men's SS 2012 runway
'field' for the men's spring/summer 2012 collection by OMA / AMO at the prada fondazione, milan © OMA; image by agostino osio
italian fashion house, prada's men's spring/summer 2012 collection presentation transpired within a runway framework designed by OMA/AMO. an ordered grid of 600 blue foam blocks arranged in a 1.5m by 1.5m grid permeated the prada fashion show space in milan. the blocks intended for audience seating also doubled as edges for the varied catwalk paths, inevitably integrating individuals into the show. models filtered between the seats in highly choreographed catwalk patterns, turning along the grid in divergent directions.
catwalks integrated into audience seating © OMA; image by agostino osio
the rhythmic rows of seating situated within the confines of the vast historic building creates an unexpectedly sculptural effect. artificial grass contrasts against the blue blocks, evoking imagery of an outdoor picnic. the building's rustic and monochromatic concrete walls amplify the saturation of the colorful installation. sixteen parabolic aluminized reflector light panels located around the perimeter of the grid provide lighting for the runway.
audience seating and camera platforms © OMA; image by agostino osio
perimeter and light panels © OMA; image by agostino osio
entrance © OMA; image by agostino osio
entrance to event space © OMA; image by agostino osio
runway meandering through the audience © OMA; image by agostino osio
finale image courtesy of prada
runway finale image courtesy of prada

video footage of the runway show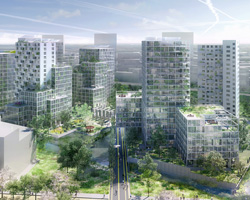 sep 12, 2017
sep 12, 2017
aug 31, 2017
aug 31, 2017
jul 10, 2017
jul 10, 2017