the collaboration OMA / knoll was unveiled at prada's autumn/winter menswear fashion show prior to the 2013 milan design weekimage courtesy prada
OMA has made its foray into furniture by collaborating with knoll on a collection of contemporary interfaces to support the ebb and flow of work and social life, adjusting to the needs of both. the first elements of this collection are a 11-piece series of furniture – which designboom caught a glimpse of at the prada F/W 2013 menswear fashion show in milan.
knoll and rem koolhaas have officially launched the collection during the 2013 milan design week.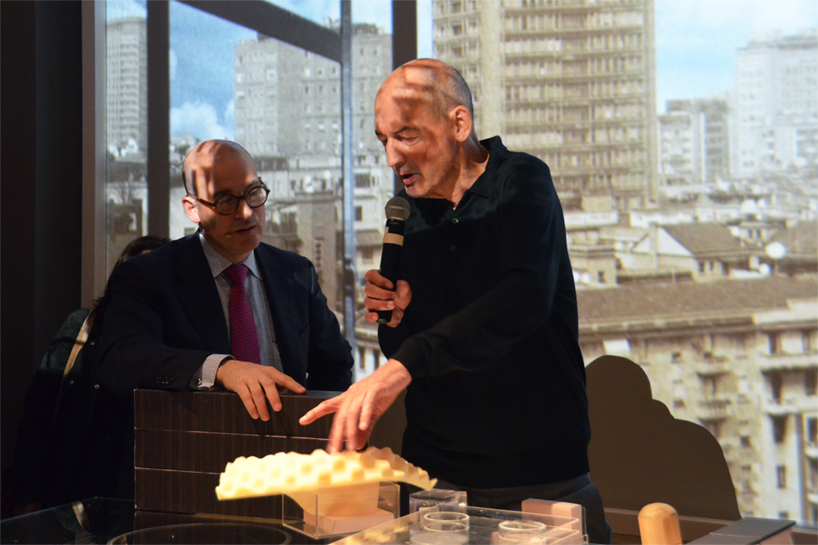 rem koolhaas and andrew cogan (knoll CEO) discussing the material choices of the furniture collectionimage©designboom
commenting on the endeavor, rem koolhaas said, 'we wanted to create a range of furniture that performs in very precise, but also in completely unpredictable ways, furniture that not only contributes to the interior but also to the animation.'
at the core of the collection is koolhaas's belief that furniture should be understood as a high-performance tool rather than a design statement.
'I want to talk about work and not the office — the distinction being that today people work everywhere,' added benjamin pardo, knoll design director. 'with that in mind, the OMA pieces are more kinetic than static: many are easily adjustable so that with changes in height, adjacency and degree of privacy, almost any space can be transformed to a place of work.'
the simple, no-nonsense palette makes the furniture compatible with a range of residential and workplace interiors. clear acrylic is juxtaposed with concrete; glass with leather; travertine with steel — beguiling and engaging contrasts that draw attention to individual pieces.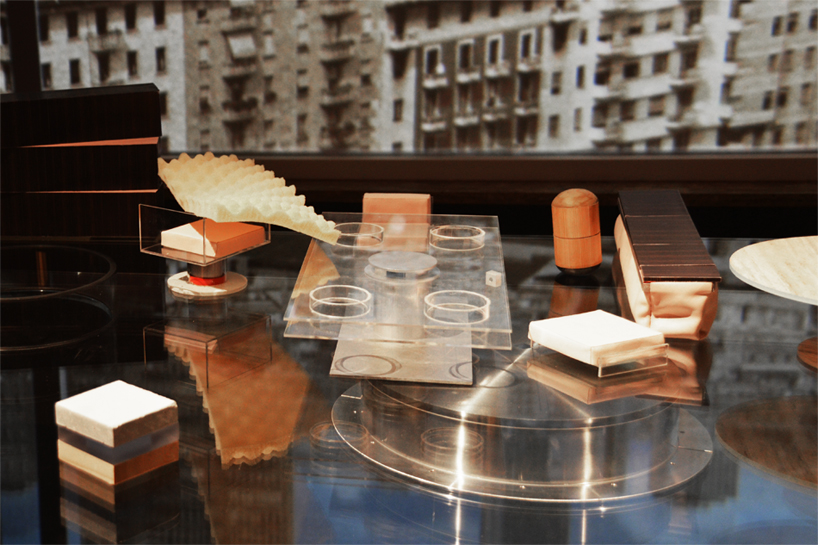 scale models of 'tools for life'image©designboom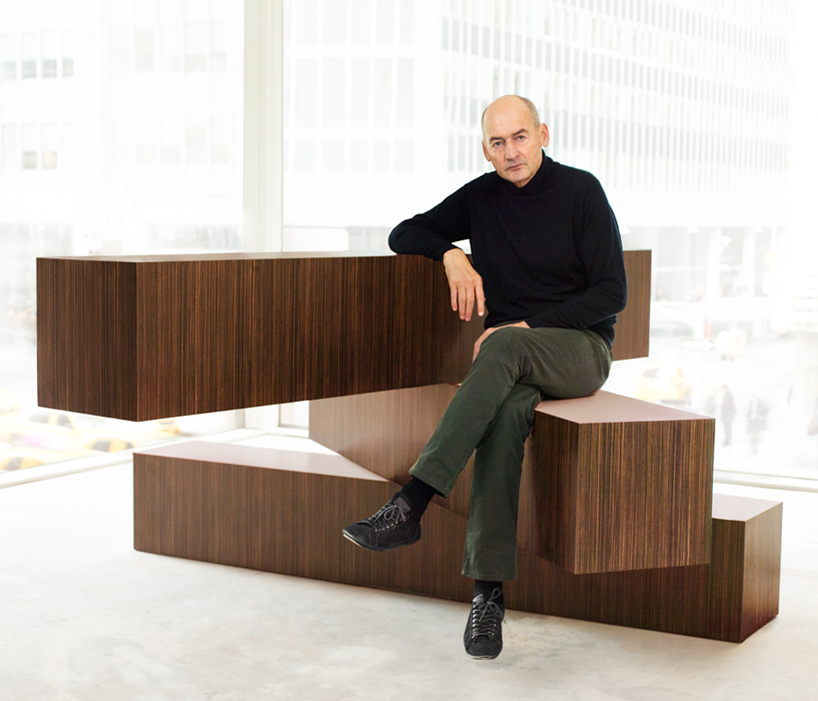 rem koolhaas with the '04 counter'image © ilan rubincourtesy of knoll, inc.
the colorful designs complemented the bright hues featured in prada's fall/winter fashion selection.
pink, blue and white foam swivel armchairs, geometric and vibrant, contrasted the stacked wood and translucent plexiglas coffee tables.the theme for the show was 'ideal home' – 'tools for life' each scene accompanied with mustard-muted domestic objects such as telephones and turntables made from wood or foam, fortifying the household feel. the dynamic backdrop for each setup invited the audience further into the manufactured home life with animated projections depicting windows looking out onto the city street, topped off with cats strolling across sills.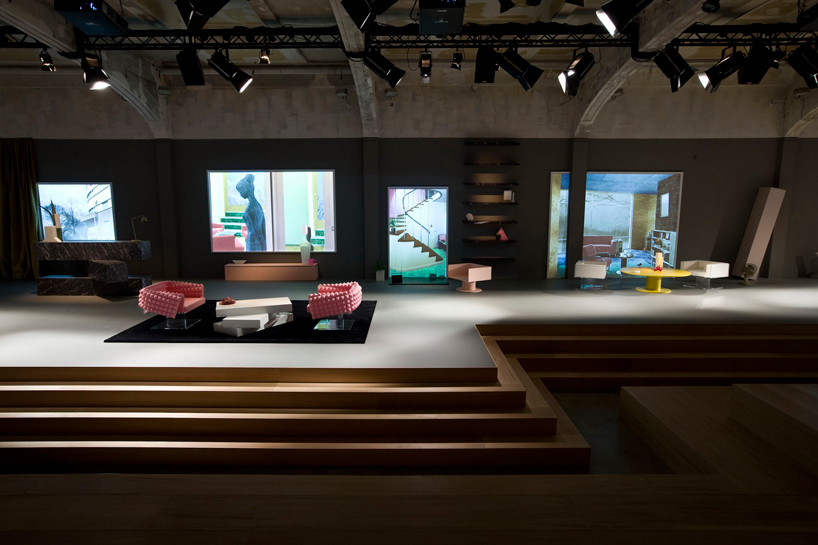 the catwalk settingimage courtesy prada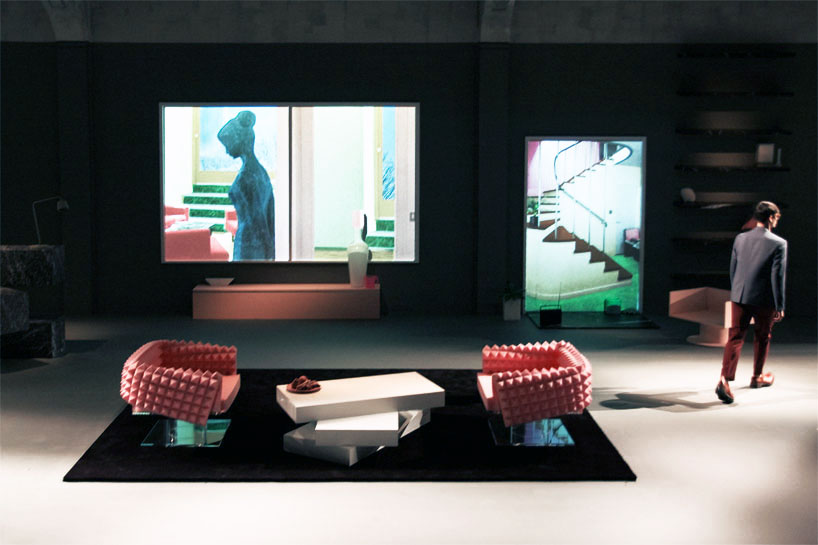 the theme for the show was 'ideal home' where OMA/knoll presented 'tools for living'image©designboom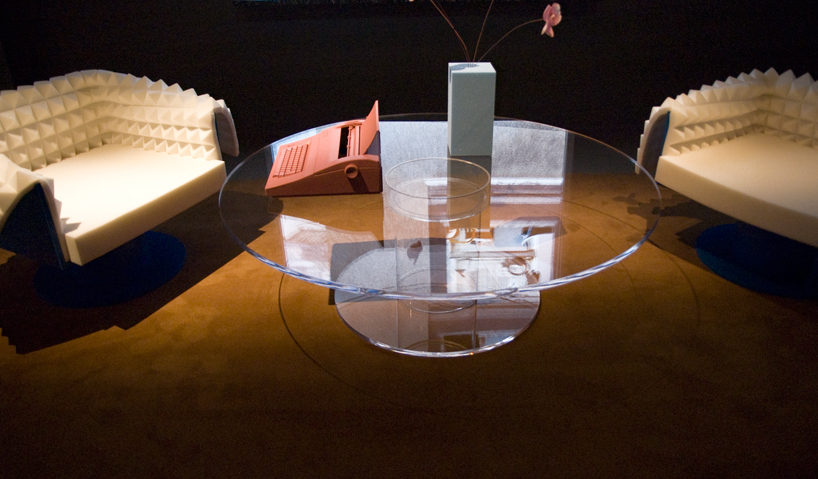 small domestic scenarios were arranged image©designboom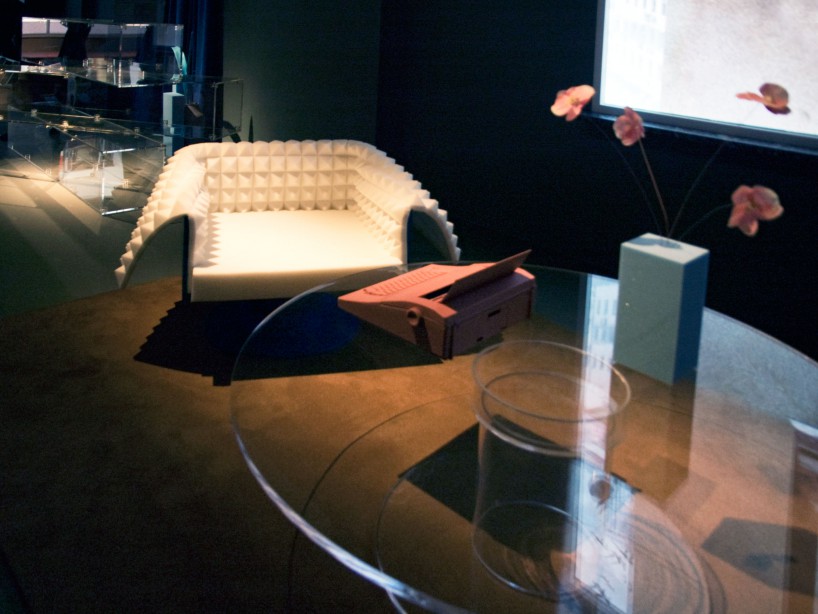 image©designboom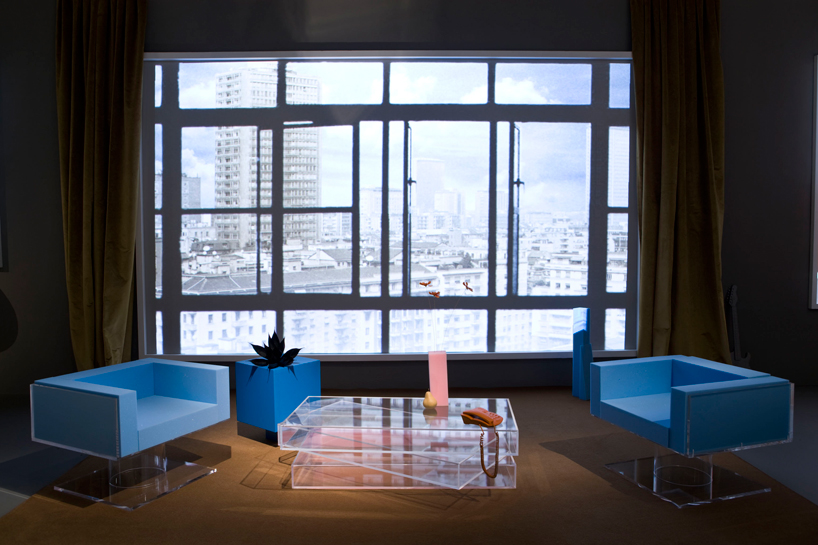 '03 coffee table'image courtesy prada
the '03 coffee table' is a stack of three transparent boxes constructed of clear acrylic. internal slides allow the individual elements to be rotated and cantilevered, giving users the ability to adjust its overall shape depending on changing needs.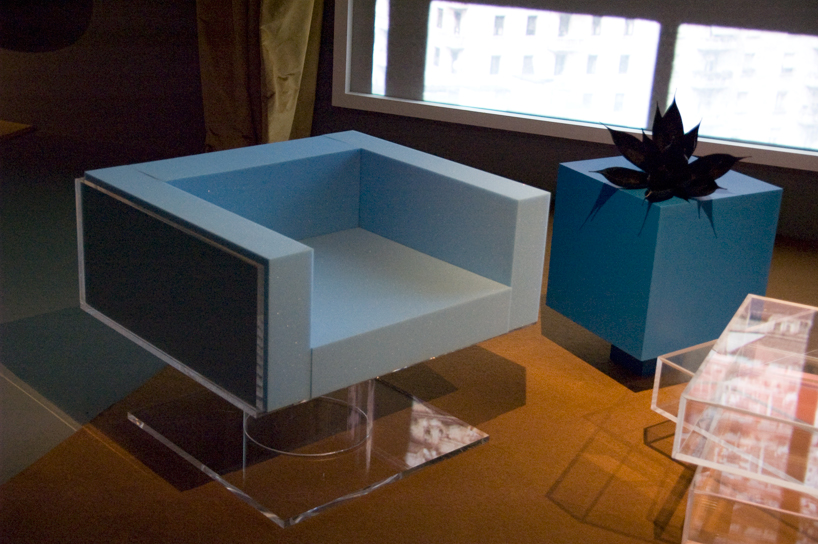 the collection features distinctive geometric formsimage©designboom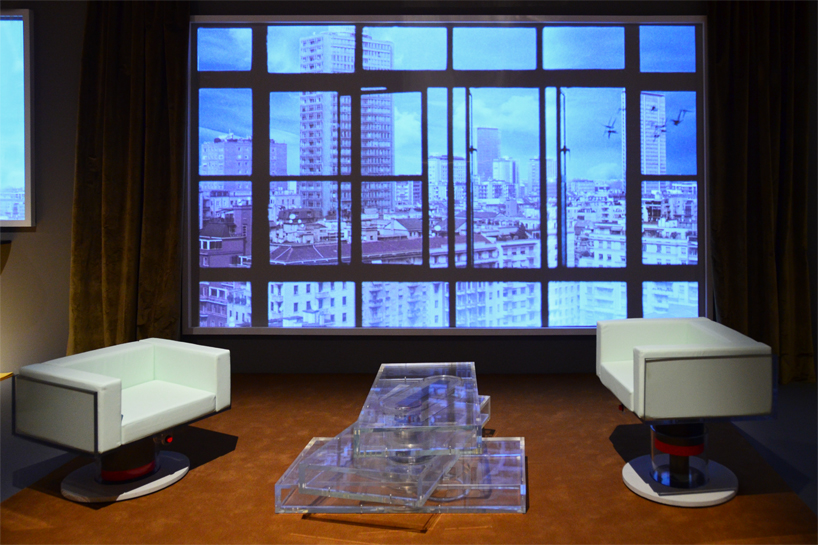 the '03 coffee table' is made of three transparent acrylic boxes with internal slides that allow each volume to be individually rotated and cantileveredimage©designboom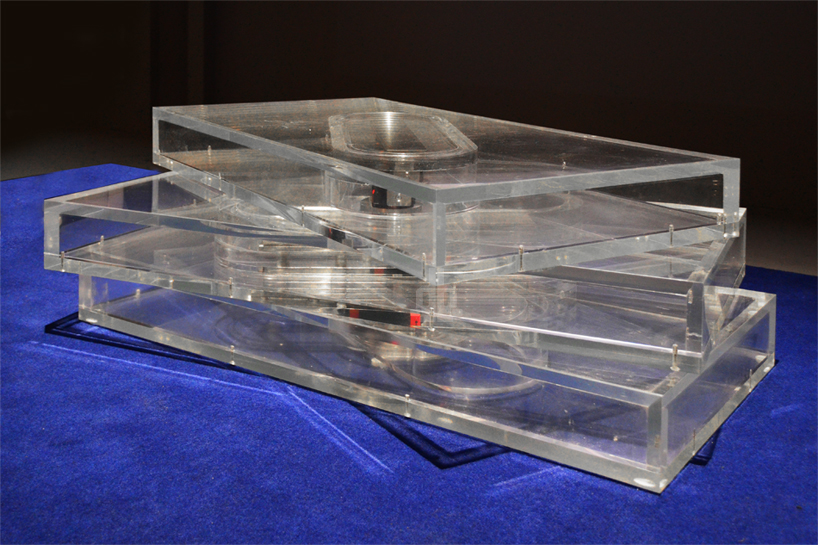 close-up of the low tableimage©designboom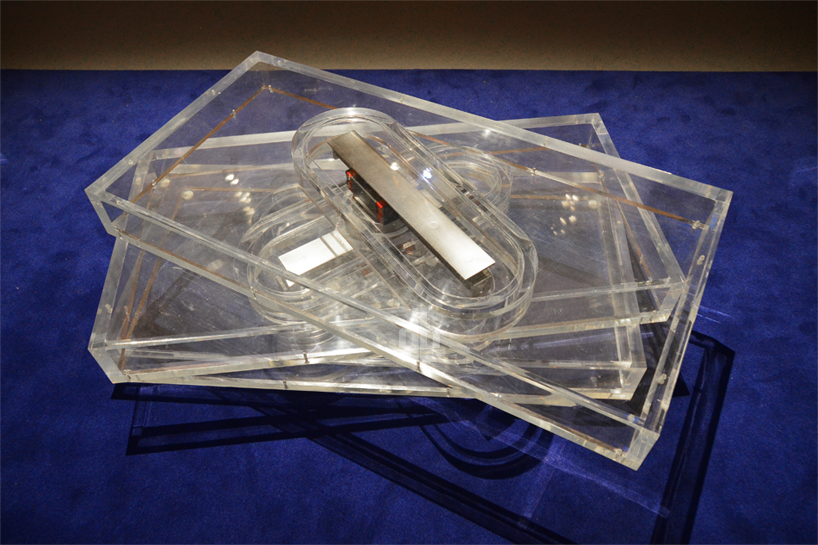 top view showing the internal mechanismsimage©designboom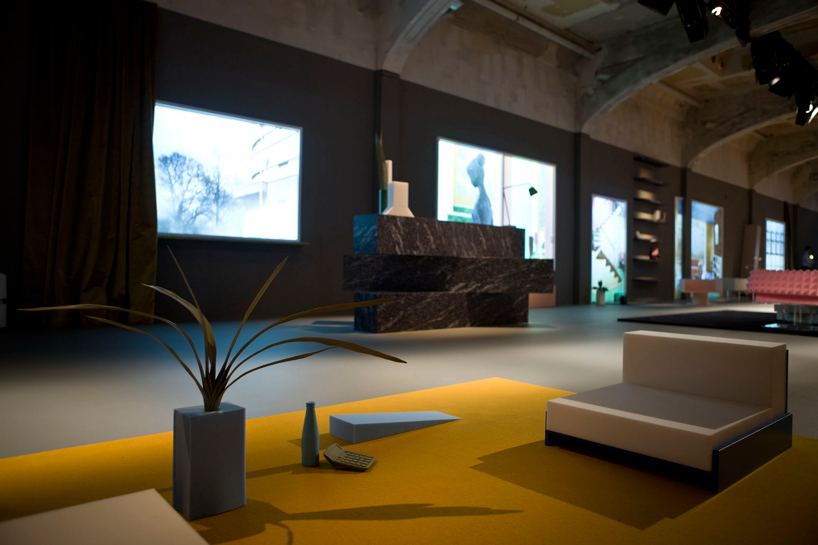 a view of the stageimage courtesy prada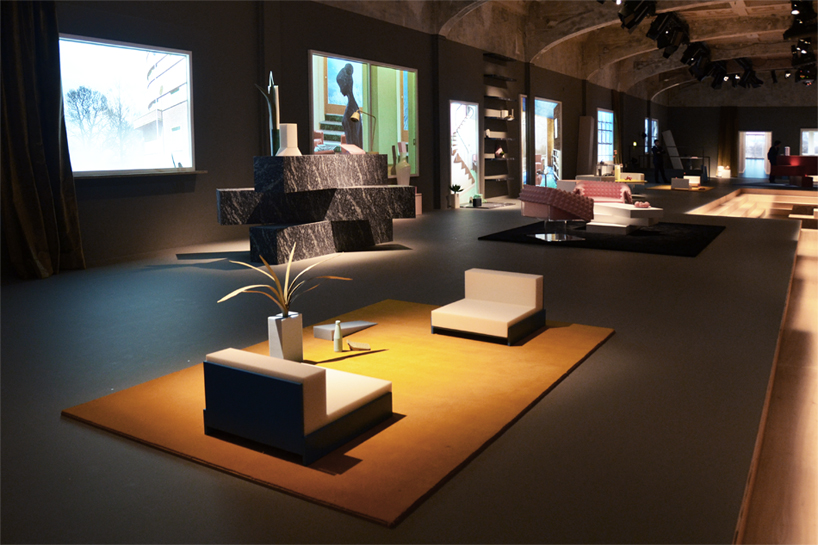 the 11 floor seating where 'ideal home' scenarios were on displayimage©designboom
the 11 floor seating, featuring simple upholstered cushions, provides alternate seating heights for work, reflection or relaxation.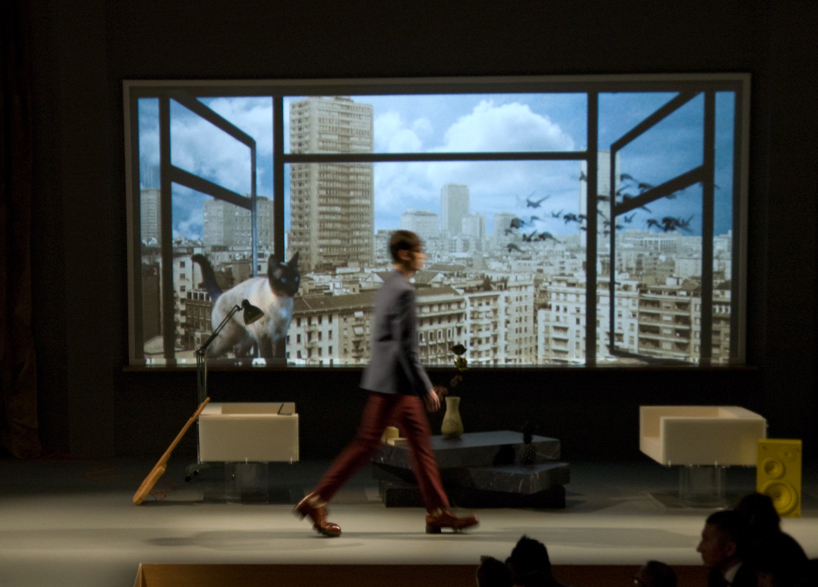 the dynamic backdrop for each setup – an animated projection depicting a window looking out on the streetimage©designboom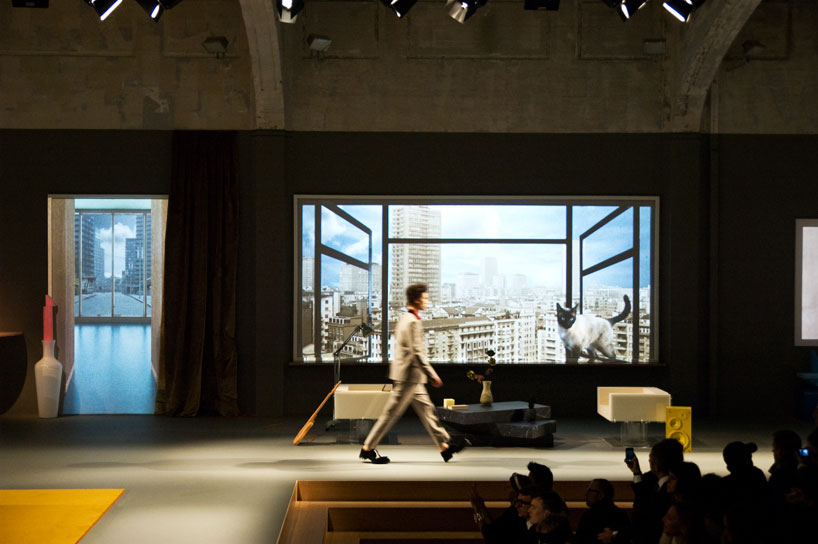 the models move through the space like characters of the domesticated scenesimage©designboom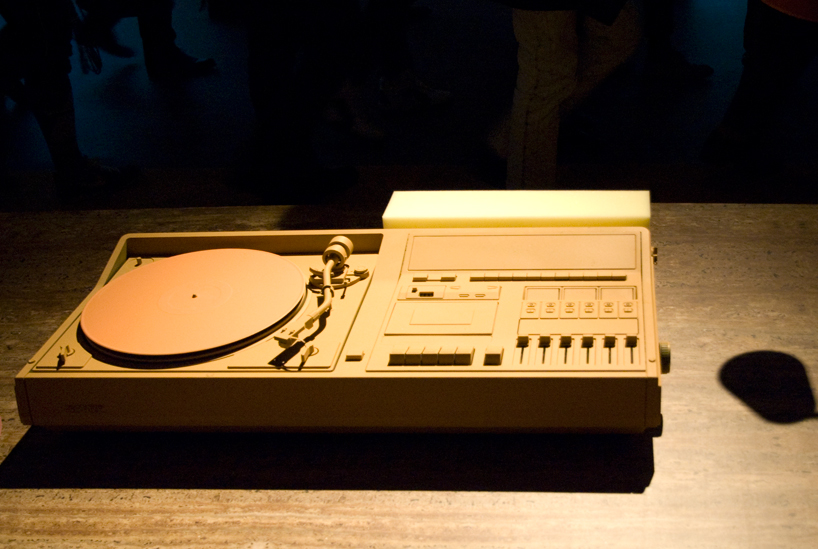 each staged scene was accompanied by domestic objects such as telephones and turntables, fortifying the household feelimage©designboom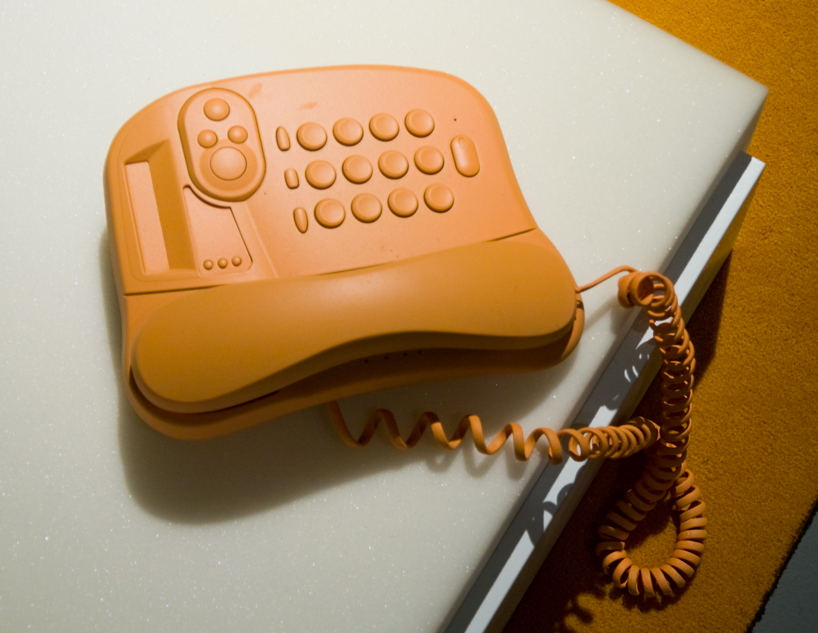 the objects dotted throughout the space were made from foam and woodimage©designboom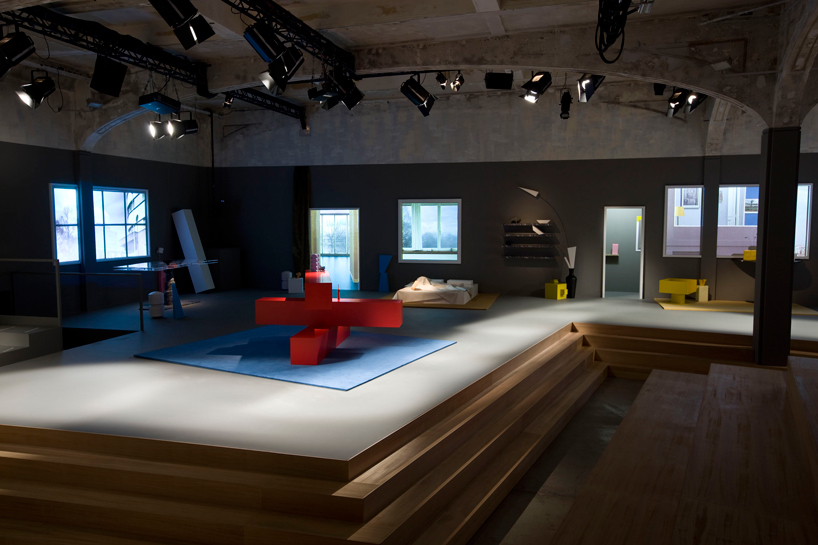 overview of the fondazione prada spaceimage courtesy prada
a panoramic view of the runwayimage courtesy prada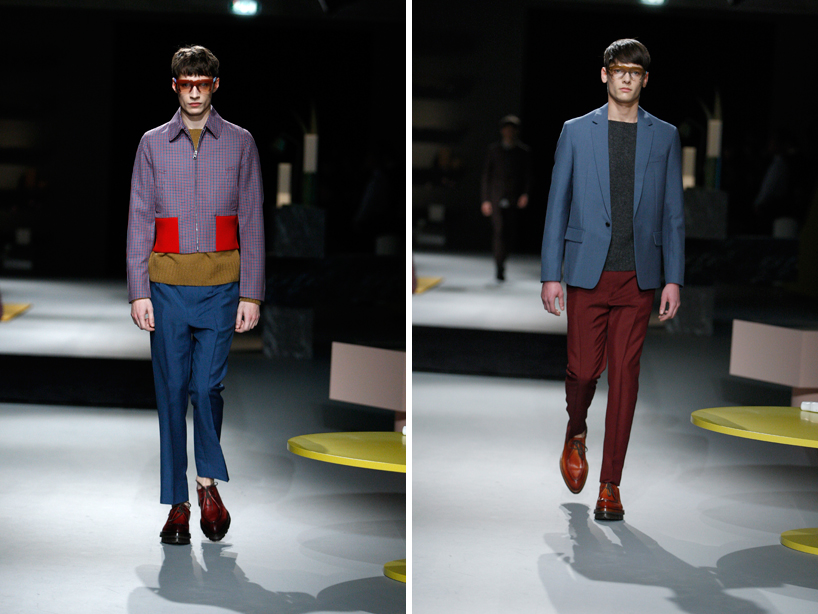 some of the fashion on showimage courtesy prada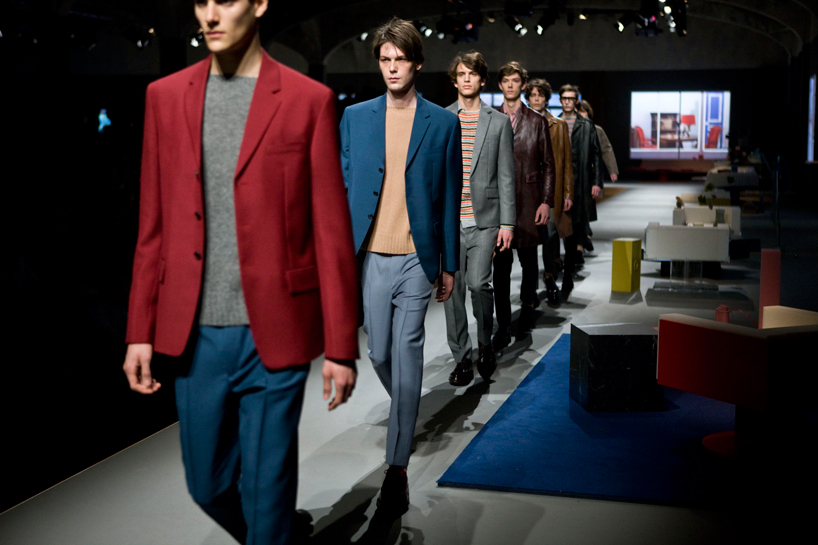 the colorful designs of 'tools for life' by OMA/knoll complemented the bright hues featured in prada's autumn/winter fashion selectionimage courtesy prada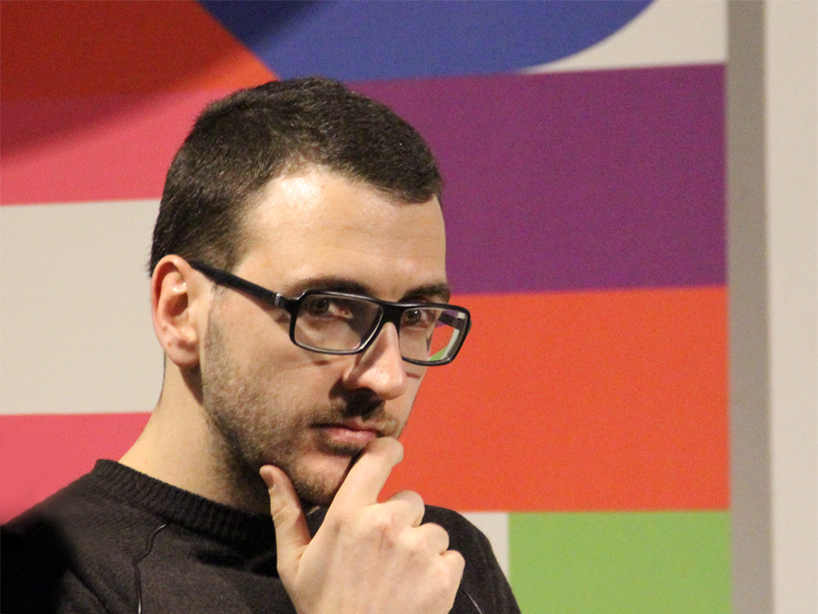 OMA associate architect ippolito pestelliniimage©designboom
designboom met up with OMA architect ippolito pestellini and spoke with him about the ongoing collaboration between OMA and prada:
db: can you describe the strategy for how you design imaginary spaces versus real spaces?
during the fashion show we basically document what we do. all of this is turned into its possible use, into very aggressive graphic images that normally feature a virtual space, so we sort of invent this space for the collection. obviously it doesn't exist, but it's the best space for the clothes – before reality, before they get sold. though there is obviously a visual dimension to OMA in general, 75% of our production doesn't get built so it's virtual by definition. maybe they are too difficult or too costly; we always look for interesting projects. sometimes you find a client like [prada] that lets you build them, sometimes you don't. the transformer pavilion would have never been possible without prada.
db: can you talk a little bit about working with a client like prada, that has almost no boundaries or limits financially, creatively, etc…?
the advantage is that you are obviously freer, but you are also confronting a client that is extremely creative. sometimes your creativity is questionedby somebody else who is as creative, or more creative than you. it makes things very difficult, it's a constant challenge to compete with them. we do not normally receive a brief, develop the project and submit the project at the end of the process, it's a constant back and forth – it can be very stressful.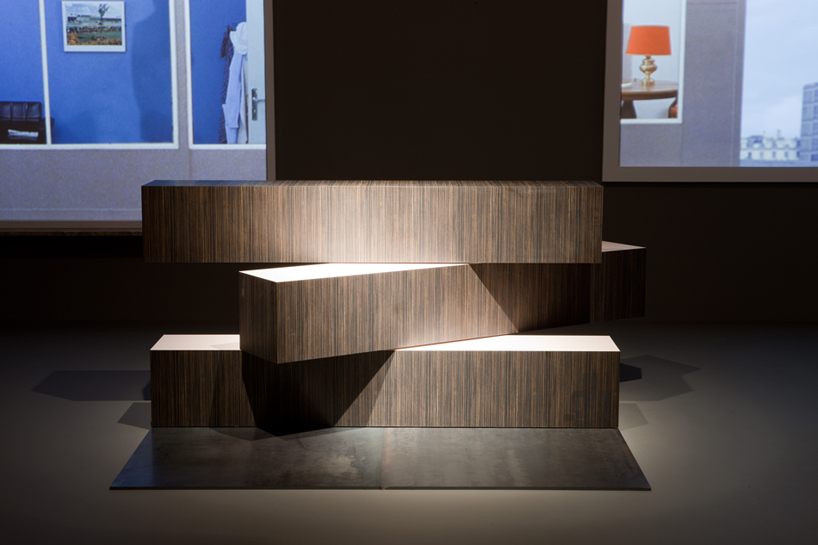 '04 counter'image © a.osiocourtesy of knoll, inc.
the dynamic '04 counter' is the collection's signature piece. beginning as a monolithic stack of three horizontal beams, the user can rotate the top two beams and transform this wall-like unit into a series of shelves and cantilevered benches—a metamorphosis from a spatial partition to a communal gathering place. rigorous engineering and a system of internal bearings and rails facilitate 360 degrees of movement. patterned wood grain and leather surfaces provide unexpected and subtly sensuous contrasts.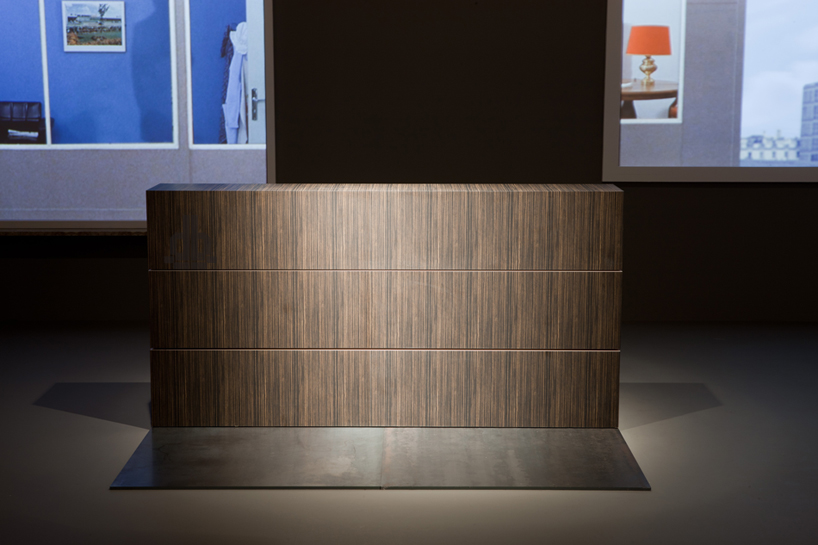 '04 counter'image © a.osiocourtesy of knoll, inc.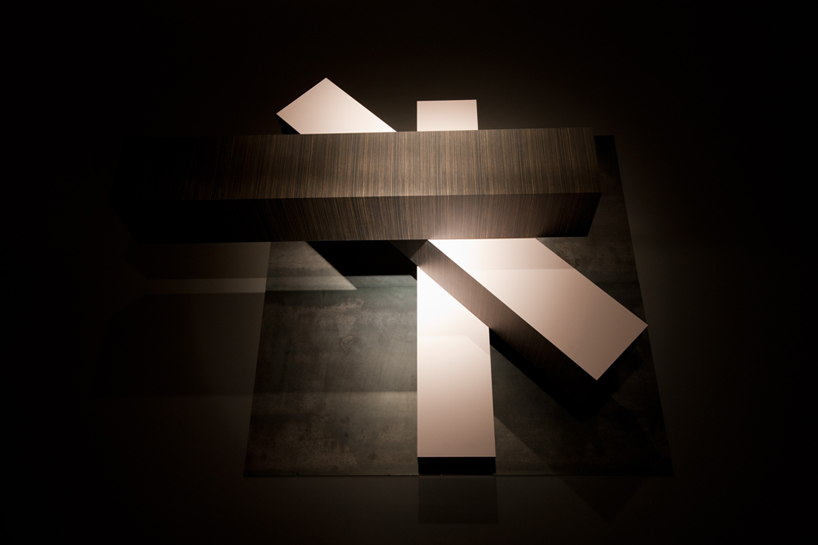 '04 counter' – top view of the shifted volumesimage © a.osiocourtesy of knoll, inc.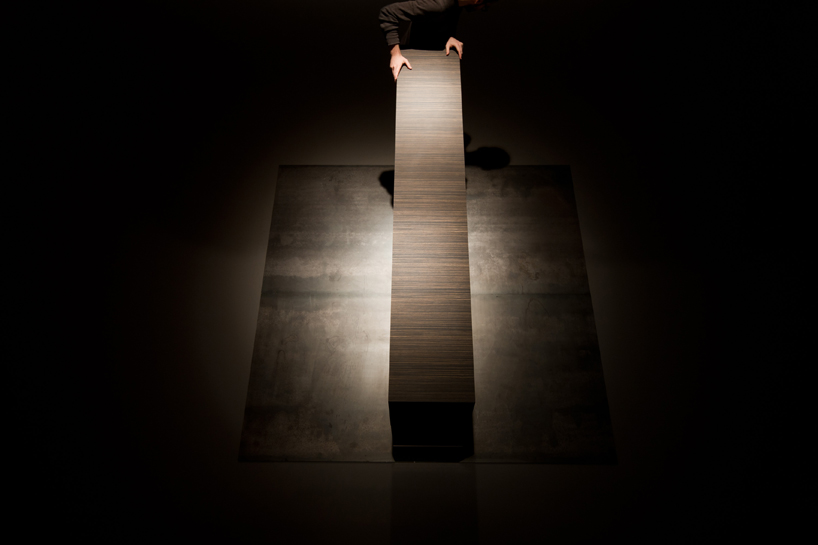 '04 counter' – and the volumes aligned flush against one anotherimage © a.osiocourtesy of knoll, inc.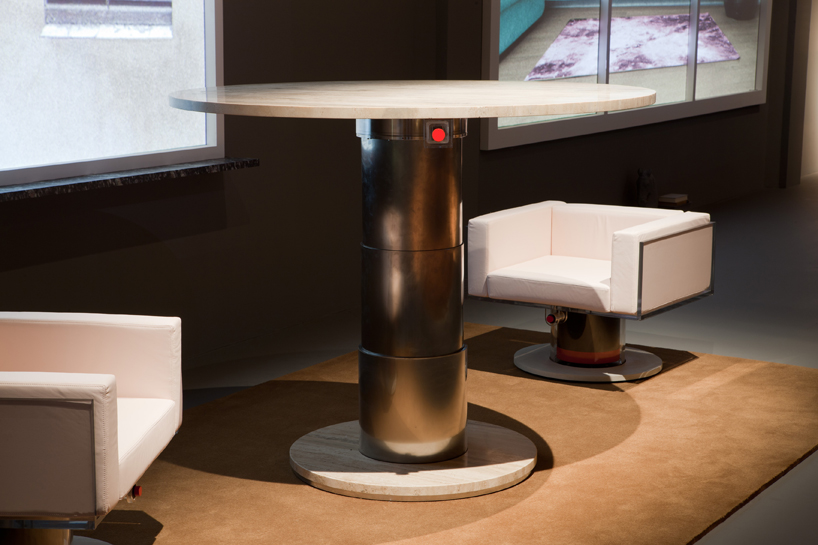 '05 round table' and '01 arm chair'image © a.osiocourtesy of knoll, inc.
for individual, focused or collaborative group work, the '05 round table' integrates mechanical sophistication with seemingly effortless effects. like the '06 table', it can be adjusted to accommodate lounge seating or even standing. the '05 round table' features a travertine top with a base of the same material, or an acrylic top with an aluminum base. an exposed mechanism, powered by an electric motor, elevates or lowers the table.
the '01 arm chair' is a height-adjustable, swivel lounge chair with a clear acrylic exterior frame and leather interior upholstery. a mechanical column base with a signature red band provides height adjustment at the touch of a button. a concrete base plate grounds the design.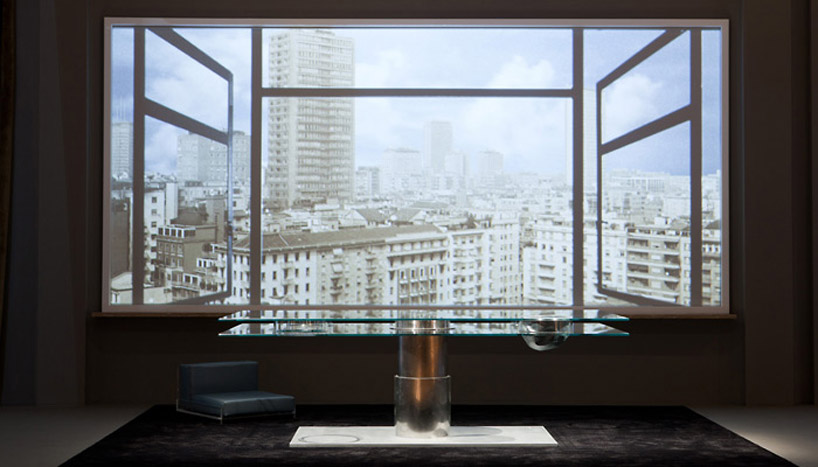 '06 table' and 11 floor seatingimage © a.osiocourtesy of knoll, inc.
conceived as an executive desk, the 06 table has a two-piece laminated glass top. the two horizontal surfaces, one a work surface and the other intended for storage, are separated by four round, glass columns. like the 05 round table, the 06 table integrates mechanical sophistication with seemingly effortless effect. it can also be adjusted to accommodate lounge seating or even standing.
lara mikocki
I designboom
apr 22, 2013
a diverse digital database that acts as a valuable guide in gaining insight and information about a product directly from the manufacturer, and serves as a rich reference point in developing a project or scheme.
designboom will always be there for you
milan, new york, beijing, tokyo

,
since 1999