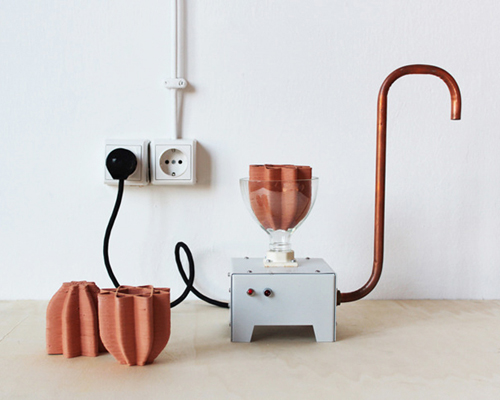 oct 16, 2012
openstructures at istanbul design biennial 2012
openstructures at istanbul design biennial 2012 'waterboiler filter' by unfold
the emergence of open source design and software systems over the past years has allowed individuals to be more involved in the development of products and networks. this has enabled us to move towards a less rigid means of manufacturing with emphasis on collaborative production and processes through the use of various tools.
this was the underlying topic addressed in the 'adhocracy' exhibition curated by joseph grima at the 2012 istanbul design biennial which brought together international projects that touched upon the social and technological revolutions of recent years and their influence on the creative process.
filter detail image © designboom
as part of the show, openstructures (OS) presented their construction system where 'everyone designs for everyone'. the experimental project aims to establish a common open standard which stimulates the exchange of parts, components, experiences and ideas. these in turn are applied to design, build and exchange a range of modular elements which can be used to develop a more flexible and scalable built environment, as well as stimulating the reuse of various parts and components. to exemplify the potential of their methodology, openstructures displayed a number of examples demonstrating the outcomes of their initiative ranging from kitchen appliances to children's toys.
using the openstructures system, dutch designer jesse howard developed 'transparenttools', a family of appliances using the 3D printed, CNC manufactured and standard components to reproduce items such as a toaster, coffee grinder, water boiler and vacuum cleaner, one-at-a-time rather than on a mass production scale. drawing on howard's 'waterboiler' design produced in collaboration with thomas lommée, antwerp-based design studio unfold has made an adaptation of the purifier using simple OS parts developed by fabio lorefice (3D printed adaptor piece) in its construction, made from a cut glass bottle which holds a 3D printed ceramic water filter.
'waterboiler' by jesse howard and thomas lommée
in their first explorations of the waterboiler, jesse howard and thomas lommée used OS's design principles to explore adaptable and scalable production processes.
a look at the OS design components used to make the water boiler
(left): coffegrinder 1 designed and composed by unfold, containing OS parts designed by fabio lorefice (right): coffeegrinder 2 designed and composed by unfold, containing OS parts designed by jeroen maes image © designboom
improvised vacuum cleaner by jesse howard made from a plastic thermos image © designboom
digger designed and composed by tristan kopp & ricardo carneiro, containing OS parts designed by thomas lommée & jo van bastraeten image © designboom
to further demonstrate the possible applications of the openstructures open-source design system, the 'OS kids' furniture and toys' collection was developed, employing the blocbox, an existing OS component cut into pieces and rearranged in an object series which include a sled, a chair, a sand digger and a swing, thus illustrating the flexibility of the modules and the new opportunities in which they can be applied. there were multiple reasons for deciding to produce a selection of toys. the primary being that as children grow quickly, the need for product that adapt and grow with them becomes more important. as well, most of the time, kids' toys and furniture are simple in form, and thirdly objects have the potential to generate a community around them,in this case of young parents sharing experiences, exchanging knowledge and uploading new designs. with the use of the OS program, the components can be reconfigured once they have outgrown the objects, for example, the small suitcase can become a tool box. the development of these pieces include contributions from marijn van der poll, christiane hoegner, tristan kopp, ricardo carneiro, artin aharon and thomas lommée.
sled designed and composed by artin aharon & thomas lommée
suitcase designed and composed by marijn van der poll as part of the OS kids' toys project image © designboom
OS blocbox module
various arrangements of blocbox
rendering of module organization
technical drawings of the blocbox module:
openstructures installation at istanbul design biennial within the galata greek school image © designboom
istanbul design biennial october 13th – december 12th, 2012
with the aim of underlining the importance of design for production, economy, cultural interaction and quality of life, the first istanbul design biennial will be realized in 2012 by istanbul foundation for culture and arts. istanbul design biennial will be open to all disciplines of the creative industries in major fields such as urban design, architecture, interior design, industrial design, graphic design, new media design and fashion design, as well as their subfields.
nov 21, 2012
nov 21, 2012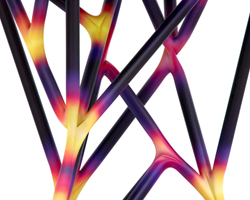 nov 04, 2012
nov 04, 2012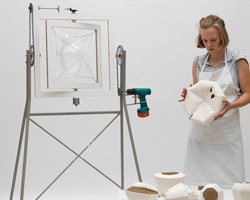 nov 03, 2012
nov 03, 2012
oct 24, 2012
oct 24, 2012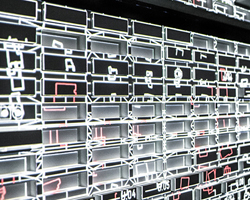 oct 23, 2012
oct 23, 2012
oct 23, 2012
oct 23, 2012
a diverse digital database that acts as a valuable guide in gaining insight and information about a product directly from the manufacturer, and serves as a rich reference point in developing a project or scheme.