with a career spanning over 20 years, french designer ora ito leads a multidisciplinary studio that has gone from telephones to architecture, from furniture to the hotel industry, from perfumes to tramways and from flying saucers to restaurants. with a highly sculptural resulting design and an interesting story behind, designboom spoke with the designer to take a deeper look into his career and homage his path and achievements; as well as to get a glimpse of what's coming up next.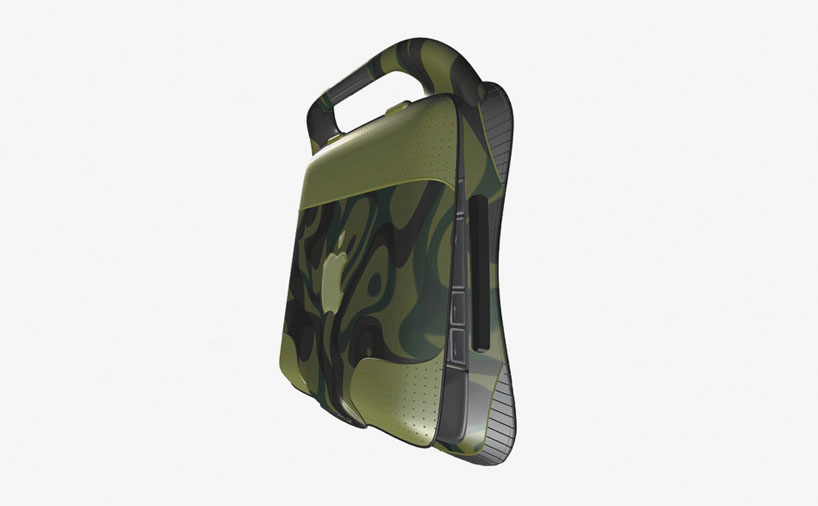 hack-mac, 1999
designboom: in 1997 you hijacked some of the biggest luxury brands like louis vuitton and apple, and created virtual objects which were later acknowledged by them. how did this idea arise?
ora ito: it was born out of ego gratification — I wanted to show what I was capable of but being unable to access the means was frustrating. so I decided to create a virtual product, which back then, had never been done before. it was still the early years of the internet, where pictures would take five (or more) minutes to load. so when people started seeing my louis vuitton or apple bag, they thought they were real. japanese tourist buses would invade louis vuitton shops asking for the bag.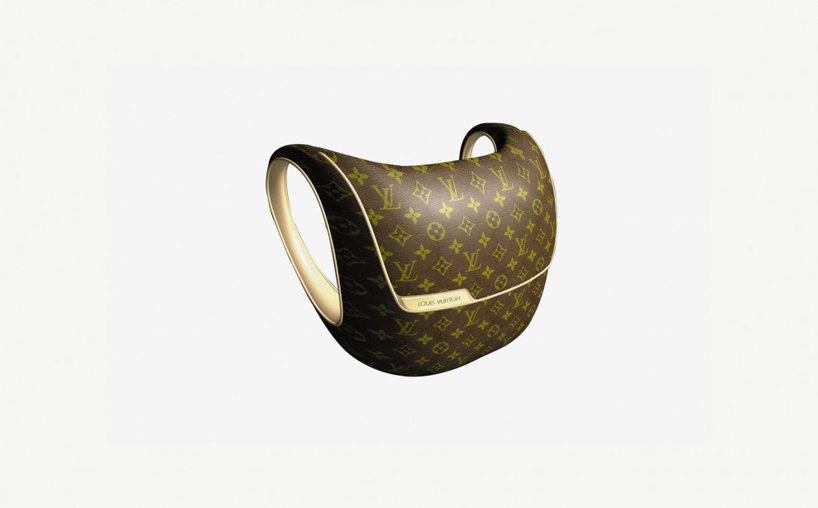 back up, 1999
DB: after that, you got some attention but it was after your huge, multi-acclaimed success of the heineken aluminium bottle in 2002 that your career sparked. can you tell us a bit more about this project?
OI: back then beer was seen as a very masculine product. the heineken brief mentioned that they wanted their packaging to be more glamorous, so I introduced the first beer bottle made of aluminium.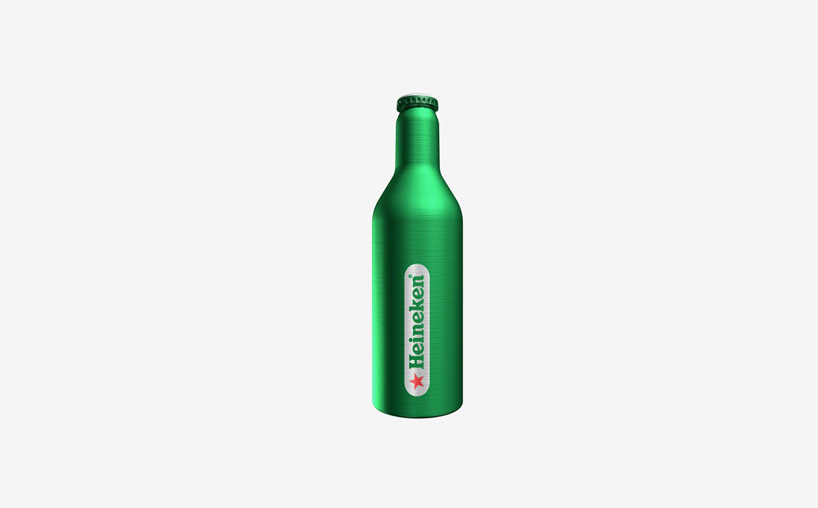 paco, 2002
DB: so how did you come up with this idea?
OI: I had the chance to work with many research and development centers owned by big brands which gave me access to unbelievable technologies. after that, I just had to transform them into my product. I happened to be the first one to use those new tools; we often think that it is the designers who create those 'super technologies' when in fact we are introduced and asked to promote them through a product.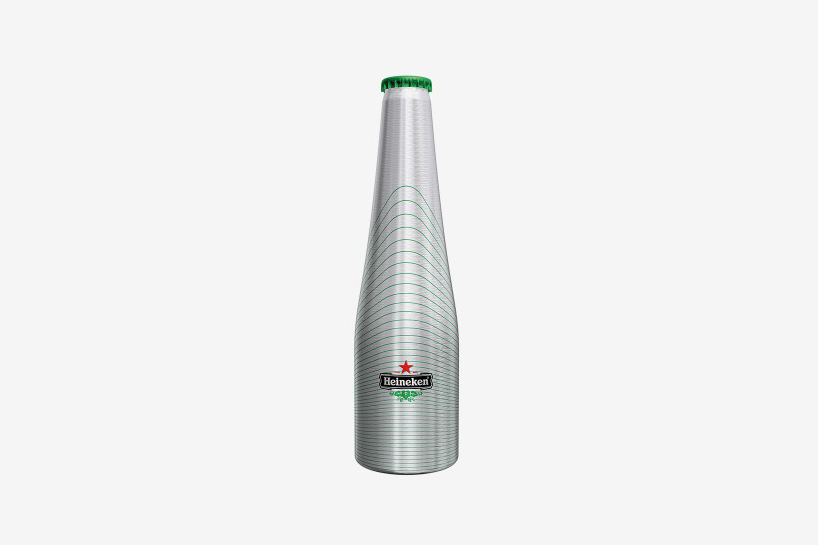 iconic, 2006
DB: you have work with brands like guerlain, christofle, casina among others. how do you approach the work with your different clients?
OI: for me, the story of the brand determines everything. it's a bit like an introspection; you dig into the archives and try to find its strengths and what makes it stand out. doing that helps me preserve the spirit of their tradition and push it to its maximum contemporary expression.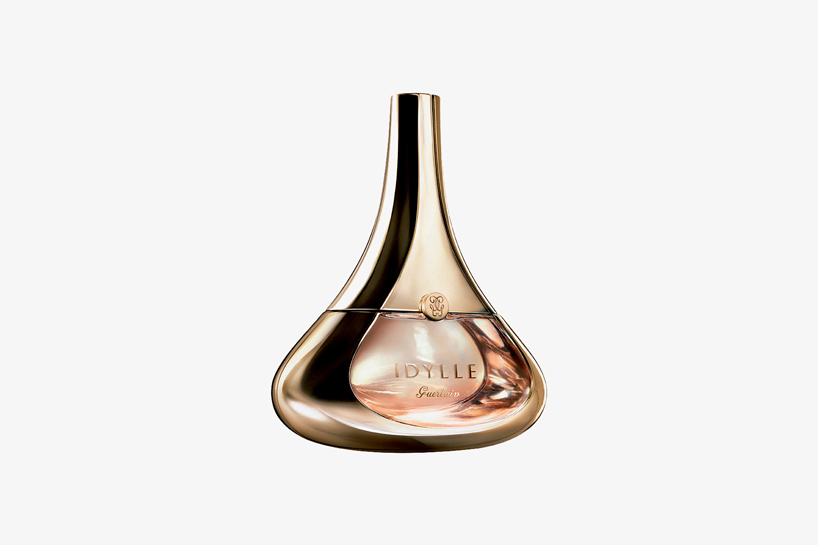 idylle perfume bottle, 2009
DB: for you lighting is a great tool for innovation, research and to expand limits…
OI: I had the wonderful opportunity to collaborate with artemide — one of the biggest lamp companies in the world. I worked with them on an specific model called 'one line' which was a huge success thanks to its avant-garde design. it is the thinnest lamp in the world and it reflects my whole philosophy of design: simplicity, practicality and the idea that an object disappears when it is no longer in use.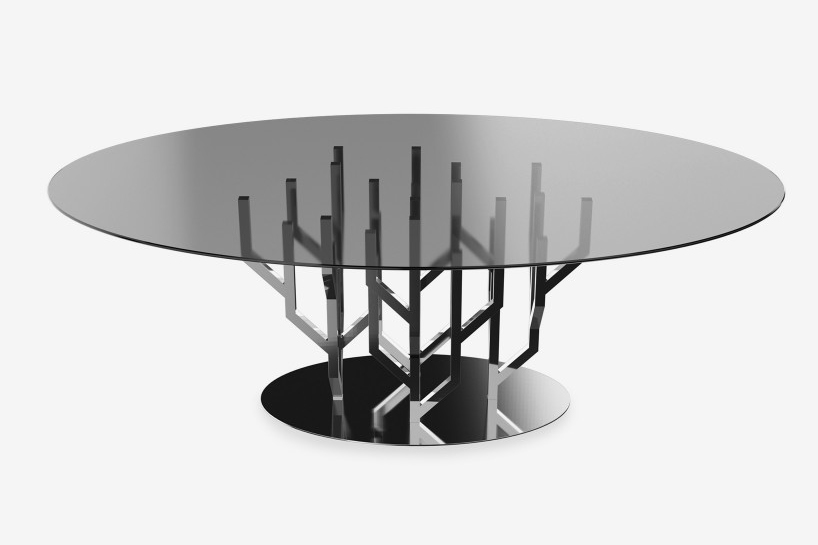 arborescence table for christofle, 2012
DB: you also worked with christofle, a brand that has a very old savoir-faire. how was it like?
OI: christofle is exactly the kind of brand I enjoy working with because they truly have the know-how and a history that goes way back — around 300 or 400 years. but most importantly, they have the legitimacy. today many brands have a shaky ground and tend to decline with the years. christofle stays loyal to its tradition and craftsmanship.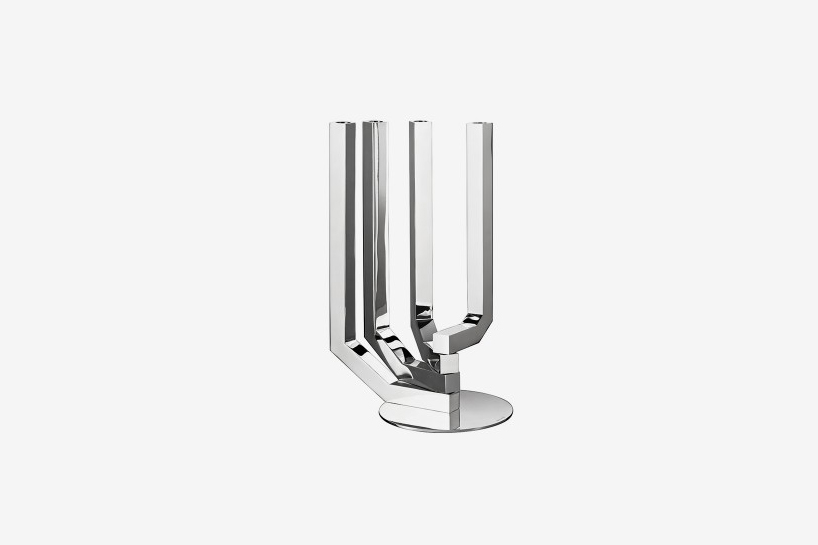 arborescence 4 lights articulated for christofle, 2012
DB: how do you balance your signature style with the different trends that appear throughout the years?
OI: for me, taking into consideration the context is the most important layer. it helps me understand a particular period and what I'm doing and where it is being done.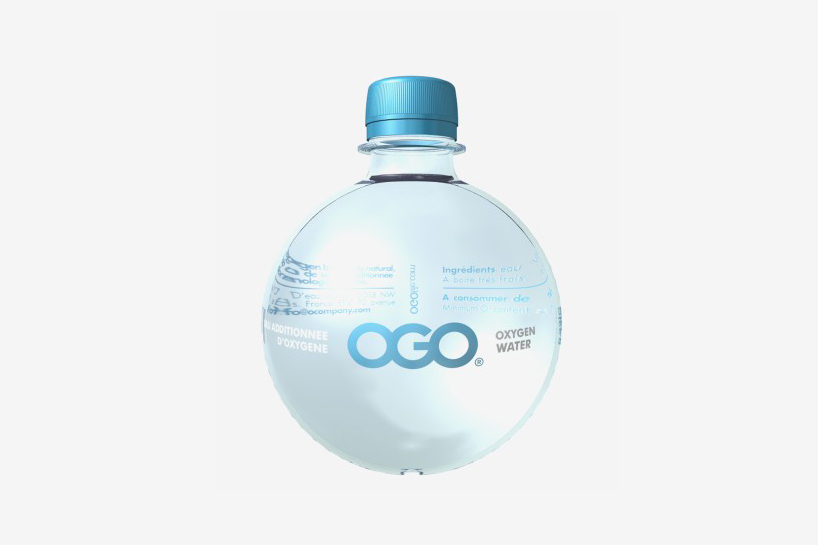 energizing oxygen bottle, 2002
DB: the idea of temporality is present in your work…
OI: yes, of course. nowadays is quite hard to have a specific style. talking about it in times where everything travels so quickly and ideas are born every minute is a bit out of place. the only thing you can do is keep up with the flow and try to maintain yourself one step ahead.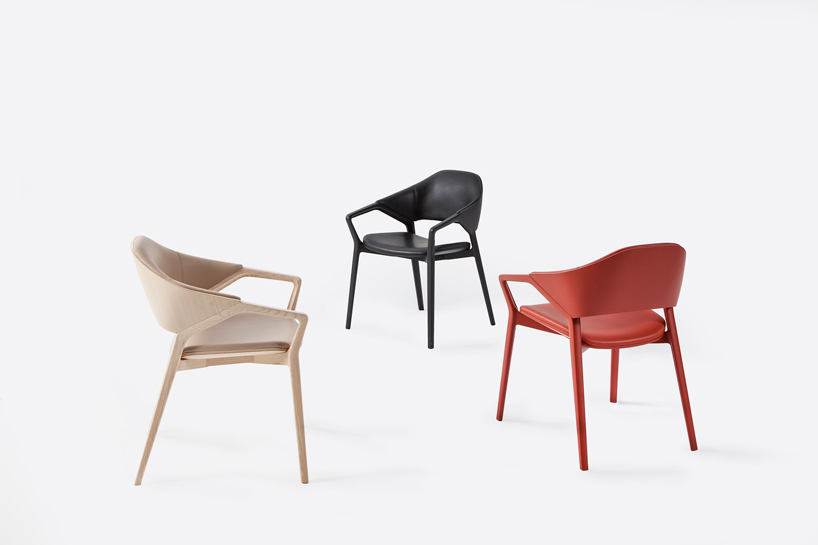 ico chair for cassina, 2016
DB: during salone del mobile 2016 in milan you launched the 'ico chair' for cassina and it its now part of the centre pompidou design collection. how does it feel to have your work displayed at a museum?
OI: well… I feel old (laughs). but honestly, it's great — it's a sort of acknowledgement of my wok. I'm very happy that it is the ico chair because it was a product made in for cassina — a brand that I love ever since I was little. I kind of grew up with this brand so it was an absolute dream to work with them. it took me 20 years to realize that dream and the project took me 4 years to complete.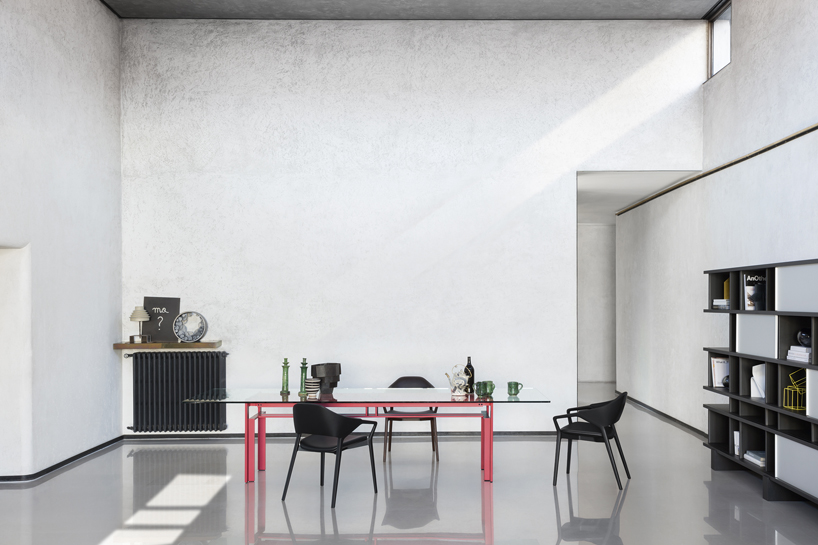 ico chair, cassina
DB: can you tell us a bit more about your collaboration with cassina?
OI: I really wanted the chair to include all the DNA and know-how of the brand and this took me a long time to achieve. I went into the archives and found a chair belonging to their 1950's catalogues designed by ico parisi. I really liked it but it had an outdated look. during the four years I experimented on 20 different prototypes and it was quite difficult to reach that final result because I had to consider the dynamism, the details and — of course — the comfort of the furniture.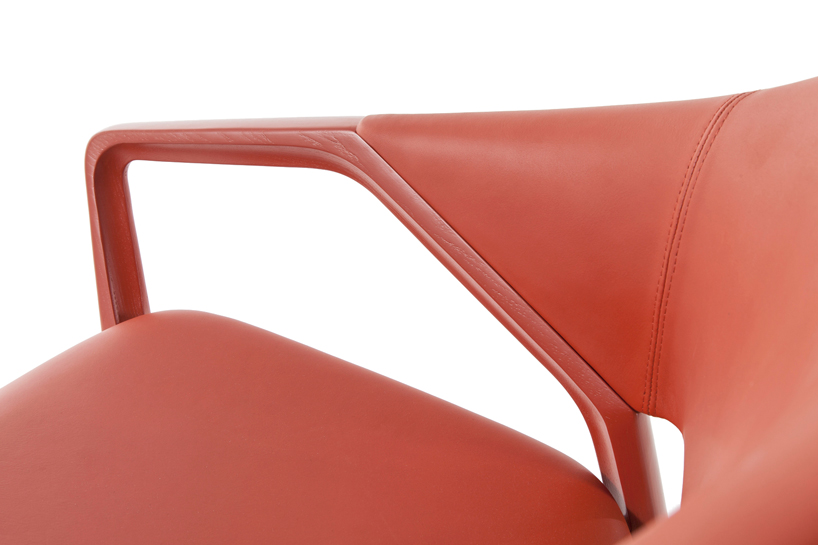 ico chair for cassina detail
DB: the chair uses few materials and has a refined design that keeps in mind the idea of one line, one curve. how did you manage to execute this approach on the chair?
OI: we used a milling machine that gave the chair a beautiful sculptural shape while significantly reducing its weight — given how it is made of solid wood.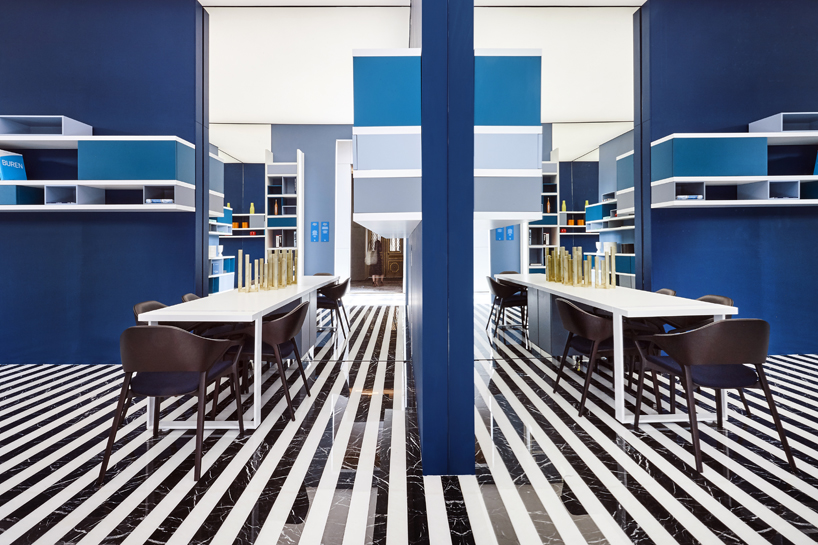 ico chair in context
DB: how do you switch between the different fields of work — interiors, technology, product, furniture, etc.?
OI: I have to say it's just changing the scale. it is like going from micro to macro, from artisanal to industrial, from one-piece to mass production. this constant shift of focus is something that I'm very drawn to.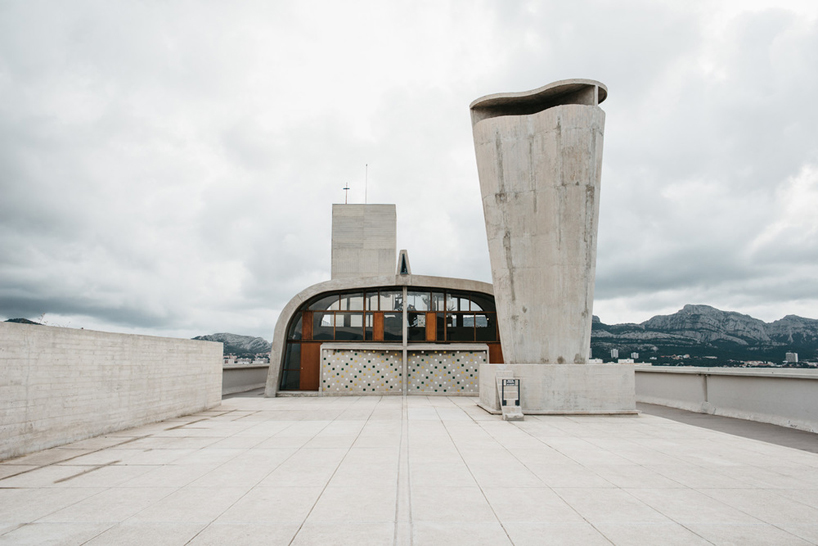 MAMO – a place devoted to arts
DB: you opened an art center in marseille called MAMO…
OI: basically I just didn't wake up one morning and said 'I want to open an art center' — it was far from that. I was interested in a particular space — the old gymnasium and terraced roof of the cité radieuse in marseilles.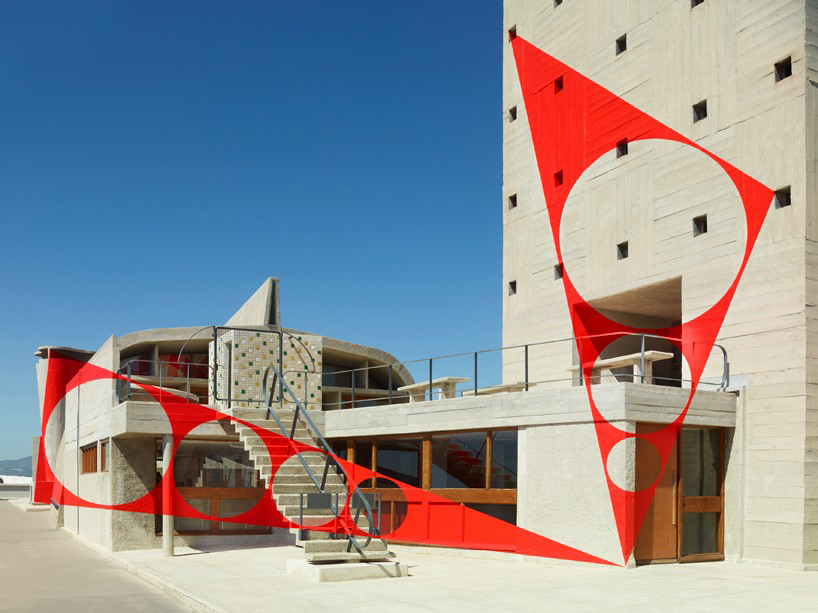 felice varini at MAMO
DB: developed by le corbusier…
OI: yes, exactly. but it looked nothing like it does now; back then when I first saw it, it was still in ruins. so at that moment, I developed a sort of passion towards the space and I wanted to restore it to its original state. but many disruptive elements were added to the structure post-le corbusier which was classified under 'historical monuments.' we first had to declassify everything that wasn't part of le corbusier's original design and then find the best artisans that could bring back the true character of the space. so my first motivation was to restore the space. but then I had to do something with it. I first thought about making it my own apartment (laughs), but the place was so magical that the monument needed to be shared and opened to the public.
after that, the work was about finding the project that would reflect le corbusier's work. again, I dug into the archives and discovered that this very structure served as a space for contemporary art in the 1960's. artist like nicolas choffer, yves klein, tinguely and marta pan used to set up exhibitions in the space. therefore, I decided to keep the legacy with my own initiative called 'le festival d'art avant-garde'. for four years now, I've been inviting artists to the center and the concept is to display artworks specifically created for this space, one artist at a time. the first one was xavier veilhan — who will represent france at the venice biennale. then we had daniel buren, dan graham and felice varini.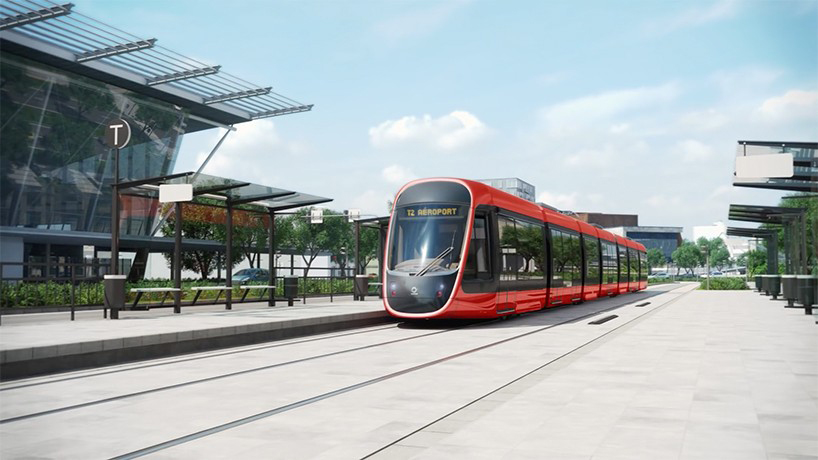 nice tramway
DB: what about the nice tramway recently completed?
OI: the nice tramway was a competition and I was part of the alstom team, an italian company. our proposal when through and they contacted us. it was a great project, but again, if I hadn't had the chance to work alongside engineers and specialists of the field, it wouldn't have worked out the way it did. in this case, we really got involved with much more complex technologies. in fact, our tramway is being fueled by the earth and we were also ale to create more openings in the structure.
what I've always hated about tramways is the traditional fossil-based fueling system that pollutes the air and ruins the natural scenery. at first, I thought this was the reason why they shut it down in the first place. also, this has been the project where I had to face the most constraints — we had to tackle the issue of vandalism, prices, and so many other things that started unfolding — which was a lot to handle.
so we've already created our 1:1 model that will be exhibited in nice in october, but the actual tramway will be completed in 2018.
DB: could you say that your intuition plays a big role in your creative work — apart from your research and digging into archives?
OI: of course instincts play a big role in my decisions. very often I go with my gut. but at the beginning, I was misguided by it and had to pay the price. it's only with time, and years of experience, that my instincts got sharper because my convictions got stronger. I started understanding myself better and losing less time debating whether or not the idea can work. as a result, things move quicker.
Save
Save
juliana neira
I designboom
oct 24, 2016
KEEP UP WITH OUR DAILY AND WEEKLY NEWSLETTERS
a diverse digital database that acts as a valuable guide in gaining insight and information about a product directly from the manufacturer, and serves as a rich reference point in developing a project or scheme.
designboom will always be there for you
milan, new york, beijing, tokyo

,
since 1999