orgatec 2016: showing at orgatec for the very first time, artek presents the flexibility, materiality and informal transversality of alvar aalto's 'l-leg' collection. focusing on these three characteristics, the booth highlights how, even after 81 years, artek's and aalto's designs still have much to offer in an open work environment. the finnish furniture brand is presenting as part of the VITRA 'work' project, which pictures the different types of offices and workspaces that might exist in the future.
during the cologne-based furniture fair, we visited artek's stand and sat down with their managing director marianne goebl. here, we discussed her role at the company, what she hopes artek can achieve under her creative guidance, and how their furniture is relevant in today's and the future's office environments.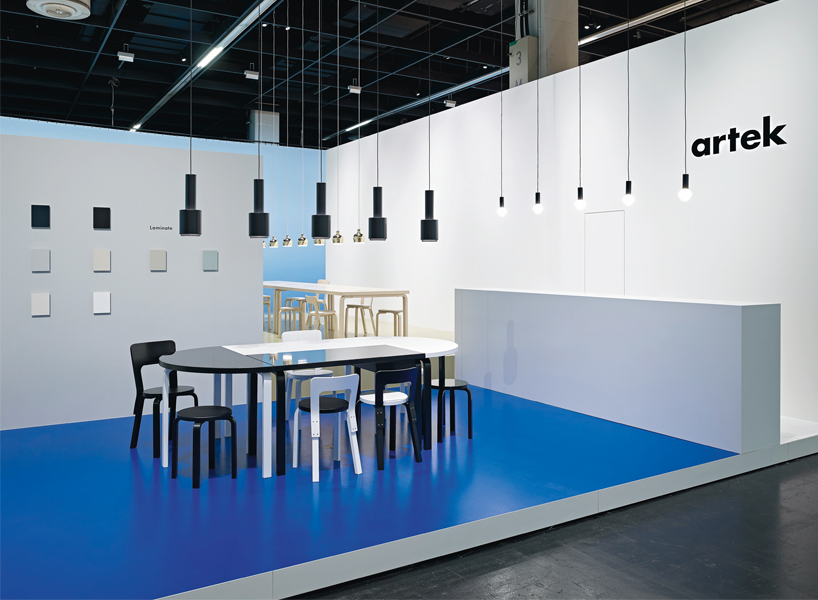 artek's booth at the orgatec furniture fair
photo: guido erbring
image © artek
artek's collection of furniture dedicated to alvar aalto's 'l-leg' designs, exemplifies three characteristics that are unique and defines the finnish brand. these are; flexibility, materiality and informal transversality. the architect's furniture was first created to furnish his own buildings, and so cannot be assigned to any definite social or functional category. furthermore, the company is renowned for its historic use of native birch wood. this natural material has been proven over time, and reflects special beauty, warmth and craftsmanship from within every product. as well, linking closely to its flexibility, artek's furniture pieces can easily be suited together, forming extensive sets of tables, chairs and stools. however, notably, the classic designs are available with more customizable surfaces and colors than ever before.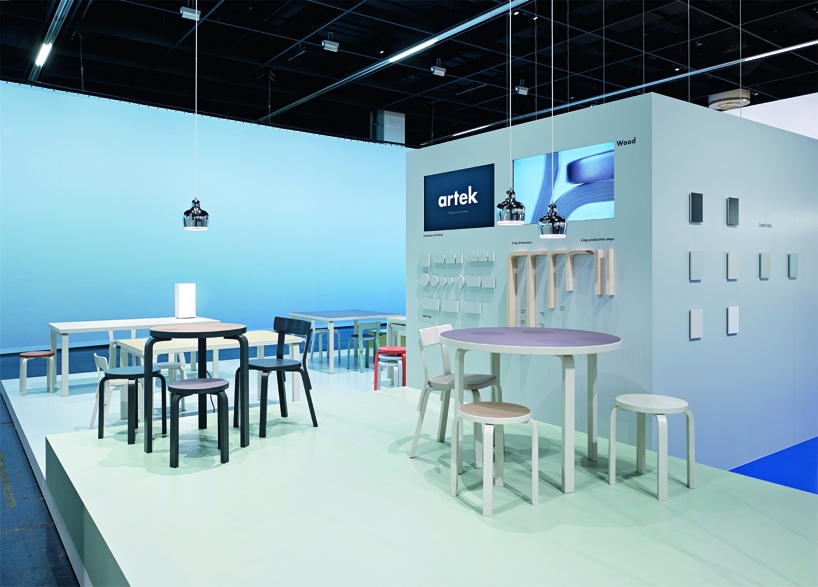 the stand was dedicated to showing the customization and versatility of the 'l-leg' collection
photo: guido erbring
image © artek
designboom (DB): first of all could you outline your role at artek and give a little bit of background about the company?
marianne goebl (MG): I am the managing director of artek. I joined the company in july 2014 so I have been here for more than two years now. prior to this, I was the director of design miami for about three years, which is the global design fair for collectable design. before that, I actually worked for VITRA for nearly 10 years, in many different capacities. I would say that I am kind of a design animal and am really interested in this intersection between culture and commerce. I think about products that have a cultural dimension but in the end, are functional and enhance our lives in one way or another.
I joined artek more than two years ago now because I couldn't resist! I think it is one of very few companies that seems to have been around forever but has never been tarnished. it is a brand which was founded more or less 81 years ago by two architects; alvar and aino aalto, and two other like-minded friends; maire gullichsen, and nils-gustav hahl, who came from the art world. this is because they wanted to create a platform to disseminate modern arts, design, interiors and education. they wanted there to be a place where people could learn about the new way of living – we are talking about 1935 in finland – it was a very problematic beginning. they didn't lose any time though. they opened a store and started selling aalto's furniture in finland and abroad. they started to bring work from designers that they admired, into finland. from the beginning, it was a very open platform and I think there is so much in the brand that is still so relevant today. I would say that today, artek is still a company that operates at this intersection between the arts. while we are focusing on making furniture, it doesn't mean that we are not very aware of what is happening in neighboring disciplines like architecture and art.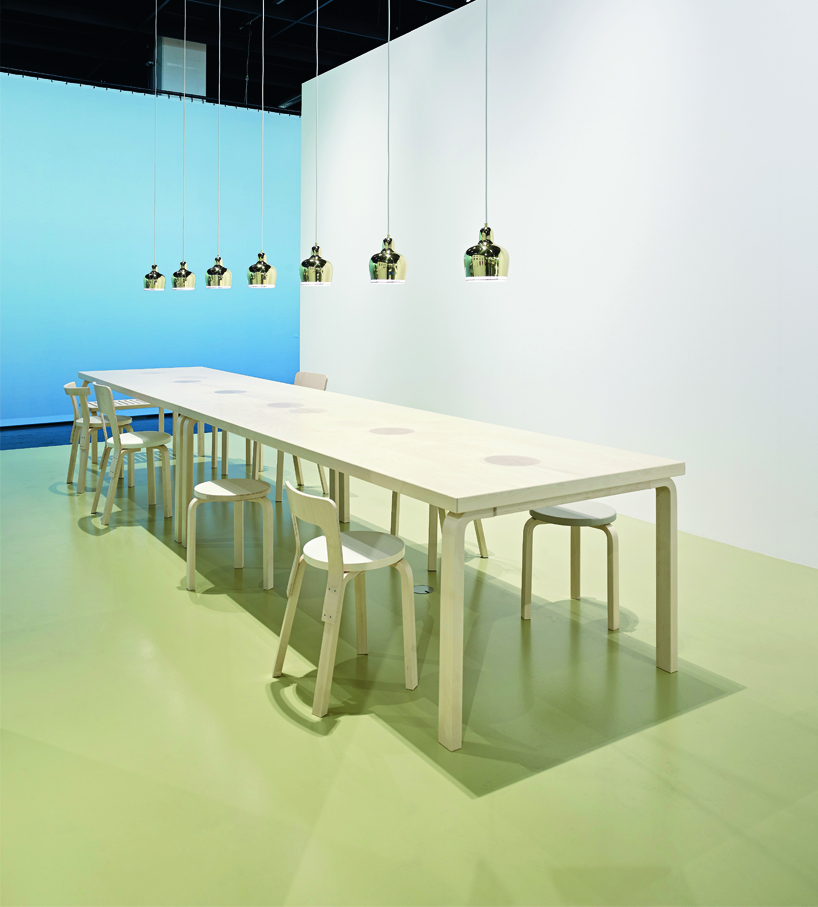 the brand's furniture forms enable them to furnish any environment and setting
photo: guido erbring
image © artek
DB: since joining the company in 2014, how has artek's design developed under your guidance as managing director, and what are some of your targets to achieve?
MG: well about a year before I joined artek, the company had become part of the VITRA group so there was a change of ownership. in this new chapter at artek, which my team and I are trying to write, we have a new context that we can benefit a lot from on many different levels. as part of this new context, firstly we can concentrate more on product development again. this isn't to say that product development didn't happen beforehand, but now, we wanted to put more of an emphasis on it and explore the many new possibilities of it as well. furthermore, we were able to purchase the factory in finland, which has been making the aalto furniture for over 80 years but hadn't been part of the company. in a way, we now better understand our own production and the possibilities of it. thirdly, we are creating more of an international presence. we now have distribution partners in more countries than ever before. these are the three pillars that we are focused and working on.
this is our first time at the orgatec fair, and it highlights our new production and international aspirations. the fair is all about office and workspaces, and we are here because I feel that artek has something special to contribute to workplaces. we now have a factory that enables us with more capabilities and possibilities than ever before, and has given us even more reasons to present here at orgatec 2016. it probably would not have made sense for us to exhibit here four years ago but now it does.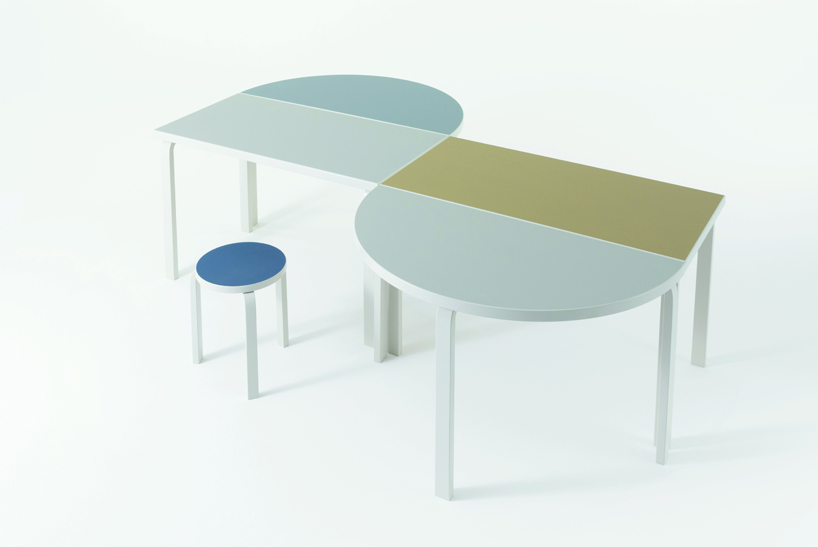 the artek 'aalto table 95′ and '80'
photo: schaepman habets
image © artek
DB: as part of VITRA's 'work' project, how is artek contributing to the design and customization of an open office?
MG: there are two things happening here at the orgatec. one thing is that in the VITRA 'collage' office, artek is an ingredient. the architects and designers who have created and composed these offices, have included our products as part of them. separately to this, we have our own booth. I believe that artek contributes profoundly to different materiality. its wood; finish birch, is a tree that was 80 years old. it gives a certain stability and a certain warmth to an office environment. as well, artek product's character is very informal which makes them transverse. what I mean by that, is that this table is always a table, whether you are using it for a workshop or meeting area. people can also use the table in more open spaces, in cafes, in group offices. it is the same with all our products. they are almost so elemental that they can very easily adapt for different uses.
when you want something that doesn't necessarily look like a typical office space but is still a place to work, you need places to sit at but you don't want it to look like a regimented center. it obviously depends on what spaces people desire. however, if people wanted material and something less formalized, artek is a great option. furthermore, we have really worked a lot with our factory to become much more flexible in terms of finishes and customization. we are especially talking to architects who may remember our classic designs as just being solid birch. it still is but, even in the early days, they were always available in different stains. we wanted to make this possible again.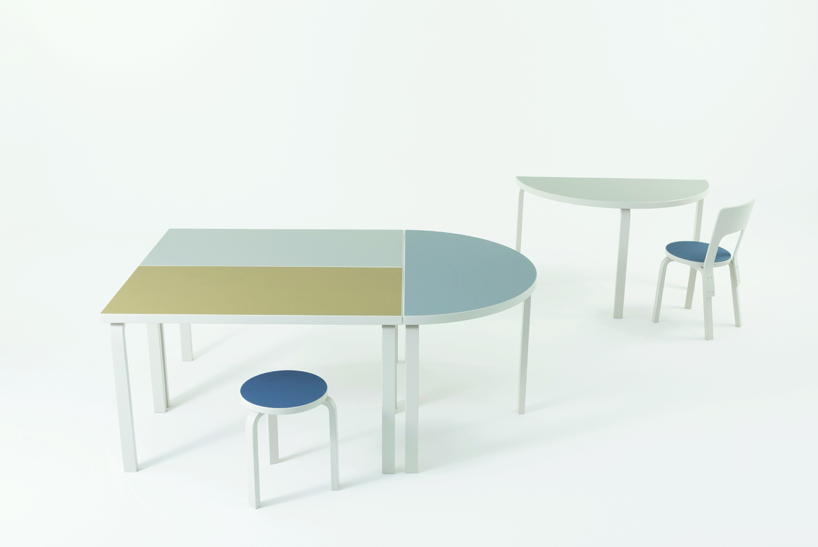 their furniture can suitably work together to form systems of tables, chairs and stools
photo: schaepman habets
image © artek
DB: so that is what artek are really presenting here at the orgatec? the ability to customize your classic furniture a lot more than people were once able to.
MG: exactly, it is an offer that we are making a lot more proactively. in the past when people asked about customization, we were figuring it out there and then. obviously we could always do it but now, with the factory, we can really work out what it takes. we can go to architects and designers, and make for example five tables and 20 chairs, specifically for them. these capabilities and options are what we are showcasing at orgatec. these options range from the natural finish to the very graphical black and white choice or the contrasting options of matte, shiny, hard and soft.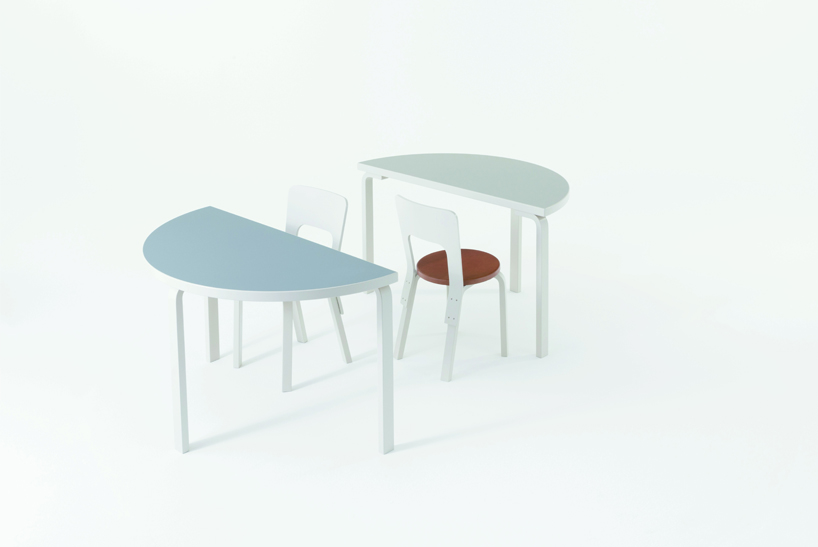 the 'aalto table 95' with stone white lacquered
photo: schaepman habets
image © artek
DB: the history of the brand is very established and rich, how have you been able to show this new chapter of artek whilst staying true to its heritage?
MG: we were very conscious about staying true to our heritage. artek is a company that is more than just a brand. it is part of the national heritage of finland. artek plays a role in finnish society that is incomparable to any other furniture company around the world. the brand has been a place to go to since 1936 so generations of people have always gone to their stores. it has always been a place showing good design, but it has also always been a place for people to discover modern arts. this is because they were the first to bring international modern art to finland. I would say that this long-standing cultural dimension is something that is very important to us. if you look on a product side of things, the artek products have a very elemental quality to them. they have a very direct and transparent character. on the furniture, nothing is hidden. this transparency is something that I have taken as a guideline. we do not want to do anything at artek that we wouldn't want to talk about. we do not want to do things that do not make sense. that doesn't mean that every product we do, has to become a fantastic success where everyone else is interested in it – we want to try out many things. we do not want to make furniture to just make more furniture. we want to make things that have a strong reason to exist. I do not think that artek furniture is for the special moments, it is furniture that should be around every day and be good company.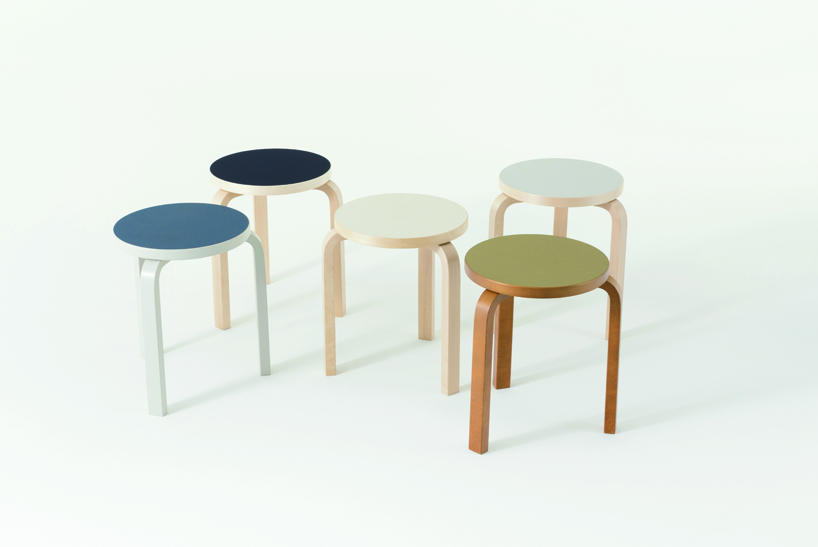 the 'aalto stool 60'
photo: schaepman habets
image © artek
DB: artek has a very pure philosophy when it comes to its material use, can you describe the importance of adhering to the brand's historic use of finnish birch, and do you see this as almost a limiting factor in terms of new developments?
MG: I see it as one central option but not the only one. it only makes sense for the furniture that is produced in our factory in finland, to be made from finnish birch. it comes from a saw mill that is 100km away, it all requires quality checks, the wood dries for a year, and then we start working with it. for other collections, for example the bouroullec brother's 'kaari' furniture, is produced in italy and the netherlands. for this, we worked with oak and in the end, it was a great decision because our finnish factory cannot work with its metal bending requirements. rather than shipping wooden parts all across europe, we were doing something that was closer to each other. often the choice of materials is a design decision, but we also try to follow production logic as well. in that sense, I do not think that our use of birch is a burden at all. the aalto furniture is made from birch but for example, we have another big range of furniture by the finnish designer ilmari tapiovaara, which uses a lot of oak, birch and fabric. we are not really limited.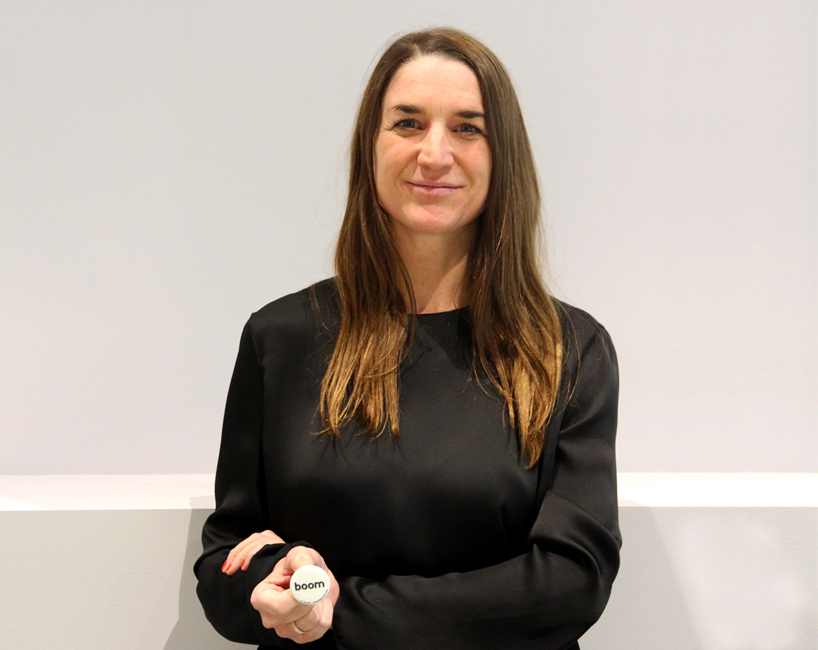 marianne goebl at artek's orgatec 2016 stand
image © designboom
DB: you have mentioned that artek's presence here at the orgatec fair is almost marking a new chapter for the company. how do you see the brand developing in the next few years? will we see more product launches or customization possibilities?
MG: we have decided to adopt a healthy pace. like I said before, we will say something when we feel that it is important to say. this could be by redeveloping a product or customization option from the archive, that we feel is relevant nowadays. it could also be by working with things that have always been around but can be shown in a different light, or could even be by making a new product with a current designer. all of this is very relevant and needed. furniture is not fashion, where you make collections for a season. these are products that take a lot of time to develop and require large investments in tooling, so are meant to stay around for a while. you need to get a product right, before putting it on the market. at the moment, I do not really know what we will show at the orgatec in two years. I do not even know if we will be back here. it was important for us to be here this year, in order to clarify that artek is not just for homes or public spaces or offices, these products are totally versatile. they can be used for anything. this year, we felt that we wanted to showcase these possibilities. I hope that we have something important to show in two years but if not, we might be back in four years. we have a quite relaxed approach to this.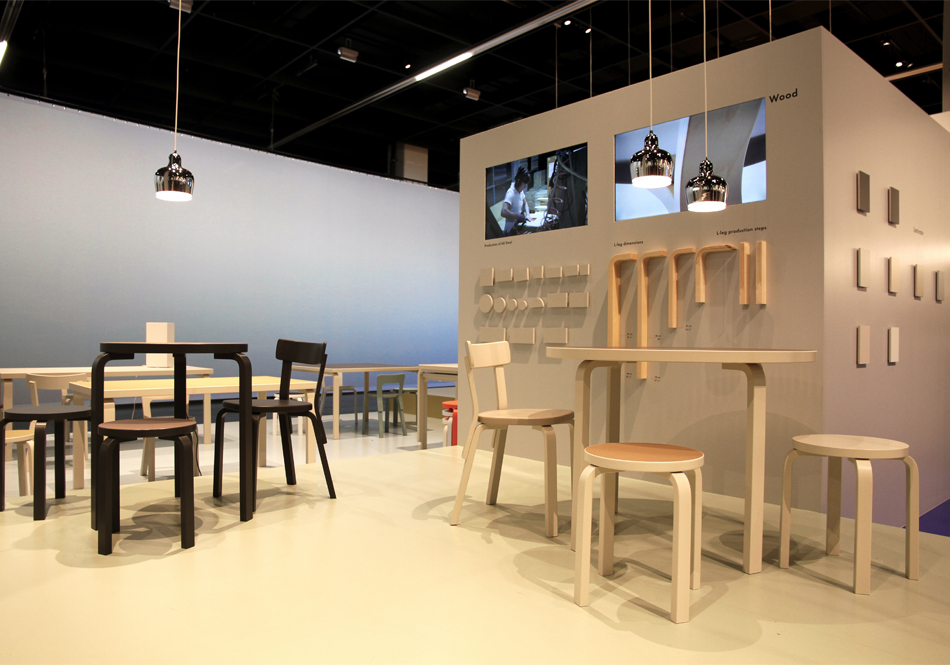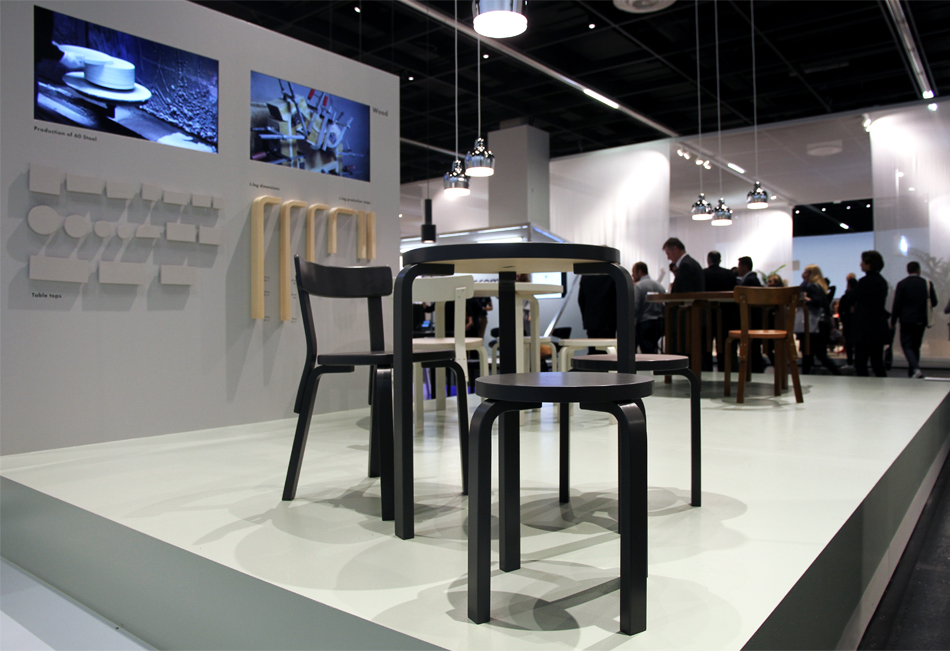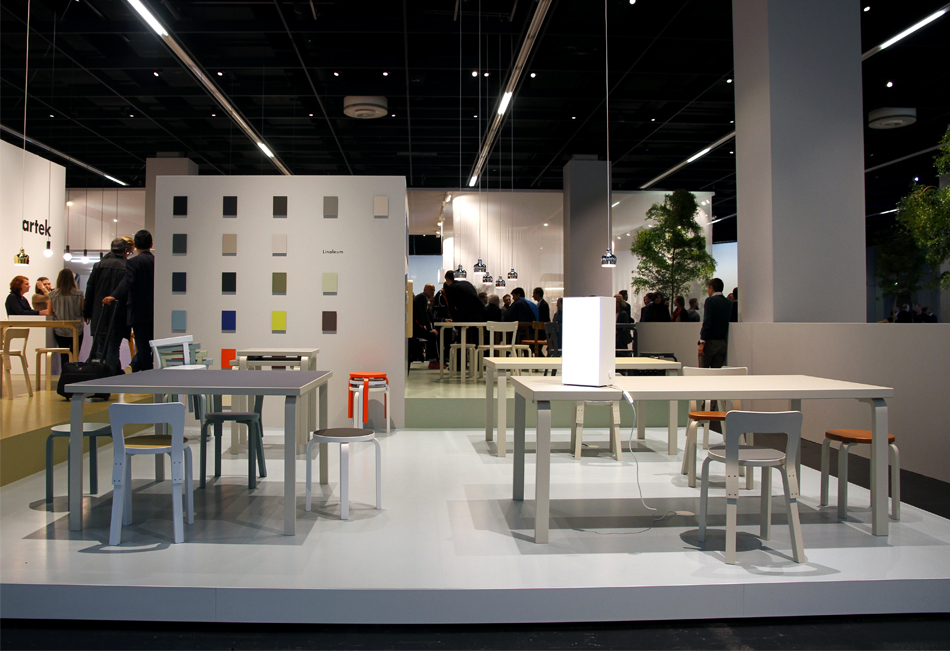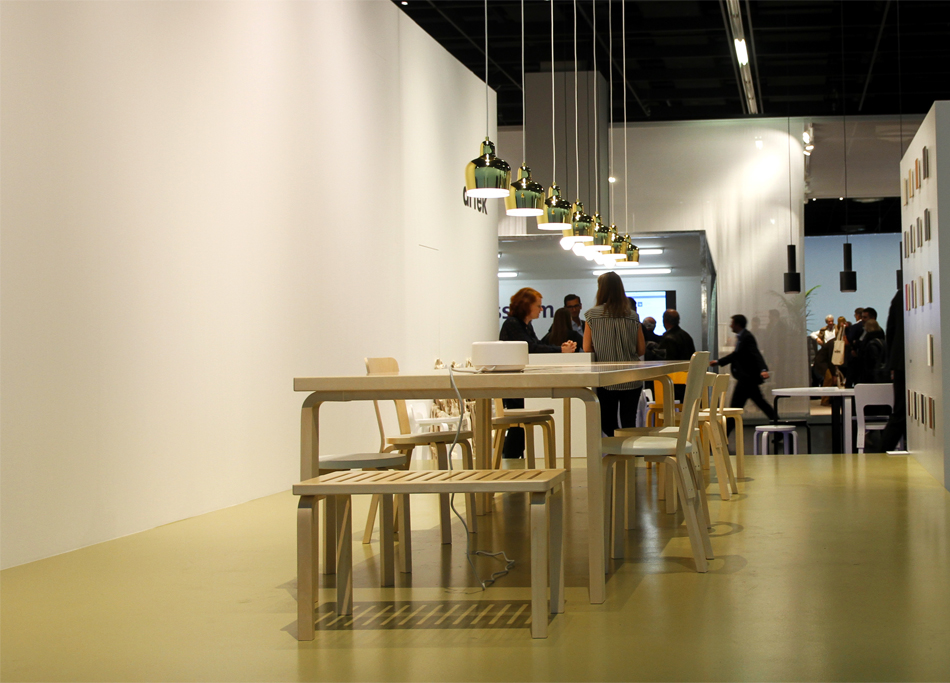 Save
KEEP UP WITH OUR DAILY AND WEEKLY NEWSLETTERS
a diverse digital database that acts as a valuable guide in gaining insight and information about a product directly from the manufacturer, and serves as a rich reference point in developing a project or scheme.
designboom will always be there for you
milan, new york, beijing, tokyo

,
since 1999