apr 19, 2011
paola navone molds euphoria chairs for eumenes
paola navone molds euphoria chairs for eumenes image © designboom
the 'eu/phoria' project, a chair designed by italian designer paola navone for italian company eumenes transforms a material typically used in the automotive sector – for car interiors – and translates it into the form of a comfortable monocoque shell seat.
detail image © designboom
the material is called woodstock®, a compound of polypropylene and powdered wood that comes in hardwearing and flexible thermoformable sheets. beyond its use as an industrial material, eumenes dedicated itself to research fabrics that can be bonded to the shell to glue and cut it perfectly flush to the form during moulding, and which can be matched with soft polyurethane.
paola navone molds euphoria chairs for eumenes image © designboom
customers can select desired patterns from a range of fabrics compatible to the industrial process adopted in the chair's production. navone has selected a synthetic textile to personalize 'eu/phoria', reminiscent of mass manufactured, plaid, nylon shopping bags – in check, striped or tartan effect. the imperfections and creases of this particular version called 'made to measure', adds a little bit of a tongue-in-cheek effect, revealing its playful, provocative and anti-conformist nature.
image © designboom
besides 'made to measure', the chair is available in four other versions: basic – seat in plain woodstock®; tech – seat in woodstock® bonded to three-dimensional automobile fabric; soft – seat in woodstock® bonded to rubberized technical fabric; fashion – seat in woodstock® bonded to alcantara® material, a aumenes partner.
image © designboom
the chair's support structure is painted steel and comes in 8 color variants. customers can create desired combinations by matching the supporting base in their desired color with any covering from the range. this gives users the opportunity to pair the color of the seat with the supporting frame, giving it a different look each time. while two-tone is always in vogue, original contrasts and combinations suffuse this chameleonic chair with new energy and unexpected verve.
installation view of 'eu/phoria' chairs during milan design week 2011 image © designboom
image courtesy of eumenes
detail of the stairs stacked image courtesy of eumene
image courtesy of eumenes
exterior of eumenes' presentation at milan design week 2011 image © designboom
the exterior design of eumenes' presentation featured panels of the striped and plaid nylon fabric used in navone's chair design, to create a shaded space where visitors could rest away from the hustle and bustle of the zona tortona area.
image © designboom
image © designboom
image © designboom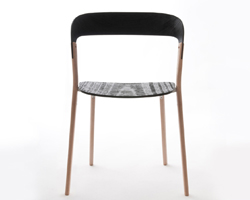 apr 07, 2012
apr 07, 2012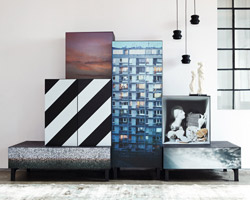 mar 21, 2012
mar 21, 2012
jul 16, 2011
jul 16, 2011
jun 19, 2011
jun 19, 2011
jun 09, 2011
jun 09, 2011
jun 07, 2011
jun 07, 2011
jul 01, 2016
jul 01, 2016
jan 19, 2016
jan 19, 2016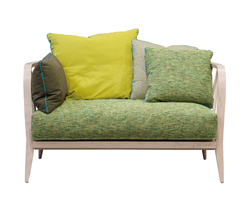 jan 24, 2015
jan 24, 2015