nov 13, 2012
mcdonald's outdoor furniture designed by patrick norguet for alias
mcdonald's outdoor furniture designed by patrick norguet for aliaspatrick norguet designs mcdonald's outdoor furniture for alias
US fast food giant mcdonald's has partnered with historic italian manufacturing brand alias to conceive the outdoor furnishings of its restaurants worldwideas part of the 'COME' project. alias fulfilled the challenge in collaboration with the established french designer patrick norguet, responding to the 'COME' objectives – to design, engineer, develop and install a specific turnkey modular furniture system. 
the entire project will see approximately 150 terraces outfitted with the designs  and will be completed over the course of 2-3 years with the initial stage of the work being carried out in france –  the first open-air area already revealed in bordeaux, france and a further 6 terraces installed in the north of the country. throughout the conception of the pieces, alias, together with norguet, referenced the company's enduring philosophy of focusing on the end-user – the outcome a modular system open to various different yet coherent arrangements.
the range features tables of mixed dimensions and ergonomic, comfortable seating – in total 18 different elements offering strong resistance, durability and easy maintenance. the pieces are composed of sheet steel and cement – the two materials combined by means of expert techniques, then skilfully moulded to achieve the ergonomic qualities with the cement surfaces all having been sanded by hand. in the seating the perforated sheet metal body, which rests on the concrete base results in a textured surface and alongside the chairs – with and without arms – the benches and two-person tables consist of a cast concrete base and complimentary sheet metal top. there are also plans to build two roofs to provide shelter in the event of bad weather, outer barriers with an aluminium framework, lighting, steel ashtrays and bins with a corian top to enhance the design, and a trio of unually shaped flower pots.
CEO of alias and architect renato stauffacher says of the project:
'working in perfect harmony with the mcdonald's team and patrick norguet's firm, we have succeeded in interpreting their ideas to the full: creating a personal, friendly and high quality outdoor space. A place where even a short break can provide an opportunity to relax and unwind. the plastic elegance and formal purity of each complement – a unique aspect of the designer's style – are enhanced by the power and simplicity of the materials skilfully worked by alias,' states the CEO and architect renato stauffacher.
norguet says of his designs:
'I draw on a quality of the space that fits into a time that meets the demands and requirements specific to mcdonald's. not quite out nor quite in, the terrace is experienced as an extension of the restaurant, a separate space for a different experience. it is also a major project for me because we were able to connect two worlds around the project, and thus develop products of high quality.'
the first open-air area has already been revealed in bordeaux, france and a further 6 terraces installed in the north of the country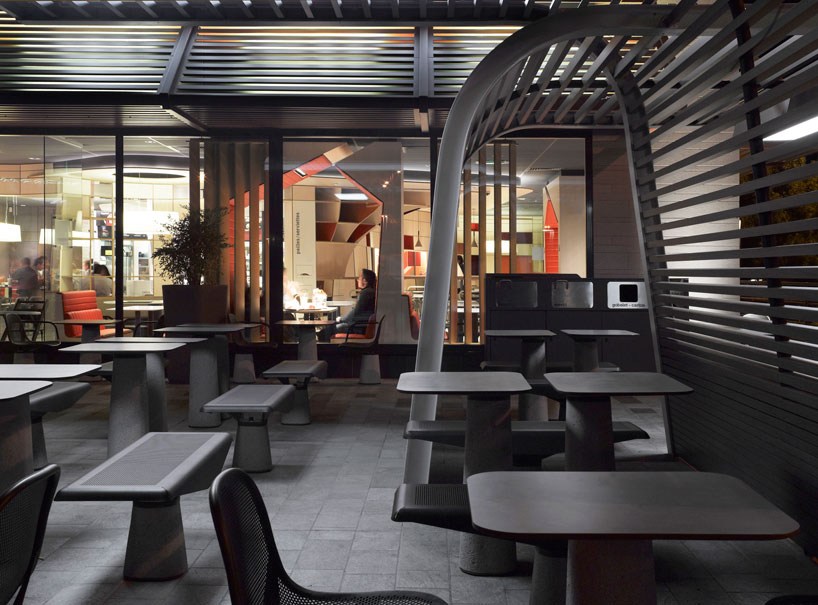 the designs respond to the 'COME' objectives – to design, engineer, develop and install a specific turnkey modular furniture system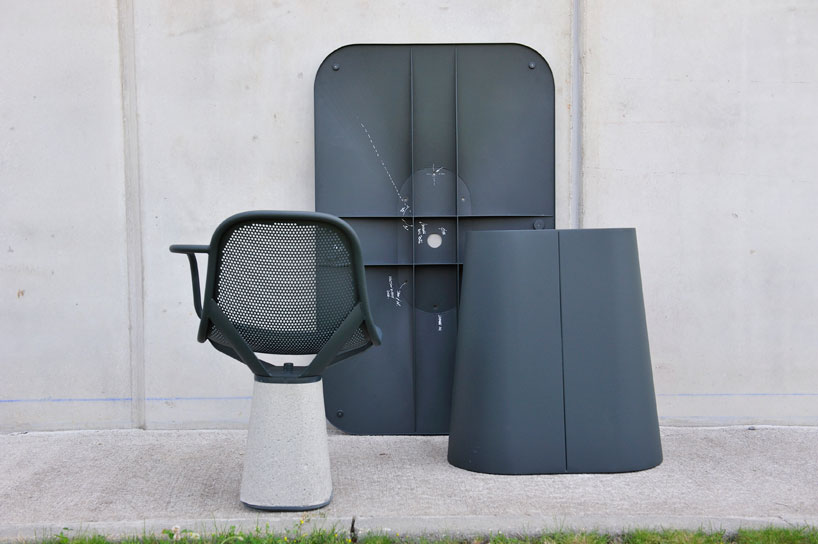 the pieces are composed of sheet steel and cement – the two materials combined by means of expert techniques
the outdoor furnishing designs will be installed in restaurants worldwide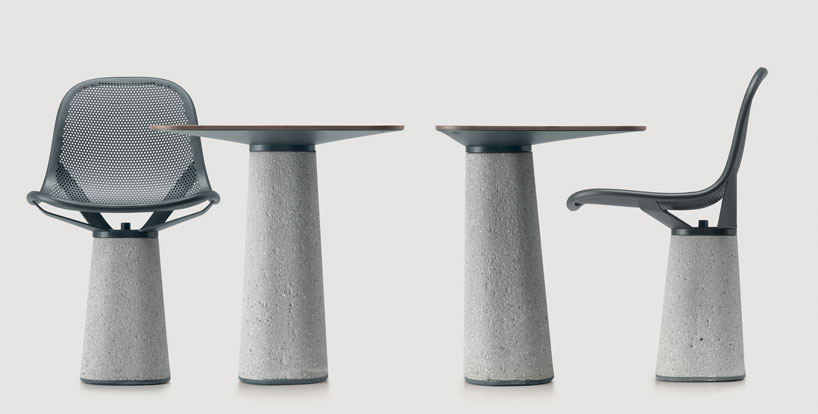 the range features tables of mixed dimensions and ergonomic, comfortable seating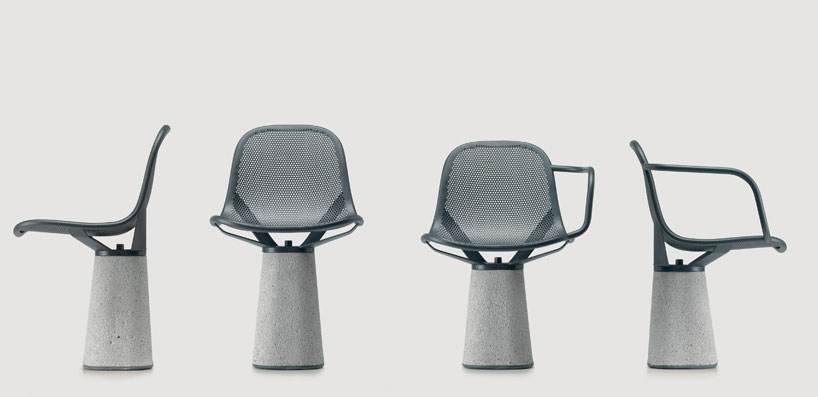 in total there are 18 different elements to the collection
all cement surfaces have been sanded by hand
the receptacle area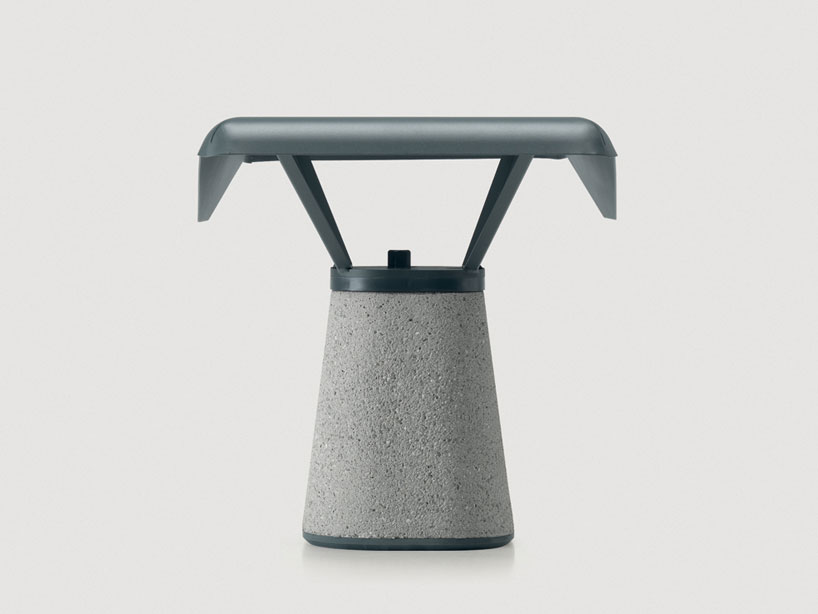 stool design
two person table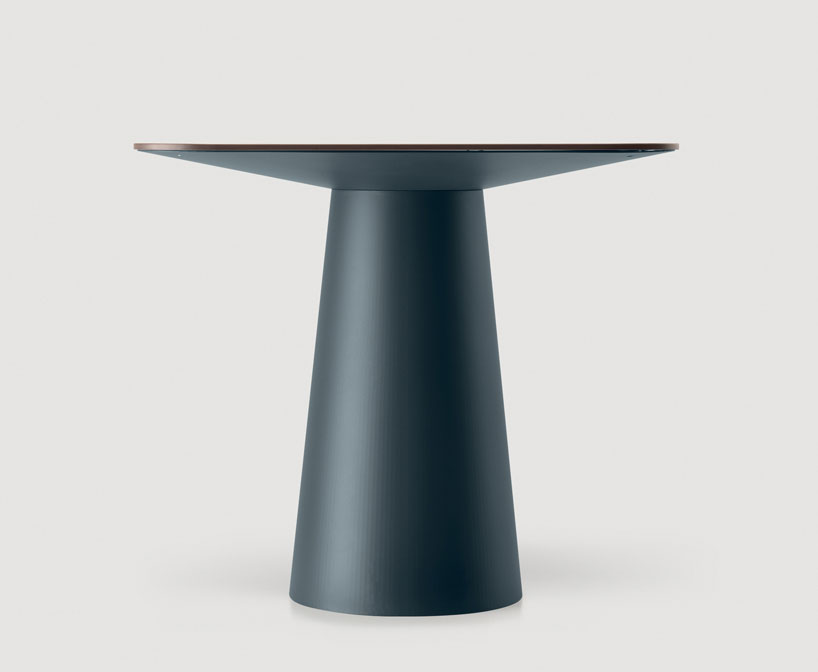 four person table
elevated table
four person table
the chairs feature a perforated sheet metal body, which rests on the concrete base
screen
table elements
litter area elements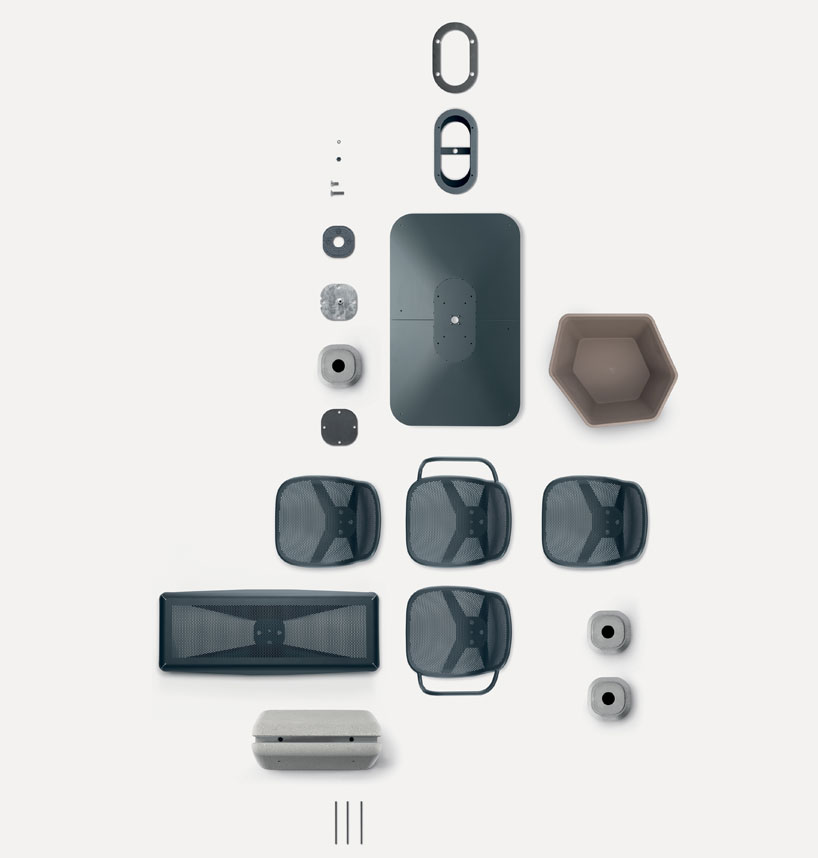 chair elements
alias
(10 articles)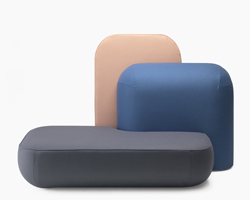 nov 27, 2016
nov 27, 2016
jan 24, 2016
jan 24, 2016
nov 03, 2015
nov 03, 2015
jun 27, 2017
jun 27, 2017
jun 20, 2017
jun 20, 2017
jun 19, 2017
jun 19, 2017
jan 27, 2017
jan 27, 2017
apr 10, 2016
apr 10, 2016
dec 03, 2015
dec 03, 2015