sep 13, 2010
peter marigold presents extruded vessels + wood chess set
peter marigold presents extruded vessels + wood chess set
UK designer peter marigold shows some of his most recent works at two different shows in celebration of london design week 2010. exhibiting at the brompton design district as a part of a collective show entitled, 'objects with a void' is a series of clay vessels which range in dimension from thimble-size to massive wellington boots. the malleable material has been forced into a gradually enlarged cavity in wood, resulting in the top of the vessels having a texture of extruded wood. other artists showing at the exhibition are max lamb, hiroko shiratori, and study o portable.
marigold's chess set at 'projectory'
at the second installment of phillips de pury's pop-up program in saatchi gallery, 'projectory', marigold shows a wooden chess set table. each individual piece has been cut from a single tree branch then minimally chiseled away to provide distinguishable characteristics. 'projectory', which aims to show important movements in contemporary design from both studio and industrial perspectives, features new projects from nendo, richard hutton, and oskar zieta.
(left) overall table view (right) checker detail
chess
(8 articles)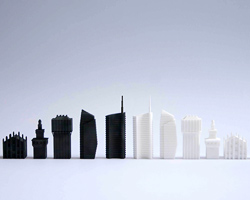 oct 22, 2015
oct 22, 2015
aug 28, 2013
aug 28, 2013
aug 08, 2013
aug 08, 2013
oct 30, 2010
oct 30, 2010
oct 24, 2010
oct 24, 2010
oct 20, 2010
oct 20, 2010
jan 15, 2015
jan 15, 2015
jun 23, 2014
jun 23, 2014
apr 23, 2014
apr 23, 2014