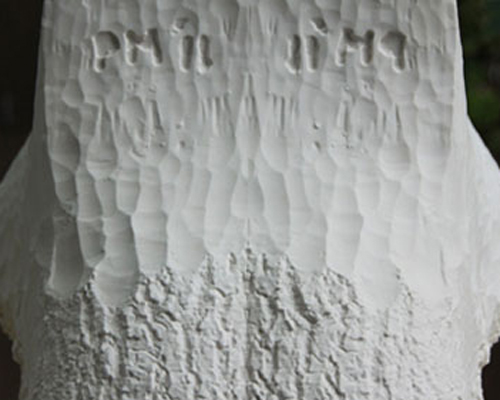 sep 20, 2011
peter marigold: trunk at london design week 2011
peter marigold: trunk at london design week 2011
in collaboration with materilise – belgium, british design peter marigold presents a new digitally produced piece entitled 'trunk'. the piece has been conceived for the exhibition 'industrial revolution 2' taking place at the victoria & albert museum during london design week 2011. new york-based gallerist and curator murray moss has curated this exhibition of 'printed' works which reference eight of the museum's key pieces and spaces, and is realized in collaboration with materialise who uses laser and digital technologies applied to what is known as 'additive manufacturing' to 'print' three dimensional objects.
'trunk' by peter marigold
marigold's 'trunk' has been developed whereby a log was laser scanned to record its three dimensional form as data, and then reflected within the computer, creating a mirror image of itself. the result is a perfectly symmetrical three-dimensional form that has been printed and then cast in plaster.
words from designer peter marigold: 'the object is a continuation of my 'palindrome series', in which one side of a piece of furniture is used to create the other. the original series used crude wooden moulds to create casts that gave a semblance and experience of symmetry, but were in actual fact merely related as negative / positive (mould / cast). by incorporating digital processes a truly symmetrical complex form is created, as the data is identical on both sides.
I have found recently that many people have become somewhat blasé about the forms that are possible with 3D printing, there is an expectation for them to incorporate impossible stylistic details and we have come to think of them now as quite normal. by taking the original resin printed form back into the studio and casting it in a familiar material, I wanted to strip away this connection with high-technology so as to focus the eye on the form, rather than the process.
I am intrigued at the spontaneous way that our minds perceive vertical bi-symmetrical forms as being either animals or humans, this is most famously expressed in the rorschach perception tests in which we might see a rabbit or a smiling face formed from a completely irregular, but symmetrical blob of ink. therefore I intentionally chose to scan a log with several features that our minds easily decode into humanoid elements, such as legs, limbs, buttocks etc. the trunk of a tree becomes the trunk of a body. flora becomes fauna.'
see designboom's coverage of peter marigold's palindrome series here.
casting process
technical drawing for 3D printing
technical drawing for 3D printing
technical drawing for 3D printing
oct 15, 2011
oct 15, 2011
oct 05, 2011
oct 05, 2011
oct 03, 2011
oct 03, 2011
oct 03, 2011
oct 03, 2011
oct 02, 2011
oct 02, 2011
sep 29, 2011
sep 29, 2011
jan 15, 2015
jan 15, 2015
jun 23, 2014
jun 23, 2014
apr 23, 2014
apr 23, 2014
a diverse digital database that acts as a valuable guide in gaining insight and information about a product directly from the manufacturer, and serves as a rich reference point in developing a project or scheme.