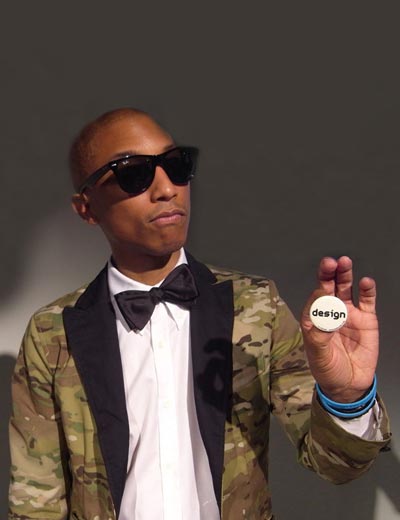 jan 04, 2013
pharrell williams: places and spaces I've been
UUUHHH pharell with the designboom pinimage © designboom
while in miami for his book tour in december 2012, music producer, singer-rapper, composer pharrell williams discusses design with craig robins, property developer and founder of design miami. designboom had the chance to attend and to meet him at the presentation. 'this book is not about me'. I'm not an author' pharrell remarked at the event. 'I had this super comprehensive team to help me put the book together.' the book is a collaborative effort, and pharrell discusses music with jay-Z – about grunge and some of their most memorable bars –  the people who have influenced him and his upcoming projects. 'it takes me back and covers much of my work for the last fifteen years, and it's humbling for me to have all these projects and people in one place.'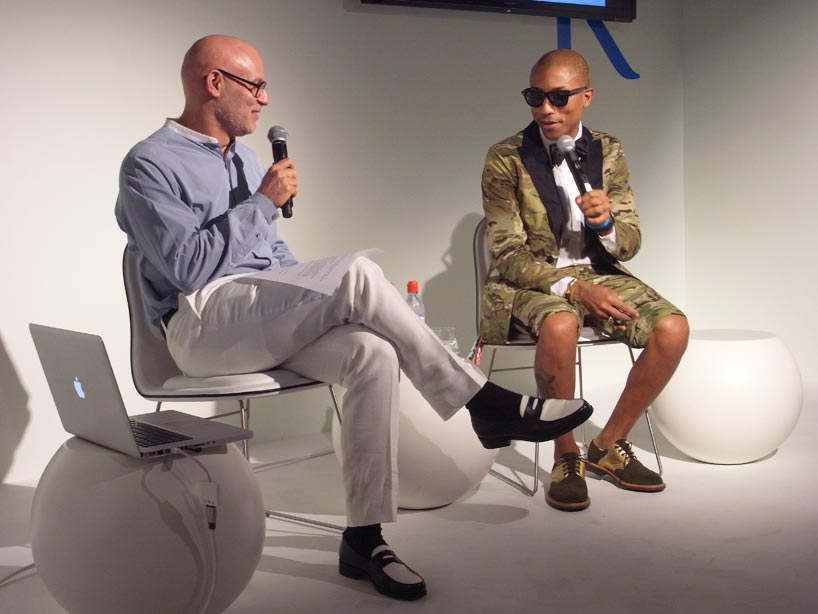 craig robins, miami design district developer in discussion with pharrell williamsimage © designboom
PHARRELL: PLACES AND SPACES I'VE BEEN
publisher: rizzoli new yorkyear: october 2012ISBN: 978-0-8478-3589-8illustrated with over 400 sketches, concept renderings and photographs, this book features pharrell williams' prolific body of work(the title originated from the donald byrd song 'places and spaces').
_____________________________________________________________________
designboom rating:
_____________________________________________________________________
'I think it's important to have certain things documented, says pharrell. 'I've been involved in so many interesting projects and got to collaborate with some amazing people, it just felt like it was the right time to do it.'a lot of protagonists were involved, snoop dogg, kanye west, but also with astronaut buzz aldrin, anna wintour, and … yes, zaha hadid.
in the book pharrell announces that he is currently collaborating with the famed architect on pre-fab houses.'if we could show people that pre-fab can be great, that they could buy their homes for cheap (and pay it off in ca. 8 years…)that would be fantastic. and zaha is 'far and beyond' and she likes curves, so she would be great to do pre-fab, because she has not done it yet and can fully express her creative energy in that very interesting exercise…'
he has been in the news lately not only for his music and clothing but for his design activities andthe book details pharrell projects with louis vuitton, moncler, and other high profile product endeavors… even furniture.pharell teamed up with chinese artist yi zhou, designed a tank chair in 2009, and the 'perspective chair' in 2008.
'all projects are kind of LEGO blocks to me, and making a chair is not really different from making a song'. pharrell williams'you're pretty much using different materials but it's the same thing. you have an idea, you create your blueprint, your schematic. you fabricate it, you build it, you set it free, you let the world see it. whether it's a song or a chair, it's the same thing.'
among pharrell's favourite works at the design miami fair were a bookshelf by the french charlotte perriand and a 1953 desk by the italian master architect gio ponti. 'he was trying to make office life fun', he said of the latter.
at one point during the discussion, pharrell, who never removed his dark sunglasses, paused to say that he found the whole set-up, with the bright spotlights on him, a little intimidating. 'the one thing I hate', he began, spelling out the word slowly, 'H-A-T-E, is interviews. they always want me to talk about me. it's so boring.'robins asked: 'oh, I hope you are not feeling I am interviewing you today?' pharrell assured him that he's not.
the book comes in three colors, pink, blue and green/mint or a limited-edition white —and when he was asked: why three different colours and what's your favorite ?'I've always been into color and I wanted to give people 'choice', but also when things become cool there are so overdone.there was a moment when everything was 'chrome'. remember? now you just want to run away from all those things.'
'I wanted to ask you about your taste and how do you develop such a high taste level that influences pop culture?' kayne west attended the Q+A session.
'mr. west how are you doing? (laughs)to be honest, just hanging around with the right people, not pretending to know it all, being unafraid to learn. you know — we are artists. we have these instincts — but there is much more to it than just the aesthetics, there is a function to it. more than just a a cool colour way.see history, the real world, you realize that all great things are made from a functional viewpoint first.that was one of the greatest lessons I had to learn.'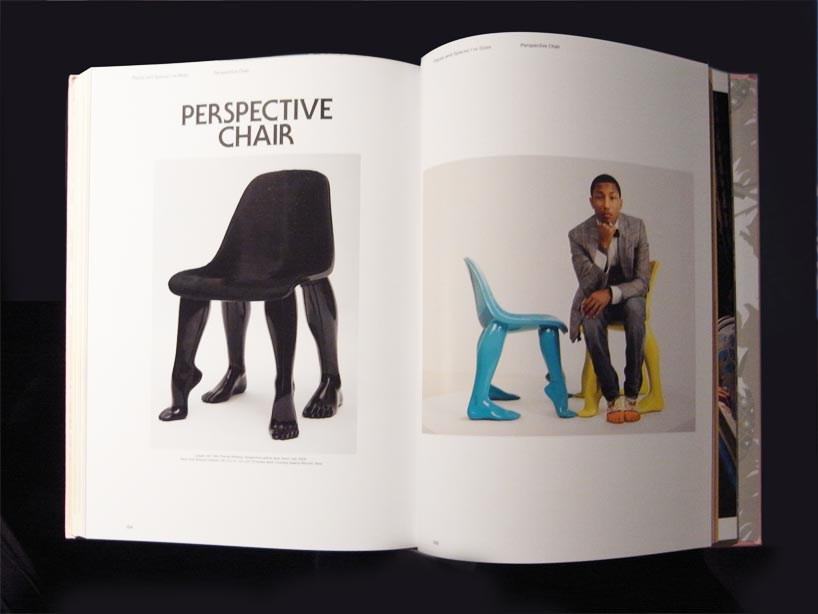 spread from pharrell's book of his 'perspective chair'image © designboom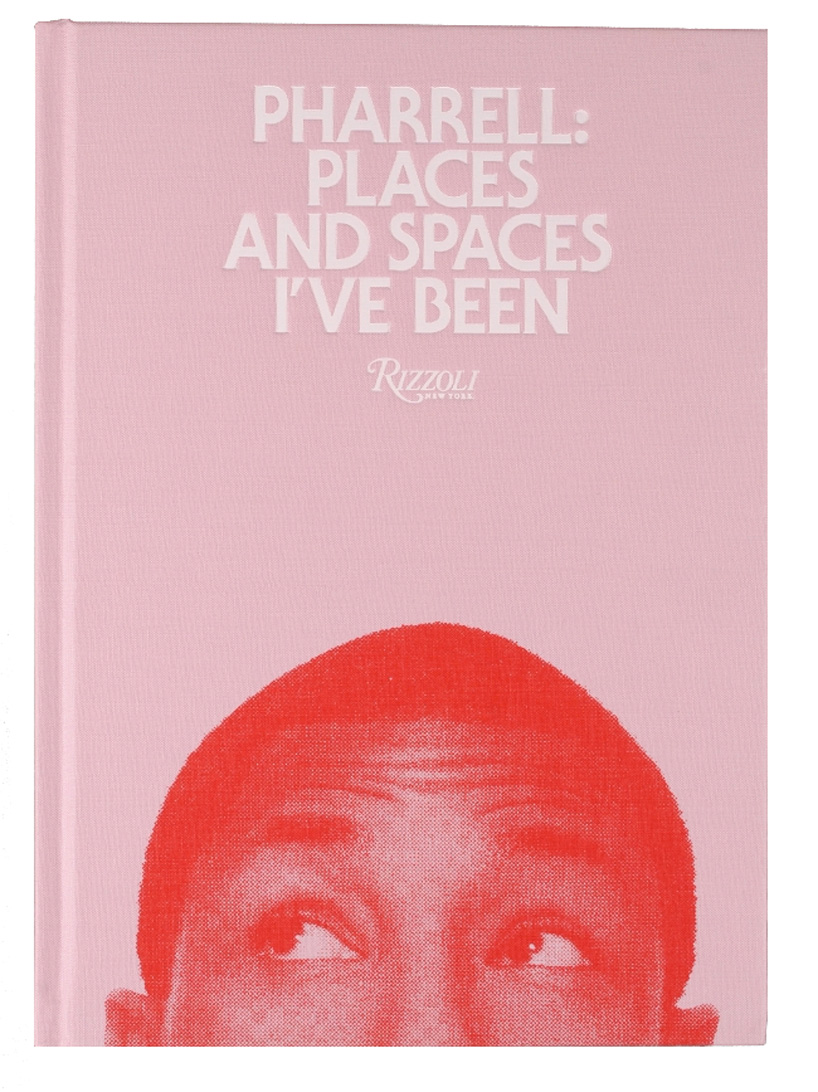 designboom ratings:
…………………. interesting
…………….. good read, worth a look
………… very good
……. excellent, recommended
.. must have ______________________________
dec 16, 2012
dec 16, 2012
dec 16, 2012
dec 16, 2012
dec 15, 2012
dec 15, 2012
apr 29, 2017
apr 29, 2017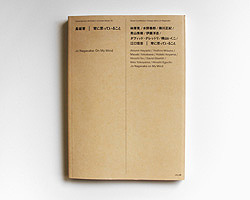 feb 03, 2017
feb 03, 2017
dec 12, 2016
dec 12, 2016
dec 07, 2016
dec 07, 2016
jul 23, 2015
jul 23, 2015
oct 08, 2014
oct 08, 2014