philippe starck has unveiled the first fragrances collection of his new haute parfumerie brand, starck paris. the trilogy of scents in the 'peau' collection forms 'a unique experience, a journey to the elsewhere, to the intangible.' bespoke packaging unifies the series of smells — each fragrance is encapsulated in a uniquely-shaped abstract void and contained within rectangular glass volumes. a pastel pink, pale mintgreen and coolgrey hue colorize the transparent cases, blending the senses to subtly match the traits of the scent. while each unit can be used on its own, together the three bottlesform a singular, undulating shape that wraps through the length of the glass masses. 'peau de soie', 'peau de pierre' and 'peau d'ailleurs' are 'olfactory poems and fruits of starck's enigmatic riddles for master perfumers: what is the odor of shadow or of light? what is the smell of attraction, of cosmic void or of the mysterious core of a telluric matter?'
designboom interviewed philippe starck in order to understand the motivation behind the project, the process, and the narrative of the fragrances.
designboom: where did the initial idea to move into fragrance come from?
philippe starck: since my childhood, I have always been exploring odors and scents. in my twenties, I even bought myself a perfume organ but I quickly realized I was not a master perfumer. however, since then I kept exploring odors. from the streets in india to the vapor trail of a woman in the street.
my real territory is dream and vision and most of my life I translated them into materiality. but deeply, I have always wanted to escape materiality in order to become an ether. so I built this idea, this vision of perfumes but I needed real professionals to translate this vision and these intuitions of my long lasting creative life. some perfume companies came to me over the years and ask me to collaborate on a fragrance. but I cannot put my name on something I didn't entirely do. so I have always refused their offers until the wonderful people of PYD came along with this fantastic idea: I am not a perfumer but I have some visions, some ideas and some dreams about perfumes, so I would be the inspiration behind the fragrances.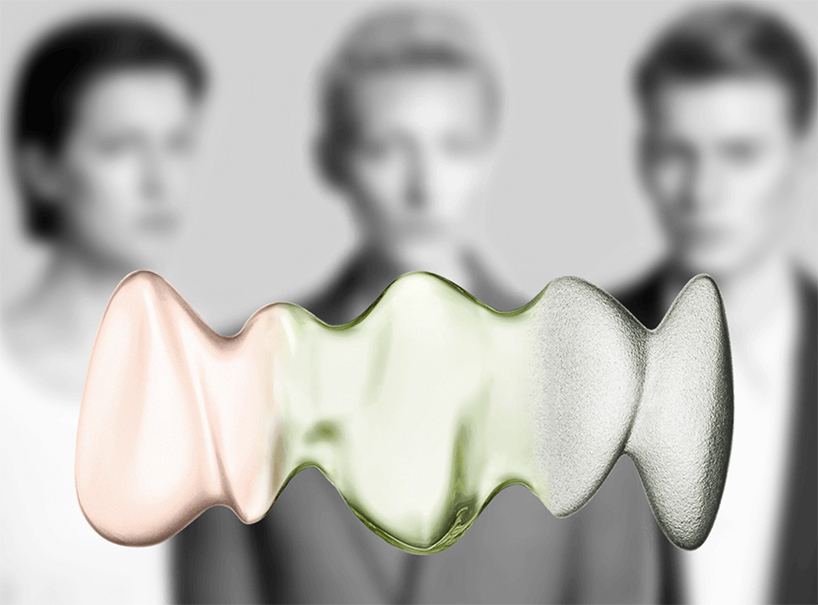 DB: how do you think the starck paris 'brand' translates into the world of perfume or, how does the starck name differentiate itself from other scents?
PS: this project is not a design project. it is a personal project, coming from my brain, from my heart. nothing to compare with my design activity. we – with my wife jasmine – started by spending a very long time – about two years – identifying the right partners to work with and this was the biggest challenge: choosing the perfect master perfumers to work with, the best in the world, people I could truly speak with. this process took almost 2 years, of blinded scents selections and strangely with my wife jasmine we reached the same short selection: daphné bugey, annick ménardo and dominique ropion.
then we engaged in never-ending mostly very abstract conversations, where I told them about my visions, worlds I visit and had visited, explorations I had made. I was referring to the smell of an asteroid, the smell of emptiness, the smell of speed… we never spoke about perfumes or ingredients. we invented a new language: from the visions I had to the brain through words, then crystallized in perfumes, in chemicals. it is a unique diagonal creative process, and this is how we made a completely different collection of perfumes. if the perfume is the best vehicle to go to the mental, we have invented a new language and we have invented a new territory, a new mental space. together, we invented a language, a new creative process to translate my dreams, my visions, my explorations into fragrances. through their personality and savoirfaire, my words became scents. the result is three very different fragrances, which nonetheless echo each other. I had the great chance that these three wonderful master perfumers were willing to enter this new language without any prejudice and made come true my vision.
DB: where did the idea for the narrative behind the three fragrances come from — this concept of the woman, the man and the person between — and what is the significance of it?
PS: peau or skin is our protective envelope; without skin, the perfume doesn't exist. with starck paris, I explored my brain and my heart, my universes. I wanted to explore possibilities and nuances through perfume. and one theme that has always interested me was gender in all its freedom, its variety and complexity.
peau de soie looks like a female fragrance but inside is a shadow, an attractive almost masculine heart, far from the clichés we are confronted to in the media. peau de pierre evokes the ambivalent masculinity; it smells like a male perfume but within its core a female mystery. if I had to imagine who would wear it I would say a male acknowledging his female side. with peau de pierre I speak about how men should be. the future is all about women intelligence: ultra-intuitive one. we should acknowledge this and let it be part of ourselves (men).
peau d'ailleurs is asexual; it is from elsewhere, it is the smell of something or someone we don't know yet. with peau d'ailleurs I am saying that one is not obliged to chose between being only a man or a woman, one can be something else, elsewhere. each perfume represents a part of who I am, and of who we are. depending on my mood I wear the three of them, even peau de soie.
mar 04, 2020
mar 04, 2020
feb 26, 2020
feb 26, 2020
may 15, 2019
may 15, 2019
apr 16, 2019
apr 16, 2019
apr 11, 2019
apr 11, 2019
jun 11, 2018
jun 11, 2018
a diverse digital database that acts as a valuable guide in gaining insight and information about a product directly from the manufacturer, and serves as a rich reference point in developing a project or scheme.