black and white – recreating an interior realized by gio ponti and fornasetti for casa lucano, 1951
image © designboom
piero fornasetti: 100 years of madness / practice
la triennale di milano
november 13th, 2013 to february 9th, 2014
100 years after the birth of piero fornasetti, la triennale di milano hosts an exhibition to celebrate the life and work of the milanese artist who has come to be known to the world as a master illusionist of ornament and design. curated by his son, barnaba fornasetti, '100 years of madness practice' (cento anni di follia pratica) surveys fornasetti's career as a painter, printer, designer, collector, craftsman and gallerist, who over the course of his life, conceived and built approximately 13,000 objects which expressed his unabridged imagination.
divided into distinct sections, the show covers particular themes that carried through fornasetti's professional life–initiated by his own personal act of collecting, from the study of self-portraits, his intuitions and sensibilities for graphic design and printing, to his collaboration with gio ponti through the 1950s-1970s. each room of the exhibition is dedicated to a specific subject that is expressive of the fornasetti trademark, and without hesitation brings the viewer into his surrealistic world through the more than 700 pieces that are on display; each selected by barnaba from his father's vast archive, and company which he still continues to maintain to this day.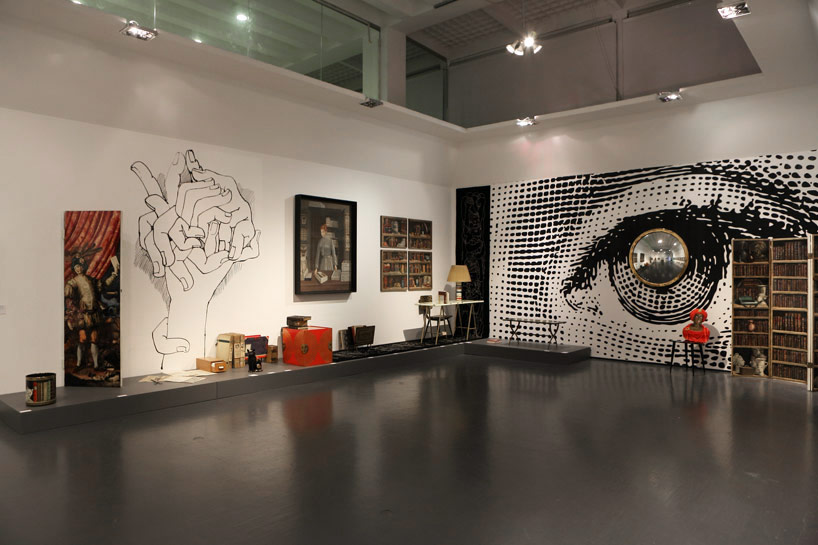 collecting, graphic design and printing
photo by f. marchesi
in the early 1930s, fornasetti had begun working as a painter and printer in a space his father had given him for his artistic purpose in the family house-the bachelor machine.
fornasetti collected books, magazines and documents on the applied arts, and used images he found (often cutting them out of the books they came from) as points of aesthetic reference, sources of inspiration and the materials for his work.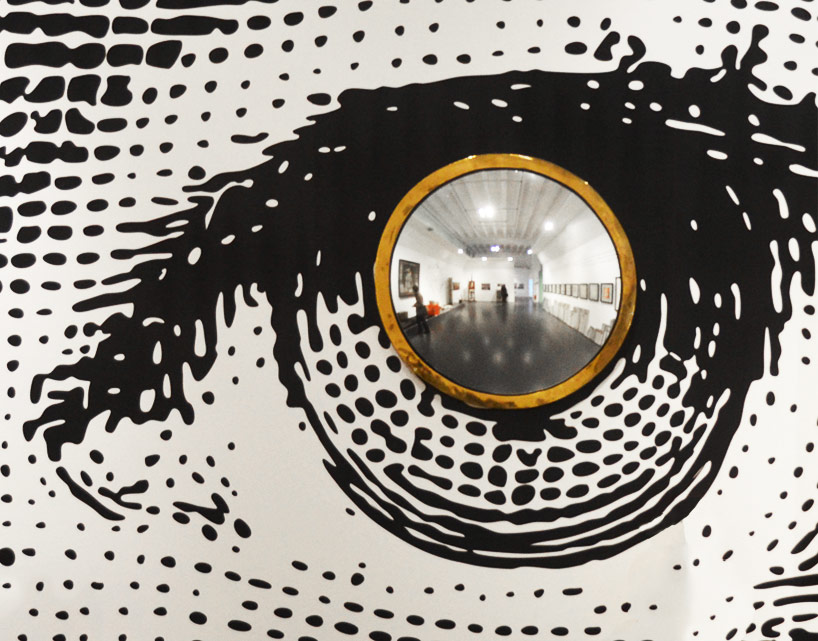 look into the world of fornasetti
image © designboom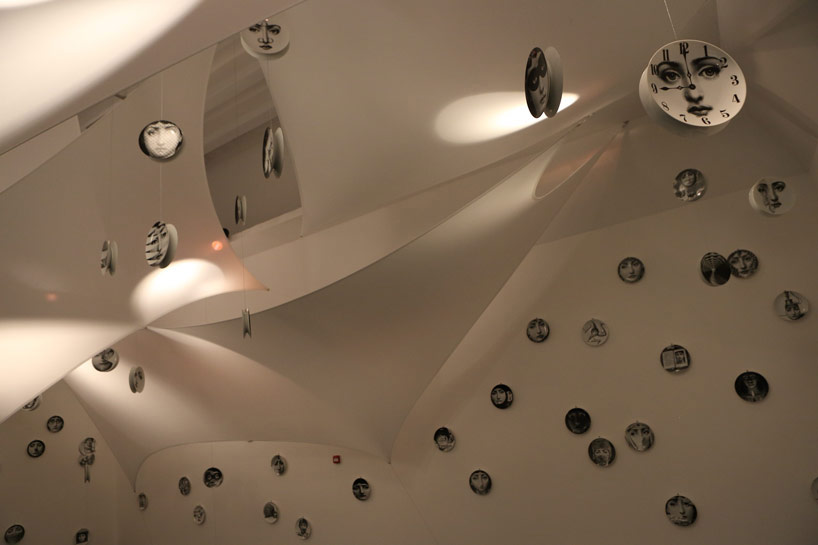 'theme and variations' – installation view of black and white fornasetti plates depicting the artist's muse, lina cavalieri
photo by f. marchesi
'variation is not only a noble endeavour or a musical exercise, but also an intellectual tradition and virtuosity of the imagination.' – gio ponti
the main principle behind all of fornasetti's volcanic creativity is that of collecting. the collector knows the objects he collects inside out, and is able to notice variations that most people would never see. variations on a theme is a process that characterises much of fornasetti's work. his constantly variable recurring themes include suns and hands, but it is his 'theme & variations' series that is the true expression of this process. it is no coincidence that this has become a true icon of his work.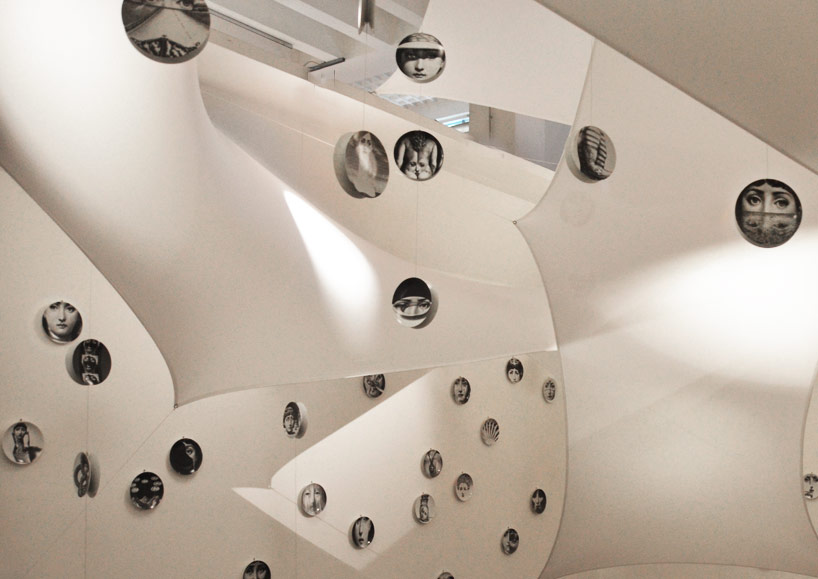 installation view of 'theme and variations'
image © designboom
the face that constitutes the theme of the series is that of the opera singer lina cavalieri, as fornasetti found it in a nineteenth-century french magazine. starting in 1952, he then transformed cavalieri's face 'as he wished', onto plates, glasses, paperweights and candlesticks, eventually producing more than 350 variations.
fornasetti loved to keep these, his favourite images, in the bathroom, and hung 300 'theme & variations' plates in the toilet of his gallery on via montenapoleone in milan.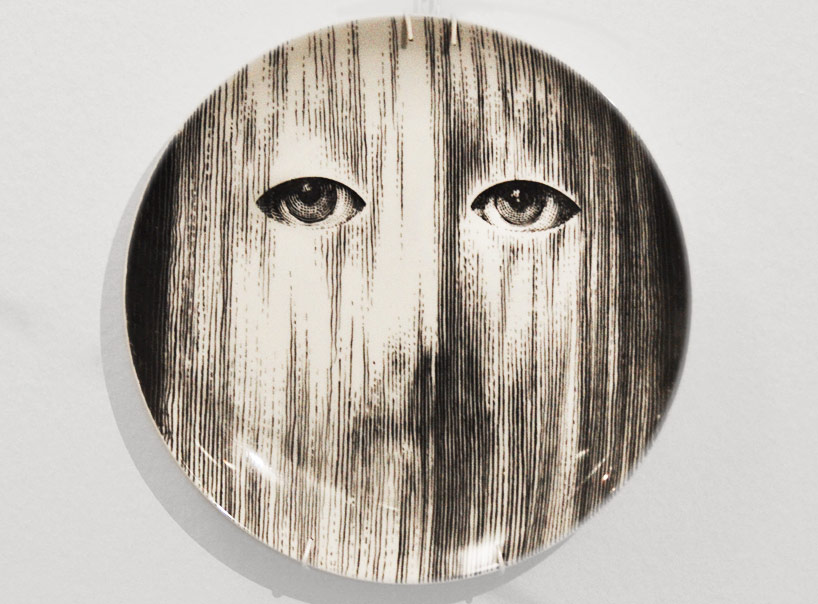 details
image © designboom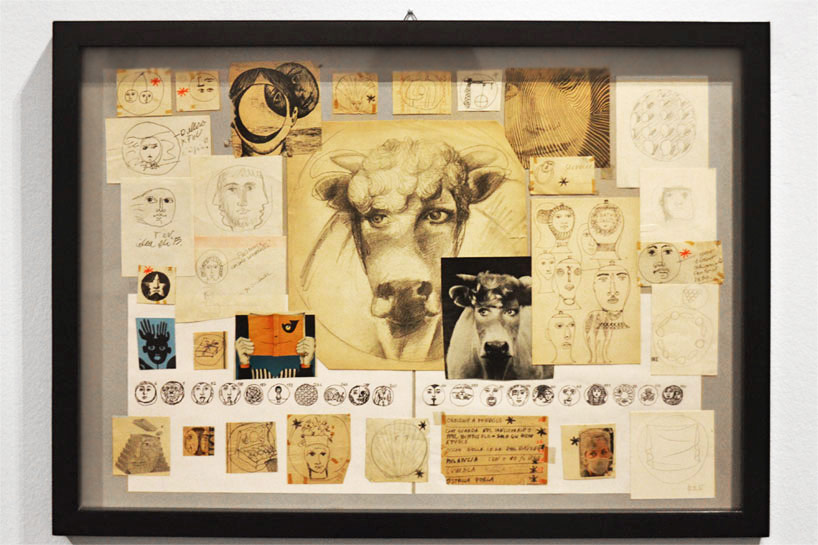 ideas and sketches for variations, between the 1960s and 1980s
image © designboom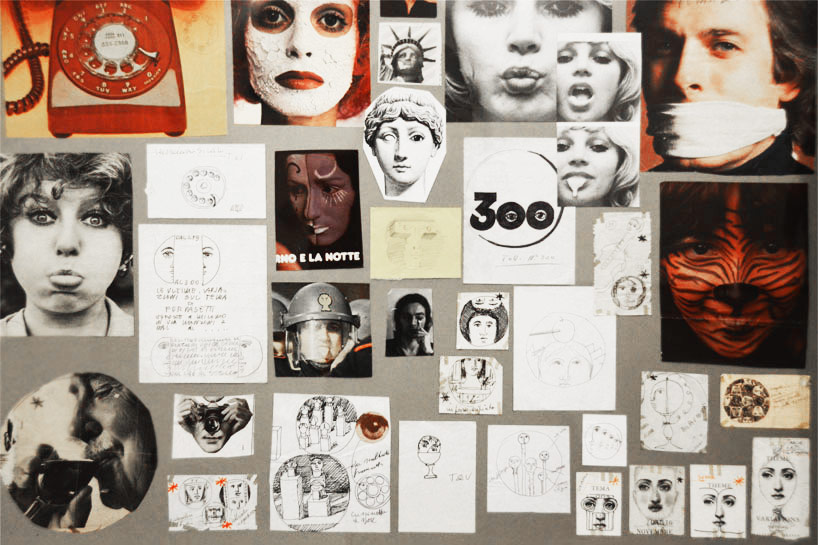 ideas and sketches for variations, between the 1960s and 1980s
image © designboom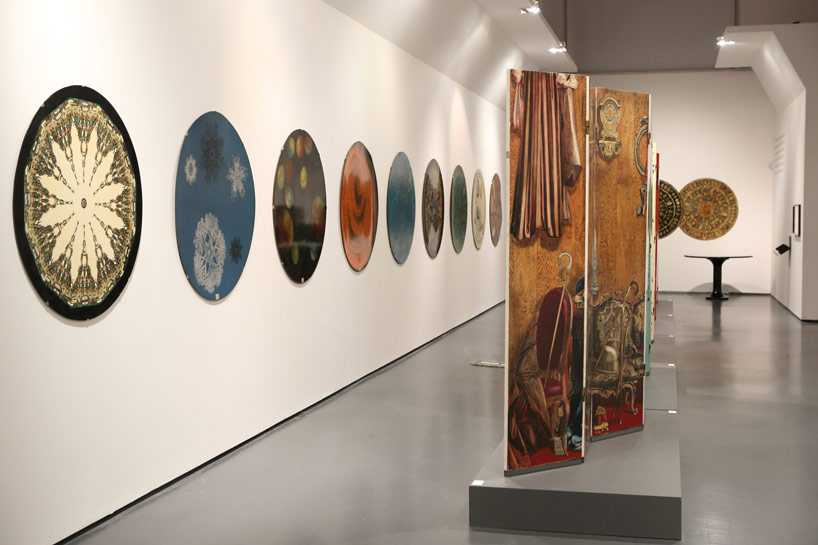 the screens
photo by f. marchesi
the screen, with his function as a mobile architectural element, is intrinsically theatrical and ideally suited for illusionistic tricks. this is one of fornasetti's chosen objects: from the early 1950s, he studied its history and its appearances in various cultural contexts and historical periods. he was fascinated by its linearity, and ideal feature for decoration and trompe-l'oeil.
'how could I tell my stories and make the object on which I'm telling them useful at the same time? (…)
I have designed [screens] with endless motifs, but they are mostly a way of enabling me to recount some of my dreams.
a city of mountains and villages, all made of playing cards, with characters going for walks and looking back at us from windows; with its precious blue, a night sky refines the imagination so the dream remains an object, a piece of furniture…'. – piero fornasetti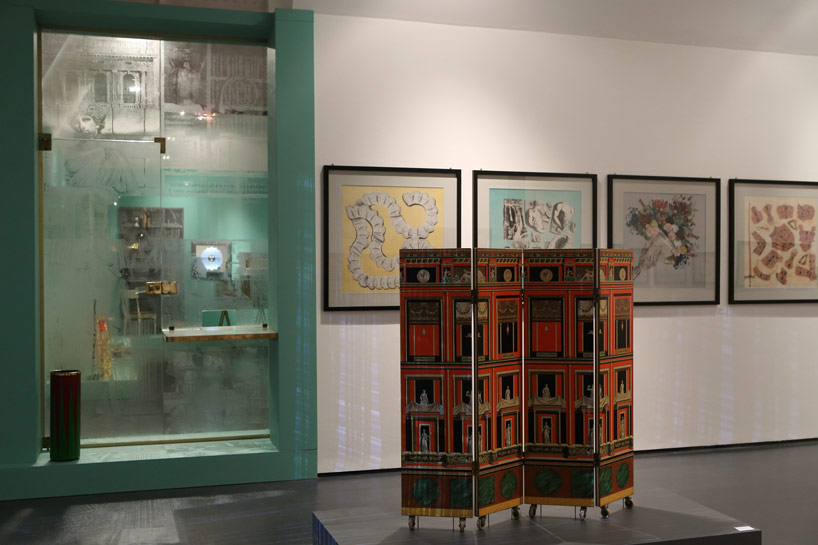 the screens
photo by f. marchesi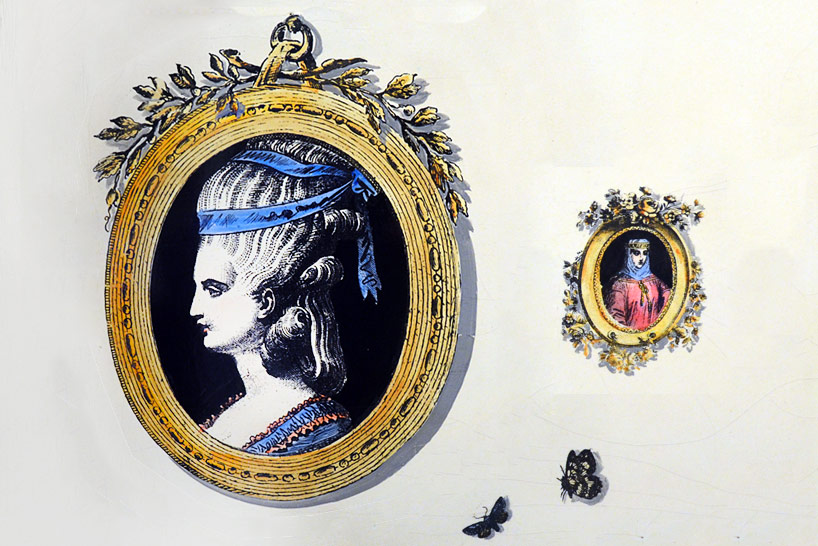 screen detail
image © designboom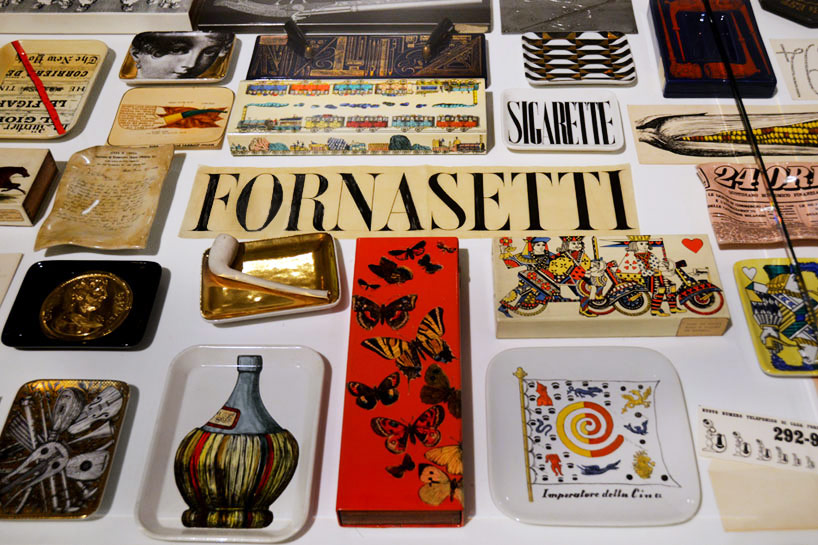 image © designboom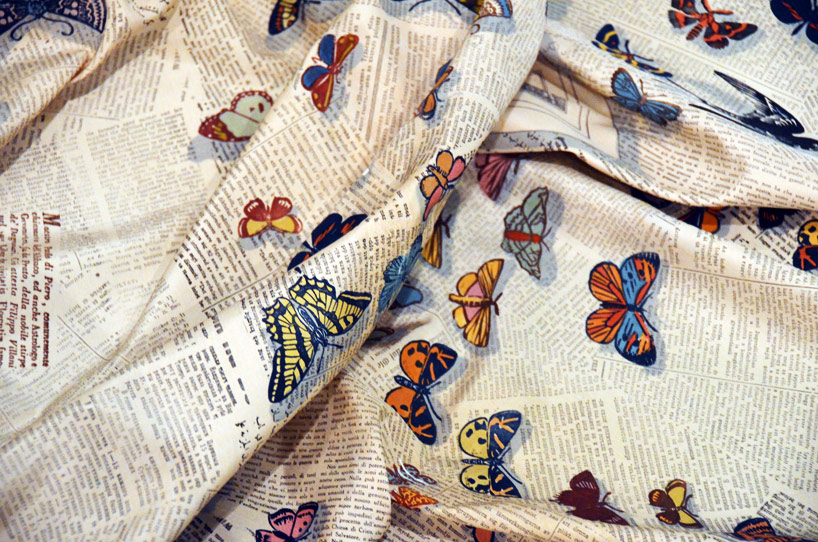 image © designboom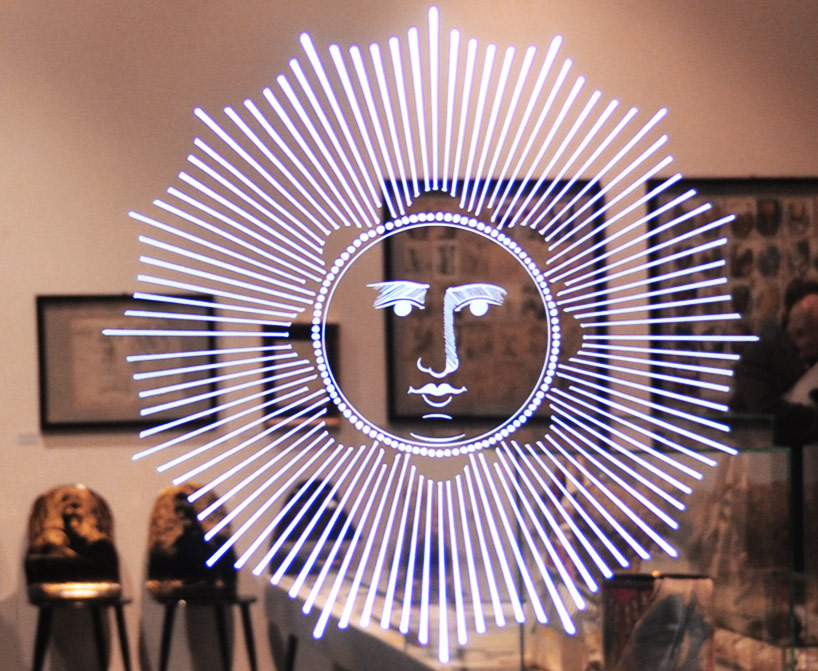 image © designboom
the first 'total interior decoration realized by gio ponti and fornasetti was for casa lucano, in 1951. looking out of the sitting room, the furniture seemed to be dominated by ponti's decoration, designed as briar-root. towards the sitting room, you could see fornasetti's decoration, bookshelves filled with books and trompe-l'oeil objects. the desire to create a 'total design', to create a theatrical, magical space, is actually innate in all of fornasetti's work.
as for many of his peer artists, trompe-l'oeil is fornasetti's principal medium of illusion. philipe starck, an ardent fan, has noted that the uniqueness of fornasetti's work lies in 'its three-dimensional aspect expressed in two dimensions. it's purely graphic. for fornasetti, two dimensions exist through the graphic form, but not only: you can also note a third dimension, in the objects, and a fourth in culture and memory, and a fift – poetry. he could combine a 3D object with a 2D graphic design, expressing perspective in trompe-l'oeil, through optical illusions.'
black and white, straight out of fornasetti's passion for graphics, had already been used in the design of the milan patisserie bulciora in 1950. as time passed, monochrome seemed to take more of an upper hand in fornasetti's imagination and work.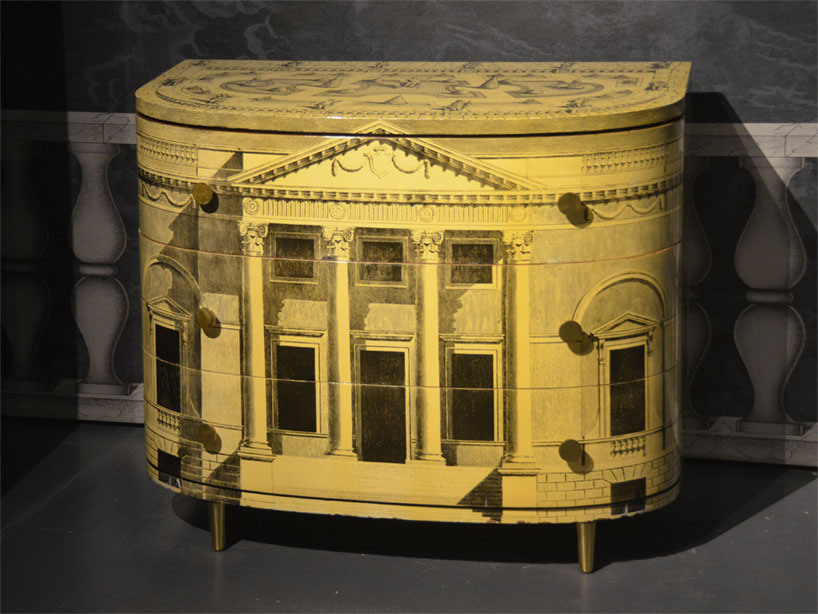 cabinet for casa lucano
image © designboom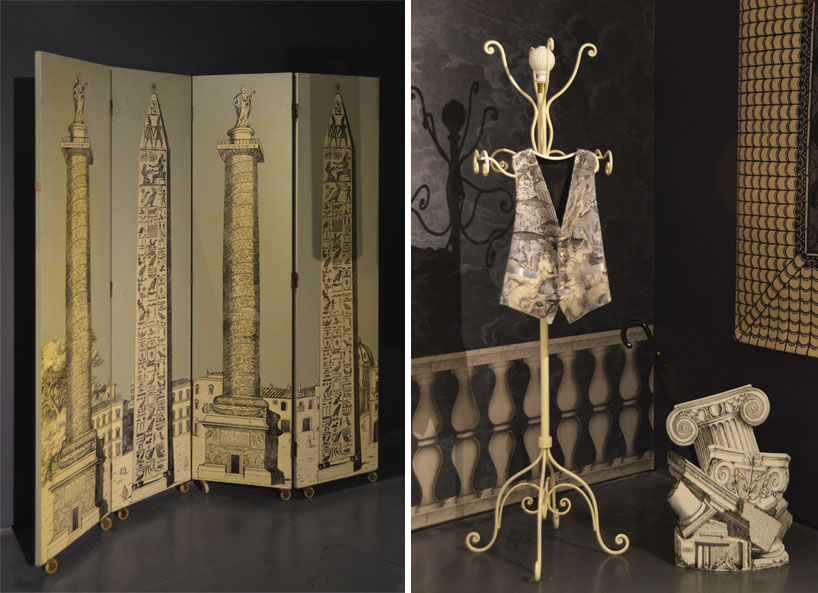 (left) obelisk screen
(right) clothes hanger and column sculpture
image © designboom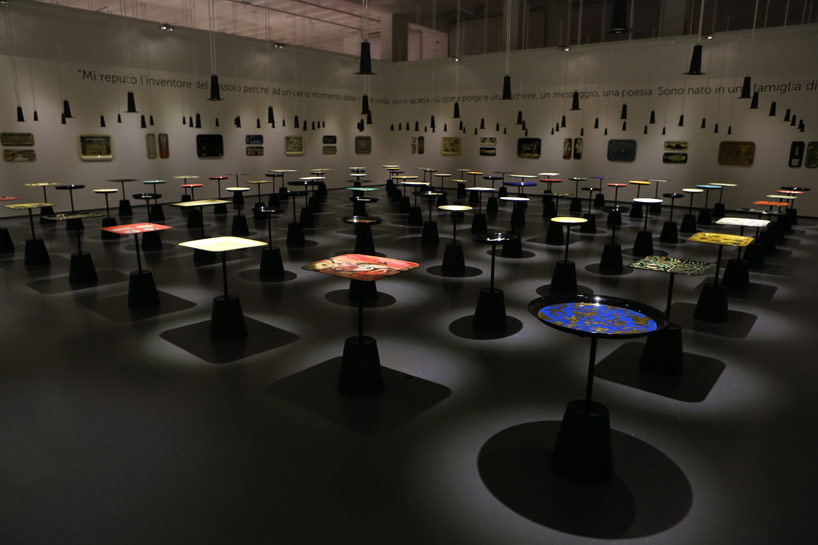 trays
photo by f. marchesi
in the vast repertory of the work of perio fornasetti, the tray is the object that truly presents the most variations, whether in the number of designs or the variety of forms ad formats. not including the variants, the decorations number 460; eight formats are rectangular, four circular and four oval. the rectangular forms were obtained by pressing sheet metal into a wooden mould. once the form of the tray was achieved, the border, containing an iron wire, was hammered by hand. the circular forms were shaped on a spinning lathe.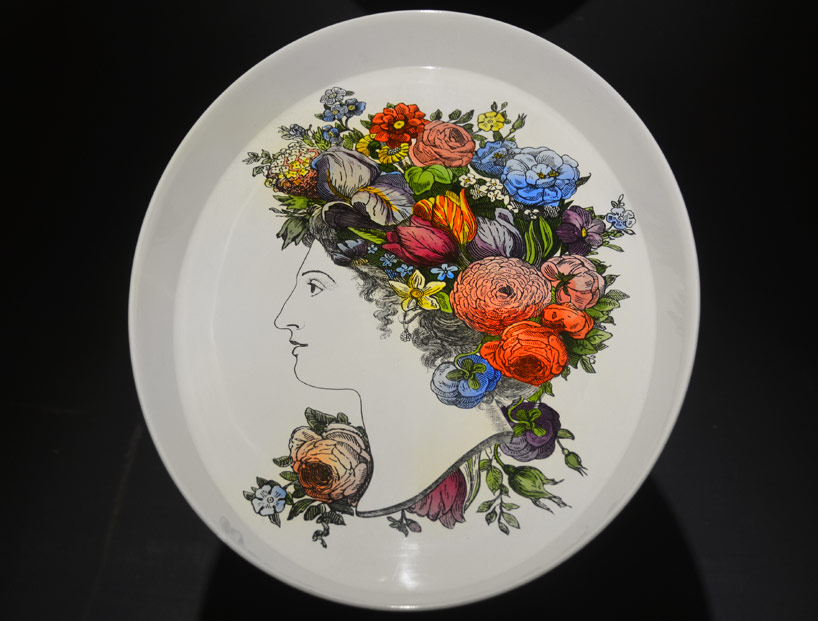 image © designboom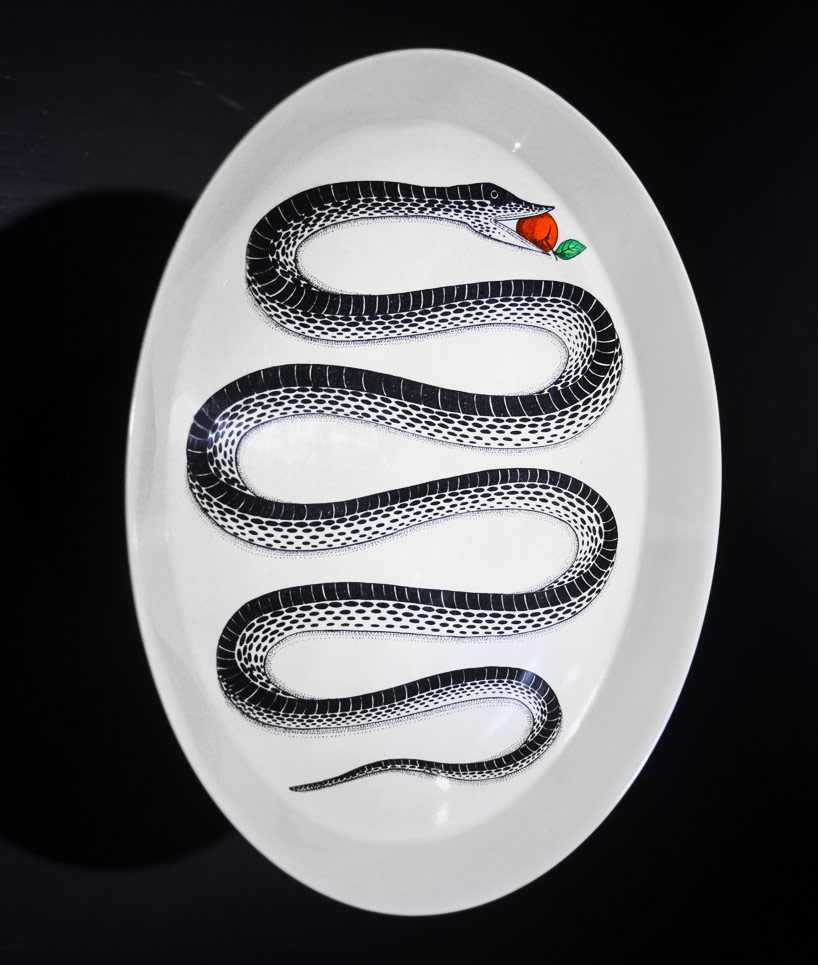 image © designboom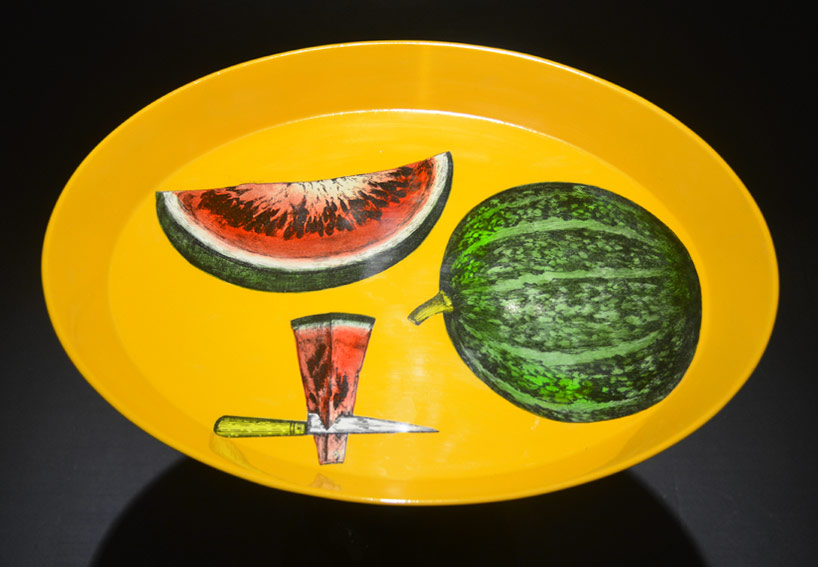 image © designboom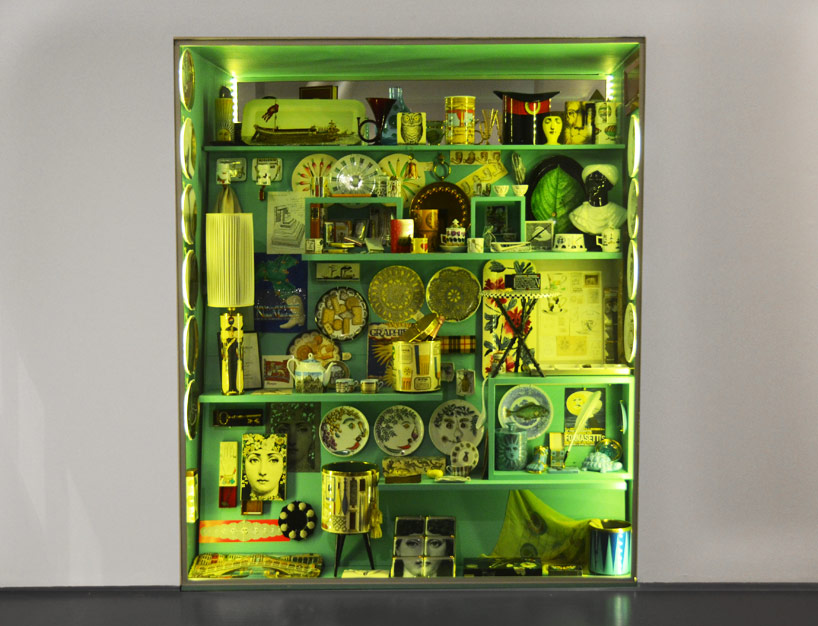 curiosity cabinet of fornasetti treasures
image © designboom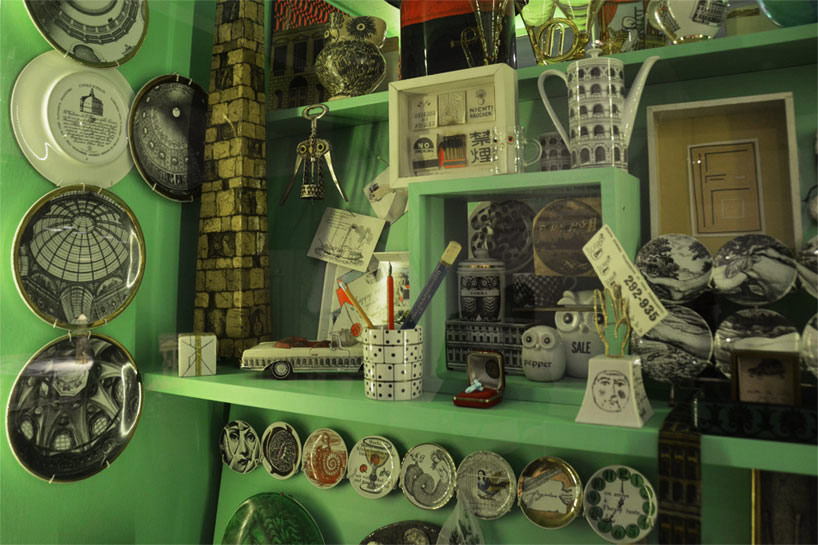 curiosity cabinet of fornasetti treasures
image © designboom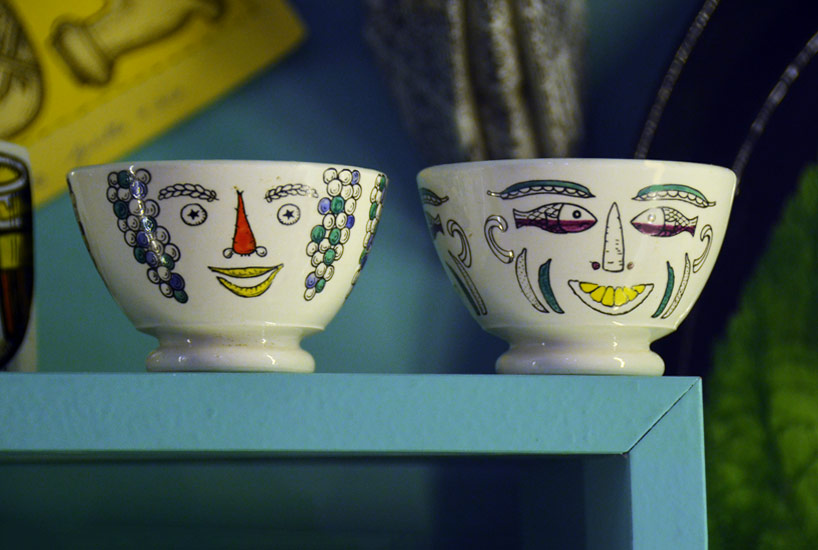 curiosity cabinet of fornasetti treasures
image © designboom
a diverse digital database that acts as a valuable guide in gaining insight and information about a product directly from the manufacturer, and serves as a rich reference point in developing a project or scheme.
designboom will always be there for you
milan, new york, beijing, tokyo

,
since 1999