may 18, 2015
piero lissoni pairs design classics with locally-produced pieces in brooklyn loft
piero lissoni pairs design classics with locally-produced pieces in brooklyn loft
image by max zambelli
during new york design week 2015, piero lissoni joins forces with a group of emerging brooklyn designers, architects and artisans — producing both independently and for leading brands — in the realization of the temporary 'casa lissoni'. the italian designer has conceived the ultimate contemporary space for living and working, pairing classics with locally-produced pieces.


the 'warren lounge chair' by brooklyn's token design studio is situated within the bedroom area
image by max zambelli
within a 4,000 square foot space in brooklyn's sunset park neighborhood, lissoni has added his own examples of design — a lacquered grey wardrobe for porro, chairs, tables, upholstery for living divani, a kitchen for boffi and light fixtures from flos. in collaboration with brooklyn-based creatives, lissoni has included the work of local practices within the industrial loft dwelling, comprising pieces from the collections of token, fort standard, snarkitecture, bec brittain, bower, avandi, assembly design, patrick weder, townsend design and PELLE.

the bedroom includes a lacquered grey wardrobe by lissoni for porro
image © designboom
the interpretation of the space sees a distinct, yet organic amalgamation of materials, brands, products and styles. in the kitchen, the 'open' monobloc stainless steel console by lissoni for boffi is complemented by the glass 'bubble chandelier' by PELLE design studio in brooklyn. a laquered grey wardrobe, also by lissoni, for porro acts as a partition between the bathroom and the bedroom, where a sculptural light by brooklyn-based designer patrick weder and the 'warren lounge chair' by local design studio token are arranged around the bed.
'first we brought the main pieces in to the space, and then we brought pieces from factories that are a little more elastic, and finally we started to make the combination between them,' lissoni tells designboom. 'the good thing is sometimes you don't have to design too much. everything is mixed together in a natural way. I think that's the secret of all of my work — to be natural.'


detail of honeycomb sculptural lighting by brooklyn-based designer patrick weder
image © designboom
from now until may 20th, 2015, the new york edition of the 1:1 piero lissoni exhibition, realized in partnership with elle decor italy and curated by carin scheve, will be hosted within next door's studio's waterfront loft.

'2x glass bowls' by assembly design (pete oyler and nora mattingly) are a feature of the living room
image by max zambelli

bubble chandelier by PELLE design studio (jean and oliver pelle) in brooklyn
image by max zambelli

the design of the open-plan space is realized through the collaboration between lissoni and brooklyn creatives
image © designboom

the 'seed chandelier' by bec brittain for roll & hill hangs above the lounge area
image © designboom

the temporary 'casa lissoni' sited within next door's studio loft space in brooklyn
image by max zambelli

the bathroom includes two 'frog chairs' by lissoni for living divani 
image by max zambelli

charred cedar wallpaper by brooklyn-based flavor paper lines the bathroom wall
image by max zambelli

two blown-glass pendant lights by token design, made in redhook, brooklyn
image © designboom

'stellar' chandelier by townsend design hangs above a dining area
image by max zambelli

'adaptable' side tables by avandi studio are situated to the left of the couch
image © designboom

image by max zambelli
Save
jul 20, 2017
jul 20, 2017
jul 02, 2017
jul 02, 2017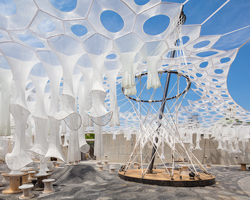 jun 27, 2017
jun 27, 2017
jul 23, 2017
jul 23, 2017
jul 20, 2017
jul 20, 2017
jul 18, 2017
jul 18, 2017
mar 17, 2017
mar 17, 2017
feb 23, 2017
feb 23, 2017
jan 24, 2017
jan 24, 2017
may 22, 2015
may 22, 2015
may 22, 2015
may 22, 2015
may 21, 2015
may 21, 2015
mar 15, 2017
mar 15, 2017
may 05, 2016
may 05, 2016
apr 28, 2016
apr 28, 2016