oct 25, 2013
plate-plate by duncan shotton at designboom mart tokyo 2013
plate-plate by duncan shotton at designboom mart tokyo 2013
all images courtesy of duncan shotton
british designer duncan shotton presents his 'plate-plate' collection for the 2013 designboom mart tokyo as part of tokyo designers week. designboom's double event this year includes two mart sessions: the first from october 26th – 30th, 2013, and the second from october 31st – november 4th, 2013. if you're in town, come and visit us!
 
 

sushi on the white 'plate-plate'
the 'plate-plate' collection is a series of tableware printed with playful images of a plate, knife and fork on its surface. the tiny design of the place setting is slightly smaller than the actual plate, creating a strange optical illusion which makes food look larger (and cuter!) than it is. the japanese-made designs come in three sizes — small medium and large — and in two colors — matte black and gloss white. at the designboom mart tokyo in 2012, shotton debuted his 'real boy' pins, which you can take a look at here.

any food placed on the 'plate-plate' appears bigger than it actually is

playful images of a plate, knife and fork are printed on the surface

the tiny printed design creates an optical illusion

the size of the sushi is magnified by the visual trick of the plate

the set of large black matte and gloss white plates

duncan shotton at the tokyo designboom mart 2013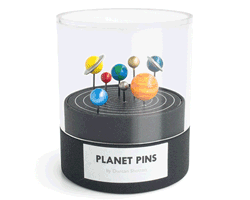 apr 27, 2017
apr 27, 2017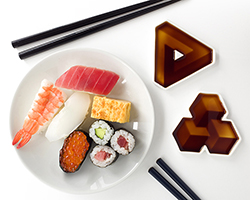 aug 02, 2016
aug 02, 2016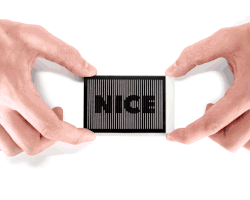 oct 04, 2015
oct 04, 2015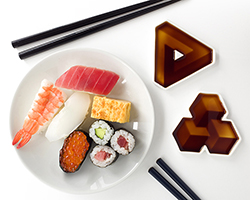 aug 02, 2016
aug 02, 2016
jun 20, 2016
jun 20, 2016
may 13, 2016
may 13, 2016
dec 08, 2013
dec 08, 2013
dec 01, 2013
dec 01, 2013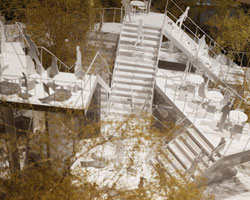 nov 24, 2013
nov 24, 2013