from inspired large-scale installations to intricately crafted furnishings, the re-edit hong kong showcase illustrates the creativity and ingenuity of local cross-disciplinary designers. originally on show at the marketplace, PMQ from september 18 to october 4, virtual reality technology captured the exhibition so the general public – from nearby and afar – can experience, appreciate and aspire to the work displayed. its aim is to recognize and promote elite talents to local and global brands.
virtually step into the re-edit hong kong showcase exhibition and view the craft work, here.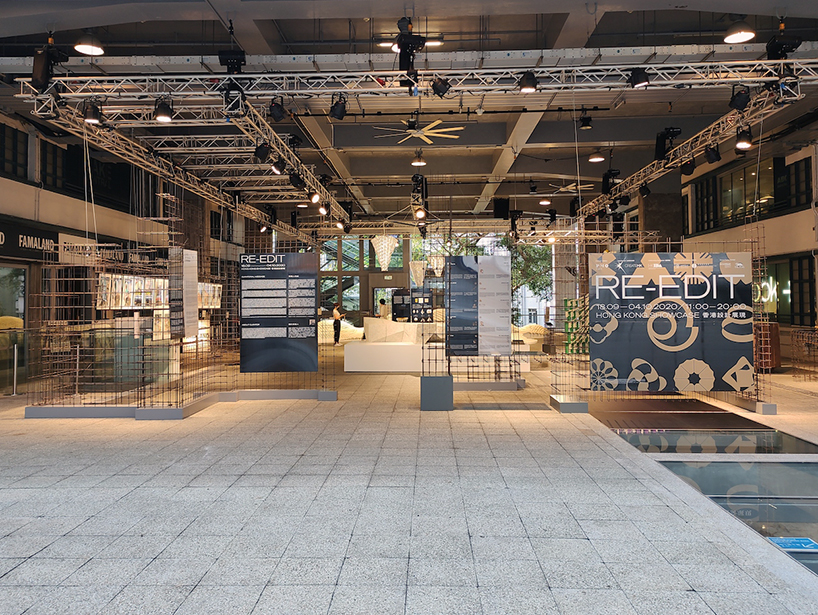 the showcase previewed the exhibition to be held at milan design week 2021
all images courtesy of PMQ
the re-edit hong kong design showcase introduces local creative talents – and their work – to the local and international creative community. it is the first phase of the exhibition that will be brought to milan design week 2021. throughout, the exhibited work explores new inspiration in the constant flow of consciousness in everyday life. the theme centers on layers of identity: on a personal level by questioning what we think, where we fit in, what we are attached to, and what piques our curiosity and creativity; brand identity; and city status identity.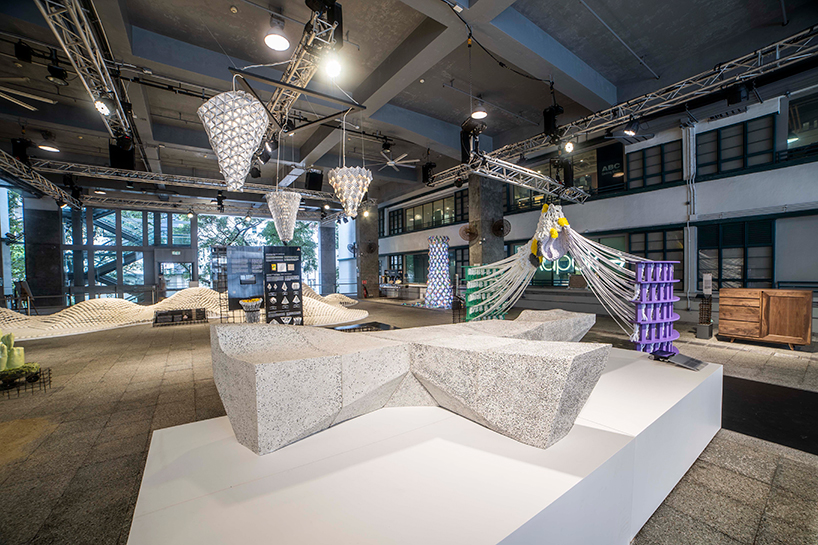 the work showcases local designers to national and international creative communities
'the exhibition aims to nurture hong kong design talents through introduce and showcase their works to major global platform – milan design week,' states william to, executive director of PMQ. 'the exposure allows local elite talents to interact and communicate with world-class designers and design brands, resulting in cross-cultural and cross-disciplinary dialogue that will expand the creators' horizons and elevate their design standard.'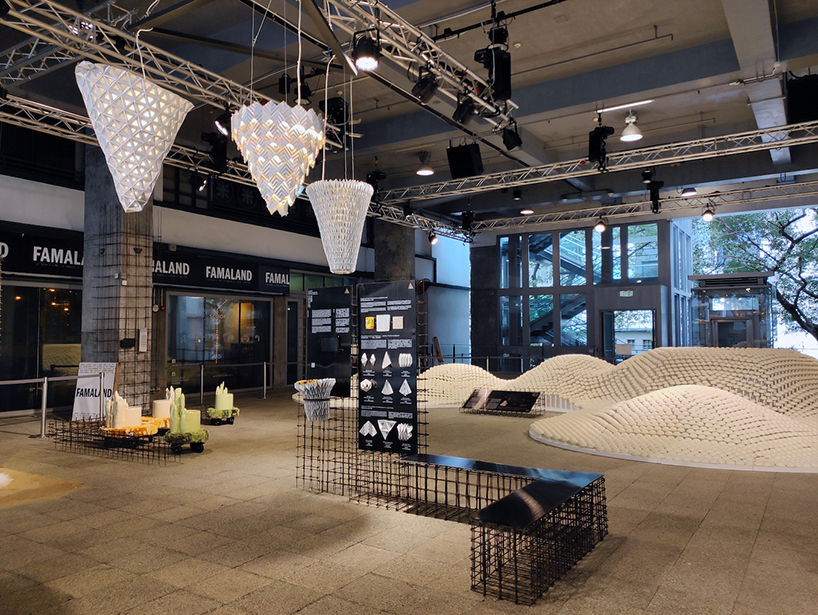 the exhibition is now available to view virtually online
'nowadays, an increasing number of enterprises are redefining values, craftsmanship, standards of education and knowledge exchange, and standards of humanity,' explains amy chow yuen mei, curator of the re-edit exhibition. 'this is turn has caused culture, design and business to gradually overlap. the works in this showcase reflect how subjects of identity are shaped by things such as language, place, community, media, technology, social consciousness, heritage, sustainability, craftsmanship, customs and beliefs.'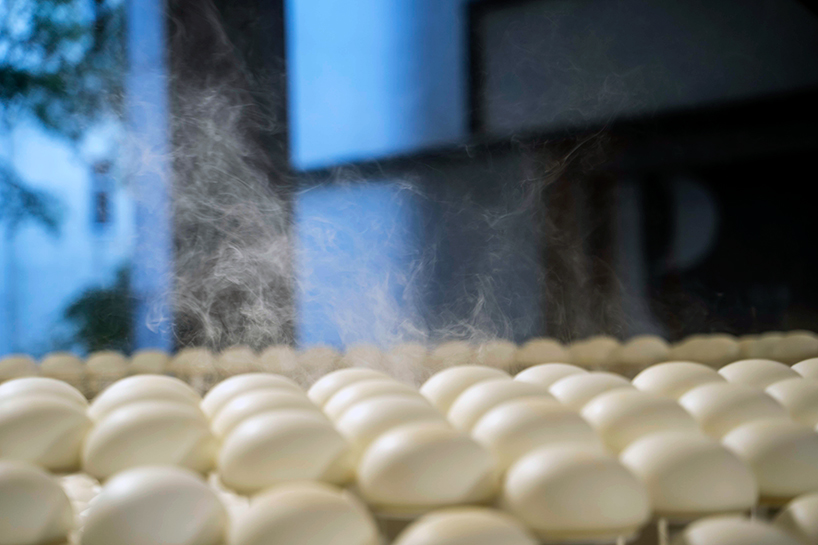 an undulating mountain of buns welcomes visitors to the exhibit
whether online or in person, visitors are welcomed to the exhibition by a poetic, imaginative large-scale art installation created by the hong kong interior design association. called 'bun mountain', 9,000 objects shaped like the namesake food items create an undulating wave for guests to move around or sit upon. light fixtures and a fog machine creates the illusion of rolling white hills. the design reinterprets two local traditions: firstly, it recreates the ritual where local fishermen would pray for peace and safety from pirate attacks; secondly, it plays upon the competitive sport of bun-snatching to offer an unorthodox yet meaningful new experience to the delicacy.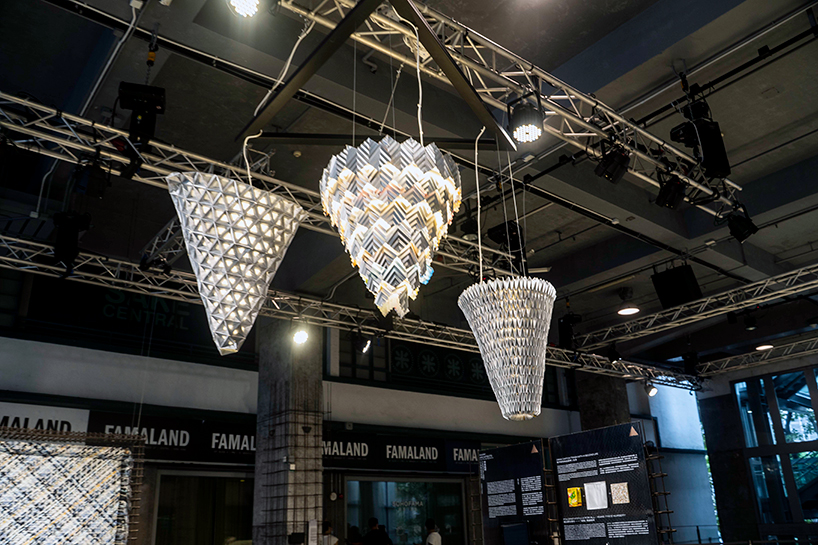 'carton (re)luminance' by AaaM architects
moving through the work within the exhibition, AaaM architects have found a novel solid waste solution. 'carton (re)luminance' is a pendant lamp that aims to spotlight the over-consumption of single-use packaging materials. it gives used tetra pak beverage cartons a new life. lined with layers of aluminum, polyethylene and paper, their food-saving properties also lend to an eye-catching, polymorphous and lightweight quality. the cartons are folded into conical honeycombs that, once weaved together, forms a tree-like shade with partial reflective surfaces. it it fitted with energy-efficient LED lighting inside.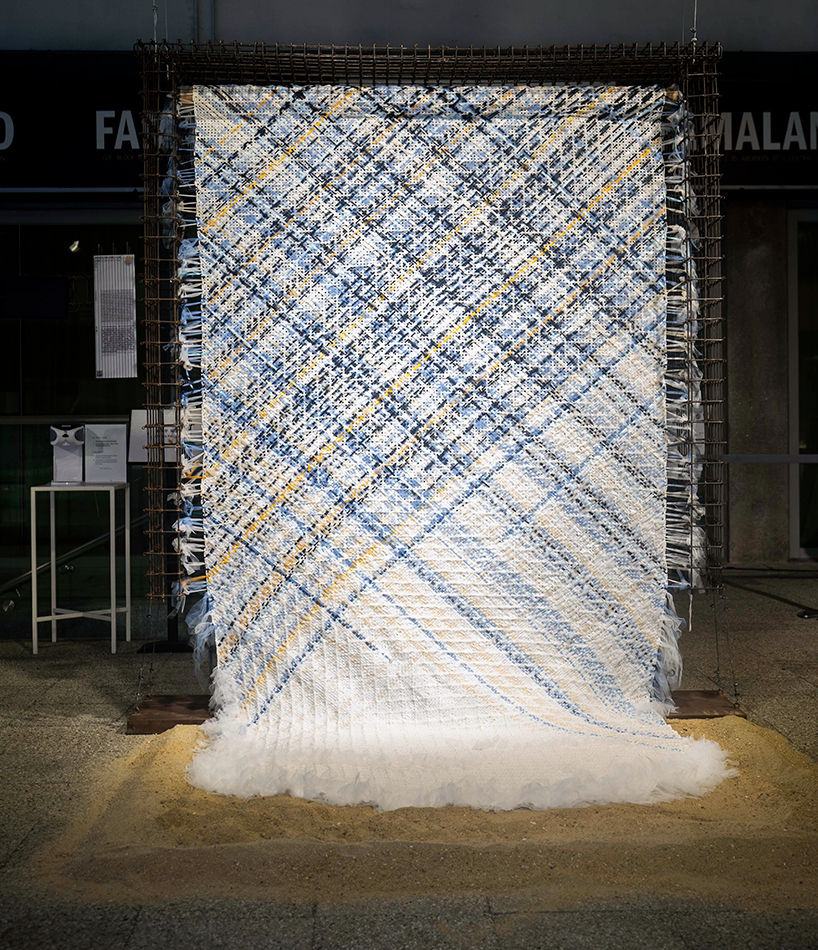 'wave' by aries sin mei yuk
raising awareness about protecting the ocean, aries sin mei yuk's 'wave' installation is part tapestry, part textile and part indoor space. it uses recycled fabrics to recall the dynamic, natural water forms surrounding the islands in hong kong. contrasting textures, sustainable materials and myriad strands are woven together into the textile sculpture. the ends of the fabrics are held by metal rings attached to a frame, but the extremities mimic the ocean wave by overflowing and breaking onto the base. the resulting form is intentionally left incomplete and imperfect.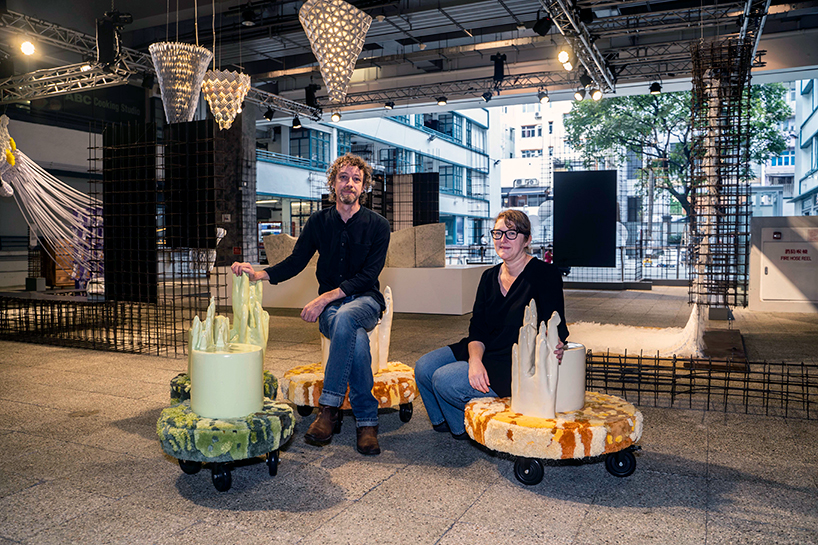 'terra mobiles' by julie & jesse
named 'terra mobiles', local ceramics designer and artist duo julie & jesse have fashioned a series of ottoman-like furnishings that take the form of colorful chinese ornamental rocks. in fact, they were specifically inspired by the former wonder of the tiger balm gardens on hong kong island, which were once awash with exotic statues, buildings and landscapes. using recycled yarn, the pieces are fitted with carpeting and wheels. this means that the eye-catching, approachable and unconventional mobile chairs allow several people to sit together, lean against or hug.

'routine fantasy' by man chi loy
'routine fantasy' by man chi loy, known as armechan, presents a mixed media works motivated by the limitations of space for hongkongers. the series of small-format paintings are based on snapshots of people at work in the city. stop-motion animation clips, which run for about 15 to 20 seconds, digitalize the paints. the artwork aims to prompt viewers to reflect upon the defamiliarized world in our urban environments.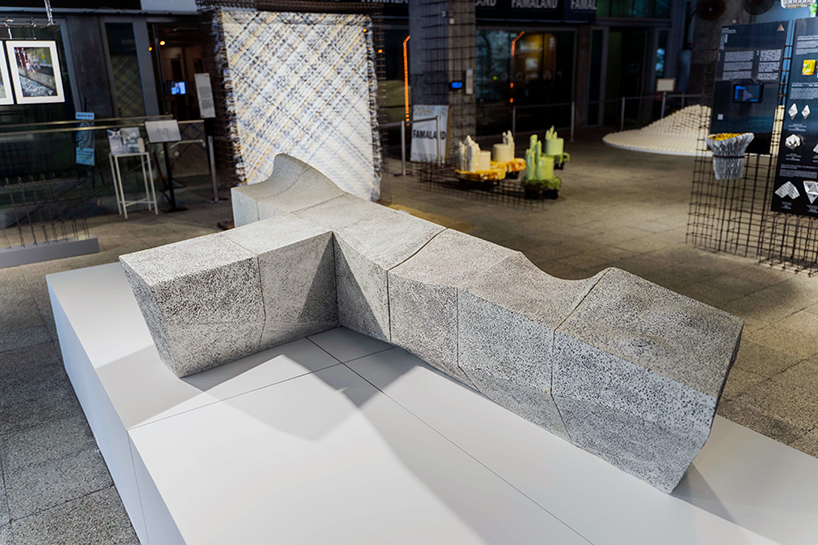 'rough to smooth' by MLKK studio
as the material once used for park benches before being replaced by mass-produced and prefabricated options, MLKK studio's 'rough to smooth' outdoor furniture revives polished pebble wash plaster. the material gives a smooth, cool-to-touch quality that is also maintenance friendly. with an appeasing organic form, the new bench invites urban users to sit, lie down or just relax on the surface. 'rough to smooth' was realized in collaboration with EDM construction.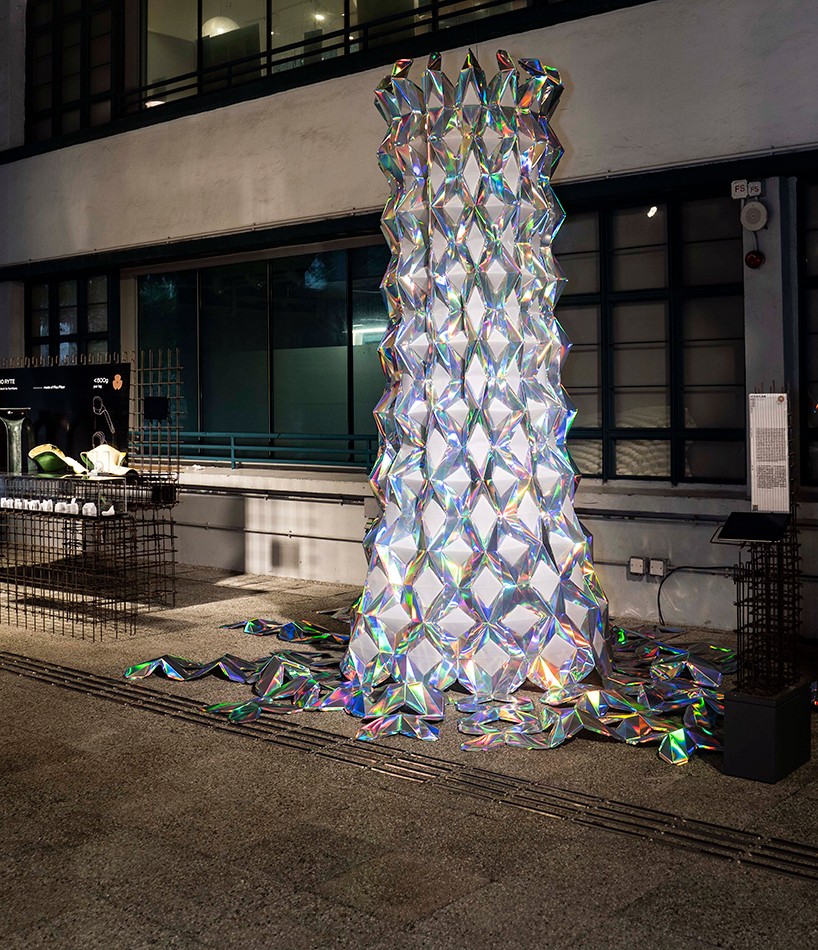 'blooming' by stickyline studio
celebrating ingenuity of design and handicraft, 'blooming' is a 3.6-meter-tall sculptural tower by stickyline studio. the truncated cone-shaped structure is constructed from paper latticework modules embedded with lighting. it is a tribute and analogy for industrial design in hong kong, which traces back to small-scale, home-grown cottage industries that involved handicrafts. the sculpture aims to reflect and increase the resurgence of combining design and craft in the region.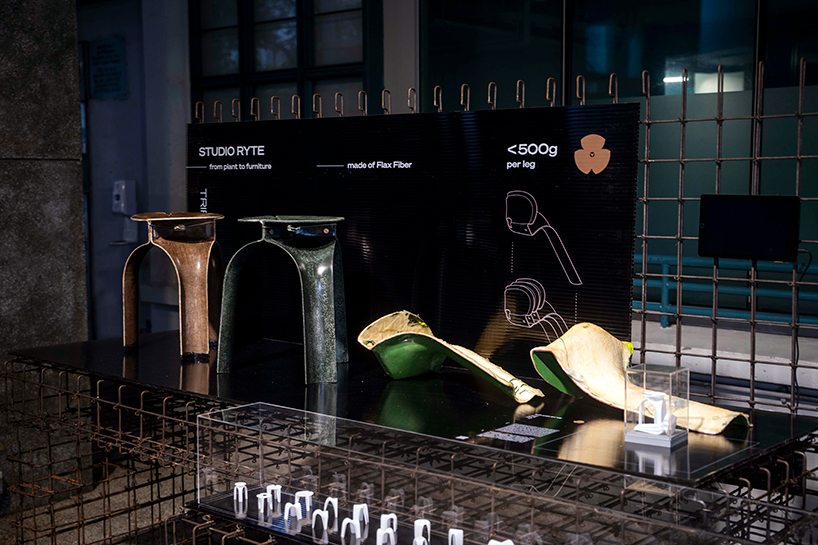 'triplex stool' by studio ryte
'triplex stool' designed by studio ryte is an elegant, space-saving and sustainable piece of furniture to aid hong kong's high-density living. it combines biodegradable material within a modular design; its three slender, stackable legs and seat are made of flax fiber. the material, whose strength is comparable to carbon fiber, originates from a fast-growing plant before being bonded together by a bio-resin.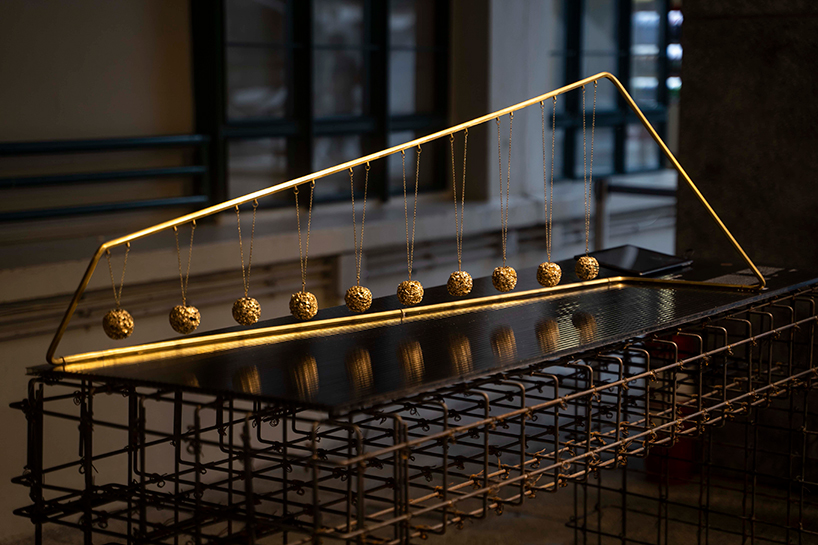 '10 scents' by xavier tsang
also inspired by the tiger balm gardens and its adjoining haw par mansion, '10 scents' by xavier tsang was influenced by their group of sculptures known as the ten courts of hell. their graphic depiction of violence and blood offers a lasting impression on morality. through a pendulum made from aluminum foam, the designer evokes a similar message through an olfactory experience. scents of fire, ice, blood and metal – each representing the torment of the dominant element to which departed souls are subjected to in folk beliefs – are trapped as diffuse fragrance oil in the pendulum.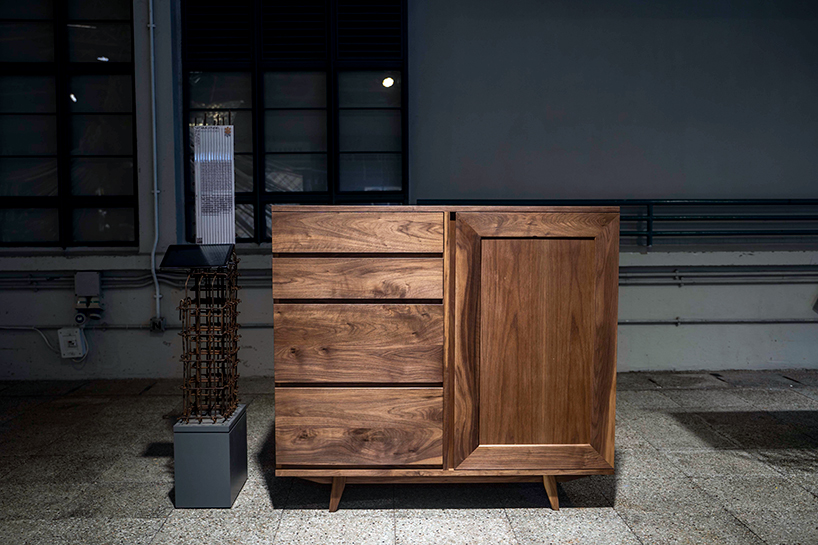 'the joint palette' by yat muk studio
the 'the joint palette' by yat muk studio is a custom-made cabinet for the fast culture economy which dominates our workforce. ken chow first founded the studio to practice, research and teach joinery as he finds carpentry a soul-searching and meditative craft. the furniture's four drawers feature delicate joints created through different methods and compositions, ranging from traditional to contemporary. the result showcases the importance of experienced craftsmanship, traditions, and choice of tools and raw materials.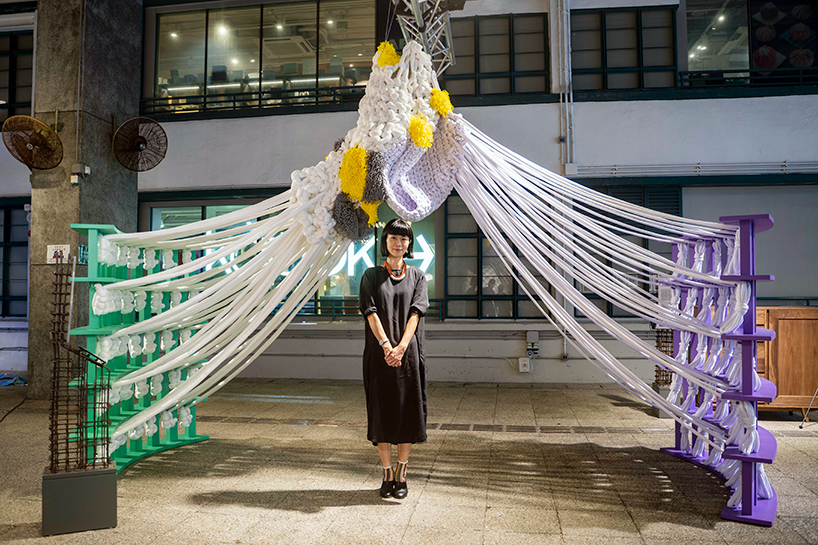 'knotting mill' by zoe siu
weaved in heritage as well as materiality, 'knotting mill' by zoe siu is a threaded large-scale installation inspired by the former industries of hong kong. textile mills were set up by industrialists from shanghai in the post-war industry, who went on to train a generation of highly skilled workers there. as a taught fashion designer who specializes in knotting and ropework craft, zoe siu used ropework to create an light shelter-like structure. the rope connects two semi-circular racks to a number of hanks in the center. the yarns and knots are a tribute to its textile heritage: the recollections, people and objects of the industry that collectively made social and economic history for the region.
virtually step into the re-edit hong kong showcase exhibition and view the craft work, here.
exhibition info:
exhibition: re-edit hong kong showcase
date: 18 september to 4 october, 2020
time: 11am – 8pm
venue: marketplace, PMQ, 35 aberdeen street, central, hong kong
initiator: PMQ
lead sponsor: create hong kong of the government of the hong kong special administrative region
a diverse digital database that acts as a valuable guide in gaining insight and information about a product directly from the manufacturer, and serves as a rich reference point in developing a project or scheme.
designboom will always be there for you
milan, new york, beijing, tokyo

,
since 1999