dec 24, 2013
prefab maison demontable 8x8 by jean prouve at design miami
jean prouvé: maison démontable 8×8 presented at design miami
on the occasion of design miami, galerie patrick seguin has shown an iconic masterwork by jean prouvé: the maison démontable, one of the earliest realized examples of a pre-fabricated home. the residence has been shipped from paris to south beach, reconstructed within the event tent, and reappropriated in a context completely disparate from its original one; a construction once developed to help france house its population after the destruction of world war II sits among the contemporary and fashionable new works celebrated at miami's massive exhibition, yet entirely resonates in its evident relevance to the creative sphere today — a paragon of timeless composition and design. 
casa desmontable 8×8 / jean prouvé
video courtesy of
parq JTF
disrepair in france after the war was rampant, and the demand for easily-assembled, affordable habitation was paramount; prouvé was one of the first to develop a solution for this severe need. directed by his humanistic agenda, the self-taught french industrial designer and architect realized a lightweight, compact dwelling that could be assembled by a team of three, each piece fit, bolted, and built in about two days time. the house comprises a metal-frame structure and wooden panels mounted atop a folded-steel compass at its core, which lends support to the roof. its uncomplicated assembly and disassembly maximizes the ease of production and transportation for both the manufacturer and builder.  

interior view of the maison demountable at design miami 
the 8 x 8 meter iteration presented by seguin in miami is one of just two surviving pieces. exhibited within its interior are original prouvé furniture designs along with an impressive range of domestic objects by some of the most iconic creatives of the 20th century: charlotte perriand, pierre jeanneret, le corbusier and jean royére.

a steel compass sits at the structure's core, supporting its roof
'jean prouvé embodies in a singularly harmonious way the 'constructor' not yet accepted by law but demanded by the era we live in. I mean by this that jean prouvé is, inseparably, architect and engineer. or rather, architect and constructor, for everything he sets his hand to and designs immediately takes on elegant plastic form, offering brilliant solutions with regard to strength and manufacture. not to speak of his character, among the finest there is. his postwar work has left its mark everywhere, decisively.' — le corbusier, paris, may 12, 1954 

easy chairs by pierre jeanneret

sofa set by pierre jeanneret

cité bed by jean prouvé

building up of pavilion
jan 04, 2014
jan 04, 2014
dec 29, 2013
dec 29, 2013
dec 19, 2013
dec 19, 2013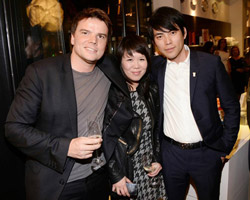 dec 19, 2013
dec 19, 2013
dec 14, 2013
dec 14, 2013
dec 13, 2013
dec 13, 2013
oct 03, 2017
oct 03, 2017
jun 08, 2016
jun 08, 2016
jun 12, 2015
jun 12, 2015