orgatec 2016: richard lampert presents his 'let's stick together' collection at the 2016 orgatec fair, showcasing the use of the innovative non-flammable gypsum fiberboard material used in furniture for the very first time. designed by daniel kern, the 'pip' is a seating system that offers versatile applications, such as in spaces along emergency escape routes. the playful design enables any number of side panels, seats and backrests to be connected freely, creating benches that can fit in any direction, round corners or back-to-back.
at the cologne-based furniture fair, we caught up with richard lampert, who not only discussed his innovative material used in the 'pip' bench, but also talked about the extension of the 'tom' collection, the 'frame' shelf and what future work to look forward to from his brand.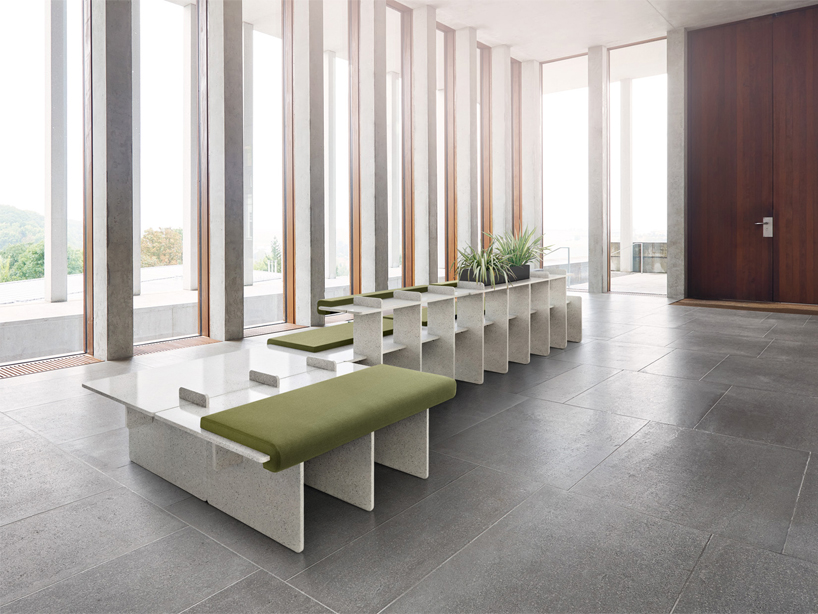 the bench is constructed from gypsum fiberboard
all images courtesy of richard lampert
designboom (DB): first of all, can we start with what we are sitting on right now, the 'pip' bench. what were ideas behind the design?
richard lampert (RL): the designer approached me and suggested this modular seating system which would have very few parts and would be suited for positioning in escape routes. we were both looking for materials which would not burn, and we found it. gypsum is a totally new material, and is produced a german company called knauf, who are into building materials and not furniture. we thought that it would be great to put this material, one that doesn't burn, into furniture positioned in escape routes and emergency areas. what intrigued me was that this type of furniture doesn't exist. the bench is a modular system, which people did have in the 60s, but you will not find anything comparable to this in the market at present. these two elements; its fire-proof properties and its modularity, is new, it looks totally different and it is unconventional. you could use this in universities and even coffee shops, where its form facilitates many social contexts. after this fair, we will electrify the bench so that people can charge their mobile phones. it is very easy to do, like an add-on. it is a very attractive feature. overall, people are already reacting very positively about this product.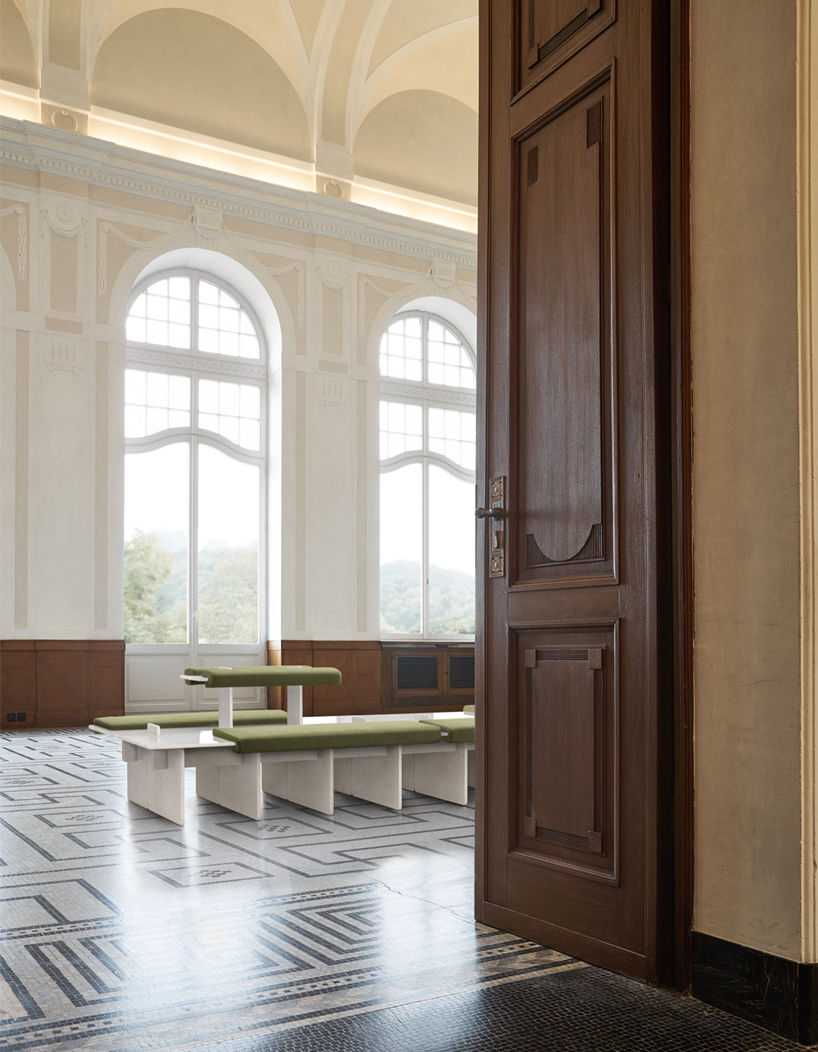 the 'pip' bench can be made in multiple configurations
DB: you mentioned that you could imagine the bench being used in universities or in coffee shops, what type of spaces do you see this piece of furniture being most suited for?
RL: it wouldn't be suited in offices really. it would be great for atriums, entrances and other large spaces. this is why I mentioned universities, where they have these areas. the different levels of this modular seating go very well with school landscapes.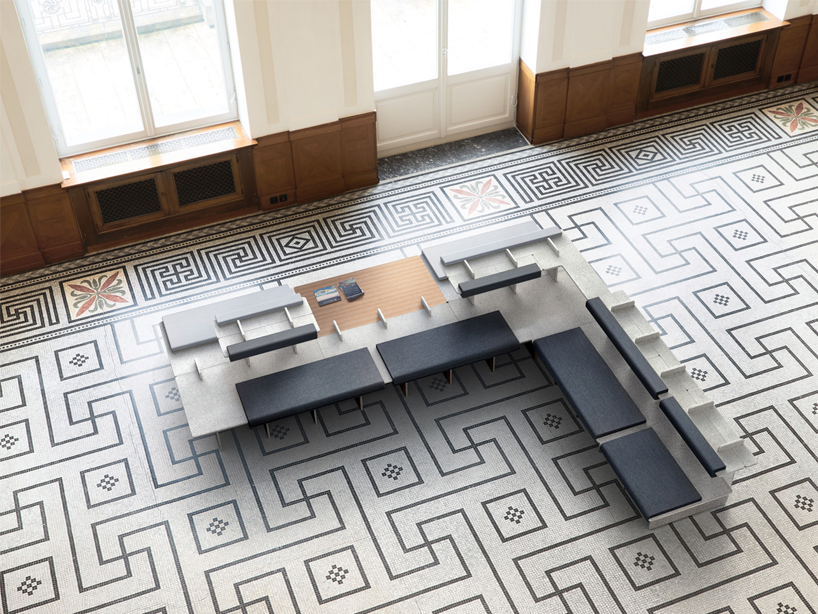 its modular design enables the furniture to fit many different spaces and needs
DB: talking about the different elements of the modular seating, how easy is it for users to construct their own arrangements or are they predetermined when contracted?
RL: it could go both ways. architects would be able to plan the space themselves because there are only a few sizes available, and they would be able to just add on to each piece. either we do it and plan the space, or the architect plans it themselves.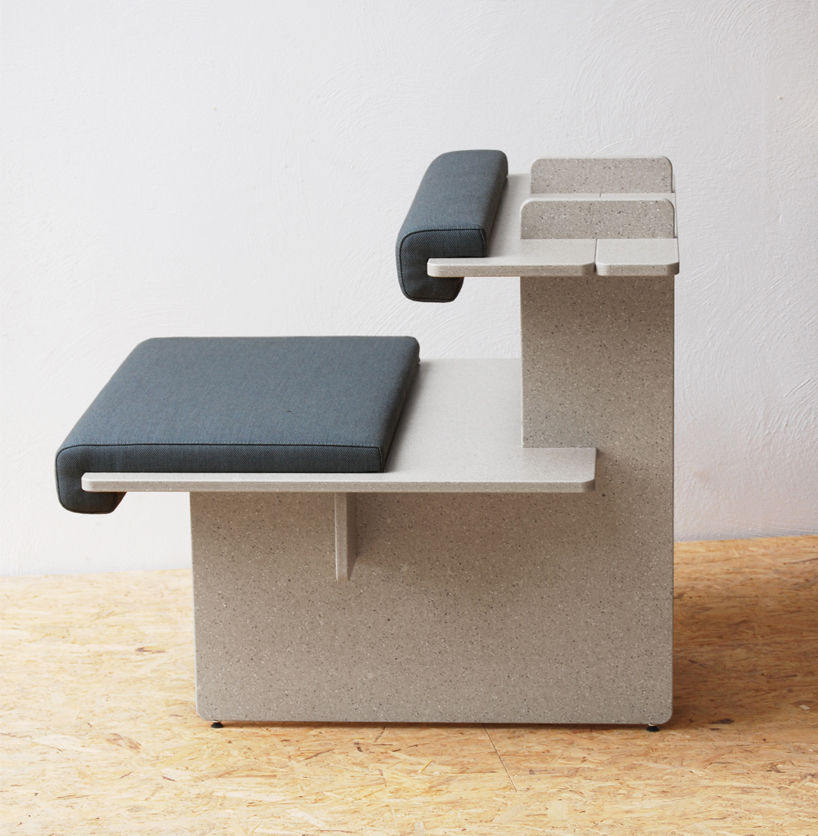 its low flammability means it can be used in emergency exit routes
DB: it must be very special presenting something completely unique at the orgatec fair, how did the use of the new gypsum material first come about, and why did you want to use in the your furniture?
RL: it was intended to specifically enable the furniture to fit in exit routes. this was what the designer wanted it to do. we found this material, which is completely new and has only existed for a couple of months. what is also great about this material is that you can put prints on it and color it. we will subcontract the people manufacturing this material. it was meant for fire escapes because before this, there was no furniture for these spaces apart from steel.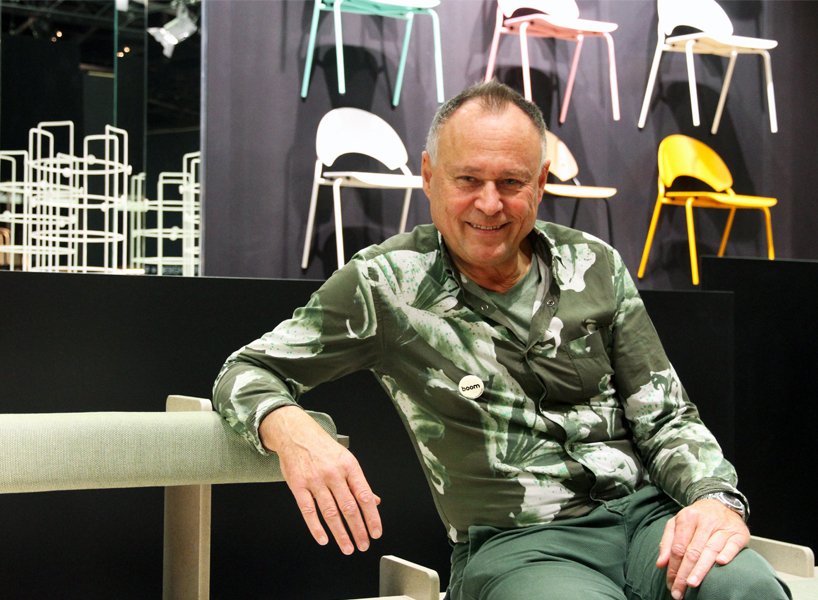 richard lampert at his orgatec stand
image © designboom
DB: the title of this collection is called 'let's stick together', what was the reasoning behind this name and what does it say about the furniture pieces?
RL: well it is all about how the customer or architect can come to us. our furniture can be easily adapted to suit the client's needs. 'let's stick together' means come with what you need and we can do it for you – that was the idea behind the title.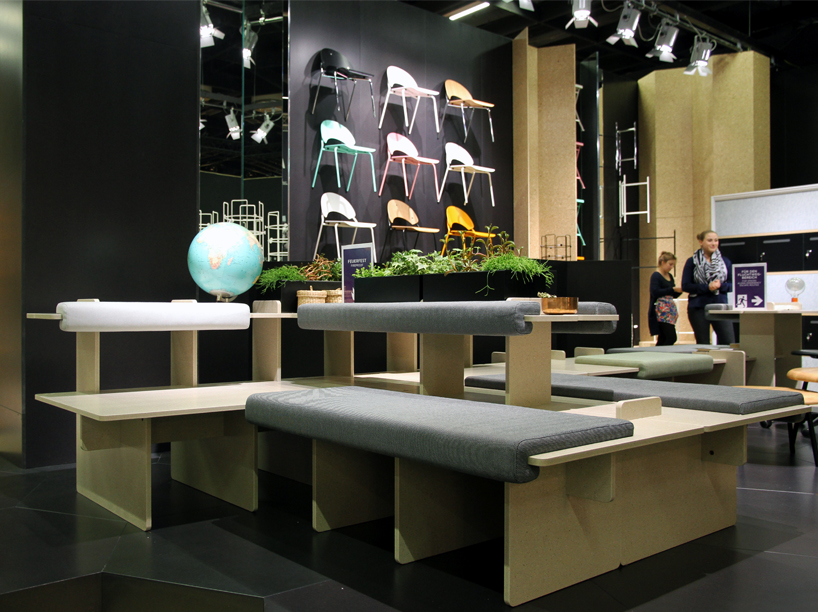 the 'pip' bench
image © designboom
DB: why did you feel that the 'tom' family range needed to be extended, and how are the new products different to the other pieces in the range?
RL: the family is constantly growing. I think it is an important thing for our clients to know. they should know that we can offer many different options. we can do a low sofa table, standing tables and conference tables, it is a family. clients can chose and find exactly what furniture they need. that is what is great about creating a family of products, and also, this builds into the new acoustic panels that can be added on to our table systems.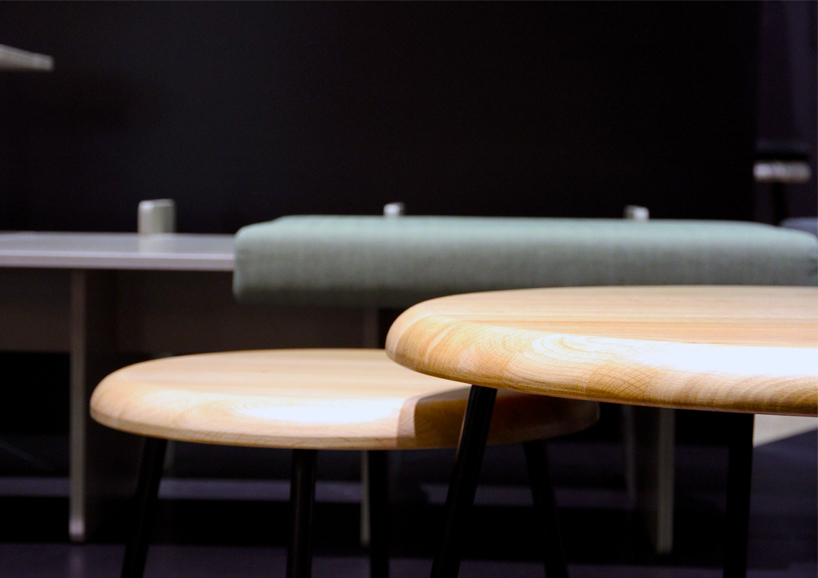 the 'tom' small conference table
image © designboom
DB: acoustic panels seem to be a new trend in furniture design, and especially at this year's orgatec fair, why are acoustic elements becoming such an important aspect for furniture design today?
RL: well I think that a lot of architects forgot about acoustics, and as time has gone on, life has become so hectic and noisy, people need to pull back a little and have some peace. this is how the sofas with high-sides first came about, so that people could take a break, relax and have a little bit of silence when they worked or had a coffee break. these acoustic aspects are very relevant now, they will be legal demands in germany, and so all furniture will need it. for our furniture, it was one of our designers who had this idea of creating great acoustics in a very simple way. in this way, materials are joined together thus creating a nice sound effect.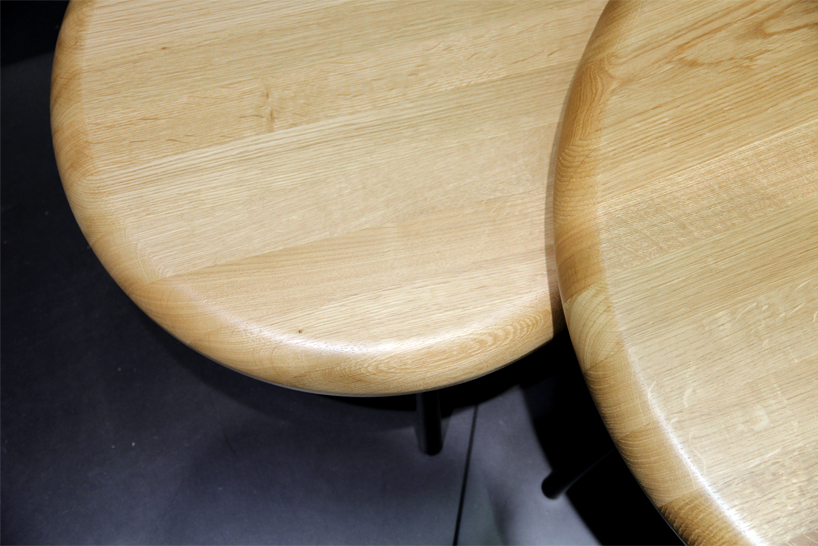 a close-up of the extension to the 'tom' family
image © designboom
DB: at the stand here today, you are presenting new chairs design which will be officially revealed next year. what was the reason for presenting these new chairs in an update of editions and colors?
RL: they will be out in early next year, in january at the domestic furniture fair. my collection has two approaches: one is to create totally new furniture, and the other way is to find something completely unique in the past. as I have been looking around, I have been working with egon eiermann design who use to be partners with mies van der rohe. this chair is from 1957, and when I look around, and the orgatec is great place to see what kinds of chairs are available for contract, you find that a lot of them look very similar to each other. sometimes, you cannot even say who the manufacturer is because they look so similar. this chair is distinctly different to other chairs. It has its own personality and that is what I love about it.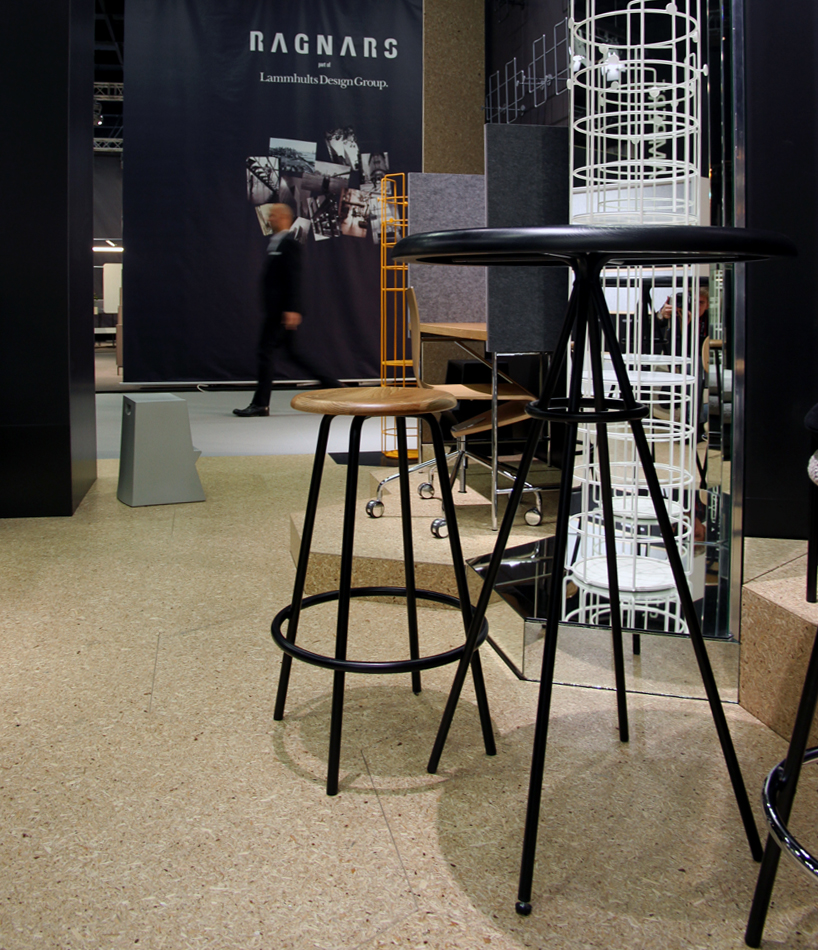 the 'tom' circular high table
image © designboom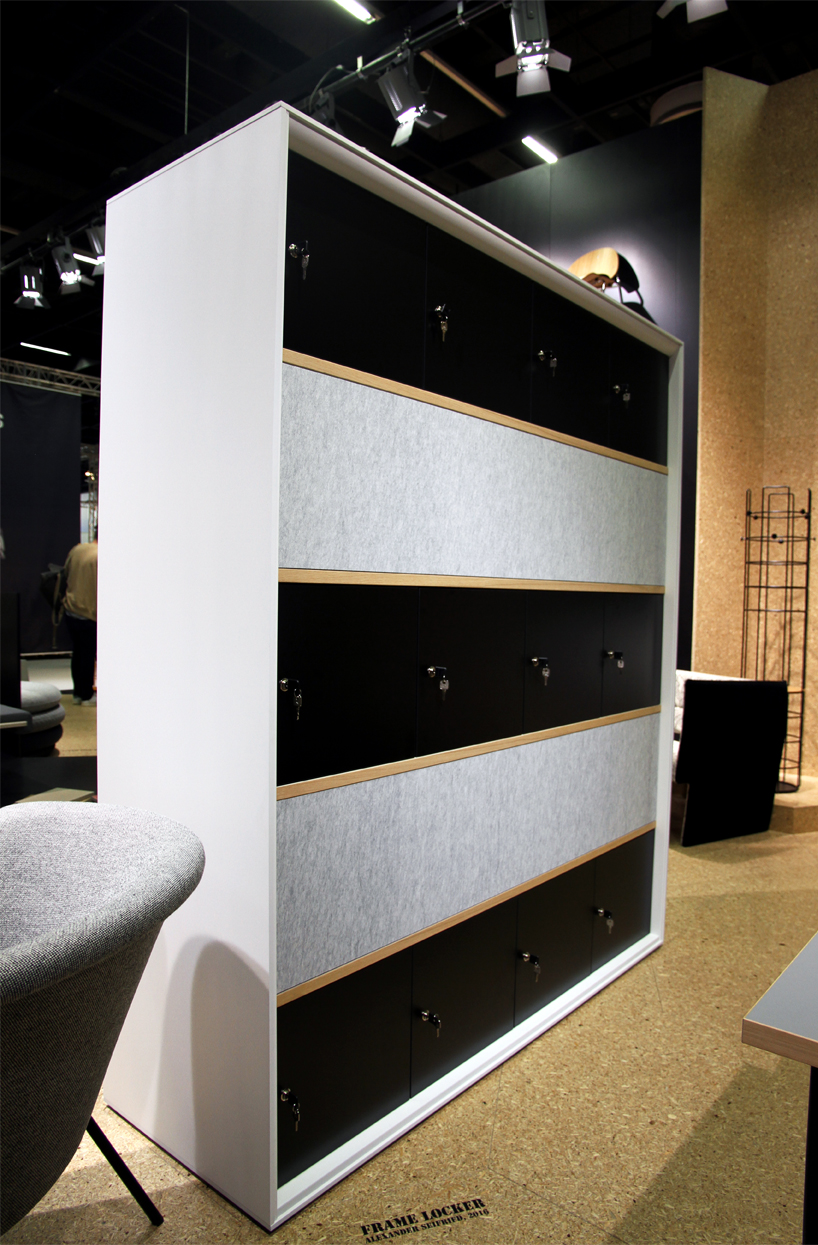 the 'frame' features new locker and acoustic elements
image © designboom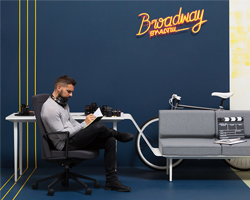 nov 30, 2016
nov 30, 2016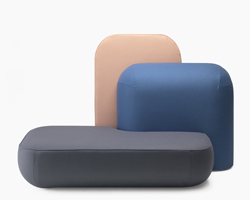 nov 27, 2016
nov 27, 2016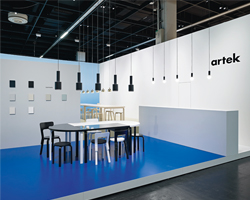 nov 13, 2016
nov 13, 2016
nov 07, 2016
nov 07, 2016
nov 01, 2016
nov 01, 2016
oct 31, 2016
oct 31, 2016
jan 23, 2017
jan 23, 2017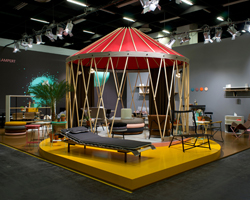 jan 21, 2014
jan 21, 2014
nov 13, 2013
nov 13, 2013
jul 04, 2013
jul 04, 2013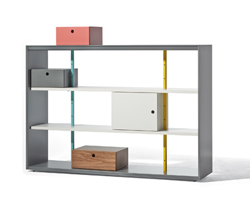 apr 07, 2013
apr 07, 2013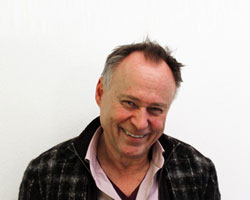 mar 18, 2013
mar 18, 2013
a diverse digital database that acts as a valuable guide in gaining insight and information about a product directly from the manufacturer, and serves as a rich reference point in developing a project or scheme.