the definitive version of the red blue chair dates from 1918, but rietveld designed many other variations on the theme, including an upright version for the interior of the surgery of Dr AM hertog, which he designed in 1922. image © designboom
rietveld's universe exhibition at the centraal museum in utrecht, netherlands from 20 october 2010 to 11 january 2011
this autumn, the utrect centraal museum is hosting a large retrospective exhibition entitled 'rietveld's universe'. the exhibition points out that utrecht architect and designer gerrit th. rietveld (1888-1964) designed much more than only the classic red-blue chair and the famous rietveld schröder house.
the centraal museum places rietveld's work in a broad context. by focusing attention on the person rietveld and by comparing the creative genius of the architect and cabinetmaker rietveld with famous contemporaries like wright, le corbusier and mies van der rohe, his oevre is set in a new light and a new image of rietveld's contribution to 20th century architecture and design is presented.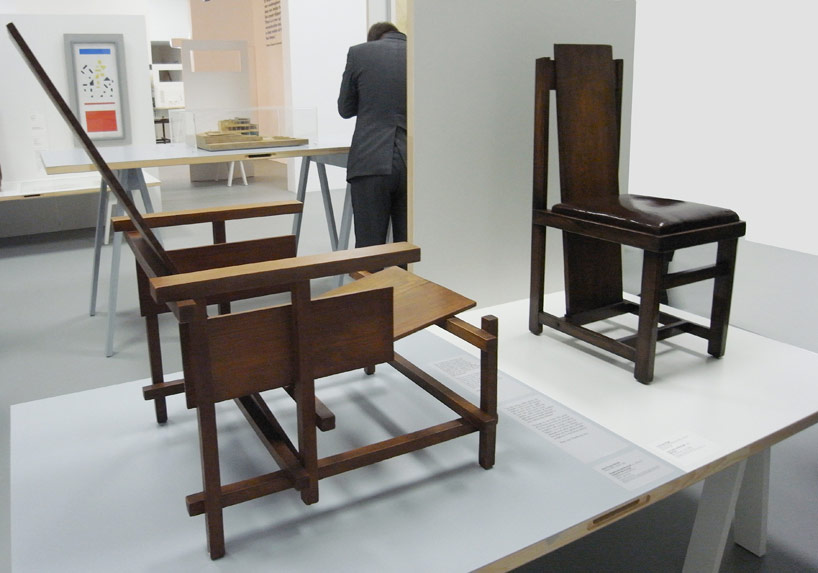 inventory number 29854 uncoloured slat armchair by gerrit thomas rietveld, circa 1918-1920. stained beech and plantain wood, height 89.5cm x width 60.4cm x depth 82cm. collection centraal museum, utrecht; purchased with support of vereniging rembrandt (rembrandt society) in 2004. image © designboom
the slat armchair was designed for standardization and mechanical production, in line with what was expected and possible at that time. 23 standard machine-sawed one-inch planks were sawn into two panels, two boards used as armrests, and thirteen slats joined in the simplest possible way, with dowels. neither the fact that the chairs were made in rietveld's own workshop, nor the fact that the length of the panels and slats differs from version to version, resulting in narrower, broader, higher or lower chairs, in any way detracts from the intention. rietveld made his chairs in series!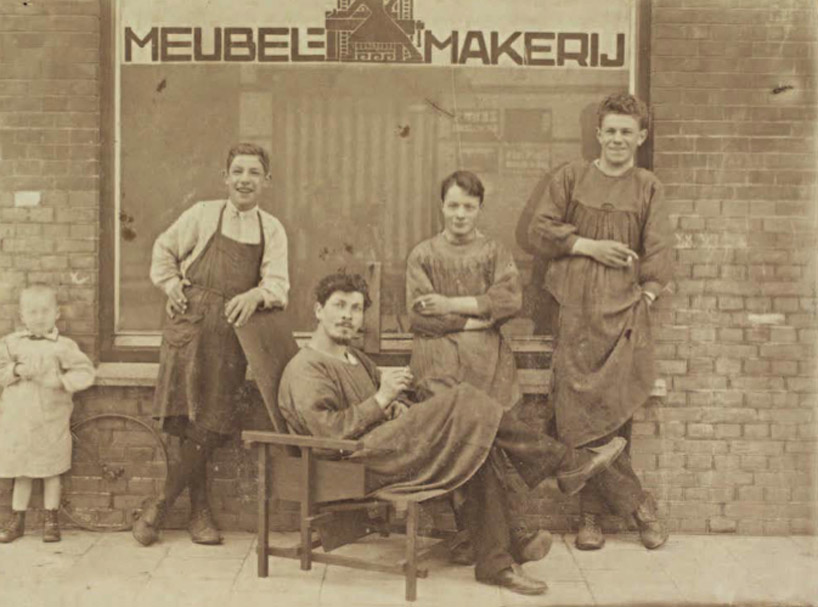 rietveld and the staff of his workshop on adriaen van ostadelaan, 1918. rietveld is seated in an early version of the red blue chair.
'even the chair is gradually being freed from its complicated past, because with mechanical production the new materials and new constructive discoveries are becoming more important than differences in form.' gerrit rietveld, 1930
rietveld made the components of the early version of the red blue chair into visually separate elements and subsequently assembled them into a spatial composition that was not dictated by constructive joints. by allowing the back and seat to continue slantwise, the parts that support the body are detached from the structural frame.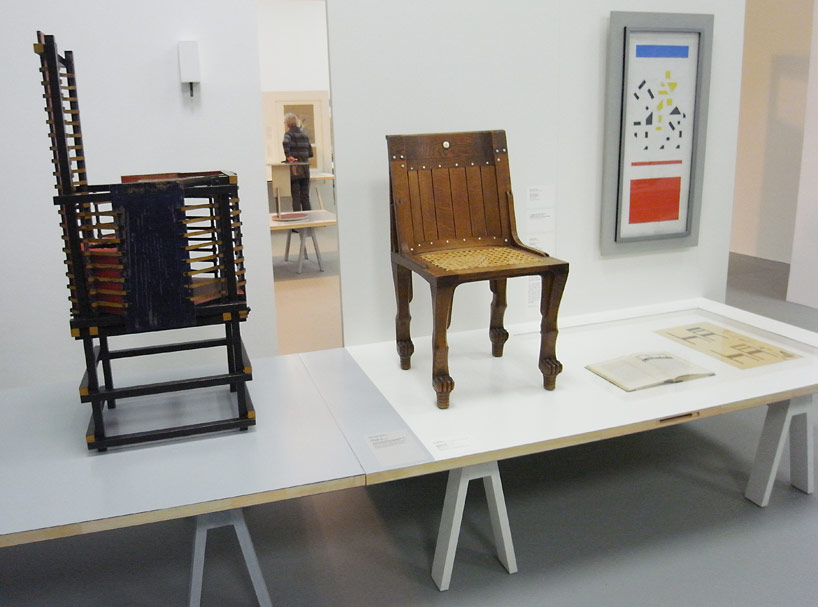 rietveld's kinderstoel 'convertible child's chair' in green and red and the egyptian chair image © designboom
next to rietveld's kinderstoel (high chair for children), the exhibition shows a reference to an archetype, the egyptian chair.
rietveld had undoubtedly read a book by berlage, where the egyptian chair was featured. it was published in 1908 and reprinted in 1917, and he would also have seen diverse applications of this principle in chair designs by berlage, klaarhamer, wright and mackintosh, whether in reality or as illustrations. the distinction between the seat and the frame as realized by berlage in imitation of the german architect and architectural theorist gottfried semper was, however, of no interest to rietveld. his approach stood closer to developments in the visual arts: he dissects the shape of the furniture, simplifies the components to the most elementary geometrical form and rids the material of its texture. what remains are visually defined elements that are assembled into a three-dimensional composition.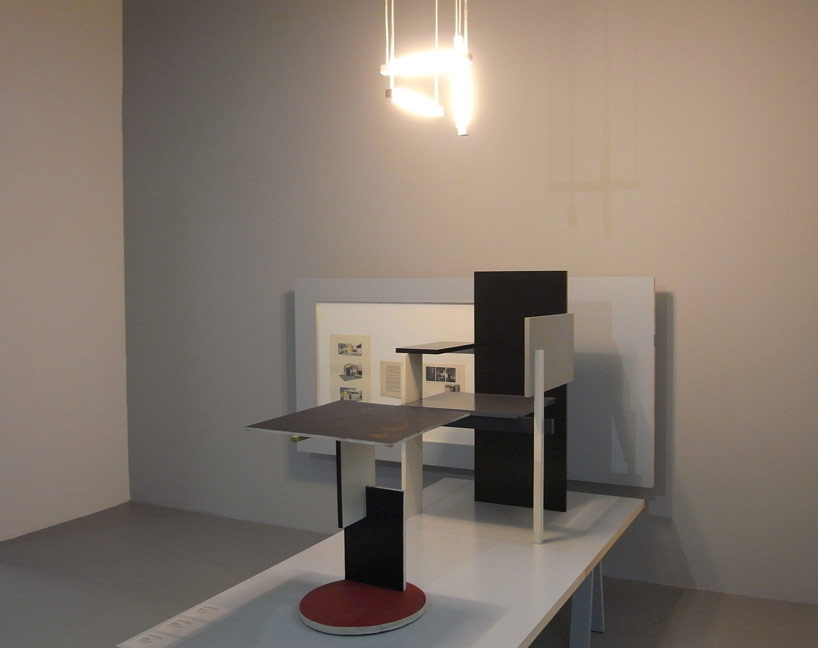 inventory number 26104 berlin chair and divan table by gerrit thomas rietveld, 1923 screwed; glued, 106.2 x 75.3 x 58.3 cm collection centraal museum, utrecht; gift 1988 image © designboom
rietveld was an optimist and a moralist. he strove for simple, spatial solutions in his designs and believed that the results should be accessible to all. he shared this ideal with his friends and colleagues from de stijl, the CIAM and other avant- garde movements. there was lively contact and a continuous exchange of ideas between these individuals and groups. T to stress these links, rietveld's work (against grey backgrounds) is displayed alongside that of his contemporaries (again white backgrounds).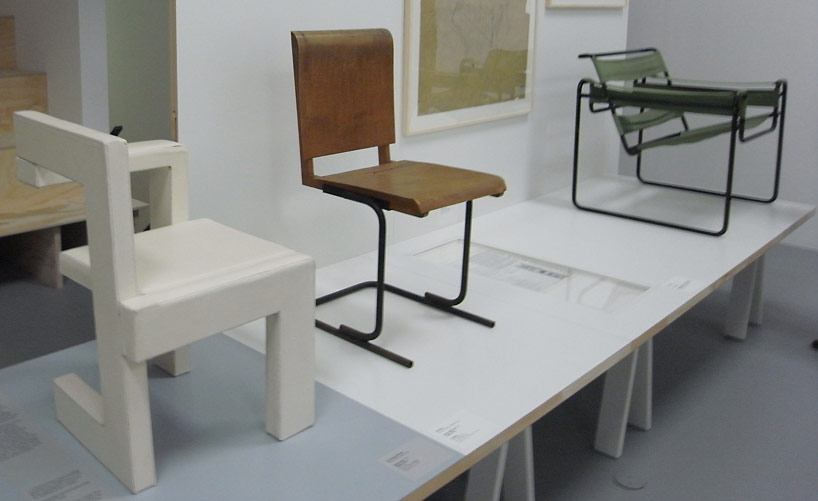 a view into the exhibition, next to rietveld's chair there are chairs of the same time period by mart stam and marcel breuer. image © designboom
by putting rietveld's work next to that of his contemporaries, it becomes clear that as an architect and designer he was sometimes even more radical than his colleagues (like mies van der rohe and le corbusier…) it also turns out that on crucial moments, artists like van der leck and van doesburg have had a decisive influence on rietveld's work. in its turn, rietveld's work has been of great importance to the development of architects and designers like breuer and aalto.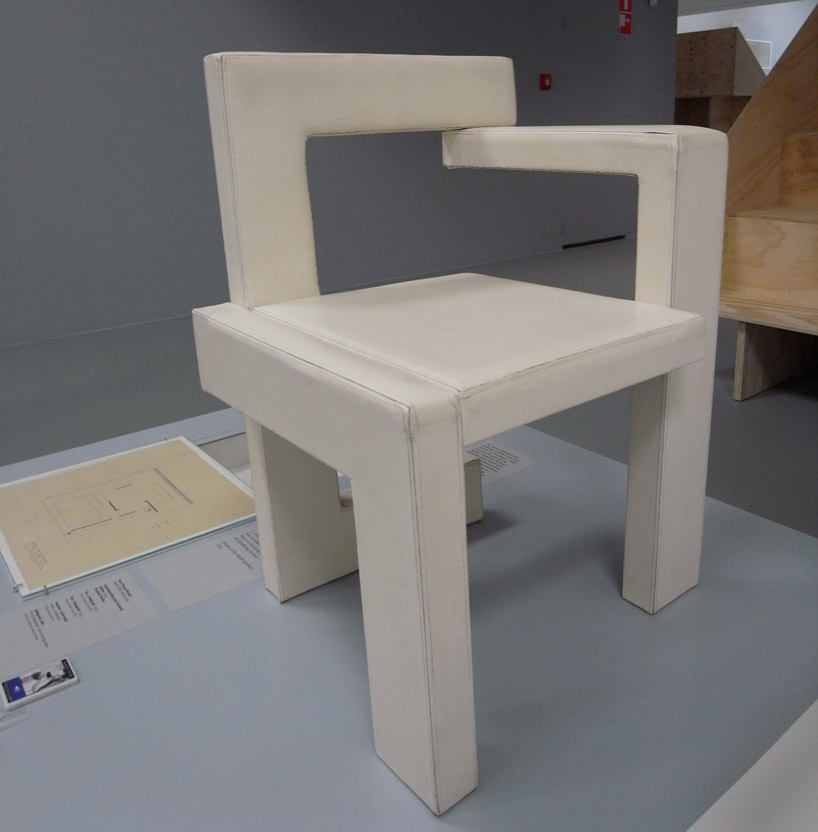 inventory number 26103 steltman chair by gerrit thomas rietveld, 1963 elm wood, height 70 cm x width 49.8 cm x depth 44.9 cm collectie centraal museum, utrecht; gift 1991 image © designboom
rietveld and his contemporaries were fascinated by the many new technologies and materials available to them. they believed that technological progress would solve many of society's problems. for this, a definition of the essentials of life was required: the minimum dwelling (das existenzminimum). standardisation and industrialisation would lead to liberation from heavy labour, giving the worker freedom and more leisure time. new mankind would not pursue excess but a new simplicity, which would result in sobriety, beauty and health. rietveld experimented with all manner of new materials and techniques to achieve this goal. his starting point was not what was possible, but what he wished to achieve. it is no wonder that many of his ideas remained at an experimental stage and some were only developed and realized later by others.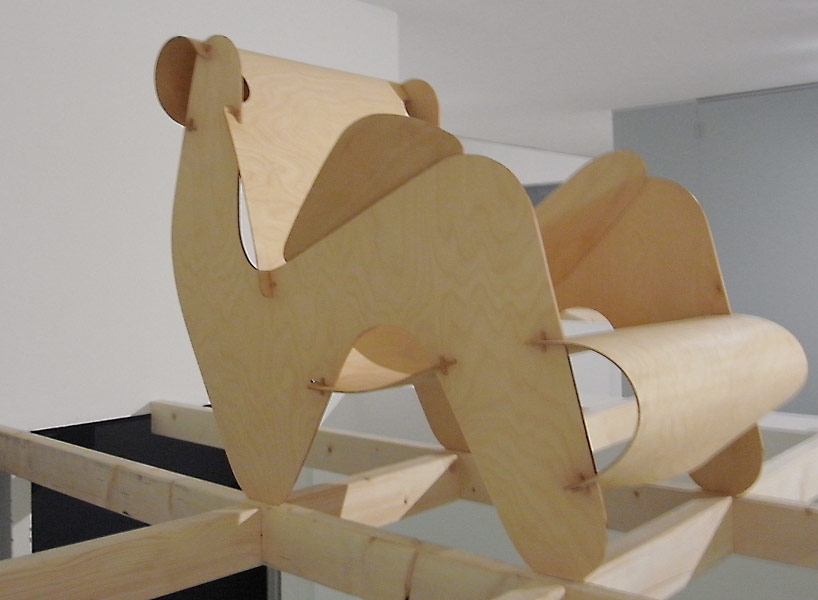 plywood prototype, 1958, showing a construction method rietveld invented in 1927 and which was used in the DIY furniture armchair of 1943. image © designboom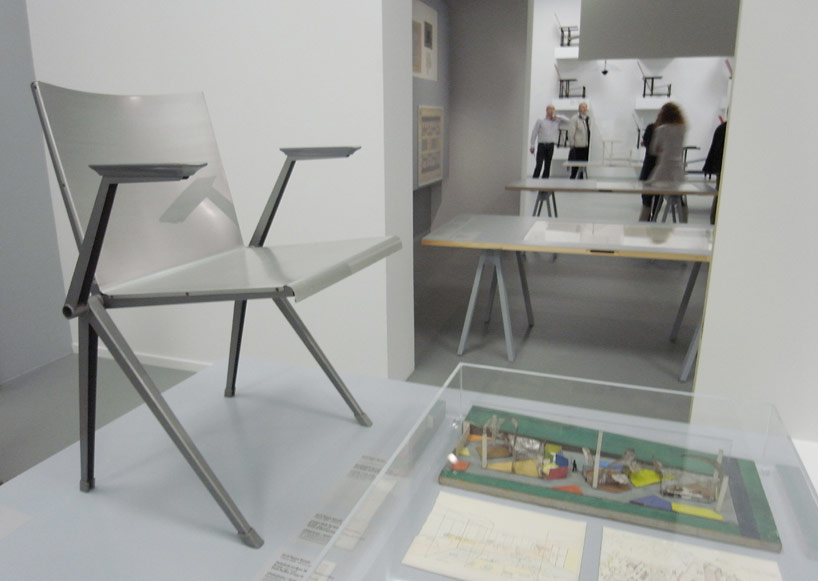 mondial chair by gerrit thomas rietveld, 1957 image © designboom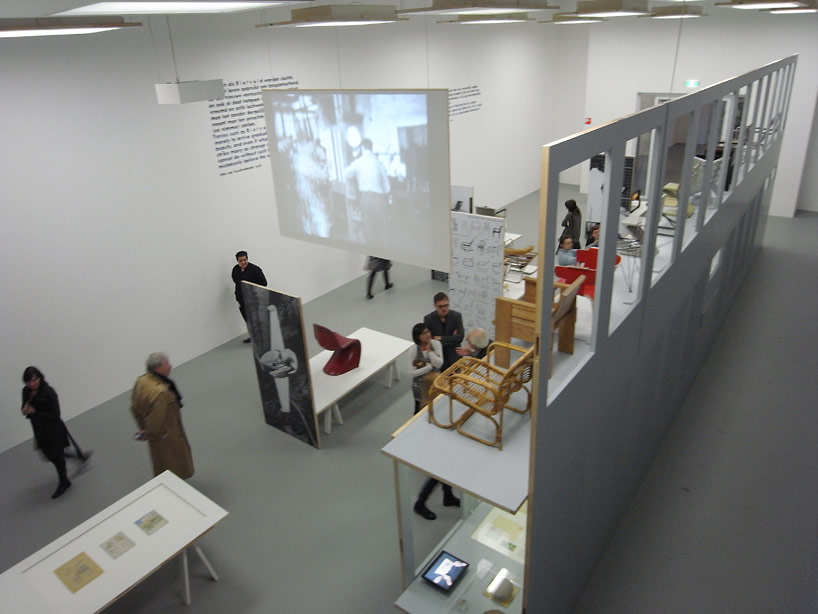 a view into the exhibition image © designboom
at the centre of the exhibition is gerrit rietveld's experimental way of working. for example, his search for the chair from-one-piece, from which the zigzag chair originated, can be followed.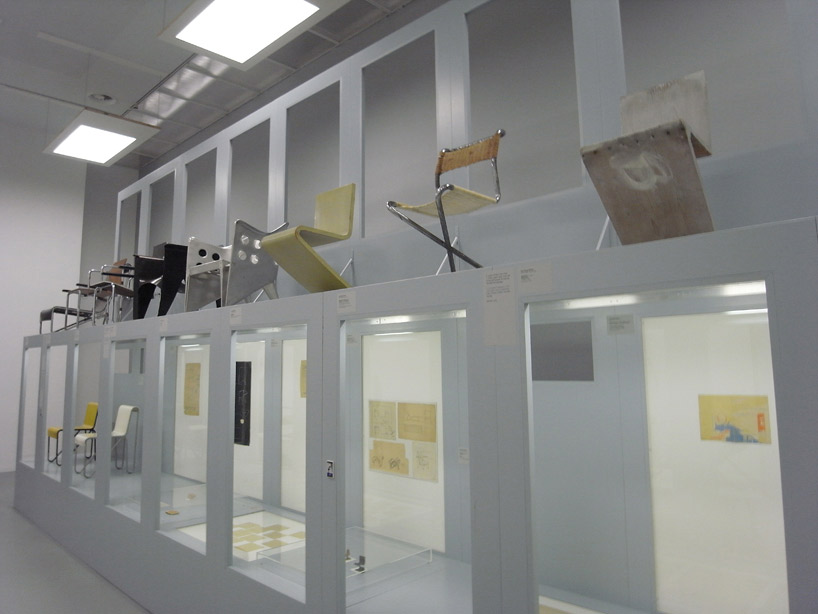 a view into the exhibition image © designboom
in 1932, rietveld designed this steel-tube zig-zag chair (second right in the image above), which he described as 'a tiny partition in space that leaves the space untouched. it is not a chair but the designer's joke'. this variant was never produced, as the weld where the two legs crossed was not strong enough.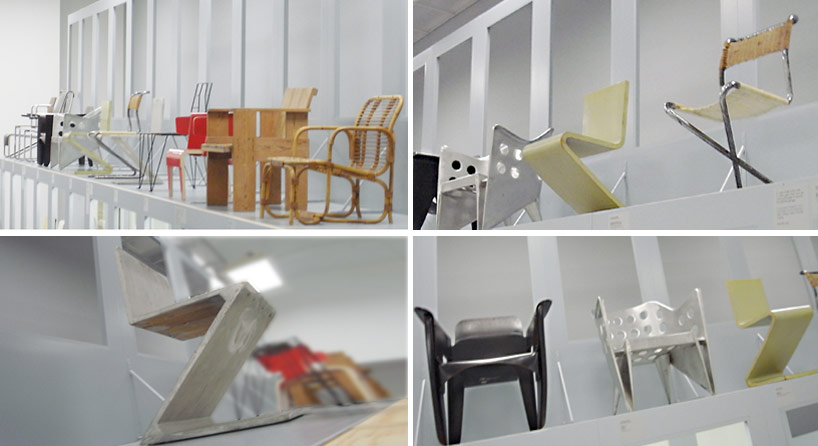 details of the exhibition image © designboom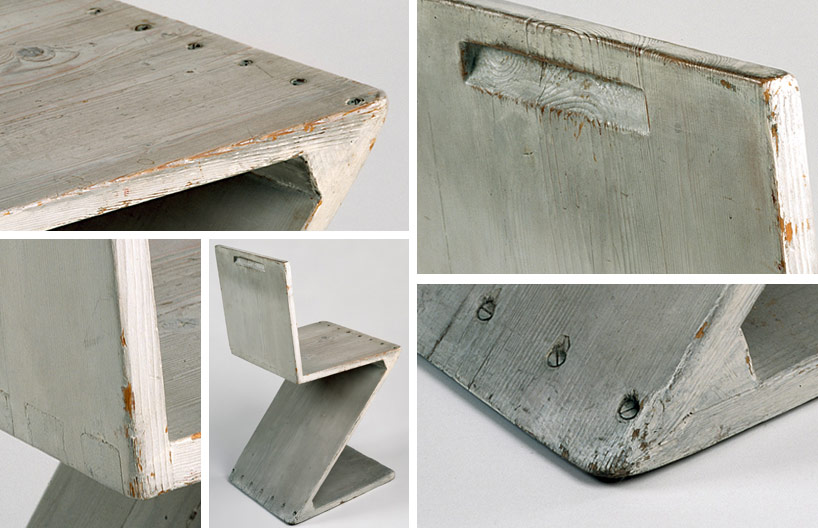 inventory number 26158 zigzag chair by gerrit thomas rietveld, circa 1932 fir wood, height 75.3cm x width 37.7cm x depth 41cm collection centraal museum, utrecht; gift 1991 collage of images by designboom, images copyrights CMU/ ernst moritz 2003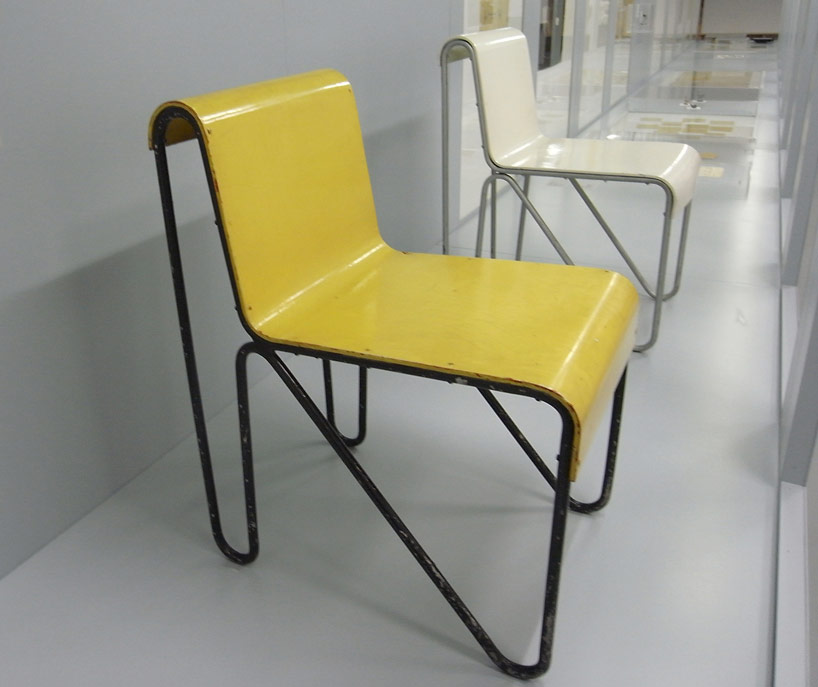 tube framed chair by gerrit thomas rietveld, 1927. other models were produced by metz & co after 1927. image © designboom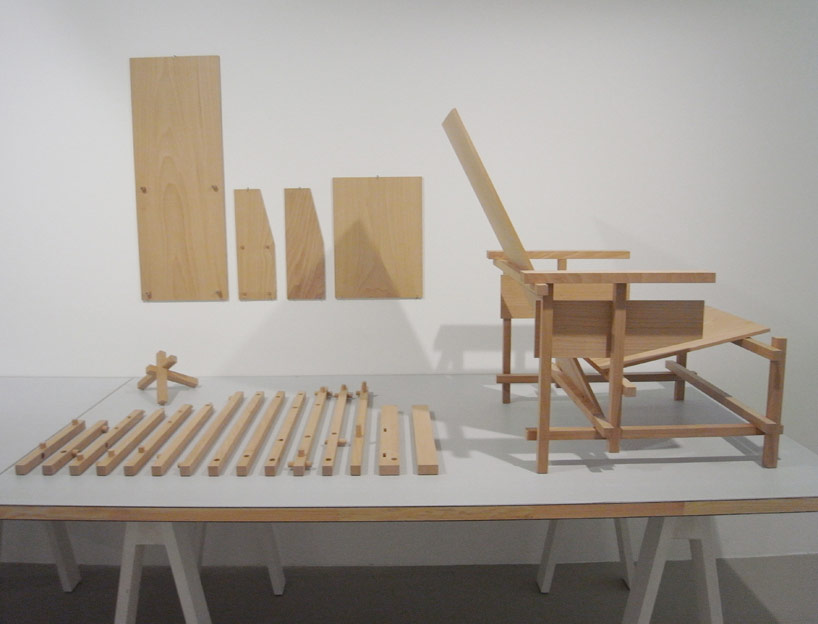 construction of the slat chair image © designboom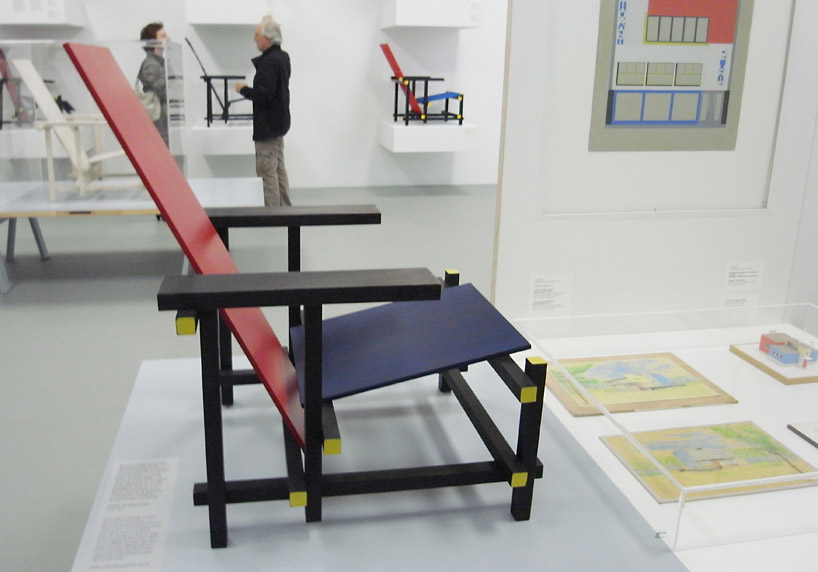 inventory number 12577 red-blue armchair 1918 beechwood, plywood, 88 x 60 x 66 cm collection centraal museum utrecht; gift 1959 image © designboom
in 1918, rietveld produced the prototype of the famous 'red and blue armchair', the key to his oeuvre, the manifesto of his ideas. in 1919 he described the essence of the design as follows: 'with this chair an attempt was made to allow each component simply to be, and that in the most original form according to the nature of use and material, the form, that is the most responsive, in order, through proportions, to achieve harmony with the rest. the structure helps to interconnect the parts without mutilating them, so that the one predominantly covers up the other or makes it subsidiary to itself as little as possible, in order that the whole above all stands free and clear in space and the form wins from the material. this wooden joint makes it possible to construct a large chair like this with rails of 25 x 26 cm'.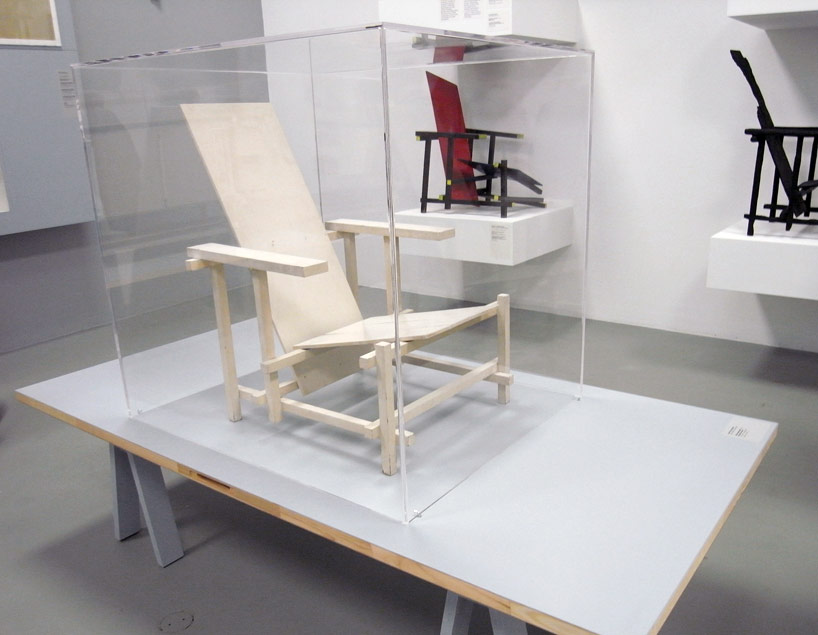 a beautiful white slat chair by gerrit thomas rietveld image © designboom
the red-blue chair belongs, along with the barcelona chair by mies van der rohe and the chaise longue by le corbusier, to the most famous pieces of modern furniture in the world. the first examples were constructed of unpainted wood or were mono colored ones.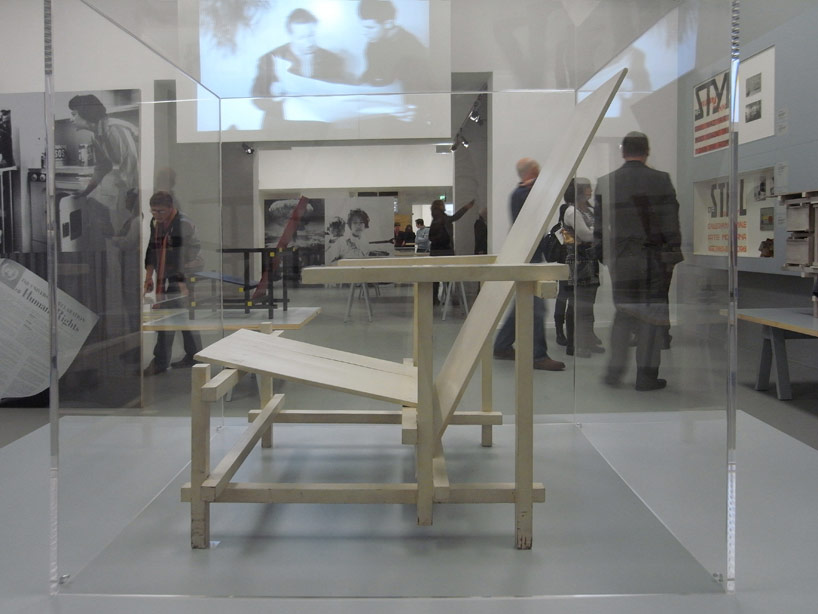 side view image © designboom
the centraal museum has also launched rietveld collection online: it consists of almost 300 museum objects from the collection of the centraal museum and approximately 8000 archive items – the website collectie.rietveldjaar.nl provides a complete overview of rietveld's entire oeuvre.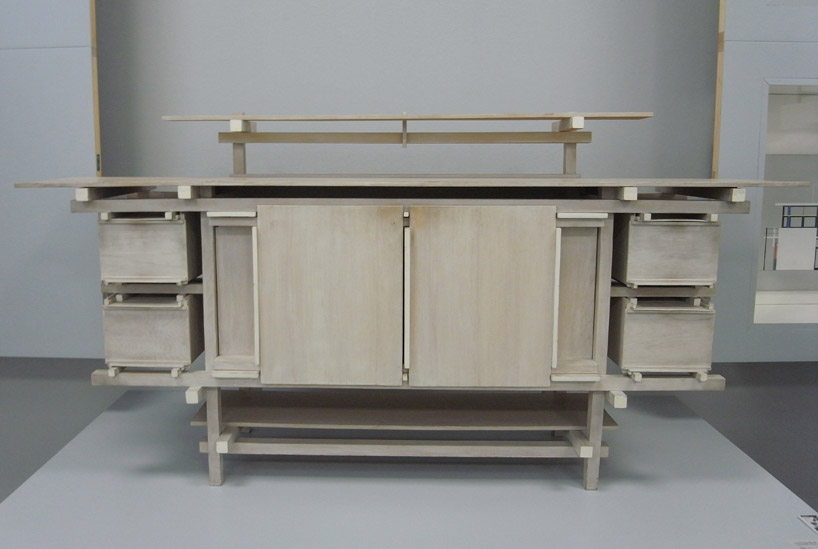 rietveld 'buffet' cabinet for piet elling, 1919 image © designboom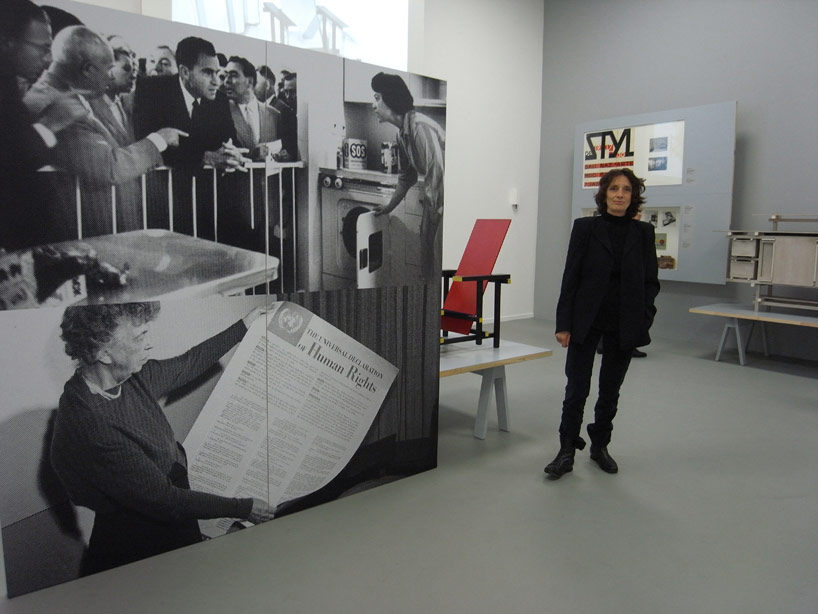 curator ida van zijl image © designboom
ida van zijl is deputy director of the centraal museum in utrecht. since the late 1970s, she has studied rietveld and has complete access not only to the museum's collection of documents, but also to those held by his family and friends. she was the editor of gerrit rietveld: the complete works (published in 1992), a catalogue of his work.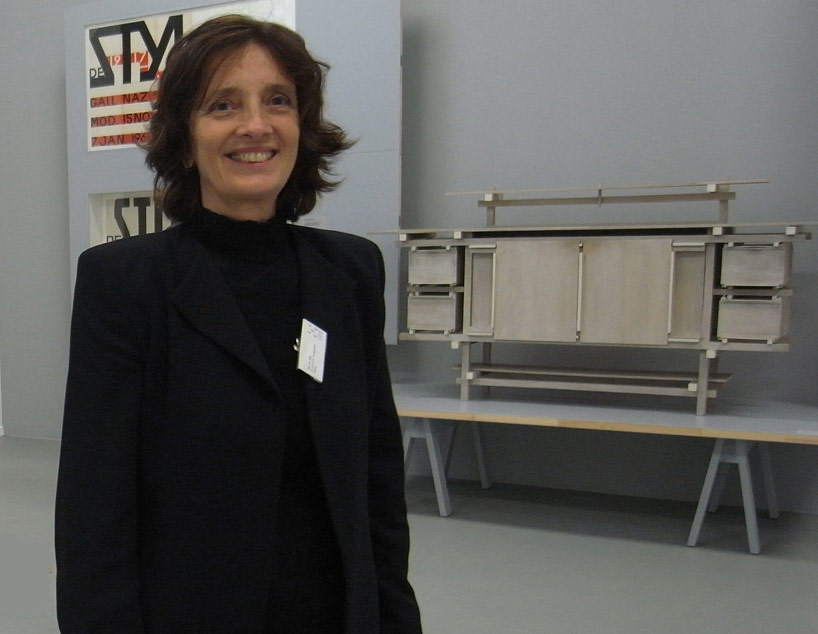 curator ida van zijl image © designboom
— a collaborative project the exhibition 'rietveld's universe' is realized by the centraal museum and the NAI netherlands architecture institute, at the initiative of the centraal museum, the technical university delft and the university of utrecht. the exhibition features works on loan from important national and international collections from the centre pompidou and the fondation le corbusier in paris, the MoMA museum of modern art in new york, the stedelijk museum amsterdam, vitra design museum in weil am rhein, the bauhaus-archiv in berlin and the archives of the GTA zürich.
— publications the exhibition is accompanied by 2 publications rietveld's universe by NAi Publishers in collaboration with the university of utrecht, research centre ®MIT, the faculty of architecture TU delft, and the netherlands architecture institute. rob dettingmeijer, marie-thérèse van thoor and ida van zijl (edit.) dutch edition, ISBN 978-90-5662-745-4 english edition, ISBN 978-90-5662-746-1
and the first english monograph on gerrit rietveld (in fifty years): gerrit rietveld by iida van zijl, published by phaidon. ISBN 9780714857480
— rietveld year the city of utrecht is rightly proud of the fact that most of the rietveld buildings are within its city limits and that the municipal museum owns that largest rietveld collection in the world. 2010 has been proclaimed as international rietveld year. it is the starting point of a long term campaign to profile rietveld as an icon of utrecht and to permanently link his name to the city. various activities are organized in the city, the province, and elsewhere.
massimo mini
I designboom
oct 28, 2010
a diverse digital database that acts as a valuable guide in gaining insight and information about a product directly from the manufacturer, and serves as a rich reference point in developing a project or scheme.
designboom will always be there for you
milan, new york, beijing, tokyo

,
since 1999