jun 13, 2012
ron arad interview on interesting things
'onion house' by ron arad architects image © ron arad architects
designboom recently talked with london-based israel-born designer and architect ron arad to discuss his diverse collection of work. his new graphic department, ron arad associates' has been announced as the winner of the type directors club new york competition 2012. when he was working on the eyewear collection for pq, at one point he had to design the collection logo. for this purpose, he started to include a graphic design department in his studio. the logo design of 'onion house' has been realized in collaboration with young israeli artist noa schwartz.
how do you decide what projects to take on and what to let go? it is usually the biggest problem, I mean the problem is to know, which ideas and which projects you should allow to 'sort of invade your life', — to take your time and energy. it's to do with what makes life itself more attractive. I guess it's simple – what looks more intriguing! it's the same as with people. what people do you give time to? the exciting ones. the interesting ones. the ones that have more promise then others. same with projects, same with ideas.
'onion house' logo by ron arad associatesimage © ron arad architects
'onion house' by ron arad architectsimage © ron arad architects
interior perspectiveimage © ron arad architects
sketch by ron arad architectsimage © ron arad architects
are you also interested in innovation in contemporary type design? yeah, we just won the type directors club new york competition 2012 (TDC58) in the category TDC communication design with our logo design for the logo 'onion house', a modular house.
'pq eyewear collection' by ron arad see designboom's article on 'pq eye wear' here.
how did the pq eyewear collection get started? [the client] was determined to convince us to do a new brand of glasses… and he did. it took him some time but he was very good at it and we sort of accepted that in the end… and here we are a year and a half later. we have a huge collection of glasses and we know now that we were right to hesitate before we took it on, because it is not something you do and finish and put aside. it's an ongoing thing and if you are successful it is forever. it means that there is a team here that is doing nothing but glasses. it's settled now and we are committed to it.
who wears the A-frame glasses? you.
video courtesy of pq eyewear
does the use of technology makes it easier for you to communicate your ideas? we always use technology as an available raw material, you know. I draw a lot, it is my medium. not on paper, I draw on a tablet. so thanks to technology whatever I am doing is networked in the studio. to people who collaborate on this project and build very sophisticated models. technology is there but we are not remotely scared of it. we are very very very dependent on it now. although that it doesn't do things for you. you still have to be there and think and draw and invent.
how has technology influenced architecture? we have just watched, in architecture how computers did take over and how all the software did influence the buildings. sometimes when you look at a building you can see what software it was designed by. I rather see who designed it and who were the individuals that made it happen.
'les diablerets' by ron arad architectsimage © ron arad architects
you have many completed projects around the world, how about some projects and ideas that did not get realized? in architecture and in design things don't quite happen. the design process and working late is super exciting.
10 years ago, we did a product for a korean company which is practically the iPad. and they didn't even know what we were talking about. they didn't understand what we were saying. we did a film, that is like a commercial for the product. and it's exactly me with my iPad now, but, that was 10 years ago. I mean this is an example of how the future didn't come when you predicted it, but, a bit later…big time.
videos © ron arad architects
what kind of projects do you prefer approaching? it's a two way thing. it's things that you initiate and things that you are requested to do. it has always been like that. and it's what is interesting for us selfishly. of course when you deal in a commercial world, it's much better that the rest of the world shares your interests, but that is not the starting point. the starting point is what we find interesting. I mean the roundhouse as an example of a client asking us to develop it. that gave birth to what is currently my favorite project. a curtain made of 5,600 silicon cords, suspended from an 18 metre diameter ring – a canvas for films, live performance and audience interaction. so it's a two way thing. we believe we created something that didn't exist before, a format, that sort of got people excited, and ourselves.
curtain call at the roundhouse, august 2011
'curtain call' by ron arad architects
roundhouse
, london
do you have a criteria for determining what is 'interesting'? I have eyes, and I look, and I see things, and I meet people, and I read magazines. I go online, and people tell me things. the problem is when do you get a holiday from interesting things, not where to get them. well, if I see something, that hasn't been seen before and it's a project that is proposing something I haven't seen before, I'm interested. normally someone here will point out 'hey have a look at that'.
'two nuns bicycle' by ron arad architects see designboom's article on 'WOW bikes' here.
are you active in social media to communicate your projects? yes, I am interested to see, like, what of the stuff we do, what the world is interested in and its a very easy thing to find out. I mean, its amazing how kids have ways of getting to consume information and to spread it around. I follow it, but, I don't live on it. no, I don't tweet. I am not on facebook. I am not on any of the social networks. but, as you know, I have twenty people here around me in the office, and they are all very sort of… some of them are digital natives, some of them are like me, not converts. anyway, interesting stuff makes itself known.
construction of 'atelier notify' by ron arad architectsimage © ron arad architects
where is 'design' moving to? the future of design is indeed lots and lots and lots of interesting, exciting things will happen. boredom is the mother of creation. unfortunately also a lot more of things that are not so interesting, and not so exciting, that are following the footsteps of the interesting and exciting things will become real. yet from time to time there's like a new idea that sort of gets the center stage and then it gets swallowed by the mass market. so it's constantly moving and it has it's own pace, you can't rush it. I believe in individuals and people more than I believe in trends. things can be very interesting even though they are not at all trendy or not part of any global shift or moving center. I am more interested in individuals.
'atelier notify' in milan, italy
you might want to read an interview with ron arad, that we published 12 years ago. in year 2000 designboom visited ron arad in his london studio and we asked him a few questions that became the guideline of a long series of designboom interviews with today's protagonists in the fields of art, architecture and design.
jun 10, 2019
jun 10, 2019
may 01, 2019
may 01, 2019
jun 23, 2018
jun 23, 2018
jun 15, 2018
jun 15, 2018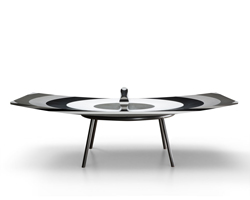 mar 29, 2018
mar 29, 2018
oct 24, 2017
oct 24, 2017
a diverse digital database that acts as a valuable guide in gaining insight and information about a product directly from the manufacturer, and serves as a rich reference point in developing a project or scheme.