on april 1, 2020, new york gallery friedman benda initiated a series of online interviews aimed at connecting individuals across the world with leading voices in the creative field. design in dialogue is a conversational program hosted alternately by curator and historian glenn adamson and designer stephen burks that engages with designers, makers, critics, and curators as they reflect on their careers and creative processes. against the backdrop of COVID-19 and global lockdowns, the conversations are held virtually on zoom for 1 hour for anyone in the world to tune in to, and include a participatory Q&A with the audience in attendance. friedman benda has since presented more than 90 episodes, and will continue with a lineup of future guests, each offering unparalleled insight into the sensibilities, musings, and memories of today's creative protagonists. see our recent feature of sheila hicks on weaving cultural and creative exchanges, and jacques herzog on architecture as a karmic discipline.

on may 5, 2021 design in dialogue welcomed one of the most prolific and influential designers of our time, ronan bouroullec. ronan and his brother erwan have worked together for nearly 25 years, where they have redefined the typology of a wide variety of objects and elements present across both domestic and urban spaces — from thermo-welded glass furniture to an organic pergola structure in miami — through their singular and poetic lens. above all, ronan is a craftsman — someone close to the materials and processes that he personally shapes with a special attention to detail. his artistic and creative approach is 'free of any methodology' he says, leaving room for intuition, spontaneity and improvisation. speaking from his studio in paris in an interview conducted by francisco torres in french, ronan delved into the collaborative relationship that he and his brother share, his own personal preoccupation of drawing, and his one great fear.

watch the full video interview at the top of the page and stay tuned as designboom continues to share design in dialogue features. see all past episodes — and RSVP for upcoming ones — here.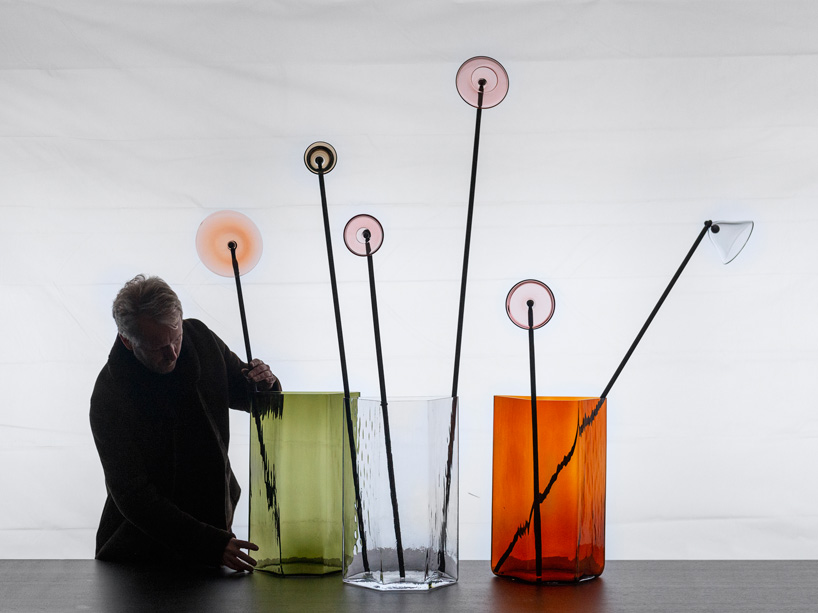 vases for iittala for the exhibition 'imperfections' during during stockholm design week 2020
read more on designboom here
the conversation kicked off with a revelatory introduction to the working dynamics at ronan & erwan bouroullec's studio in paris. ronan and erwan have divided their team of around ten assistants into two — with each working more closely on dedicated specializations, from model making and archiving to 3D printing and photography. 'erwan and I have worked together for almost 25 years now, so we have the life of a long-term couple, of an old couple,' ronan laughs, 'and the luck to have had many offers. so for years now, erwan has focused on digital research, the electronic, particularly with samsung. the projects are linked to long, complex research into mechanisms, in particular for office chairs. erwan has this ability to stay highly focused for months on one idea, on one subject, which I'm totally incapable of. I need to be doing 5,000 projects at once, to be doing the champs-elysées fountains, reflecting on the layout of a new town, while also designing a teaspoon and doing ceramic designs. so our attitudes, our approaches have been different of late. our personalities are quite different, but we've had the good fortune of sharing, of discussing everything that each of us is doing.'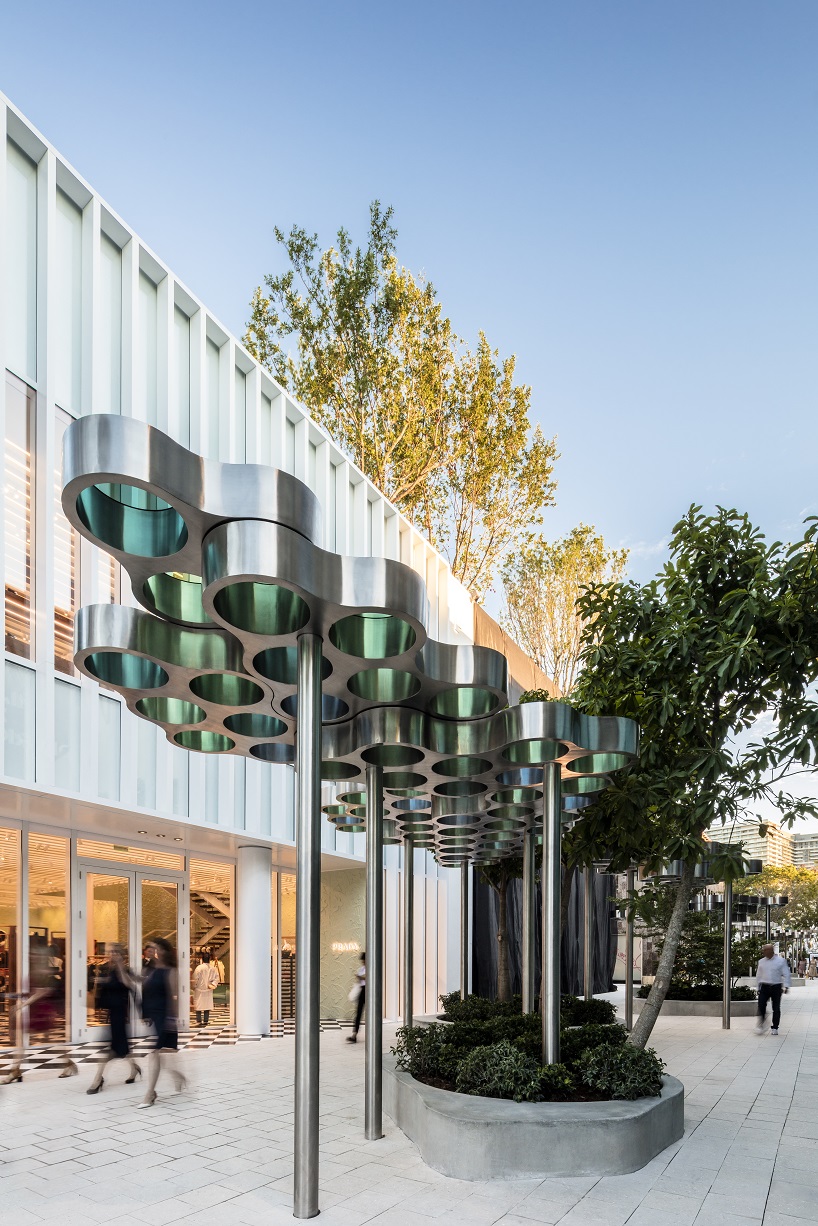 'nuage' pergola in the miami design district | image by kris tamburello
read more on designboom here
forming the backdrop to ronan's 'design in dialogue' presentation was a continuous collage of imagery drawn from ronan's personal instagram account — a self-described 'daily journal' of projects he's currently engaging in, and those from the archive. amassing more than 300,000 followers, ronan spoke about how the communication of design projects has evolved since he first began his practice. 'when I started to work, which was around 30 years ago, to have the chance of showing a project, you had to send images to a journalist, who would perhaps be interested in a project,' ronan describes, 'if I was very lucky, there would be a 2×2 centimeter image that was published in a journal with a low circulation in france.'
as digital tools slowly grew in prominance and proficiency, ronan's strong interest in the communication of his projects grew more and more important. today, he sees his instagram as a diary, with the ability to translate the essence of the studio's work, and his particular point of view. 'I'm interested in understanding how captivating an image is, how captivating a project is. sometimes before even presenting a project in drawings, I publish it for several minutes to see the attractiveness of the image — but it's not so — it's more about understanding if the way I present an idea that I hope to submit is sufficiently clear and direct. I find that instagram is a very interesting tool for gauging that.'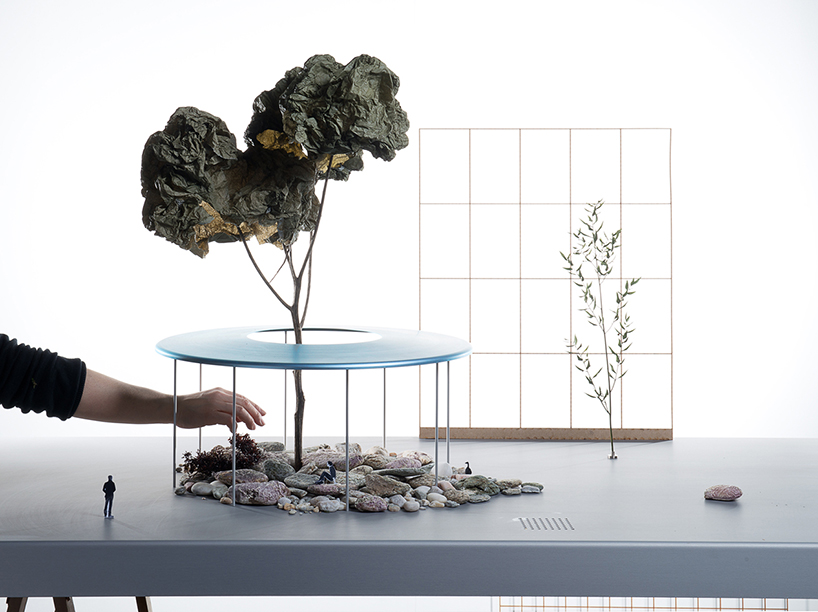 proposals for experimental solutions for urban life at VITRA
read more on designboom here
ronan went on to describe one of the most artistic and personal aspects of his work — drawing. ronan's poetic illustrations accompany the studio's projects, where it's become a therapeutic, meditative, and deeply personal practice. 'I have always drawn. from my deepest memories, I've always drawn,' he says. 'it's very instinctive, intuitive. it's what I have at hand. these drawings are constructions that start off as a stroke, and then accumulate bit by bit as I go along, a little like…a sculpture made of clay, with the addition of little morsels that, in general and in my drawings, create additional lines, which bit by bit create one shape, then another, and then at some point it's finished — and I start another. I draw in the evening, on the weekend, at night. never in the studio. it's a very personal practice. I like to do it beside my daughter, or possibly surrounded by my family, but never in the studio. it's something that's indispensable for me and really does me a world of good. the discipline of design is a very frustrating discipline. it's a long journey from the first idea to the object existing in reality — it's years of work. there are endless discussions with engineers, and with the assistants. the number of people working together on a project, a chair for example, is surprising, it's more than ten! here with the drawing, I am alone. I'm not accountable to anyone. there's no objective with the result. there's just the pure, very personal pleasure in producing something.'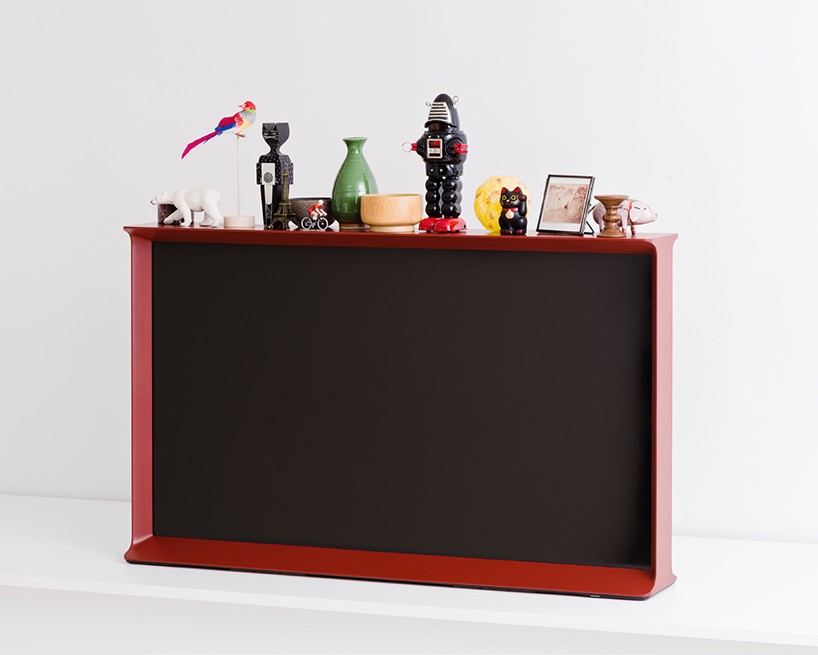 the samsung 'serif' series rethinks how the television should be treated in the home
read more on designboom here
with projects ranging from monumental to micro in scale over the course of many years and in collaboration with a variety of voices, ronan describes the development of the studio's work to be 'quite intuitive' and in accordance with a geniune interest in its subject. 'I have one great fear, which is repetition,' he says, 'doing the same thing twice is an act that seems morally questionable to me, and that distresses me as well. I think the interest of our discipline is that we aren't specialists, but… if we adopt a certain attitude in our research, in developing a certain empathy, a certain humility, to try and understand subjects, I think that we have the ability, in any case, to think about or try to find solutions to very diverse things.'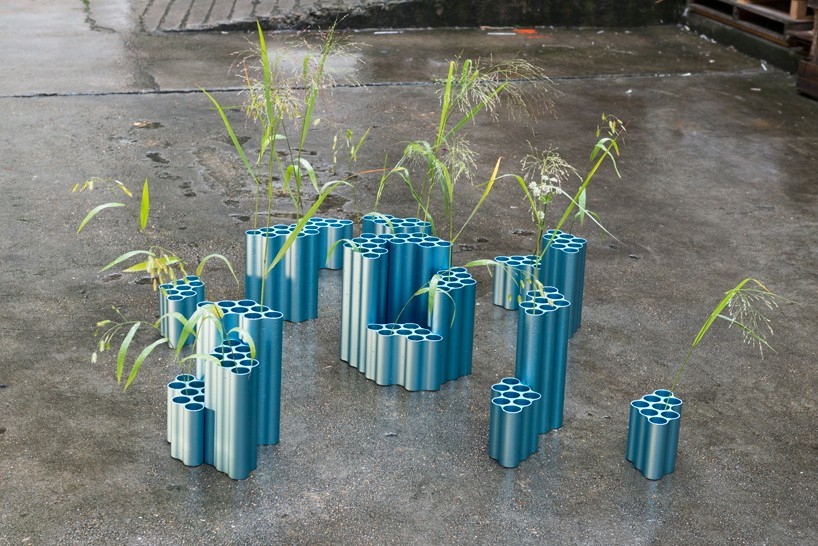 'nuage' vases form part of VITRA's accessories collection
read more on designboom here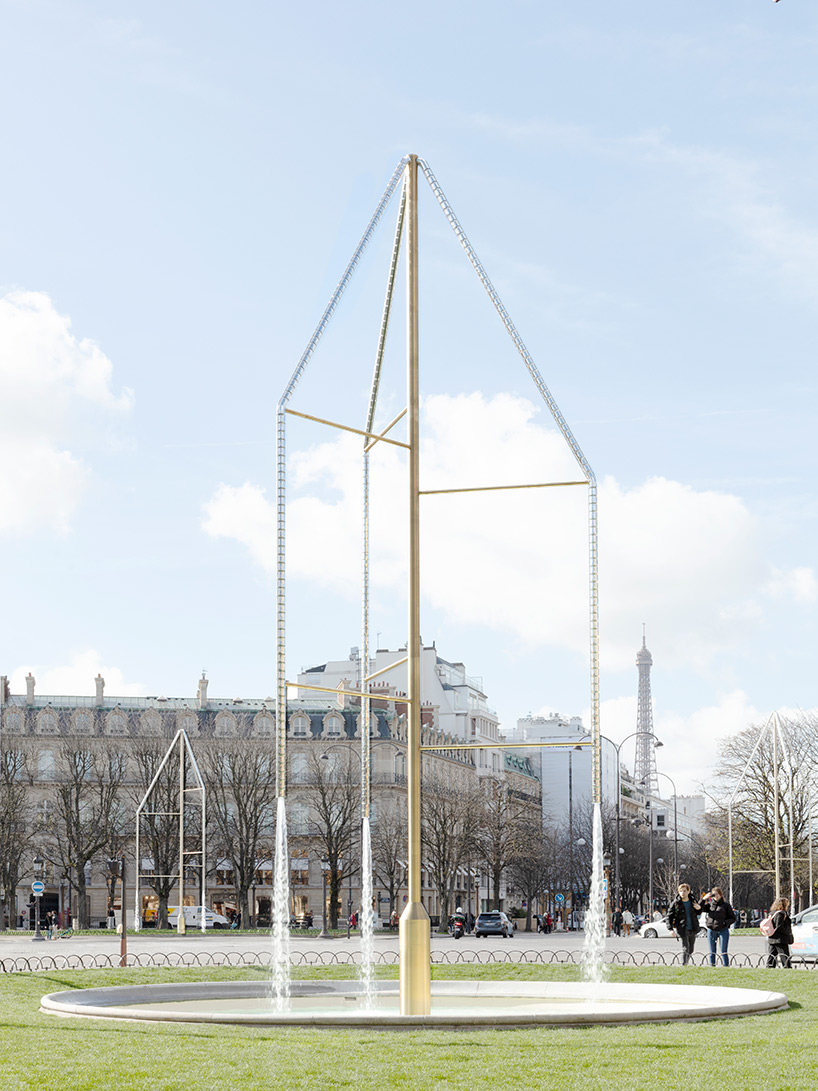 re-imagined champs-élysées fountains with swarovski crystal chains | image © claire lavabre / studio bouroullec
read more on designboom here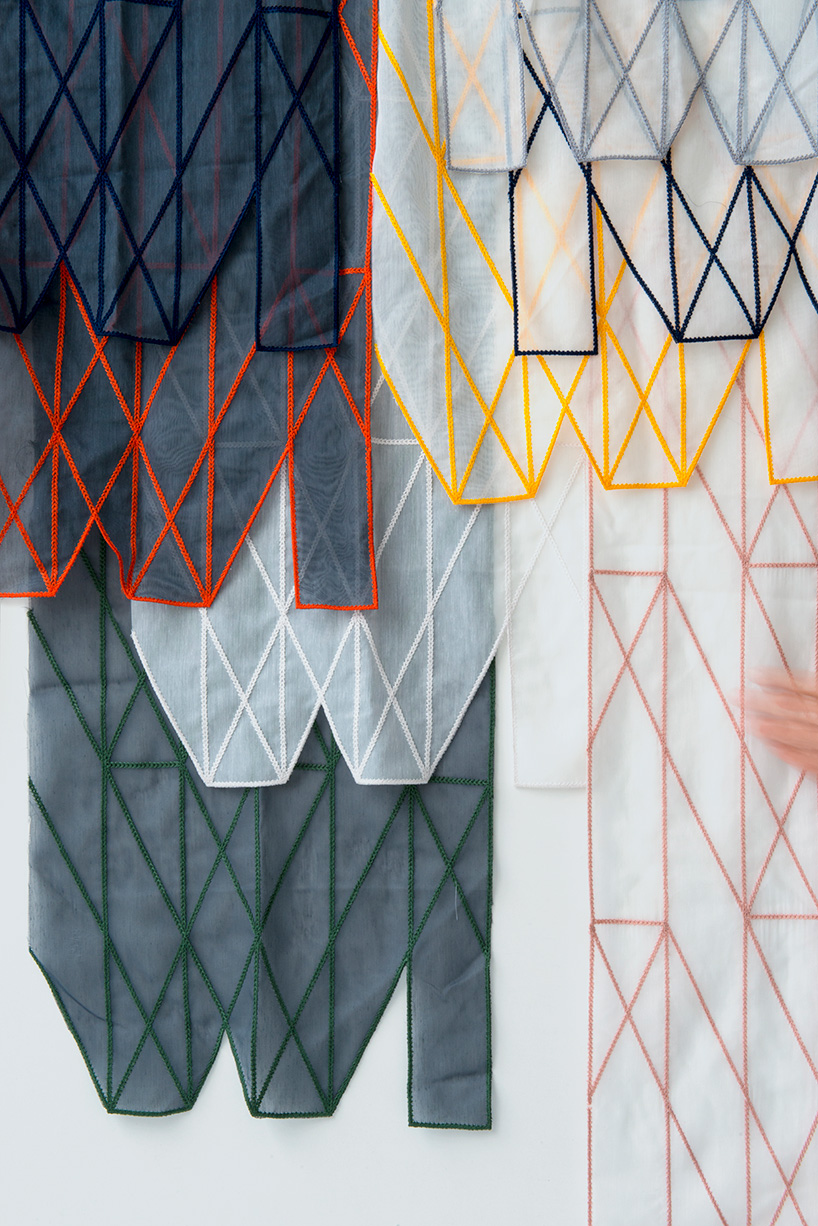 'rennes' and 'chainette', a duo of curtain collections based on delicate embroidery techniques for kvadrat
read more on designboom here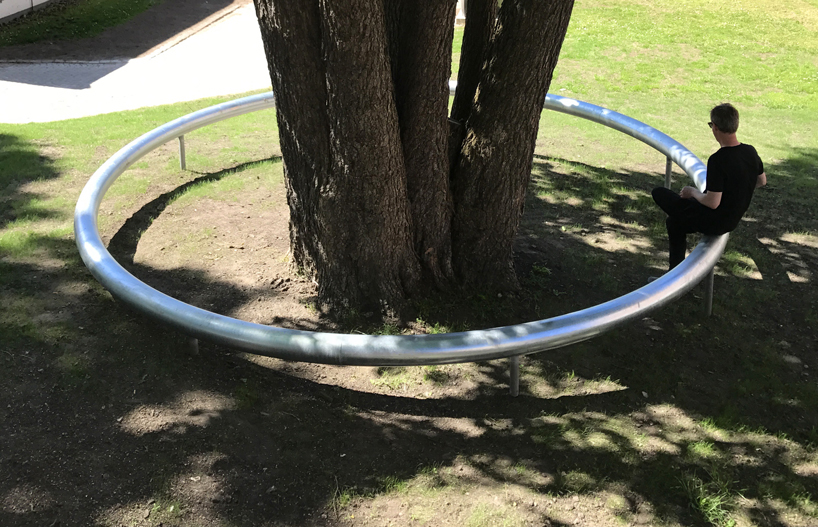 'OUI', a series of four outdoor sitting installations set within the park surrounding kunsthal aarhus in denmark
read more on designboom here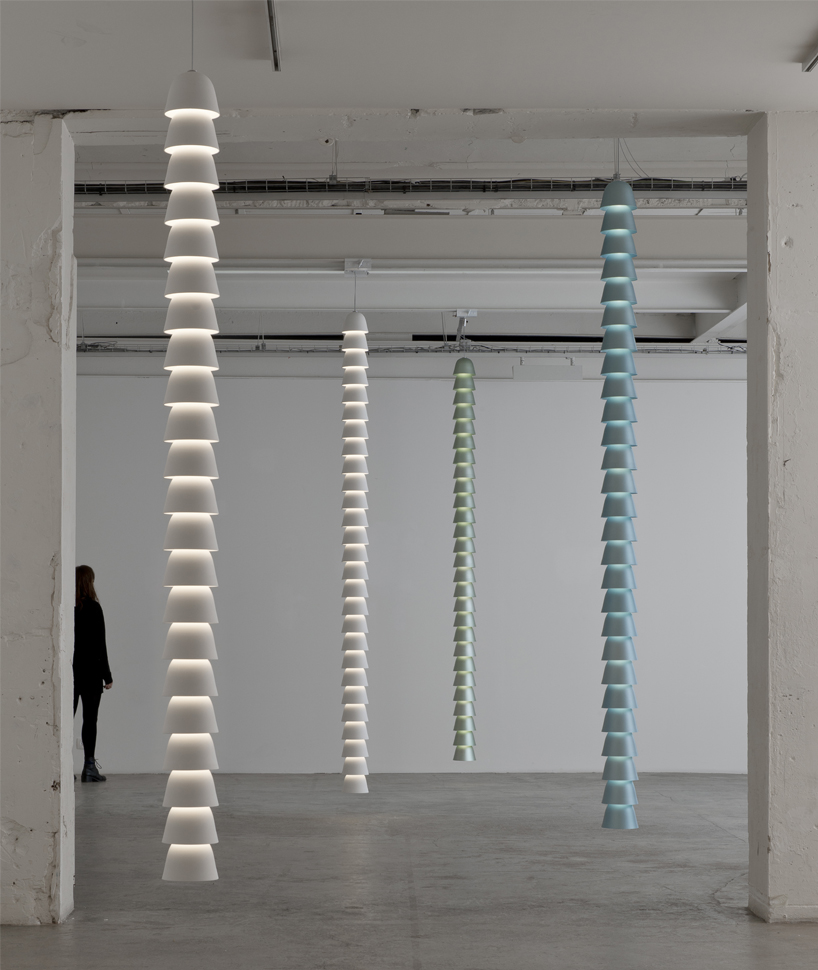 the 'chains' collection with galerie kreo
read more on designboom here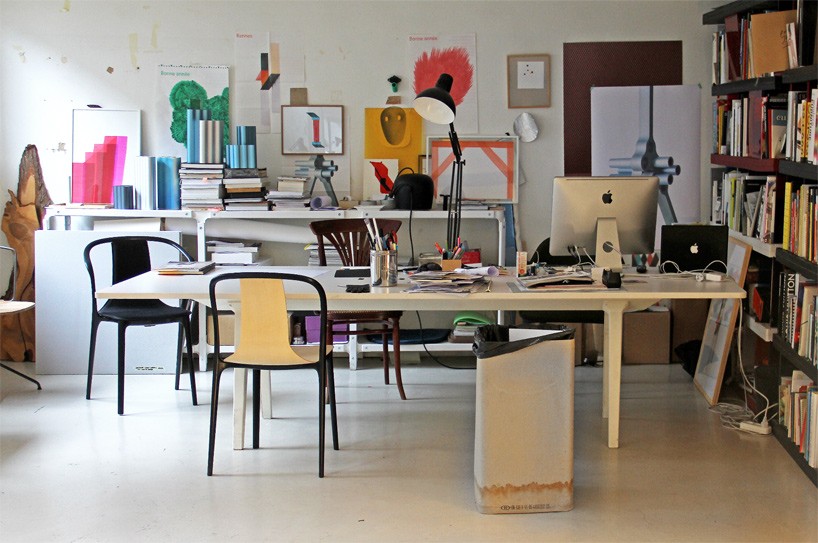 framed drawings and sources of inspiration can be seen on ronan bouroullec's desk | image © designboom
read more on designboom here
View this post on Instagram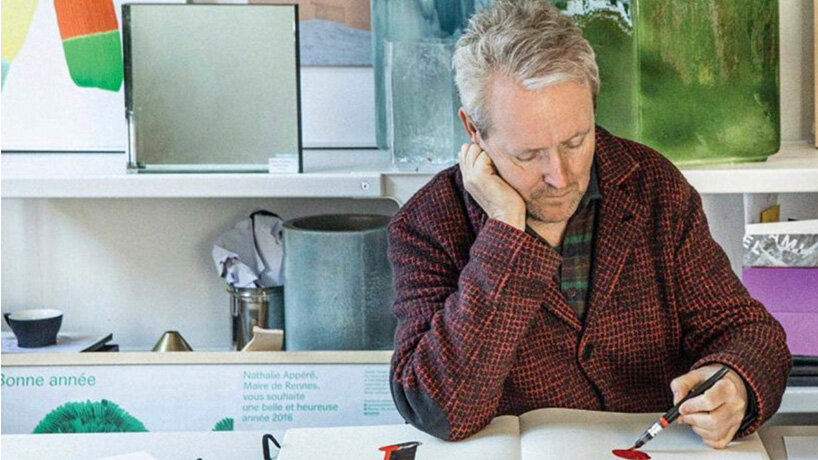 portrait of ronan bouroullec, courtesy of friedman benda
—
design in dialogue is a series of online interviews presented by new york-based gallery friedman benda that highlights leading voices from the field — designers, makers, critics, and curators — as they discuss their work and ideas. hosted alternately by curator and historian glenn adamson and designer stephen burks, the conversations are held on zoom for 1 hour and include a participatory Q&A.
watch the full video interview with ronan bouroullec at the top of the page and stay tuned as designboom continues to share design in dialogue features. see all past episodes — and RSVP for upcoming ones — here.
nina azzarello
I designboom
may 18, 2021
a diverse digital database that acts as a valuable guide in gaining insight and information about a product directly from the manufacturer, and serves as a rich reference point in developing a project or scheme.
designboom will always be there for you
milan, new york, beijing, tokyo

,
since 1999