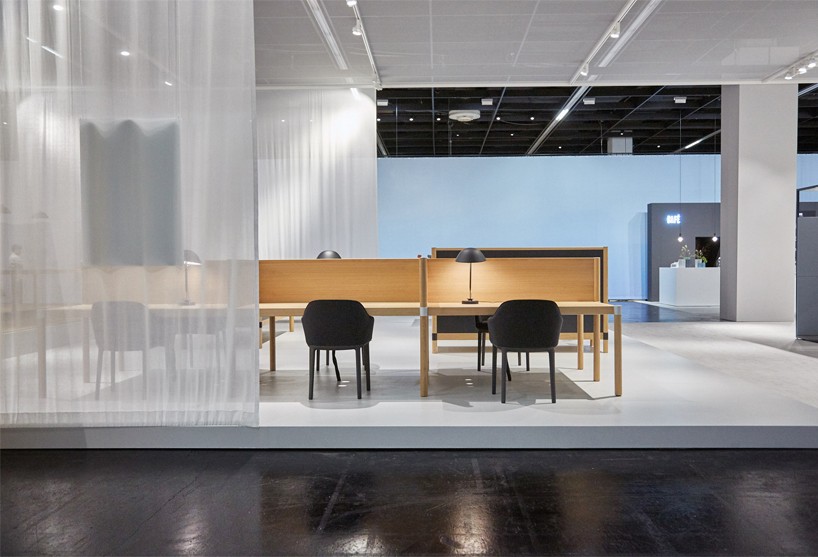 orgatec 2016: ronan and erwan bouroullec present two design studies for VITRA, the 'circle benches' and the 'cyl' office system, which both explore different aspects of workplaces. the 'cyl' office system, which was initially covered here on designboom, showcases a working environment that offers a home-like and technology-ridden atmosphere. this is achieved through the use of solid wood that emphasizes its clean lines, smooth planes and natural surfaces. on a larger scale, the 'circle benches' experiments with more urban spaces within offices, and encourages relaxed and informal meetings between people.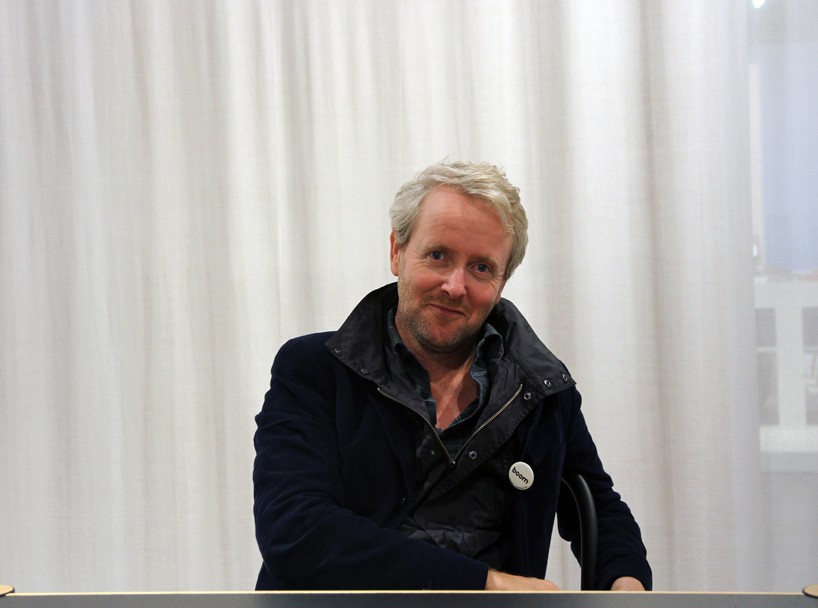 ronan bouroullec sitting at one of the 'cyl' office tables
image © designboom
the 'cyl' office system and the urban 'circle benches' furniture feature as part of the VITRA 'work' project at the 2016 orgatec furniture fair. at the brand's exhibition hall, we caught up with ronan bouroullec who exclusively discussed the two design studies and how they highlight different ideas of today's office environment.
designboom (DB): could you start off by talking more about the 'circle benches' and explaining what the design study is all about?
ronan bouroullec (RB): well the first thing about this presentation is that it tries something quite courageous and new. it is here, as a global presentation, which is huge. VITRA is the right kind of company to generate new possibilities for whole office environments. I think it is quite intelligent to do projects like this. VITRA's 'work' project tackles more of a company problem, and links designers to this huge presentation. with that, they had this space where they wanted to do something very specific like the 'circle benches'. overall, it is a place to rest. it is quite a beautiful and abstract big scale furniture bench. it is interesting because at the beginning, it was a project that we developed for a city – to be outside. however, by fitting it to the scale of this exhibition, I think it could be a good answer for museums and hotel lobbies. I think it could definitely go into the market. it is so simple that we could make it in smaller scales. we need these things that are abstract in workplaces, but also provide a lot of comfort.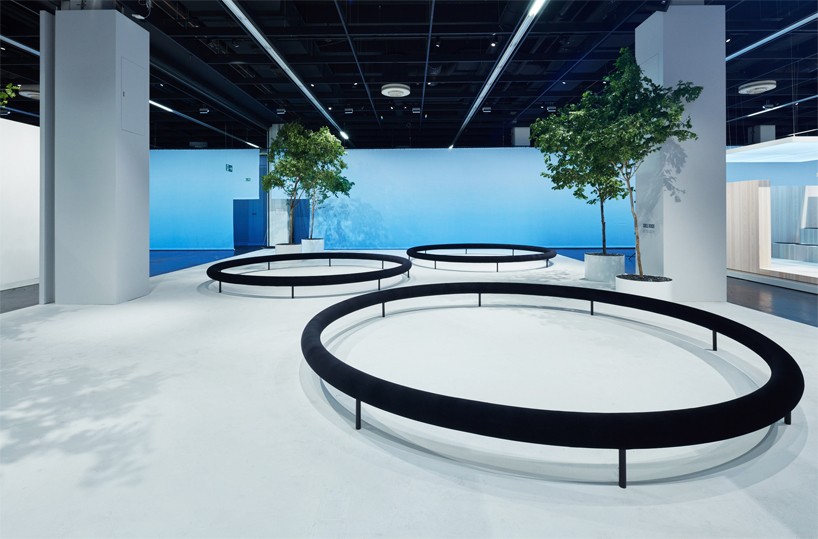 the 'circles benches' are located in the center of the VITRA 'work' hall
images courtesy of VITRA
DB: in relation to the other project that you are presenting here with VITRA, how did the project's name, the 'cyl', come about?
RB: in the development of a project, there is always an initial name for each piece of work as you need to speak about it. the name was basically called 'seat cylinder' because it is a cylinder piece of work. VITRA wanted to keep this title but I found it too german, edgy and slender. this project is about the atmosphere, softness and a certain tranquillity, and I found 'cylinder' too hard. by mistake, someone who was writing the text for the project, accidentally wrote 'cyl' and I liked it. sometimes the name is quite bizarre but with this, it fits very well.

the rings of social seating encourages people to meet informally
DB: what were some of the initial ideas behind the 'cyl' office system and how did it all start?
RB: the starting point for the project was very simple. I said to VITRA that I didn't want to work on the office field anymore and this project actually started as a domestic project. the idea was for a technical, geometrical solution that used wood and aluminum connections. these geometries can be done in any direction. the first product was the table as you see it in a simple aspect. then in the center of our space in VITRA's orgatec hall, there is a double table. this was originally a double bed but it was further developed. so you see that it was really a domestic project at the start, but at a certain point, we found that it had a magical aspect in it. this is in the sense that you can really build a lot things out of it by just using the partitions, such as a sofa or table. when we realized this, the people at VITRA convinced us to take some time to find out if it was interesting and a good fit for the office world.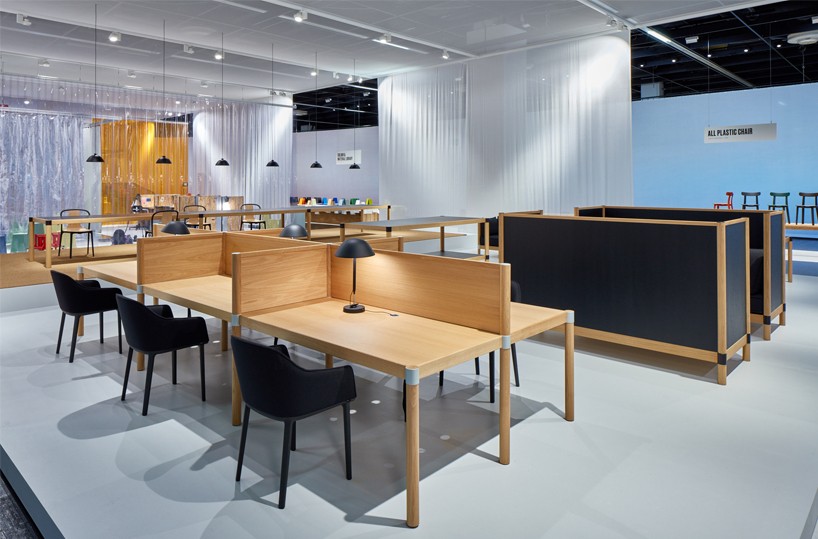 the system forms an adaptable and practical oasis of peace and tranquility
(continued..) for me, the 'cyl' is quite bizarre to describe because it is quite new in certain ways – it did not exist in past office environments, but it is full of memory. it has a very special aspect which is that it wasn't designed for today's scenario, but it is from before technology was prominent. its value for me is important because I know this piece will be more beautiful in 20 years than today. I am sure that if a complete office was done like this, it would be extremely nice. it features a very efficient cable management system which is almost not seen. there is just a hole and a net underneath. I had to fight to protect the project from intelligence. it isn't an intelligent one, it is a beautiful project. for example, the partitions are in wood and would be more efficient in textures, but we ensured that it stayed at a workshop-like level. it answers to our basic working needs through not very sophisticated or advanced methods, but in a robust or rustic approach that I really value.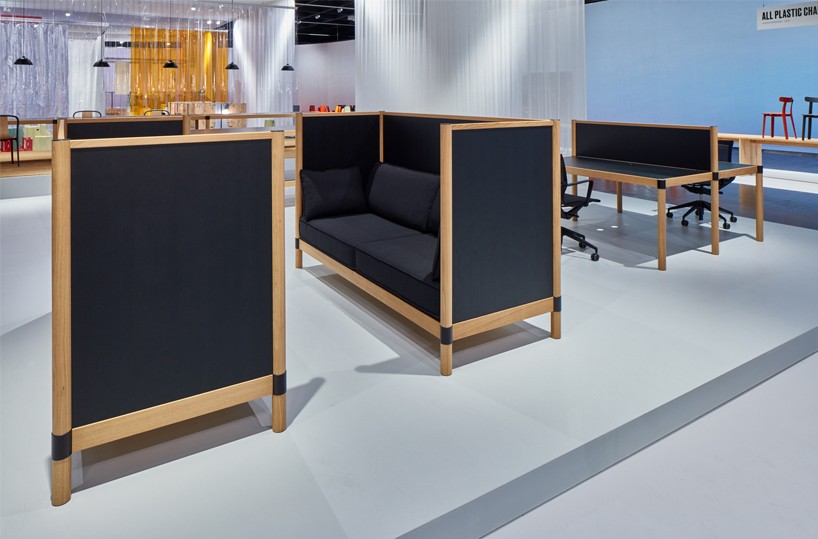 the sofa is distinguished by its side and back panels
DB: with the themes of this collection being peace and tranquillity, how were you able to reflect these impressions with office furniture and objects that people just associate it with work?
RB: you know we started working for office designs 16 years ago, and our first project for VITRA was the 'join', which was a platform system. it is difficult to imagine the feeling and atmosphere of offices back then but it was really terrible. everything was grey, black or chrome. everything was efficient but was an ugly system. the 'join' was an idea of platforms, which was easy to connect and build, where people could work on the same table. it also explored textiles and colors, and was first presented at orgatec in 2002 as a more of a concept rather than a product. however, it was so successful that it was immediately produced and also immediately copied. there was soon four or five copies on the market. people wondered whether it would work and I think this is the same situation for the 'cyl'. it really isn't playing in the same field as office furniture at the moment. I do not see why people cannot work on it further. if we do continue with this project, it is because we trust it. it isn't just about color or materials, it is a question of atmosphere, beauty and tranquillity. I would be happy to work on this table and in this office environment.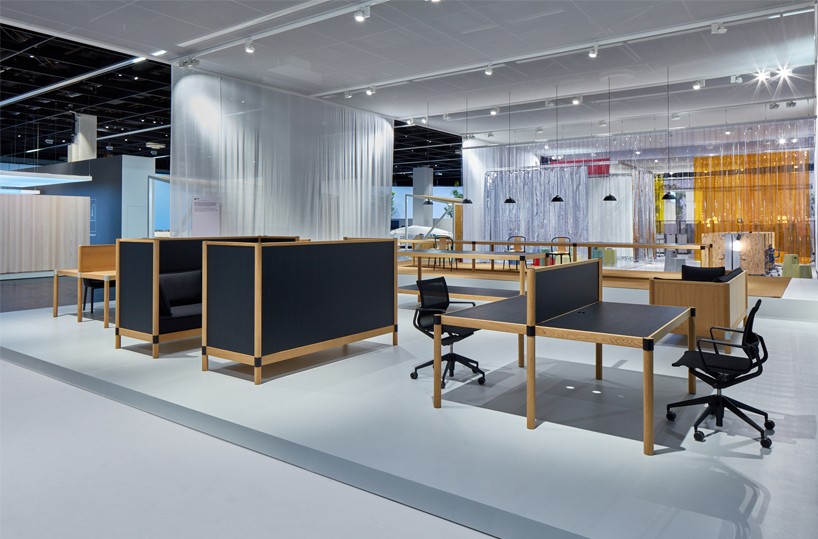 the collection includes a system of tables and couches that can work together or alone
DB: after collaborating with VITRA on numerous projects for 16 years now, how are you able to challenge new ideas and present different work for the brand?
RB: well it is a continuous development. there might be between five and ten projects that are being worked on with VITRA at the same time, but not a lot of them survive the development stage. after two years, we can determine if it is not good enough or whether the feeling is not right, but we are always searching.
you are pointing to a good question. we are an old company now and it is like a little love story between us and VITRA. you always need to reinvent yourself and keep a clear relationship with the company so that it doesn't become too boring or too efficient. this is because efficiency is a complicated balance. real quality is about a mixture of things, it is not about insufficiency in production.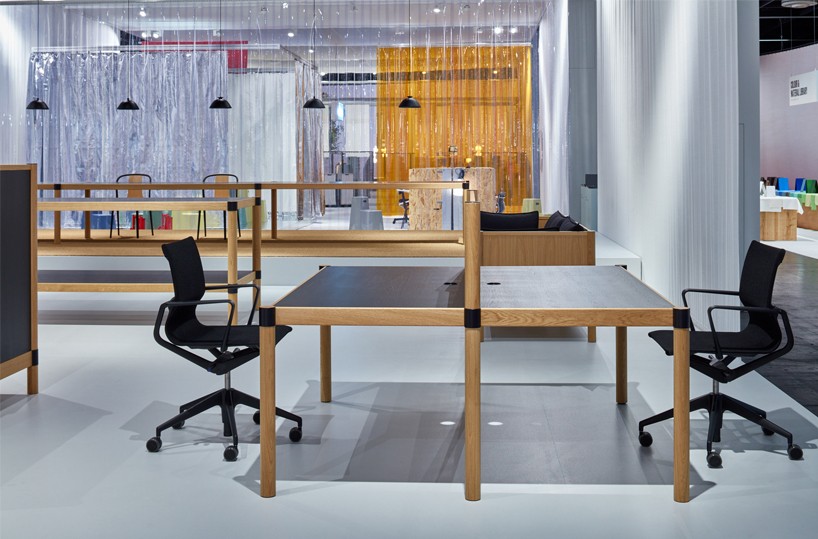 the system of interlocking tables forms a flexible and interchangeable setting to suit a variety of needs
DB: as a common feature in the offices of the VITRA 'work' project, can you tell us more about the 'nuage cloud' vase which was shown at the 2016 maison et objet?
RB: well this idea arrived quite bizarrely. I think it was a mixture of many different aspects of influences. it is very metal and was a form that we designed years ago for VITRA, but they rejected it as part of the original 'join' system. it was supposed to be a partition of space. however, we then used it as a temporary installation to tribute zaha hadid inside the VITRA fire station.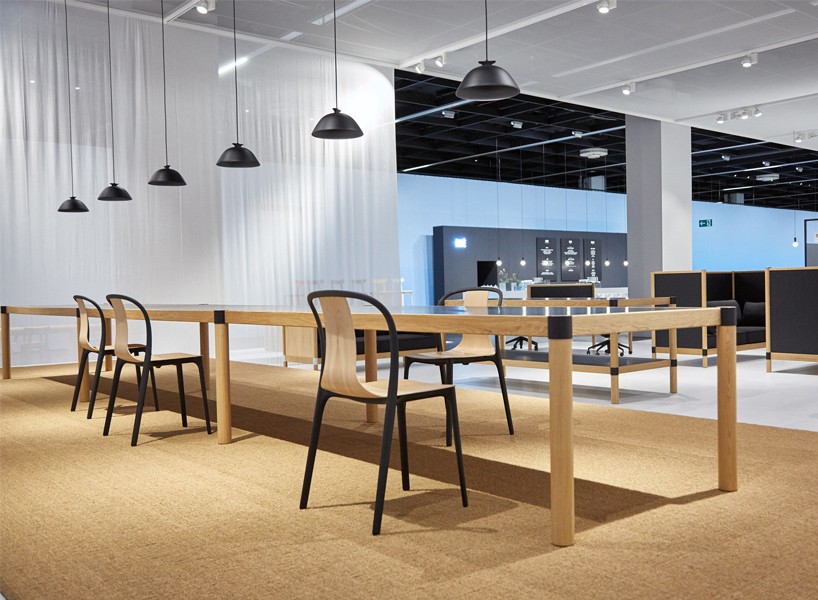 the use of wood emphasizes the product's clean lines and smooth planes
DB: what are you currently working on that our readers should look out in the near future?
RB: there are some very interesting things that we are developing. some months ago, we started to do, in the context of an exhibition, the 'rêveries urbaines' project that is very exciting. we are doing many urban projects and we will have to see what will happen. the exhibition has been in VITRA for some weeks now. following the same research and ideas behind the project, which was like a sketch-book for a city, we have now received some requests for the cities of miami, aahus, paris and rennes.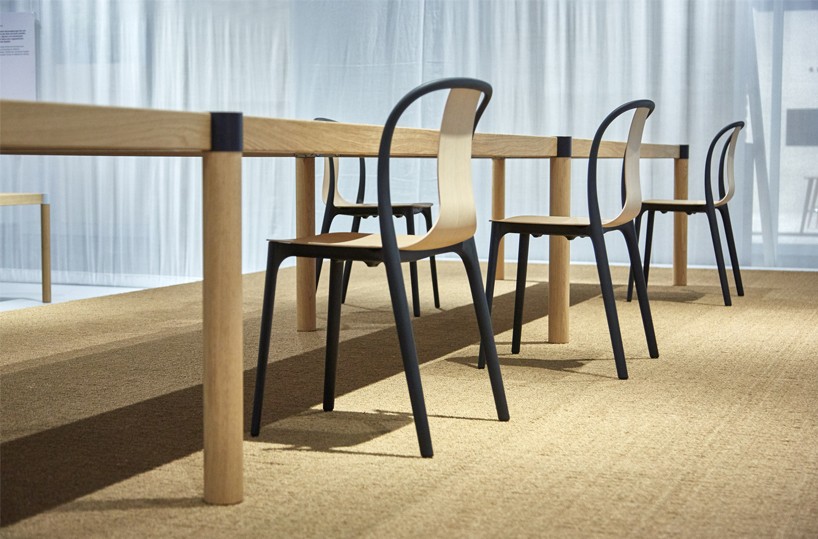 furthermore, wood conveys a handcrafted, natural aesthetic that adds an emotional and personal touch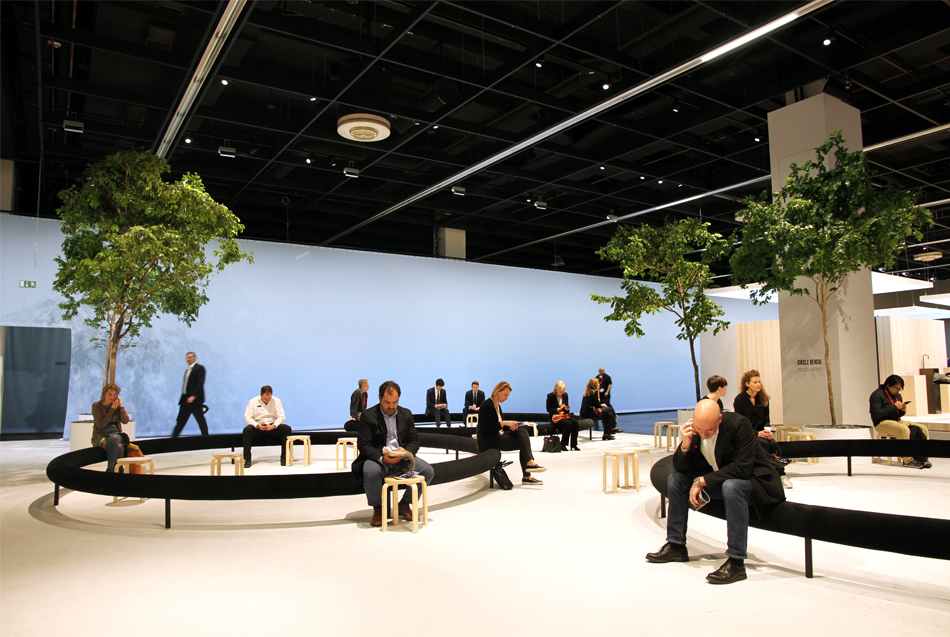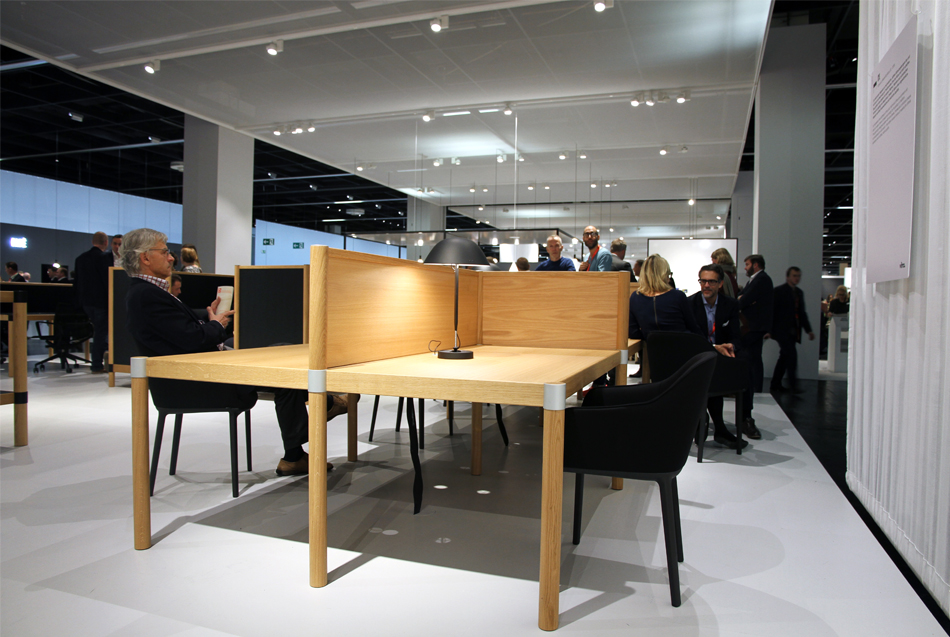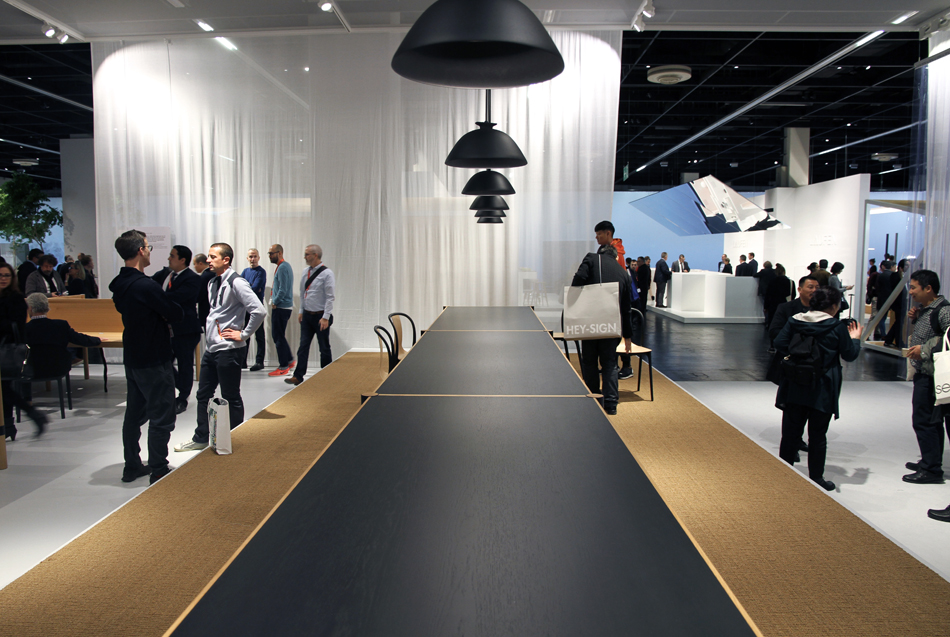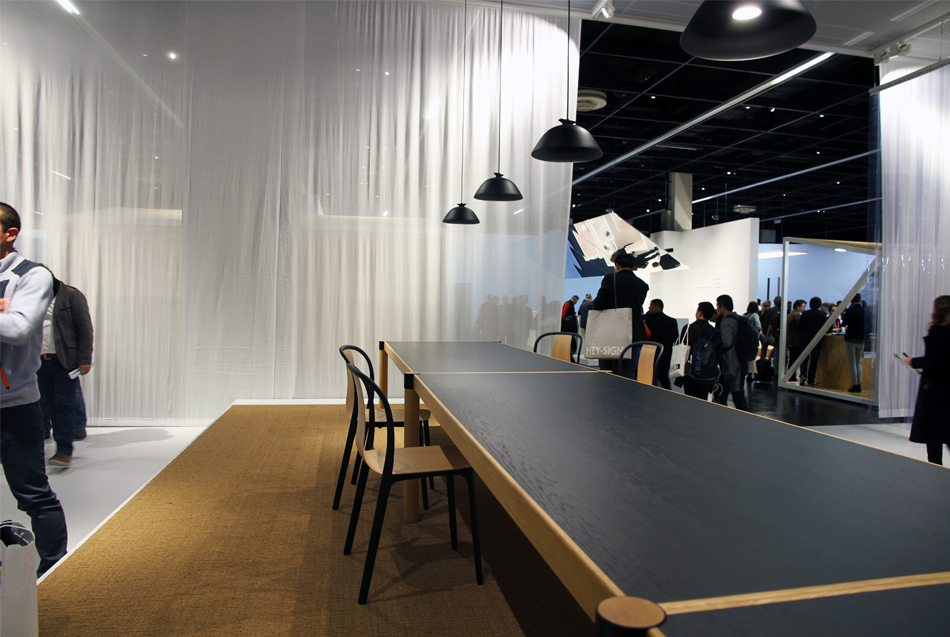 Save
a diverse digital database that acts as a valuable guide in gaining insight and information about a product directly from the manufacturer, and serves as a rich reference point in developing a project or scheme.
designboom will always be there for you
milan, new york, beijing, tokyo

,
since 1999