sep 12, 2011
ross lovegrove: endless at the cardi black box
'endless' by ross lovegrove galleria cardi black box, milan, italy on now through october 1st, 2011
'long liquid bench', on exhibition at ross lovegrove's solo show 'endless' at the galleria cardi black box
metals and natural forms are stretched to their capacity in 'endless, an exhibition of the 'liquid' collection and other works by welsh designer ross lovegrove, on now at the galleria cardi black box in milan. the two-part show, lovegrove's first solo exhibition in italy, sets the tables, shelves and benches in spaces that are illuminated by a custom video, letting the light and colour play against the sinuous metal forms and reflect and refract onto the walls.
upon entering the gallery, visitors encounter 'long liquid bench' and 'liquid shelving' (previewed here), and several of lovegrove's 'liquid' tables amidst a clean white space with a video projection along each of the side walls. the milled and polished aluminum is formed into fluid, organic-like shapes in the limited edition works.
upstairs, a video serves as backdrop to two experimental copper pieces. the hollow forms showcase metal that has been hammered to an extremely thin sheet, and then curved into a redoubled, sinuous form whose gaps and apertures conflate the notions of interior and exterior. all of the works in 'endless' bring to mind a questioning of bodies, and the polished but unfinished surfaces celebrate natural beauty.
the video installations that lovegrove designed for the exhibition feature abstract and animated impressions of the play of light and colour, set to near-white noise (video following article).
downstairs gallery view image © designboom
gallery view upon entering the space image © designboom
'liquid shelving' image © designboom
3/4 view of 'liquid shelving' image © designboom
the downstairs exhibition showcases works from ross lovegrove's 'liquid' series; the upstairs gallery, new copper works; both include a video installation image © designboom
'liquid table bioform' image © designboom
detail view, with refractions from the video installation visible on the metal image © designboom
'liquid trilobal table' image © designboom
upstairs gallery view image © designboom
full view image © designboom
detail view looking into the interior, with the changes of colour a natural effect of the play of light on the piece's form image © designboom
designer ross lovegrove in front of 'liquid shelving' at the cardi black box portrait © designboom

video of upstairs gallery space
video © designboom
sep 18, 2017
sep 18, 2017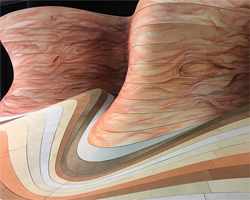 jan 29, 2017
jan 29, 2017
apr 27, 2016
apr 27, 2016
oct 21, 2015
oct 21, 2015
sep 23, 2015
sep 23, 2015
may 03, 2015
may 03, 2015