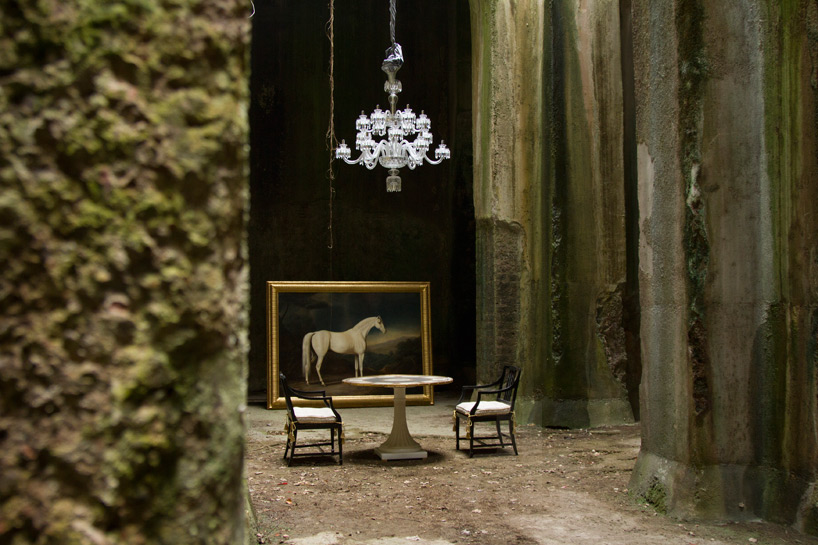 mar 08, 2016
salone del mobile 2016 presents BEFORE DESIGN: CLASSIC - a film by matteo garrone
salone del mobile 2016 presents BEFORE DESIGN: CLASSIC – a film by matteo garrone
the 55th edition of the salone del mobile is set to host three major collateral events dedicated to concepts of living, architectural finishes and classic furnishing — the latter proposing an interesting dialogue in the context of the numerous contemporary products that will debut at the most important annual event on the design calendar from april 12th-17th, 2016.
showcasing the 'classic', the 2016 salone del mobile will showcase will look at the notion of established value, timelessness and memorability and how it relates to creativity, art, design and cinema; ultimately breaking conventions through time and space, becoming an inalienable spur for building a new lifestyle, a new world, a new future.
'BEFORE DESIGN: CLASSIC' is an exhibition event, accompanied by a short film directed by matteo garrone (also the director of the well-known 'gomorra'), brought together under the artistic leadership of studio ciarmoli queda. it tells the story of the 'classic' understood as a cross-cutting category of living that traverses various eras, while preserving its own constant actuality.


'BEFORE DESIGN: CLASSIC' highlights he beauty and contemporaneousness of classic furniture
conceived within an 80m2 exhibition space within pavilion15, F15/H19 of milan's rho fiera venue, 'BEFORE DESIGN: CLASSIC' is set to highlight the beauty and contemporaneousness of classic furniture. set within a display whose scheme is influenced by a classical palladian villa, an ancient-style theatre, much like andrea palladio's teatro olimpico, thus stands as the central nucleus, becoming the reference for which the entire conceptual edifice of the installation is founded. each of the eight rooms which it comprises will reveal surprising multimedia and sensory installations, individually devoted to a different theme with a well-defined character, projecting the heart of the exhibition, with its powerful focus on innovation resting on tradition.
each room will express a different mood or emotional display — from light to a space inhabited by shadows, from the convivium to the music room, the later embellished with pieces by lisa rampilli who works on velvets by subtraction, using a highly individual and extremely fascinating technique, to a room embellished with ceramic plates with decorations influenced by the classical world conceived by marco basta.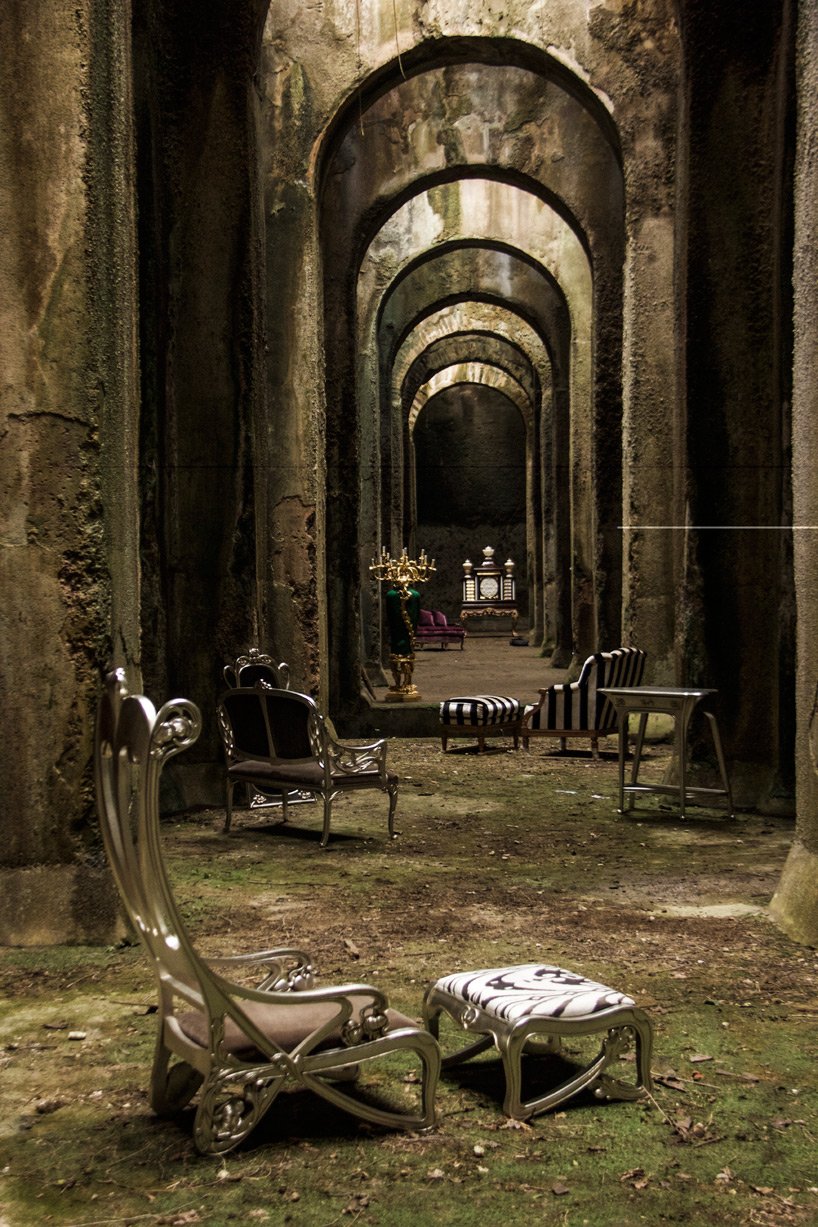 each room within the installation will express a different mood or emotional display
standing as a kind of solid monolith that brings together and melds references of classical quality and modern architecture, garrone's film is an integral part of 'BEFORE DESIGN: CLASSIC', playing on a loop inside the ephemeral experience, transporting the visitor into a suspended atmosphere. the moving image is bold and visionary, and aims to express the notion of the classic that overcomes all cultural barriers, moving between dreamlike charm, evocative images and glimpses of a future as yet unimagined. mysterious little figures move against a desolate and timeless landscape: they are custodians of taste, reaching out to recover various precious objects such as furniture with gold fittings, lacquered tables, sparkling crystals, that have miraculously escaped destruction; and which deserve to be preserved and valorized to nurture an idea of a possible future.
it is the furniture though, that is acts as the real star of the film, provided by: andré du dauphiné, annibale colombo, C.G. capelletti, colombo stile, création metaphores, dedar, frette, medea, P&G cugini lanzani, pozzoli, provasi, rosenthal, st. louis and sigma L2; along with many other leading exhibiting sectoral producers.

at the heart of the exhibition is a film by matteo garrone, that expresses the notion of the classic
'I immediately found the 'BEFORE DESIGN: CLASSIC' project very interesting and I was very pleased to accept the challenge to talk about furniture, not through captions but through the medium of film', says the filmmaker matteo garrone, and author of the short film. 'I really liked the basic idea, in which classic – understood as beautiful in a wider sense – traverses the different eras, preserving its own actual and contemporary characteristics, building a bridge to the future. this made me think of a post-atomic world, a shattered world of which children (who embody that pure gaze, the ability to perceive beauty) save a few pieces from the rubble, true 'gems' that have lasted over time. moving against the background of an enchanted place, in which there is a keen sense of its historical bonds, these little 'custodians of taste' tidy up, clean up and preserve these pieces for the future, so that beauty continues to be handed down. the furniture becomes the absolute protagonist, surviving through the ages and embodying an unchanging contemporary taste.'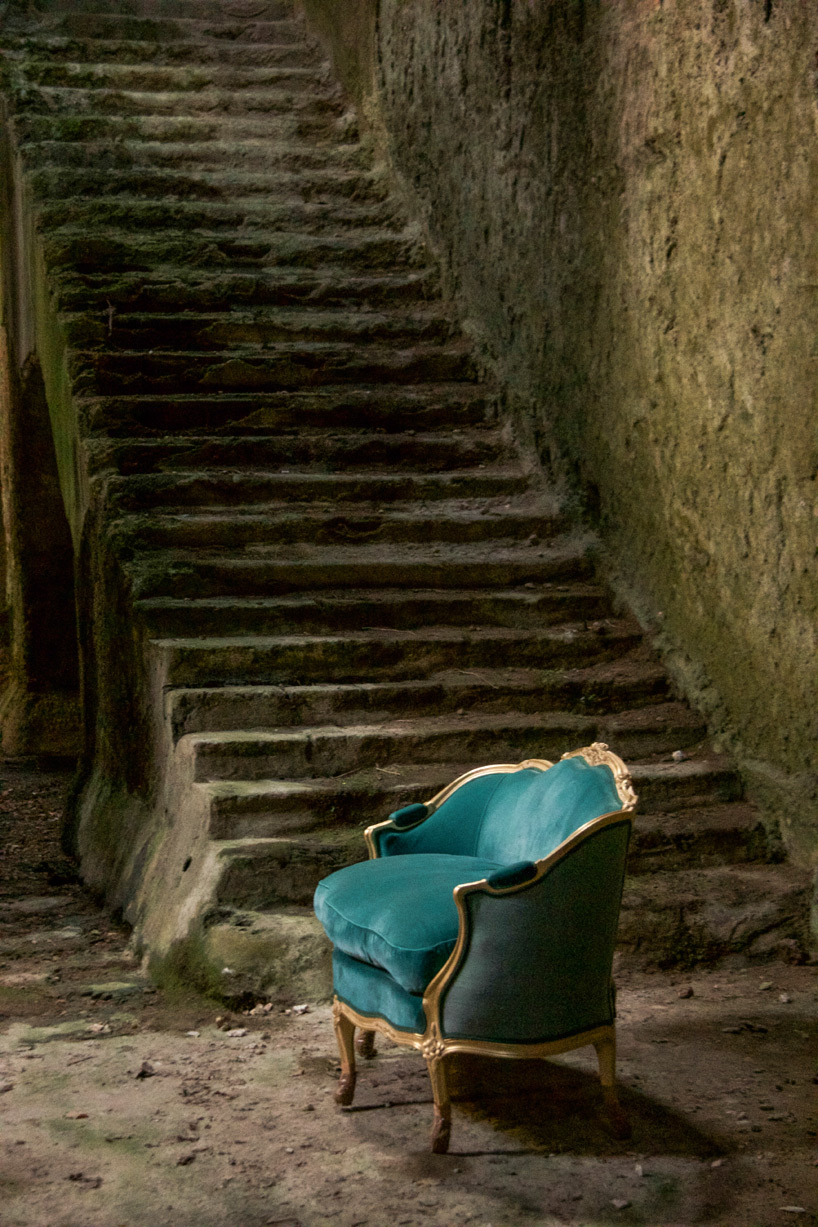 garrone's film is visionary, expressing the notion of the classic overcoming cultural barriers
on the strength of all these different and complementary elements, 'BEFORE DESIGN: CLASSIC' evolves like a conceptual russian doll, gathering up all the various components and drawing on the different areas of creativity, in a virtuous circle and with an eclectic and free approach. it opens up untapped areas of discovery and knowledge, surprising and enriching the traditional idea of classic style with new contents, rediscoveries and interpretations in a scenario in which the classic piece conserves and reasserts its own role as protagonist.

the film depicts custodians of taste that recover various precious objects such as furniture with gold fittings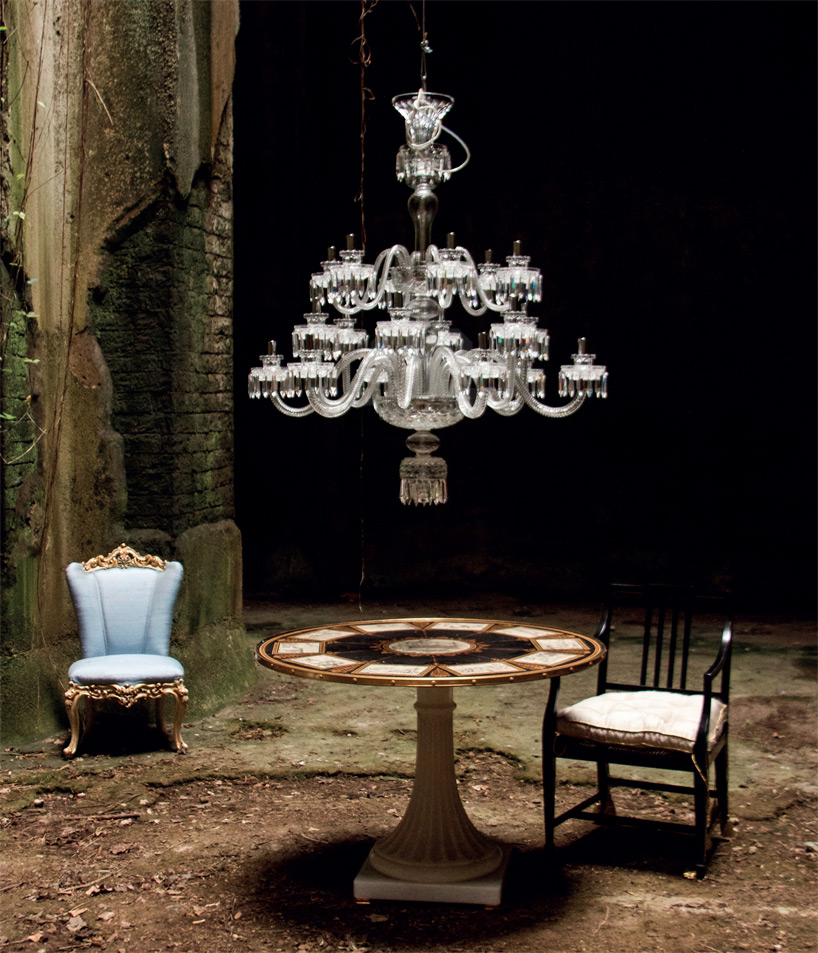 'BEFORE DESIGN: CLASSIC' melds references of classical quality and modern architecture
the exhibition has been produced in collaboration with:
CC stone – marble decorations; oikos – painting; tabu – wood flooring; fromental – hand-painted wallpaper; ferreira de sà – carpet; dedar – textiles; frangi – theatre decoration; voghi – textiles.
jul 27, 2016
jul 27, 2016
jul 05, 2016
jul 05, 2016
jul 02, 2016
jul 02, 2016
feb 14, 2017
feb 14, 2017
jun 26, 2016
jun 26, 2016
jun 21, 2016
jun 21, 2016