round up: the best of salonesatellite 2023
SaloneSatellite, held annually as part of Milan Design Week's Salone del Mobile, is a renowned exhibition that showcases emerging designers to a global audience. The event, founded in 1998 by Marva Griffin, has become highly anticipated by design professionals, enthusiasts, and trendsetters for its innovative designs and material solutions. SaloneSatellite is dedicated to promoting designers under 35 and this year's theme, 'Design: DOVE VAI?' or 'Design: WHERE ARE YOU GOING?,' challenged participants to address pressing environmental, economic, and social issues through the creation of chairs, tables, lighting, materials strategies.
As this year's exhibition comes to a close, designboom rounds up the best projects presented at SaloneSatellite 2023 during Salone del Mobile 2023 — which was from April 17th until April 23rd — beginning with the three winning teams of the SaloneSatellite Awards presented following a discussion by Gaetano Pesce. With creative concepts ranging from food- and waste-based material experiments to illusionistic 3D-printed surfaces, the exhibition offered a glimpse into the future of design.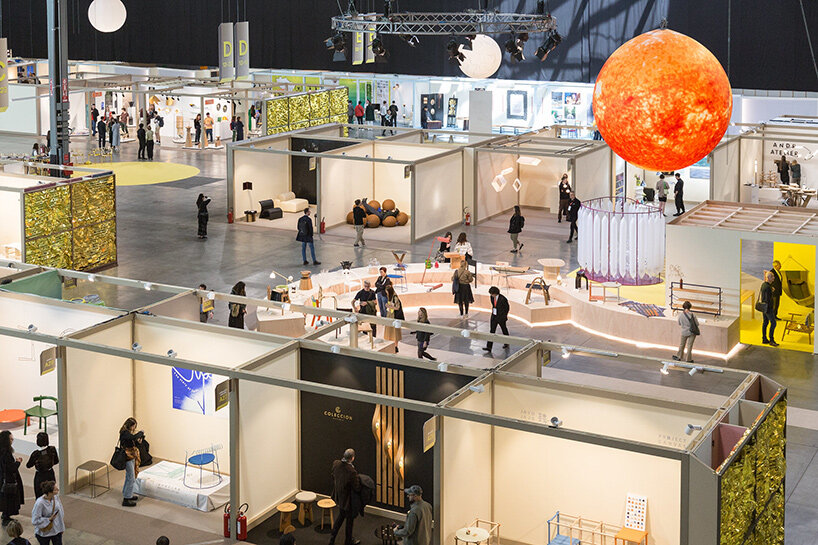 SaloneSatellite 2023 exhibition view, courtesy Salone del Mobile | header image by first place winner Honoka
HONOKA
Tokyo-based design studio Honoka presents its Tatami ReFAB Project at SaloneSatellite 2023. Tatami mats, made from fragrant plants that regulate humidity and eliminate odors, have been an integral part of Japanese living spaces for centuries. The Tatami Refab Project utilizes 3D printing technology to reintroduce tatami mats into contemporary living. The team has created eco-friendly furniture by combining recycled tatami with biodegradable plastic. Through this endeavor, the designers aim to preserve the allure of tatami for future generations.
Honoka was announced the first place winner of the SaloneSatellite Award.
Tatami ReFAB Project, image coutesy oh Honoka
studio ryte
Hong Kong-based Studio Ryte has created an innovative furniture piece, the Triplex Stool, as a practical solution to the space-related challenges faced by people living in high-density areas. The stool's modular design makes it an ideal space-saving solution, as its three slender legs and seat can be stacked together to save room when not in use. This is particularly useful in a place like Hong Kong, where space is often at a premium.
One of the key features of the Triplex Stool is its sustainable design. It is made from flax fiber, a biodegradable material that is both environmentally friendly and renewable. Flax fiber has remarkable strength that is comparable to carbon fiber, but without the negative impact on the environment associated with carbon fiber production. The flax fiber is sourced from fast-growing plants and then bonded together using a bio-resin. The use of such materials not only ensures that the stool is durable but also makes it biodegradable and compostable, thus minimizing the environmental impact. see designboom's previous coverage here.
Studio Ryte was awarded second place winner of the SaloneSatellite Award.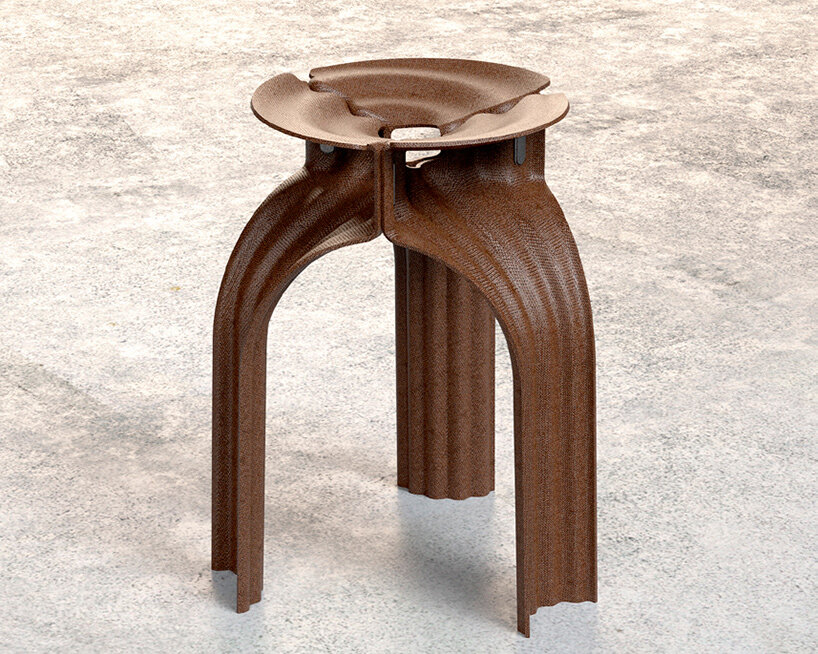 Triplex Stool, image courtesy Studio Ryte
Ahokpe + Chatelin
Brussels-based design duo Ahokpe + Chatelin, founders of a textile research and production studio, present this 'Ku do azò' hanging bed. The piece was designed and handwoven in Benin, Nigeria and intended for European interiors. The fabric is created with unravelled yarn from sweaters that end up on African markets, its whole shape the result of the assembly of narrow weaving strips that come out of the Beninese loom. This format is both related to the body of the weaver and to the body of the user.
In a dialogue between Belgium and Benin, Ahokpe + Chatelin experiments with the creation of textile furniture. 'This object was thought as a return to the sender to answer our needs of comfort and exoticism and also to remind us of the incidences of consumption,' the team says. 'Each piece is unique in its color combination.'
Ahokpe + Chatelin were awarded third place winner of the SaloneSatellite Award.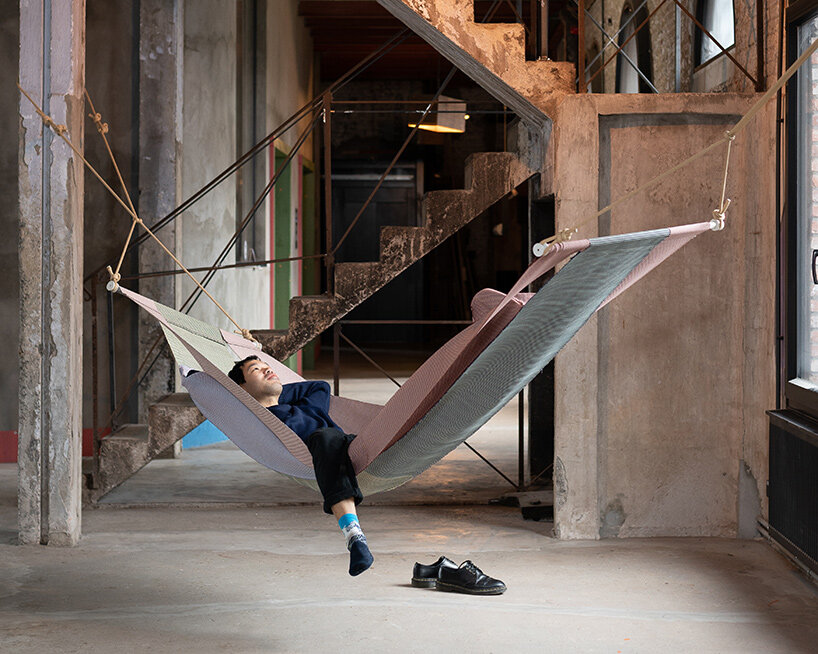 'Ku do azò' hanging bed, image courtesy Ahokpe + Chatelin
Fragmentario
Fragmentario is an experimental New York-based research studio founded by Venezuelan designer María-Elena Pombo. The studio is dedicated to exploring experimental approaches to design and material studies, with the ultimate goal of creating sustainable and environmentally-conscious solutions. Fragmentario presented the 'Avocado Seed Brick' project at Salone del Mobile 2023.
As part of her material studies, Pombo has developed a unique approach utilizing avocado seeds. She gathers them from local restaurant workers who would have otherwise discarded them, and repurposes them into a versatile material with a wide range of applications — thus minimizing waste and proposing an alternative to traditional, more harmful materials.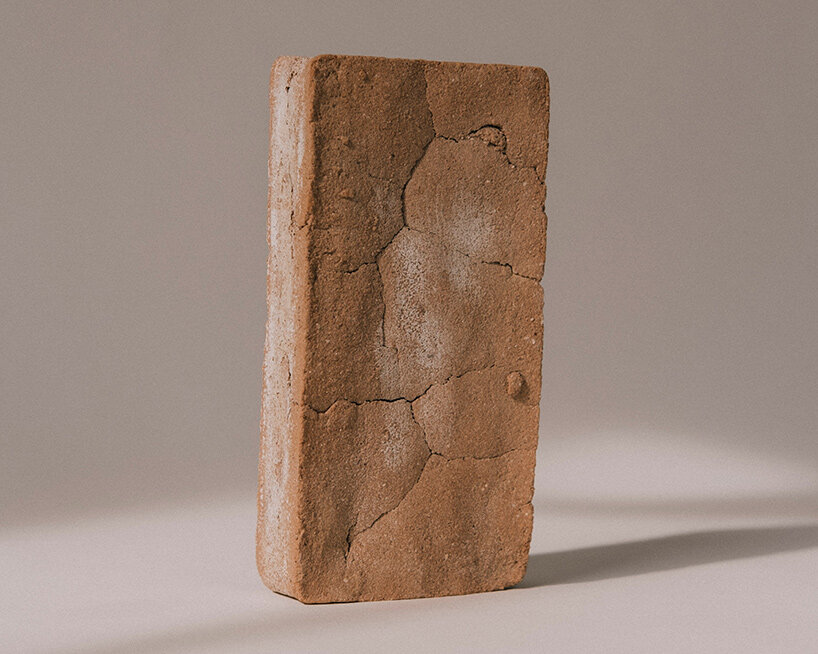 Avocado Seed Brick | image courtesy Fragmentario
The avocado seeds are transformed into a dye that can be used to color fabric, creating a natural and organic alternative to synthetic dyes. Pombo notes that the seeds can further be used to create bricks, plastic, leather, glass, electricity, fuel for vehicles, and more. This diverse range of applications highlights the potential of harnessing natural resources in innovative ways to address current environmental challenges.
One of the most exciting applications of the research conducted by Pombo is the creation of bricks made from avocado seeds and a binder made from Sargassum algae. This approach not only utilizes waste materials but also provides an eco-friendly alternative to traditional bricks, which are typically made from materials that have a significant impact on the environment. Fragmentario received a Special Mention during this year's SaloneSatellite Awards.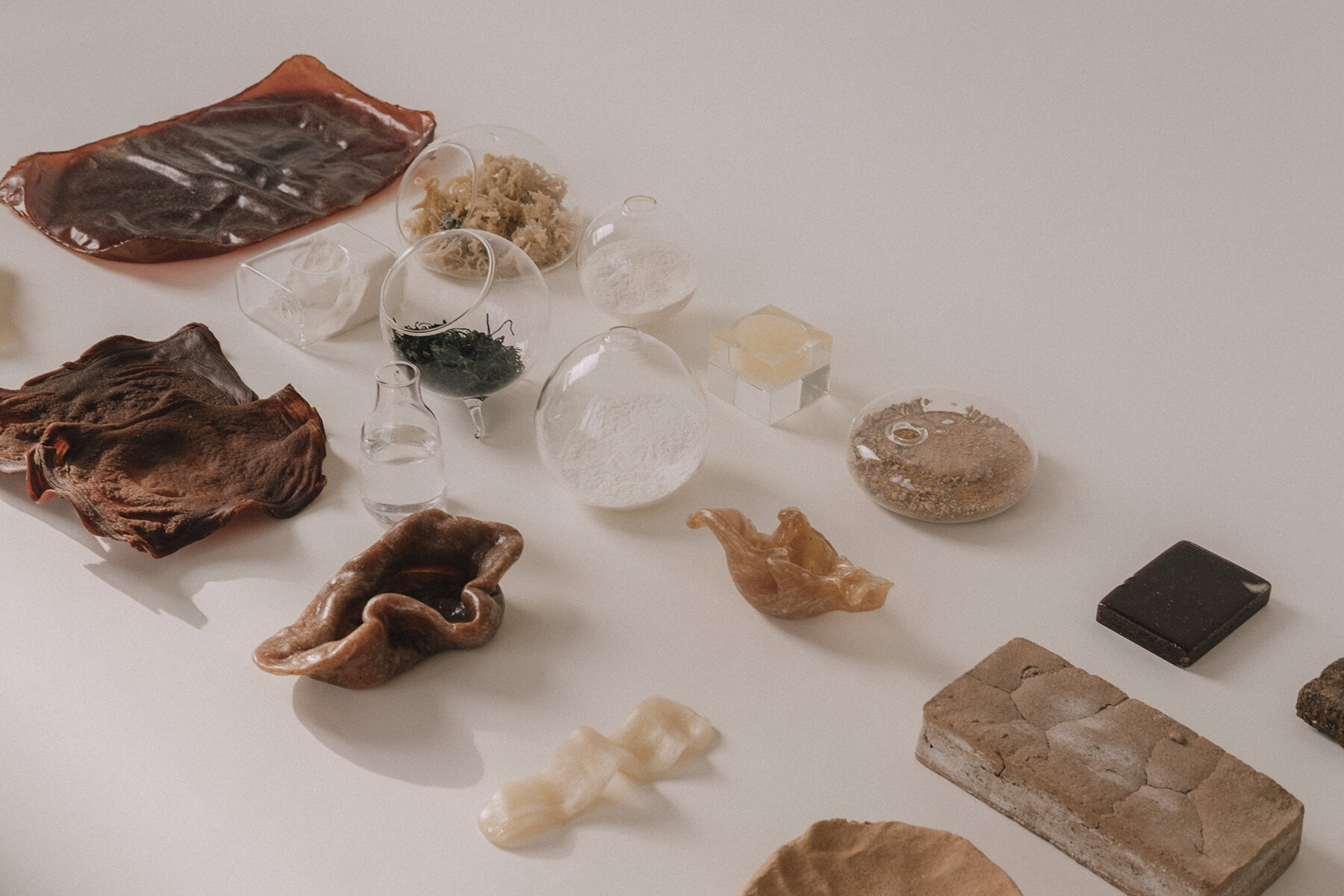 avocado seed material studies | image courtesy Fragmentario
weonrhee
Seoul-based designer Weonrhee completes a collection of 'Primitive Structures,' or adaptable furniture pieces built of recycled wood and inspired by both architectural patterns and the Korean landscape. The designer's goal is to extend the lifespan of construction materials. The tables are sustainable and visually pleasing, consisting of four stacked modules designed to resemble a pagoda, with two core modules of different sizes placed parallel to each other like eaves.
'At the beginning of work, I contemplate the agenda of the times and find suitable material to express it,' the designer explains, 'and based on this, I always try to propose new things through research on the cultural and historical background and society in which I grew up.'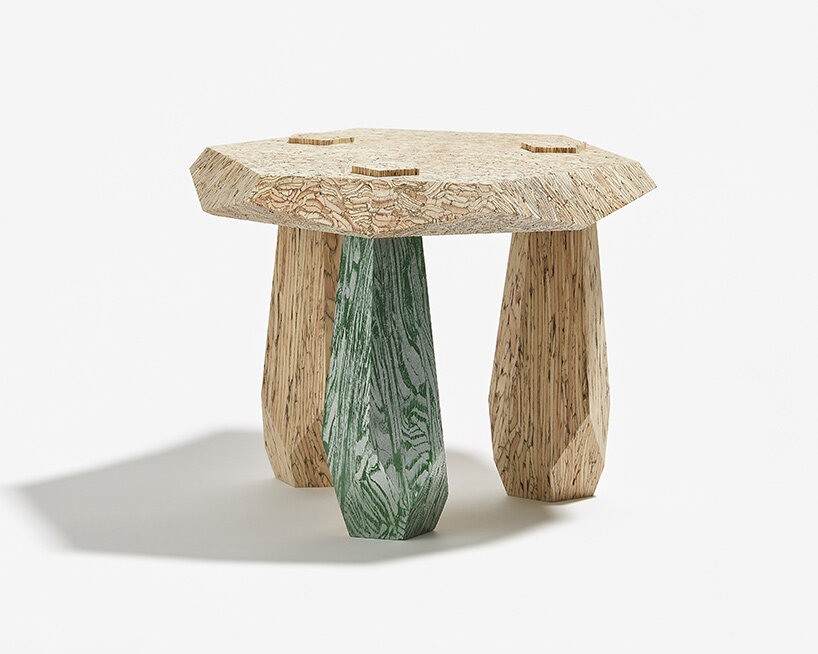 Primitive Structures, image courtesy of Weonrhee
One of the most notable aspects of the project is the use of PSL beam, an engineered wood typically used in construction frames, for the table bases and tops. The raw texture of this material has been incorporated into the design, celebrating its sustainable nature and primitive, decorative patterns reminiscent of leaf veins or a tiger's skin on the surface. see designboom's previous coverage here!
Weonrhee received a Special Mention during this year's SaloneSatellite Awards.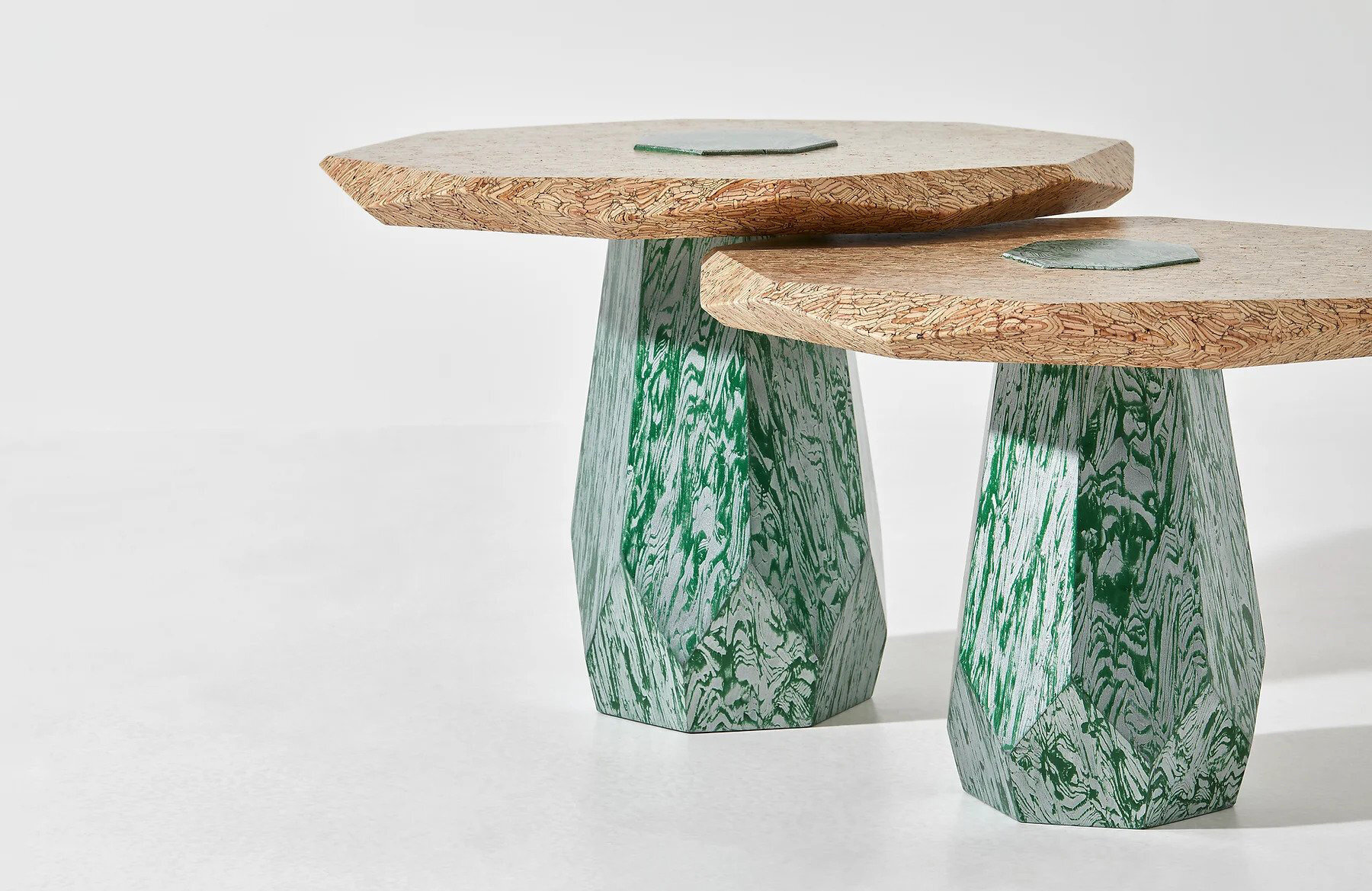 Primitive Structures, image courtesy of Weonrhee
Sekisai
Sekisai, a Japanese design studio specializing in 3D printing, has developed 'Phantasmagorical Skin,' a dynamic surface that changes color based on the viewing angle. This creates a unique visual experience that has never been seen before, evoking the sensation of pulsating life, with changing colors resembling blooming flowers and fluttering butterflies.
The design team hopes to encourage interactive experiences between its objects and viewers, where user's behaviors influence the objects, and the objects in turn adapt to the user's emotions. This way, the pieces will be transformed from something that is simply 'used' to something that is 'engaged with.' The project aims to create comfortable spaces and colors that resonate with the user's mood, helping individuals discover emotional richness in their lives.
Presented at SaloneSatellite, Sekisai's 'Co-Breathing Objects' collection focuses on the role of design in coloring people's lives, stimulating sensibilities through interactions with objects, and promoting the growth of their hearts and lifestyles, rather than just making life more convenient.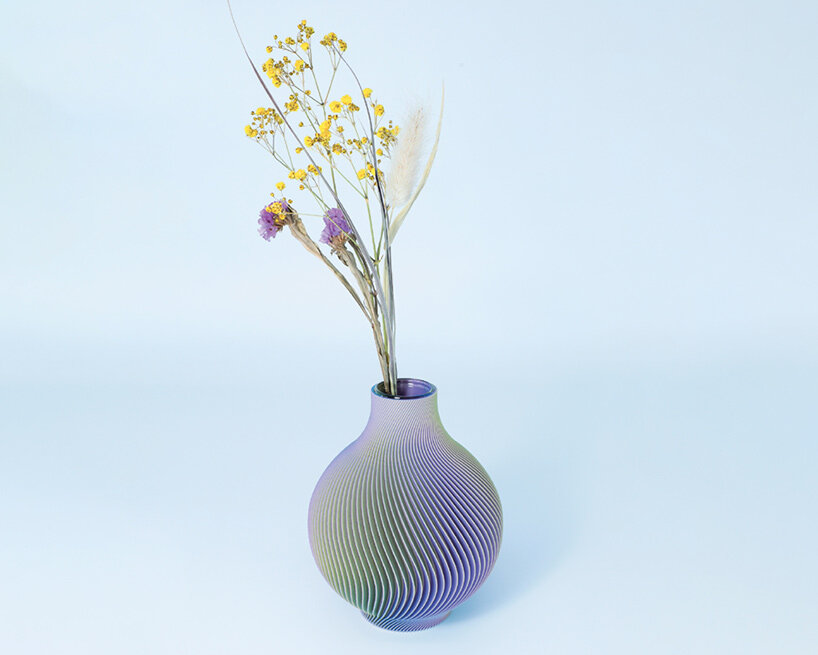 Co-Breathing Object, image courtesy Sekisai
jisun kim
Jisun Kim, Seoul-based designer and founder of Studio Round, presents her ethereal lighting collection, 'Blooming series,' at SaloneSatellite 2023. These delicate works were crafted from wasted plastic bags. Through her innovative use of heat, she transforms the plastic bags into a material that appears to be organic, with a natural texture that is reminiscent of flower petals.
Kim's use of heat to mold plastic bags into organic forms is a technique that she has been experimenting with for some time. By exploring this technique, Kim has unlocked new possibilities for creating unique and beautiful materials. Her approach to design challenges conventional thinking by taking something as seemingly mundane as recycled plastic and transforming it into something of exquisite beauty.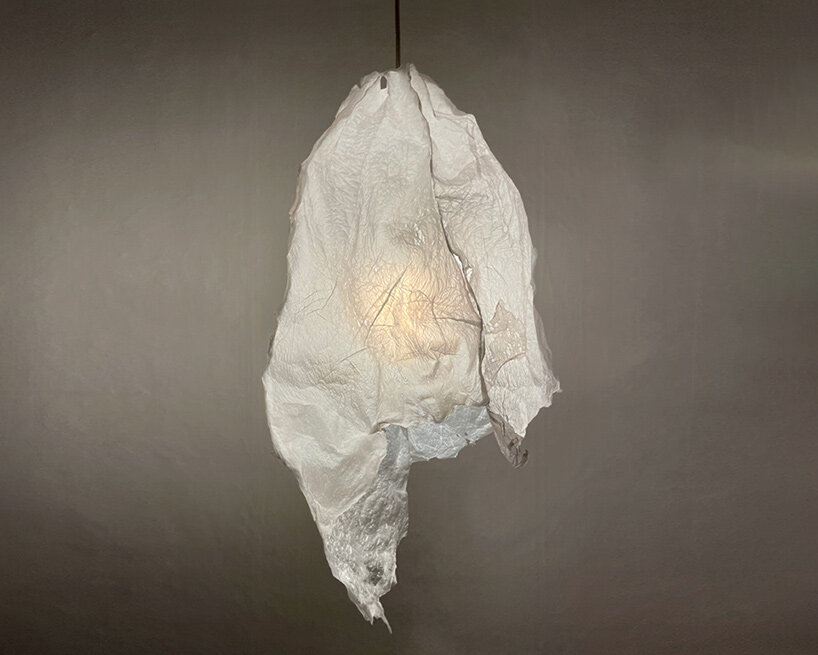 Blooming series, image courtesy Jisun Kim / Studio Round
Kim's 'Blooming series' is just one part of her larger work with recycled plastic. Her goal is to encourage viewers to look at the material in a new light, and to inspire them to think creatively about how they can use recycled materials in their own work. Through her innovative approach to design, Kim is not only creating beautiful objects, but also raising awareness about the importance of sustainability and the need to find creative solutions to environmental challenges.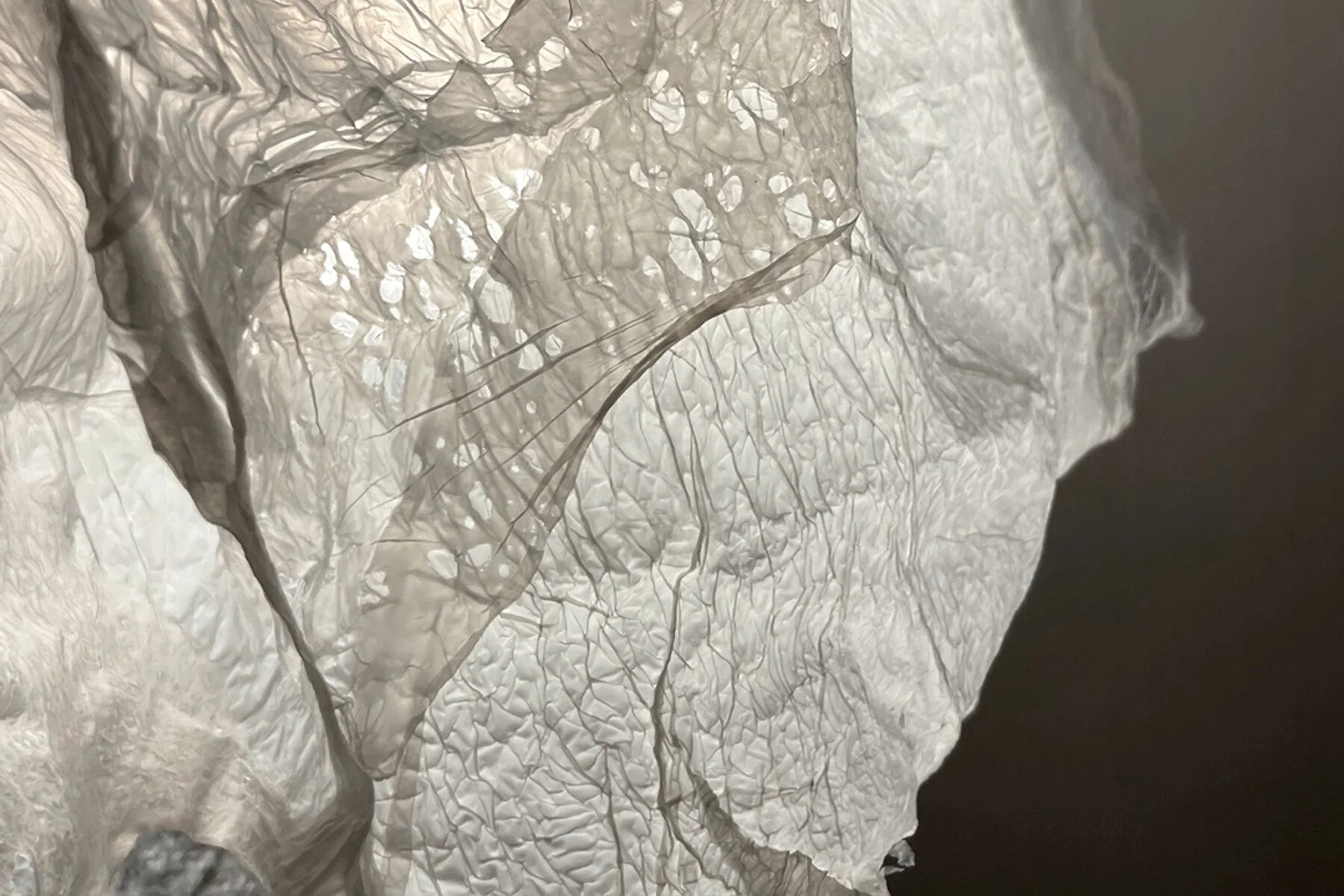 Blooming series (detail), image courtesy Jisun Kim / Studio Round
mingyu xu studio
London-based design team Mingyu Xu Studio unveiled its latest furniture and lighting collection 'Parallel Forest' at SaloneSatellite 2023. The collection is an exploration of the use of bamboo weaving, an ancient and traditional technique, in modern interior design. The studio aims to challenge the boundaries of bamboo weaving and its visual identity by reimagining the material's functionality and versatility in contemporary spaces. The collection showcases a range of bespoke furniture pieces that highlight bamboo's unique regenerative qualities and eco-friendliness as a sustainable material for furniture production.
Mingyu Xu Studio has experimented with bamboo weaving to create a series of innovative furniture designs that combine form and function, showcasing the material's inherent beauty and potential. The collection showcases the versatility of bamboo weaving as a production method, opening up new possibilities for its use in interior design.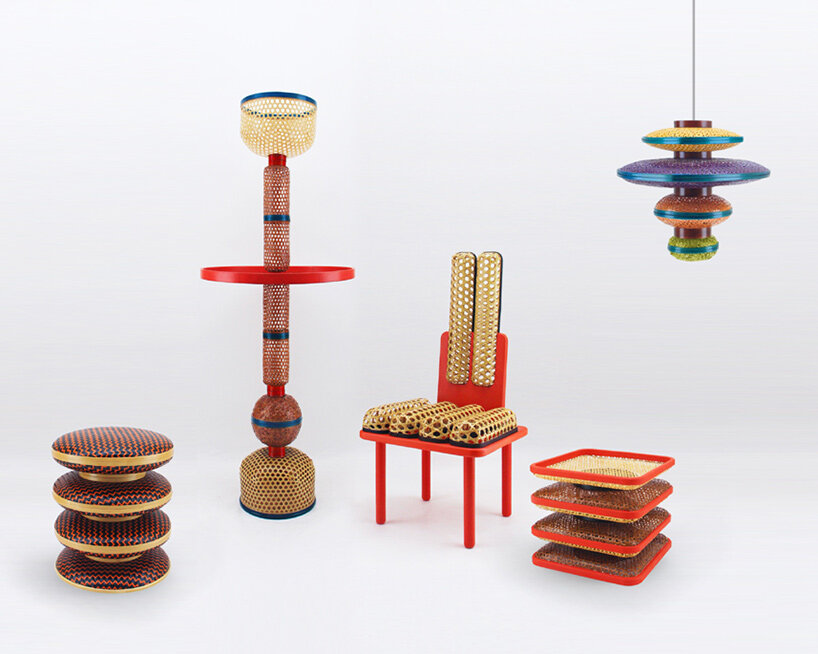 Parallel Forest, image courtesy Mingyu Xu Studio
gwilen
French tile manufacturer Gwilen has introduced its collection of all-mineral tiles at SaloneSatellite, which is created through the use of marine sediments. The studio, named after the Breton name for the Vilaine, employs a process that harnesses the inherent properties of marine sediments to create materials for interior design and architecture. This process is similar to diagenesis, a natural process that transforms sediments into rock, and allows for the desired shape without the need for high-temperature firing.
Gwilen thus contributes to reducing the environmental impact of the construction industry and addresses the issue of managing port dredging sediments. Their process generates significantly lower CO2 emissions than traditional tile production methods, making it an innovative solution to valorize marine sediments that currently have no utilization channel. As silting is a universal problem, these resources are available along the French coastline and worldwide.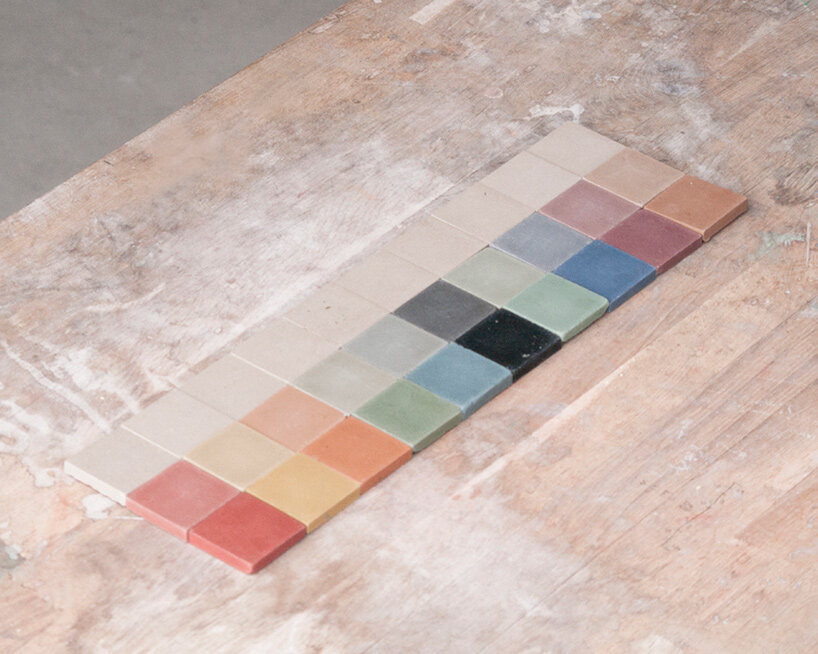 mineral tiles, image courtesy Gwilen
estudio branza
Alfonso Martinez Brianza, founder of Uruguay-based Estudio Branza shows his LOX line of luminaires at SaloneSatellite 2023. The designer's creative work highlights the importance of thoughtful usage of natural resources and explores innovative ways to maximize their potential. The LOX line is a striking example of this philosophy, as it incorporates up-cycled precious stones, such as jasper and quartz, to create visually impactful pieces that challenge conventional design norms.
Brianza's LOX line is a disruptive aesthetic that draws attention to the need for sustainable design practices. The incorporation of previously discarded materials into the design process reflects a commitment to reducing waste and promoting environmental consciousness. By transforming these stones into beautiful and functional objects, Brianza demonstrates the potential for creative solutions that can contribute to a more sustainable future.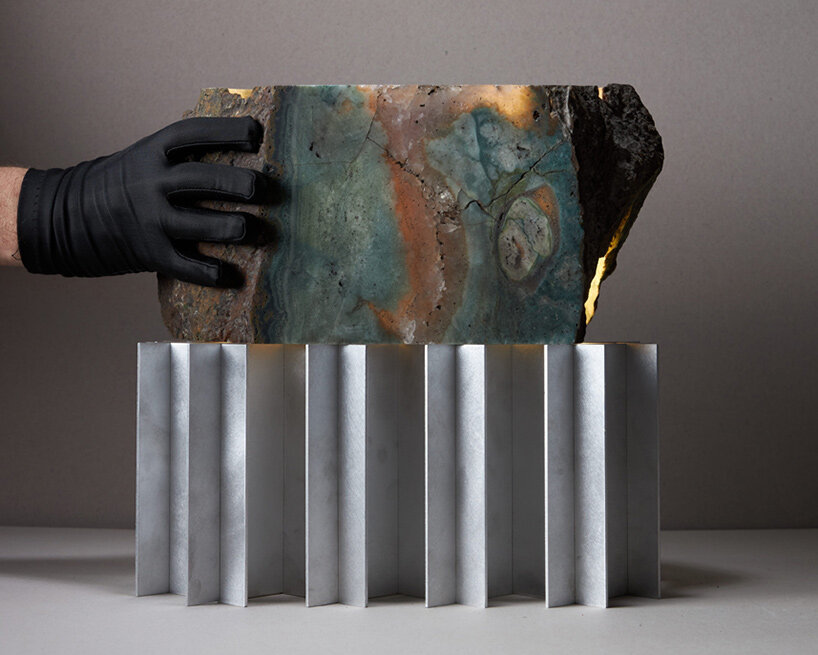 LOX luminaire, image courtesy Estudio Branza
Overall, Brianza's work serves as a call to action for the design industry to reconsider their approach to material usage and to explore innovative ways to reduce waste and promote sustainability. Through his LOX line, he has successfully elevated the value of discarded materials and created a meaningful conversation around responsible design practices.
KEEP UP WITH OUR DAILY AND WEEKLY NEWSLETTERS
a diverse digital database that acts as a valuable guide in gaining insight and information about a product directly from the manufacturer, and serves as a rich reference point in developing a project or scheme.
designboom will always be there for you
milan, new york, beijing, tokyo

,
since 1999