aug 31, 2011
SANAA: mini and minimini sized armless chair
'armless chair' by SANAA for nextmaruni from left to right: minimini, mini, regular all photos by yoneo kawabe
the 'armless chair' by SANAA for japanese furniture manufacturer maruni wood industry is one of the company's most well received designs, popular for its charming silhouette which resembles rabbit ears. because of the chair's success, 'mini' and 'minimini' versions of the design were sold last fall for a limited time. however, because of continuous inquiries and interest into the alternative, smaller variants, the producer is making the chair available in all three sizes (regular, mini, minimini) as part of its standard line. available from september 6th, 2011 all three sizes will be available in a range of 8 colors.
white, black and grey versions
the chairs will come in a range of 8 colors
the 'armless chair' by SANAA was previously exhibited as part of designboom's 'asia now' exhibition. you may see coverage of the presentation here.
nov 10, 2016
nov 10, 2016
apr 01, 2016
apr 01, 2016
apr 04, 2014
apr 04, 2014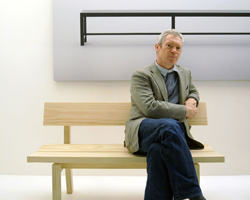 may 14, 2013
may 14, 2013
apr 17, 2013
apr 17, 2013
apr 12, 2011
apr 12, 2011
SANAA
(67 articles)
aug 22, 2017
aug 22, 2017
jun 14, 2017
jun 14, 2017
jan 08, 2017
jan 08, 2017