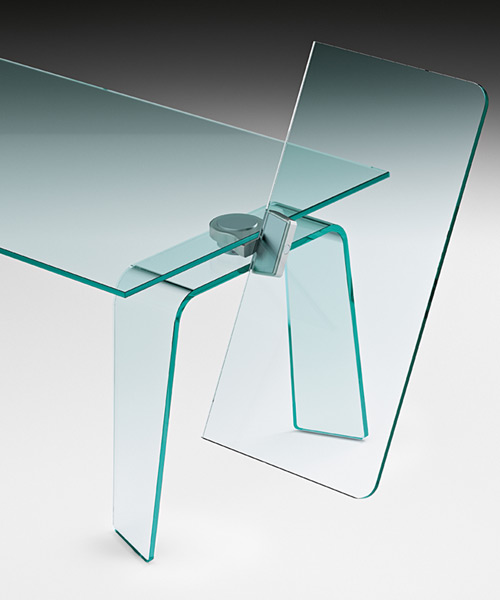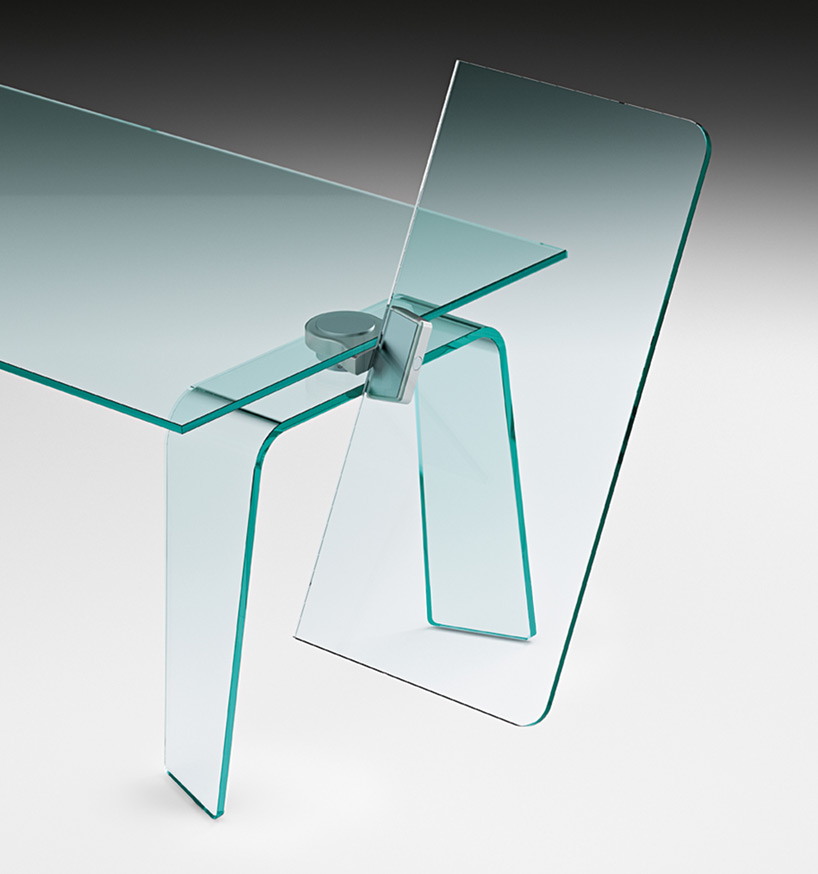 feb 05, 2016
satyendra pakhalé's glass kayo extensible table for FIAM easily expands from 2 to 3 meters
satyendra pakhalé's glass kayo extensible table for FIAM easily expands from 2 to 3 meters
extension arm in turning position before opening or placing back the extension
photo: FIAM, italy

satyendra pakhalé has established himself as a designer curious about materials and technology, translating these interests into furniture and objects that express a sculptural aesthetic; while still being functional. this has lead him to develop a reputation as one who designs diverse and innovative typologies that push the limits of his chosen mediums, and the production methods he employs in his practice. this is particularly evident in the 'kayo extensible table' the amsterdam-based creative has conceived for italian glass furniture company, FIAM.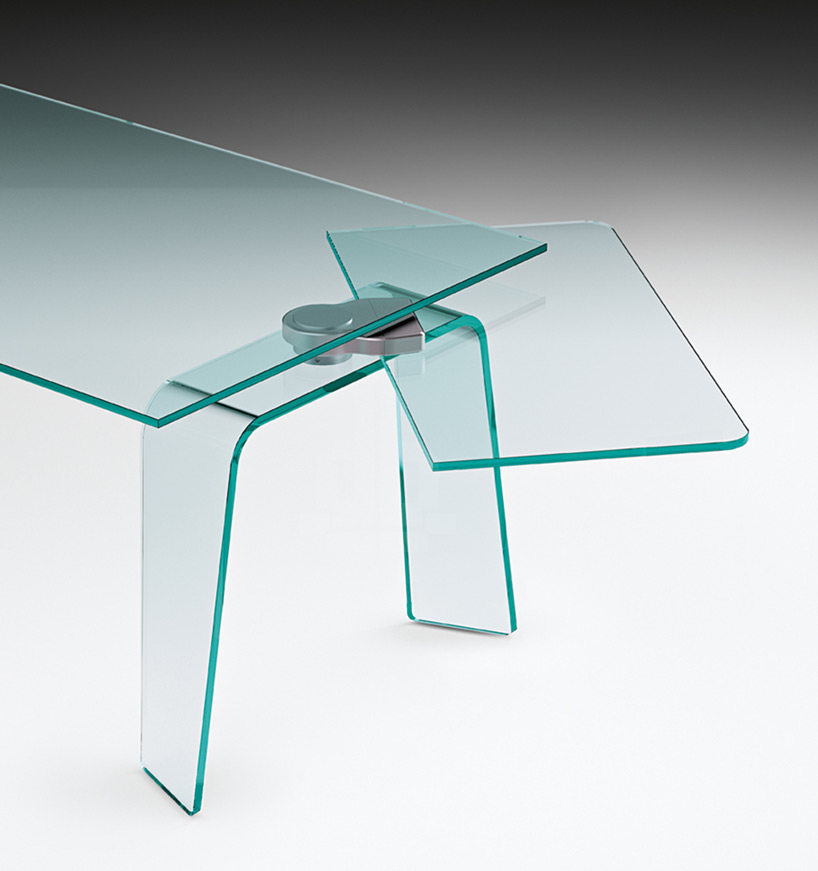 the extension glass plate operates with just one knob, and expands the table from 2 to 3 meters
photo: FIAM, italy
while the table is a basic utilitarian object, pakhalé has transformed it into something that evokes a sense of the future. made entirely of glass, the 'kayo extensible table' has a seamless transparency, reflective surface and technological sense of precision; marked by a very defined geometry. the design is composed of a main plane with bent glass legs and extensible parts. these are connected by a single pivoting mechanism on each end which are easily operated using a knob. this allows users to quickly extend the table from two to three meters.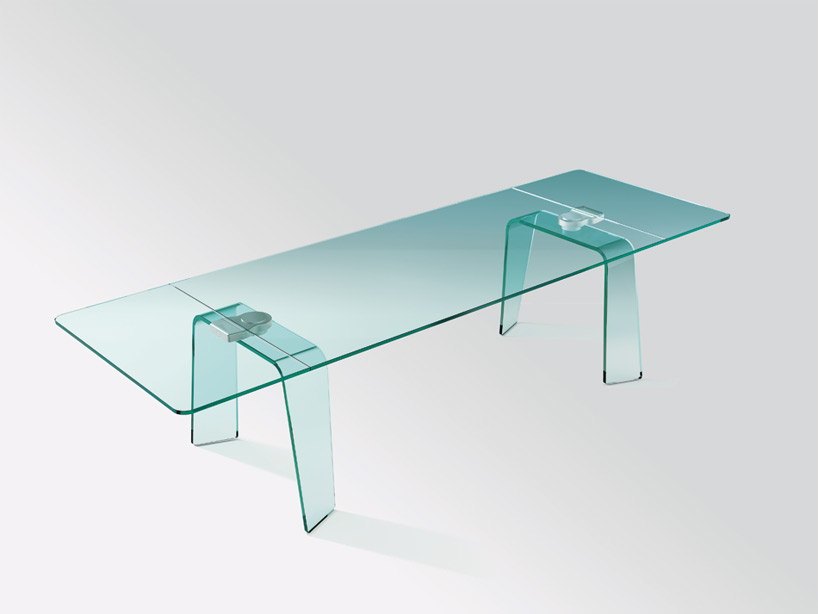 the 'kayo extensible table' in its full length, open with extensions held by two compact mechanisms
photo: FIAM, italy
satyendra pakhalé recalls the collaboration with FIAM, and elaborates on the conceptual process that has lead to the realization of the 'kayo extensible table':
'making things has not changed much over the years. artefacts have been made time and again in similar processes and materials for hundreds of years. but once in a while there is a break-through, and a courageous mind ventures into making an object in a material that was never realized before. such a mind-set has the ability to go beyond preconceived notions and trust in the imagination to make a gesture that has the potential to become a new tradition.
when I was invited a few years ago to visit the FIAM pioneering manufacturing plant on the beautiful italian east coast near pesaro, it felt like being in an aerospace industry; where passionate people in thermal protective aprons with cultivated skills and techniques which did not exist earlier were forming, engineering and making objects out of industrial glass with high temperature regulated furnaces. this way of making artefacts through a magical process needing the synthesis of technological know how and the trust to venture into a totally uncharted field – this is what FIAM has pioneered for 40 years and continues to passionately innovate in creating a new tradition.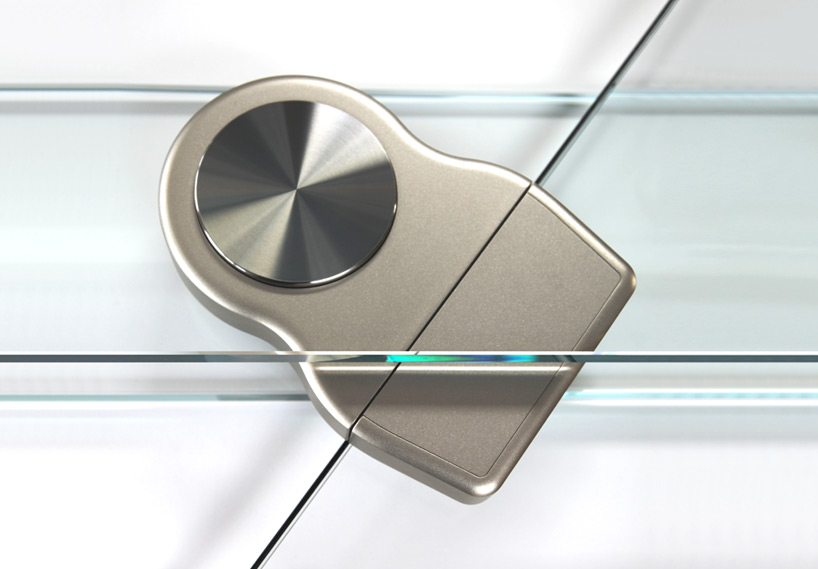 the mechanism as a jewel, machined aluminum anodized in champagne color
photo: satyendra pakhalé associates, NL
while taking on the challenge to design FIAM's flagship product, their extensible table, I recalled the political theorist hannah arendt's writing about the vitality of a table in her 'the human condition' (1958); she writes 'the table brings everything and everybody together in a spirit of gratitude. it creates possibilities and inspires whilst reaming itself, as it were, invisible (…).' an invisible table that is elegant and magical – almost unseen – is what I wanted to create. it could be achieved with FIAM's pioneering bent glass technology – a table that is figuratively and literally invisible. what I wanted to concentrate on was the most elementary form and create a long table without any structural element in the entire span. after several prototypes, working out ease of use and an elegant innovative extensible mechanism, we are debuting the 'kayo extensible table'.
glass is a magical material with characteristics such as transparency, futuristic notions, hardness and structural strength which allowed us to build a table of considerable length with only two supporting pivots without compromising its stability. the table's main plane with bent glass legs and extensible parts are connected by a compact mechanism that simply operates with one knob extending the table from two to an impressive three meter span.'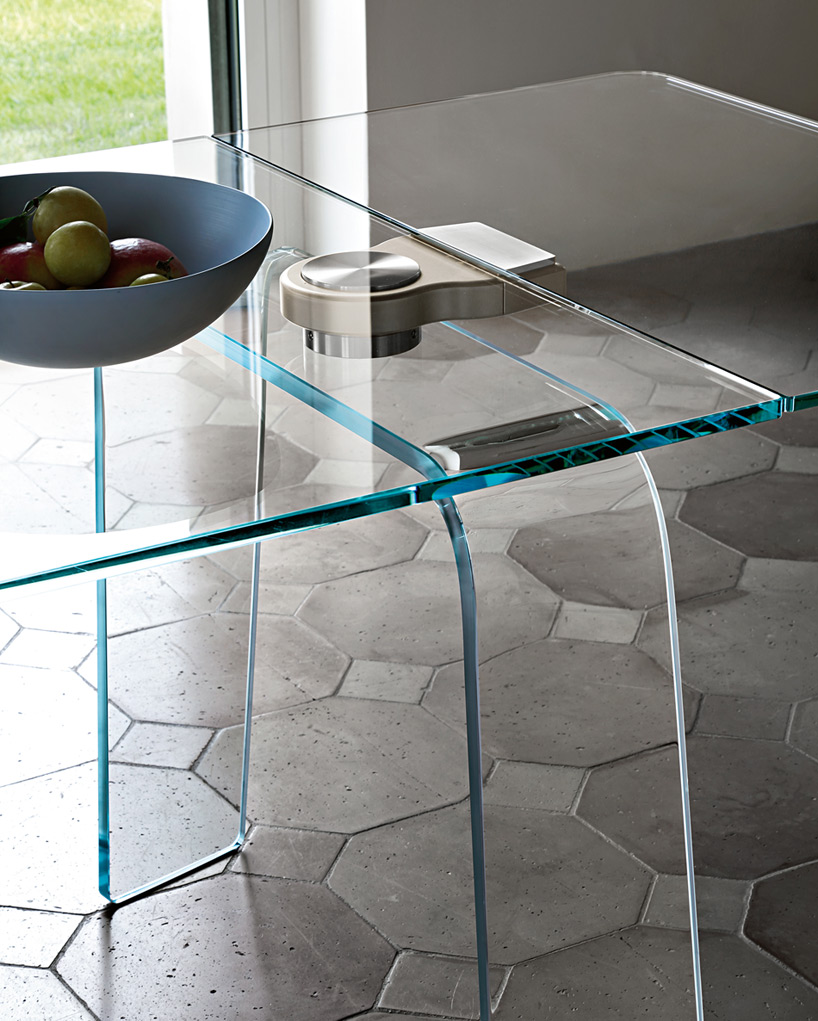 detail of the bent glass table leg with slight inclination, in relation to the compact mechanism with extended arm
photo: FIAM, italy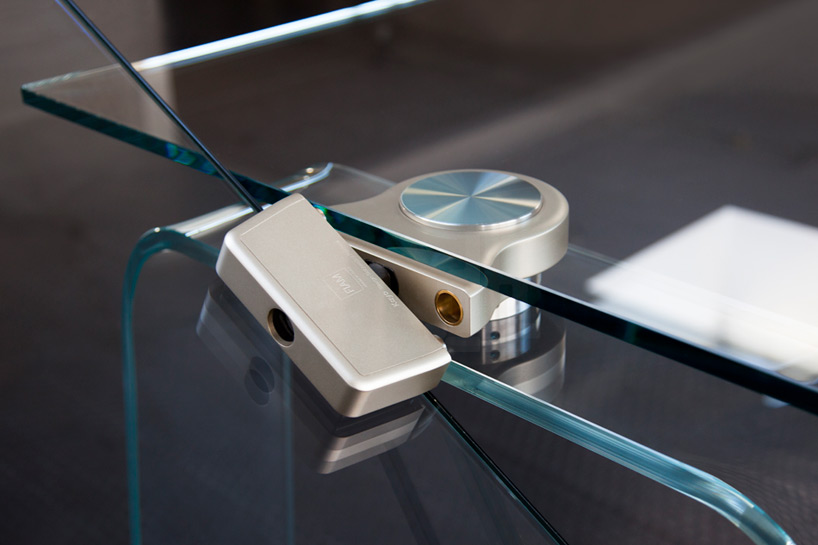 the mechanism works with just one knob
photo: satyendra pakhalé associates, NL

the transparency of the table makes it seem almost invisible in a space
photo: FIAM, italy
oct 21, 2014
oct 21, 2014
apr 05, 2014
apr 05, 2014
nov 30, 2012
nov 30, 2012
may 26, 2012
may 26, 2012
apr 01, 2012
apr 01, 2012
jul 19, 2010
jul 19, 2010
a diverse digital database that acts as a valuable guide in gaining insight and information about a product directly from the manufacturer, and serves as a rich reference point in developing a project or scheme.