may 11, 2011
sebastian errazuriz: magistral cabinet
'magistral cabinet' by sebastian errazuriz
the 80,000 bamboo skewers that cover new york-based artist and designer sebastian errazuriz's 'magistral cabinet', act as a protective armor, safely holding one's personal belongings within. the doors and openings within the storage unit are concealed, and can be slid open to reveal its inner mechanisms.
over the span of 6 weeks, 12 woodworkers engaged in an obsessive and labor intensive process to construct the furniture object. each skewer was individually hammered into the previously carved wooden structure. the cabinet's imposing presence, invites viewers to get lost in the thousands of points.
the piece is currently on show as part of errazuriz's solo exhibition 'beautiful premonitions' on show at cristina grajales gallery.
doors and openings within the storage unit are hidden
up close of one of the openings
detail of the skewers
the unit in closed form
sebastian errazuriz with the 'magistral cabinet'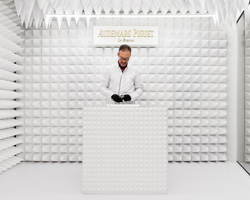 jun 17, 2016
jun 17, 2016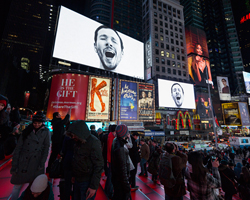 jan 12, 2015
jan 12, 2015
sep 26, 2014
sep 26, 2014