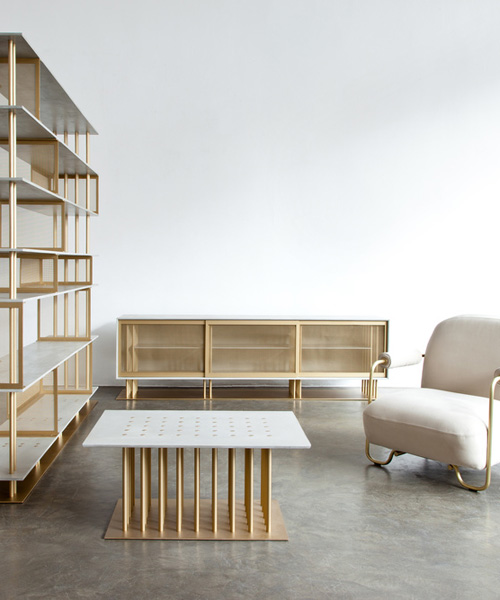 may 10, 2016
sebastien leon's furniture for atelier d'amis elegantly references the construction sites of NYC
sebastien leon's furniture for atelier d'amis elegantly references the construction sites of NYC
atelier d'amis strives to create designs that go beyond luxury furniture, rather, rendering them as pieces of conversation for the home. founded by furniture entrepreneur philippe boccara, artist and designer sebastien leon, and interior architect valerie pasquiou, atelier d'amis's inaugural collection 'laisse béton' was conceived by leon and pasquiou after they observed the neverending turmoil of the streets of new york city — where the french creatives now reside — that are constantly torn apart by construction sites.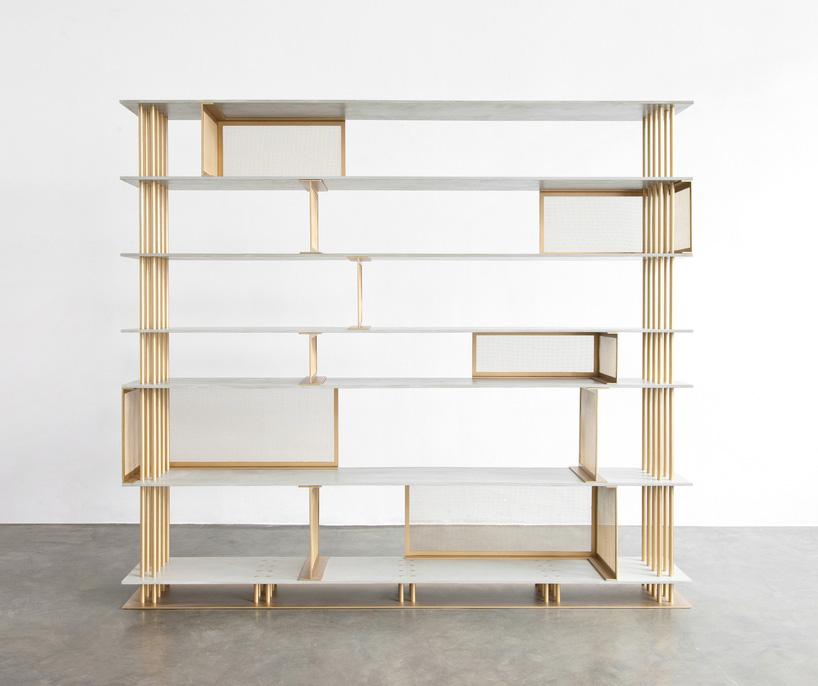 'cortland' bookshelf from the 'laisse béton' collection
'there is a certain beauty and unity in the architectural skeleton of construction,' observes sebastien leon 'which offers a stacked X-ray of structural elements, floor after floor.' for valerie pasquiou, 'concrete is the raw material of new york by excellence, which I felt should be glorified by bringing it to the world of fine furniture'.

'leonard' desk from the 'laisse béton' collection
the 'laisse béton' series is characterized by the duo's reinterpretation of rebar to create legs, grids formations employed in tables, and pinion elevators referenced in armoires, cleverly infusing the vocabulary of the construction site through each furniture piece. the collection is made from selected ultra-thin and resistant concrete-finish ceramic plates supported by brass plated tubular steel, marrying the worlds of industrial, contemporary and high-end furniture.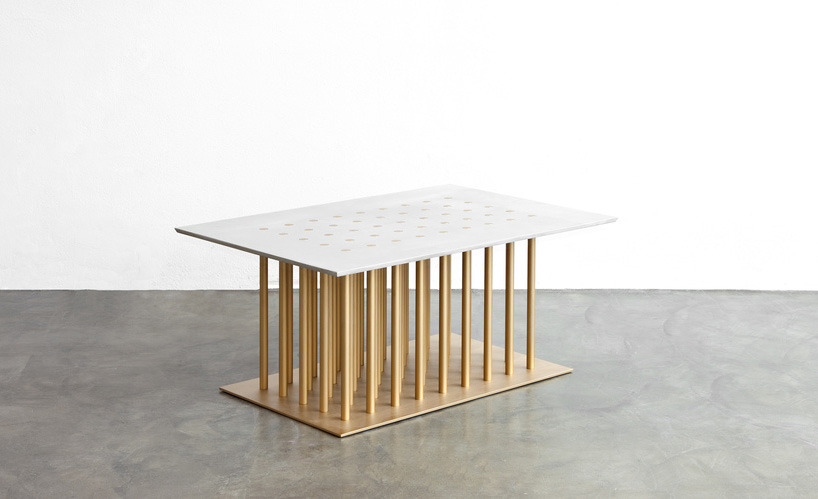 'benson' coffee table from the 'laisse béton' collection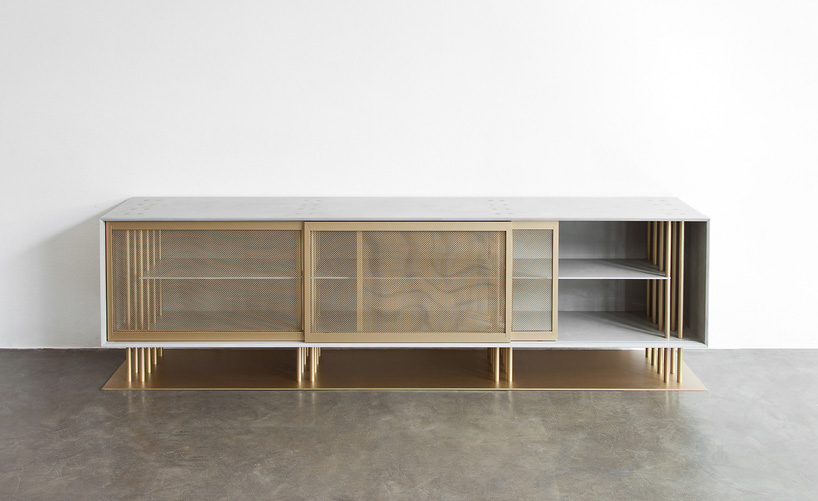 'washington' credenza from the 'laisse béton' collection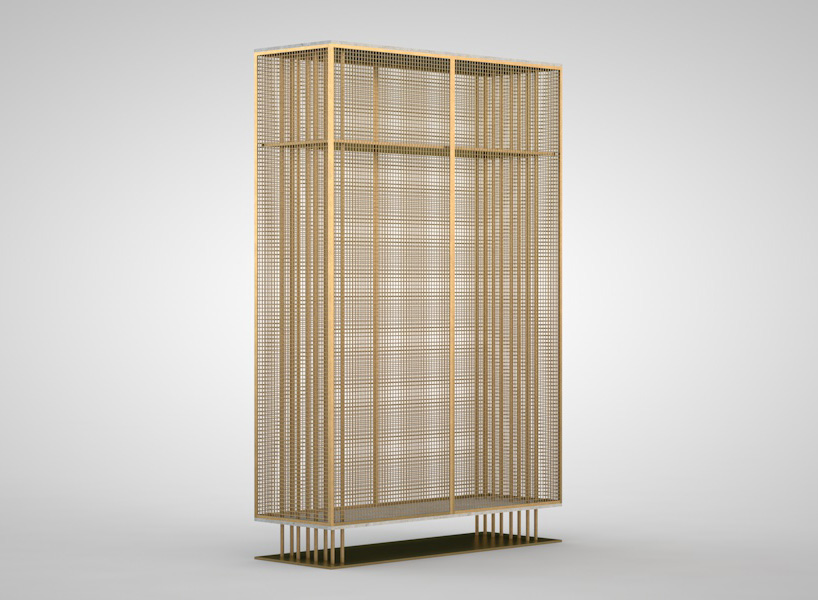 'vestry' armoire from the 'laisse béton' collection visibly references pinion elevators found on construction sites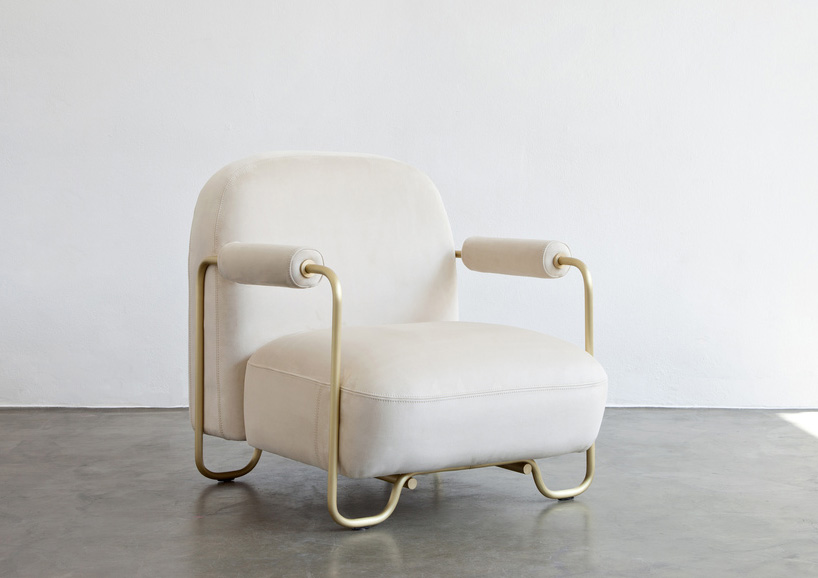 'mi' armchair from the 'pipeline' collection
leon's accompanying 'pipeline' collection takes visual influences from the brass sections of symphonic orchestras. 'french horns, trumpets, and tubas strike me first as sculptures, and then as instruments,' sebastien leon says, whose other forms of artistic expression include sound sculptures and polyphonic installations. 'I have often used brass pipes in my sculptures as a way to carry sound and was captivated by the idea of drawing on this same aesthetic to form a furniture collection.' a longtime practitioner of meditation, leon also used the art of zen rock stacks to create the geometry of his sofas, perpetually searching for balance between all elements.
'pipeline' is composed of a variety of individual elements that allow for multiple configurations. the 'pipes' are made from brass, forming the structure of each seating and ottoman system, accompanied by robust, rounded cushions available in a selected palette of nova buck and leather.
the two furniture collections 'laisse béton' and 'pipeline' are previewing at jean de merry gallery in west hollywood until may 27th, 2016.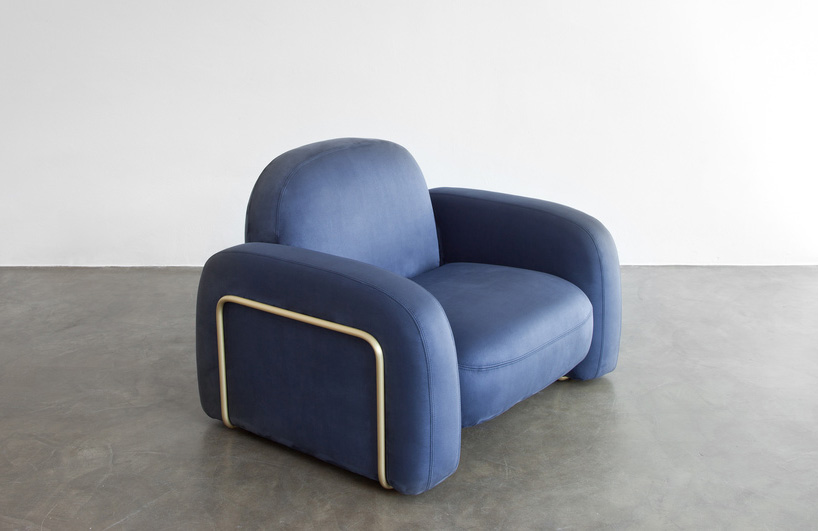 'fa' armchair from the 'pipeline' collection

back view of the 'fa' armchair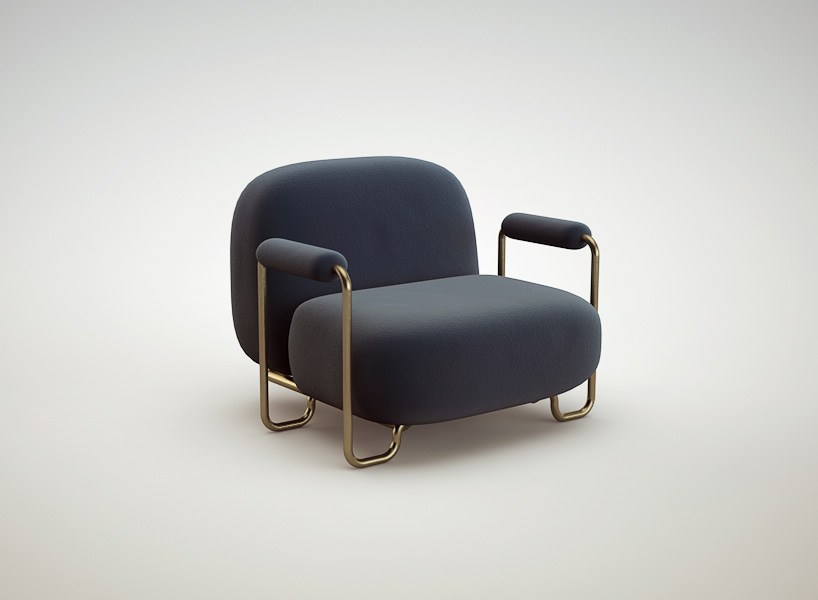 'mi' armchair from the 'pipeline' collection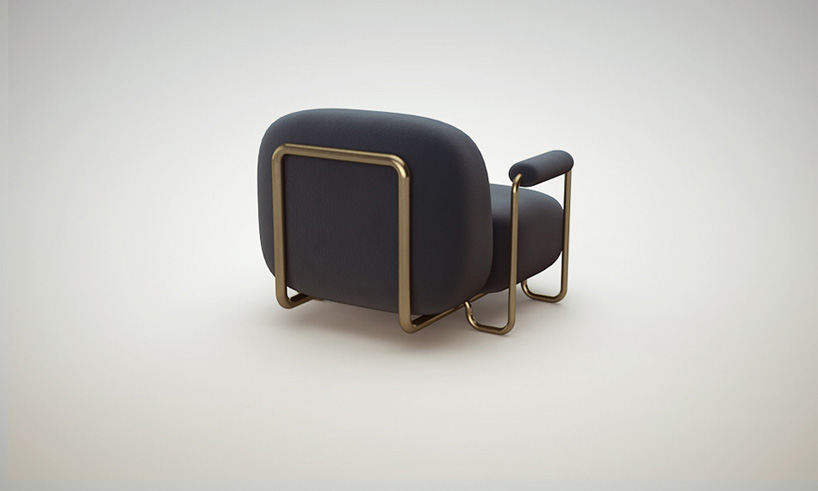 the tubular structures of each design references the brass sections of symphonic orchestras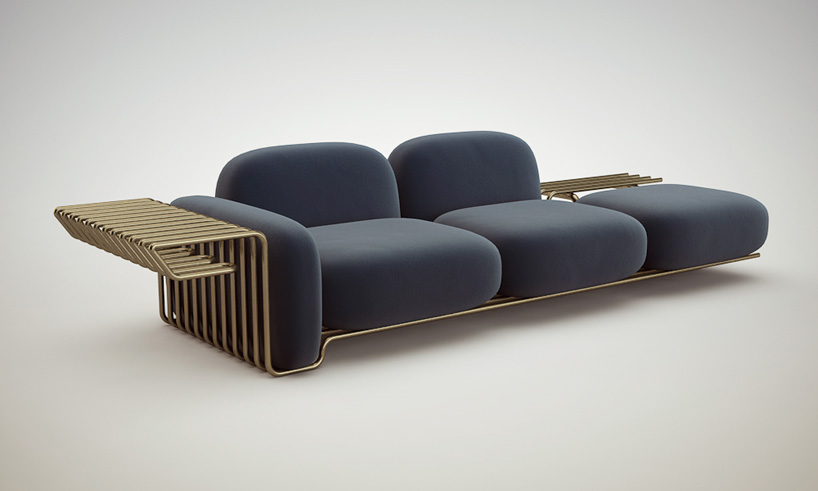 'si' sofa system from the 'pipeline' collection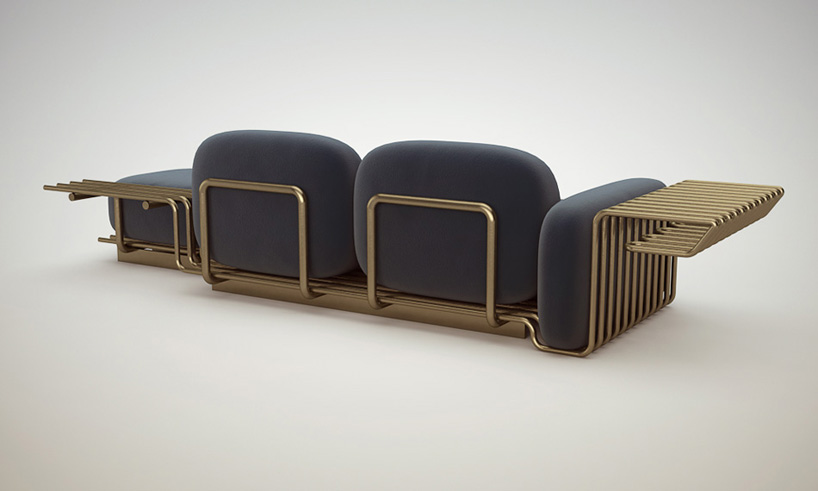 the 'si' sofa system features a structure that references the pipes of an organ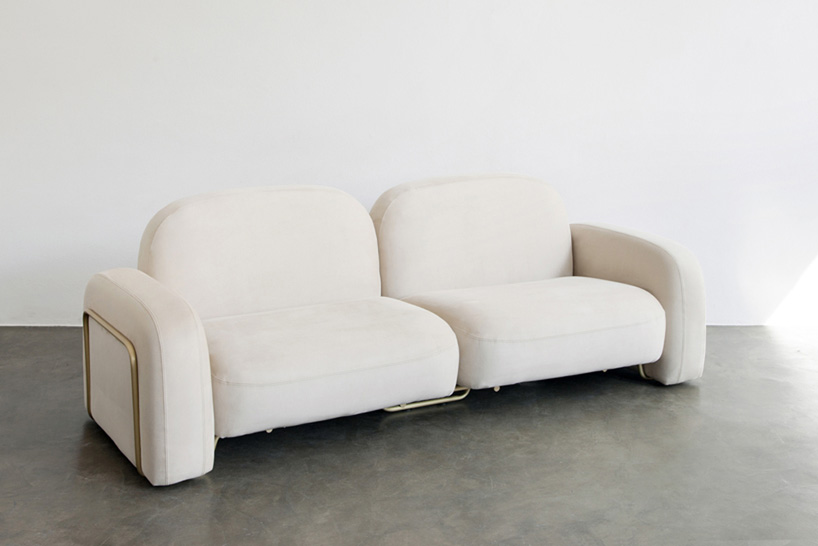 'sol' love seat from the 'pipeline' collection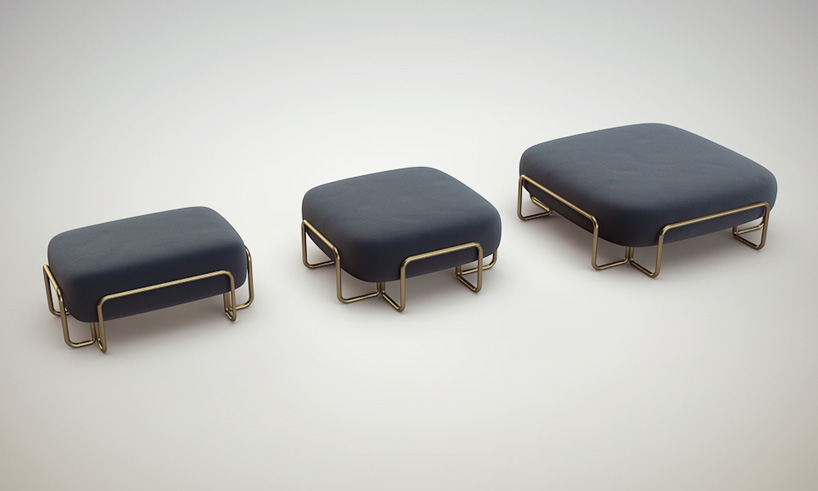 'ré' ottomans from the 'pipeline' collection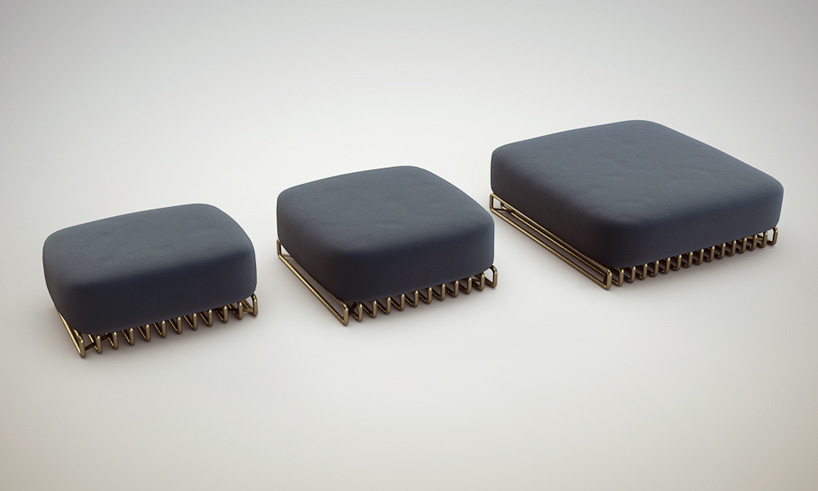 'do' ottomans from the 'pipeline' collection