on the occasion of milan design week 2017, italian design brand seletti and the creative duo from studio job will launch their latest design collection 'BLOW' and 'UN_LIMITED EDITIONS'. this crossover between art and design will include many eye-catching household and decorative items that marries the creativity, playfulness of studio job and brought to life and made accessible by seletti.
the goal for the UN_LIMITED EDITIONS collection is to mix art through design. the unveil of the two new projects — marking seletti's first foray into the upholstered world– will feature a sofa and an armchair; one shaped like a hotdog, the other a hamburger and the tiffany tree lamp and banana lamp. as for, BLOW, this new multi-faceted design brand will produce a new family of objects to epitomize 'pop' spirit including rugs, neon lamps, foldable chairs, a set of porcelain plates and mirrors.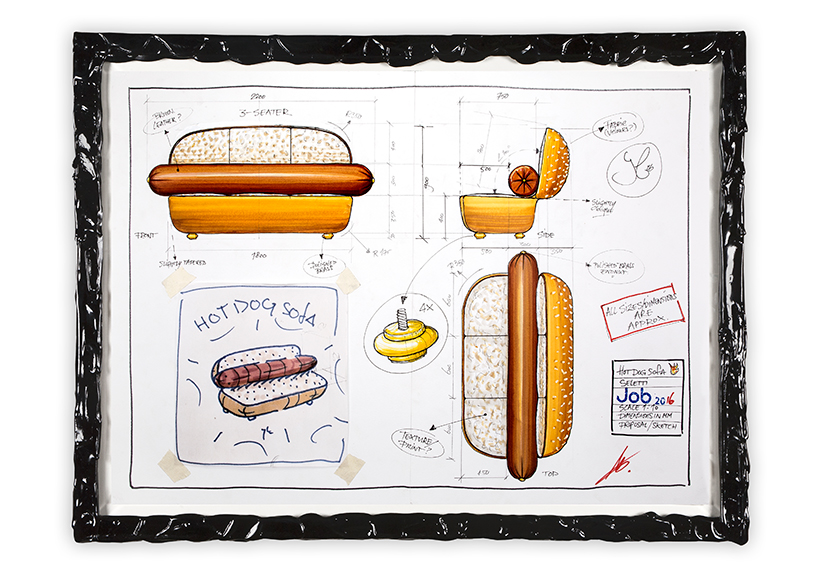 the hotdog armchair, fast food furniture collection: the open hot dog bun is the actual structure of the
sofa and it hosts an upholstered sausage
image © loek blonk
following seletti and studio job's first collaboration which created the victorian-influenced 'industry garden furniture', this new design project will ultimately bring together the pop-spirit of american culture, seletti's passion for unconventional projects and studio job's iconic, artistic approach. we spoke to job smeets and nynke tynagel of studio job about their new fast food furniture, creative processes and also seletti's artistic director stefano seletti on the exciting collaboration.
STUDIO JOB:
designboom: how do you go about creating a design brand, rather than just a collection of objects?
studio job: building a brand is like building an autonomous identity. all aspects of the field are triggered… I mean we work in architecture, design, art, music and TV…. we developed several identities for other brands. why not start our own fun brand?
DB: why did you choose the name 'blow' for the design collaboration with seletti?
SJ: the word blow carries many connotations… blow your mind, blow up, blow job… it made us laugh really!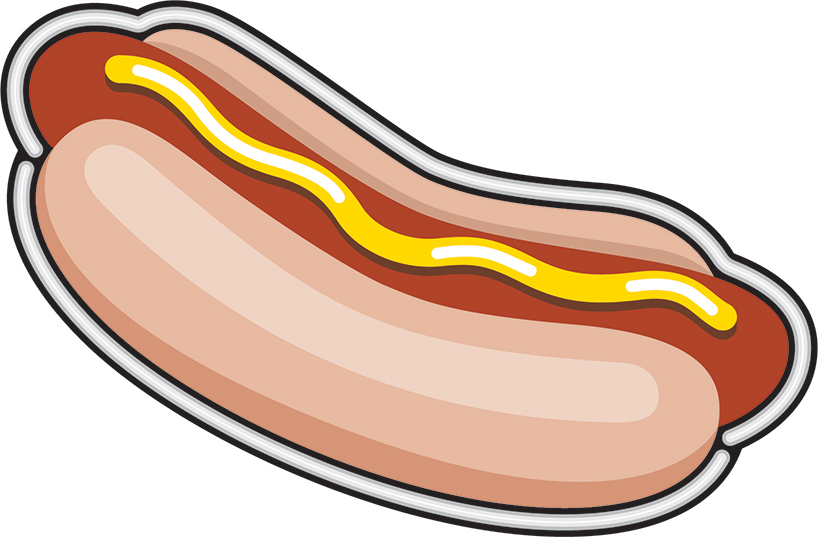 hot dog, BLOW neon wall lights
DB: your work is full of iconography — what were the industries or motifs that influenced the 'blow' collection the most?
SJ: blow is a pop-brand. fast creativity… fast action… fast communication. fresh, young and fun. it feels like like street art or the ready to wear label of an exclusive haute couture fashion house…
DB: sense of humor is a large part of your work, transmitting a feeling that you have fun while you create. can you guide us through your creative processes?
SJ: how do you approach art and design projects that vary greatly in terms of scale and function? in the end its all the same….you analyse and react in the best possible way giving the circumstances.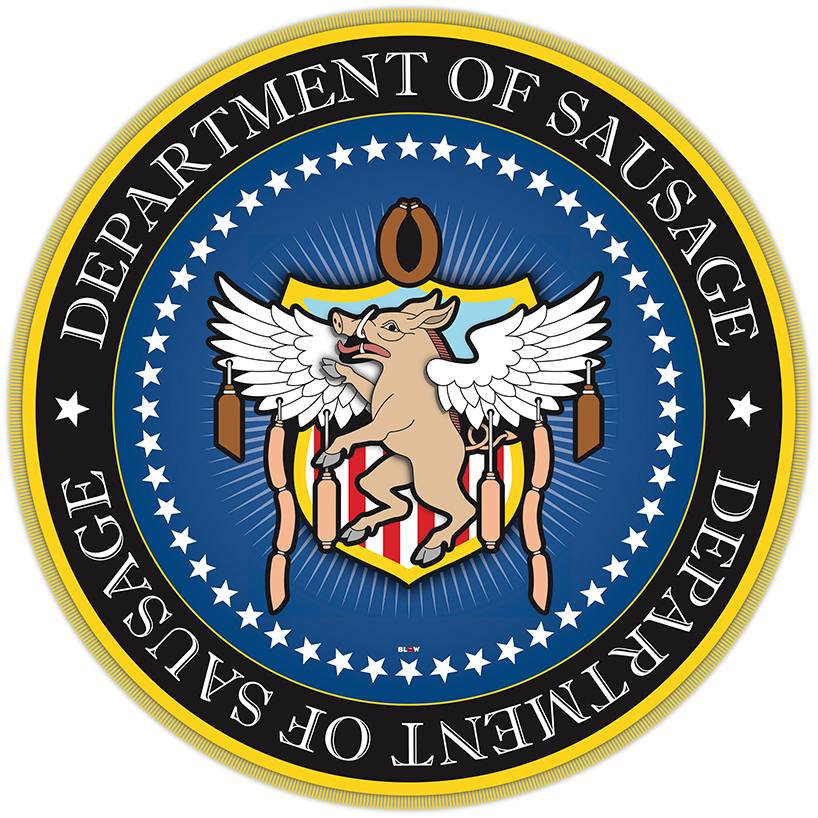 sausage department, BLOW rugs
DB: why do think it's important that design remains affordable and accessible to a wider audience?
SJ: to me its all about the speed and the atmosphere…
DB: what do you think are the similarities between your own practice and the seletti philosophy?
SJ: we are both fast thinkers and dare to take steps…also when they are not obvious. stefano seletti's mind works as the mind of an artist. that's what we need in design! we don't need another established brand with boring pre-fab targets… there are enough of those around.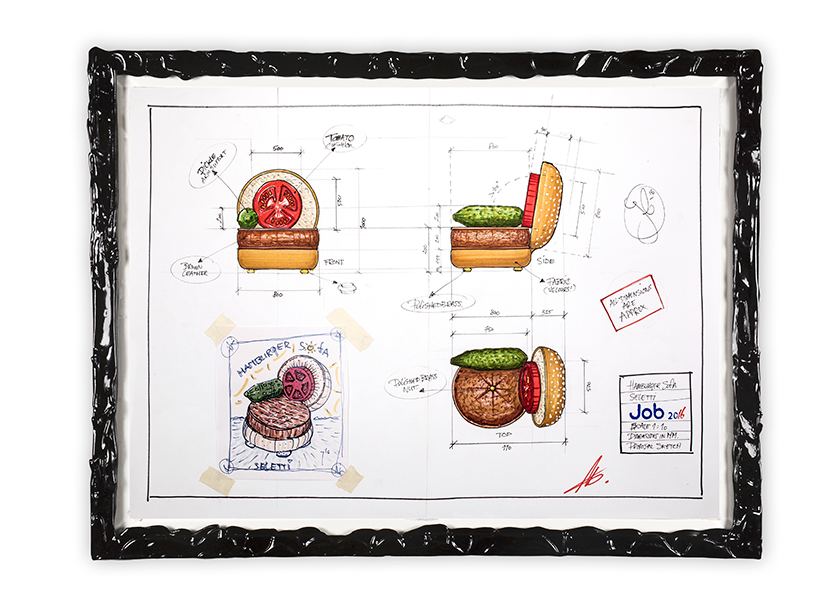 the hamburger armchair, fast food furniture collection: the hamburger bun features a seat in the shape of a
hamburger, a pickled cucumber as armrest and a slice of tomato as back cushion
image © loek blonk
DB: in your opinion, what is the current state of design?
SJ: since few years I see a renaissance in italian design. an innovative approach that to me could become as important as the invention of post modernism and memphis back in the seventies and eighties. but this time it's the open approach that makes it so energetic. brands like gufram, seletti, toiletpaper, design pride and blow are all artistic driven initiatives carried by innovative brains with an unconventional approach. there is no concurrence. there is no commercially driven structure or boring formalities…all friendship based, open minds working together sending good vibes into the air. it's about the product, yes, but its even more about being part of the artistic magic. its about freedom…..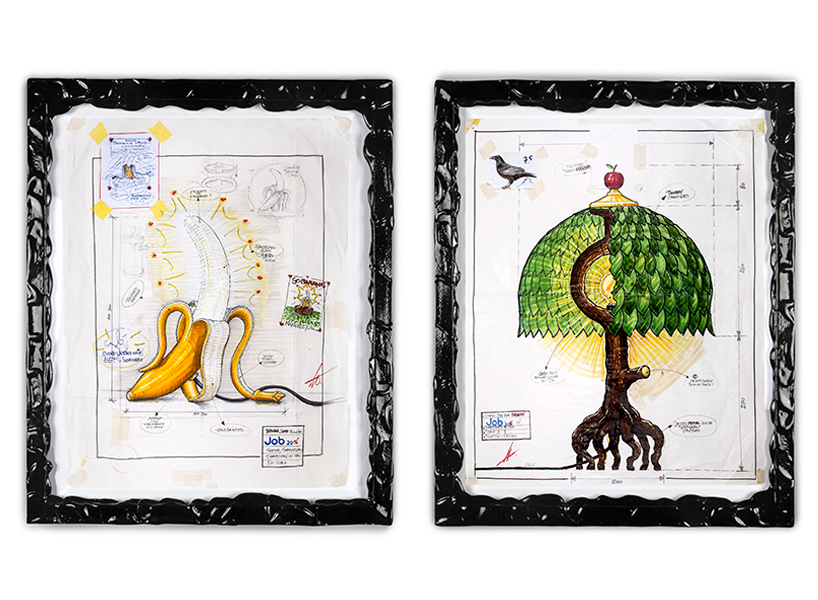 tiffany tree lamp and banana lamp, UN_LIMITED EDITIONS
image © loek blonk
STEFANO SELETTI:
designboom: this is the second time you're collaborating with studio job — can you tell us how this relationship came about?
stefano seletti: it all started when I decided I wanted to revitalise the iconic victorian garden sets, the ones you used to see in the gardens at the late 29th century. I thought: who could be crazy enough to do something so revolutionary? I shared my thoughts with fabio novembre and I told him I would love to get in touch with studio job for this project. he said they were friends and told me he could introduce me. the collection was a huge success!
and then we became friends and these new collections are inspire somehow by our collaboration with TOILETPAPER. job and nynke saw what we saw with maurizio cattelan and pierpaolo ferrari and understood that there was revolutionary thinking behind; they understood that seletti had in mind something different and decided to be part of this adventure because it is something very different from what the design world usually offers. for me this collaboration is very interesting because it offers the brand a chance to explore the world of graphics, after exploring photography with TOILETPAPER and sculpture through the objects designed by marcantonio raimondi malerba.
DB: when this second collaboration arose, was there a strict brief for studio job, or complete liberty?
SS: you cannot really be strict with job and nynke! I only had some suggestions on the typologies seletti wanted to explore and the ones we wanted to stick to. we had a great response to the toiletpaper collection of porcelain plates, rugs, mirrors so we started imagining a collection which could include these items. to those we have also included neon lights which we had never developed with TOILETPAPER because that collaborations starts from quite a different point.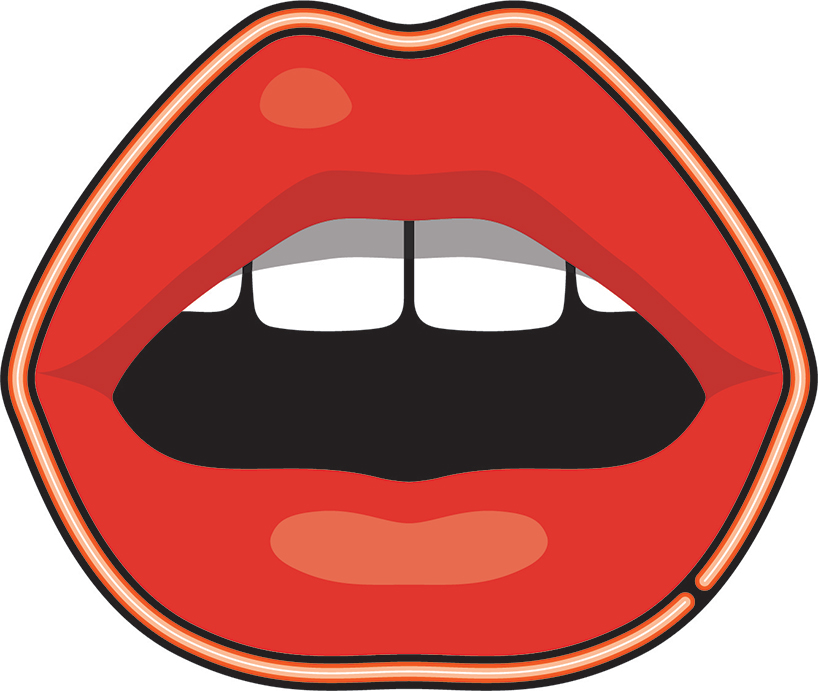 lips neon light, BLOW
DB: with the idea of making design items affordable, seletti has positioned itself in the market thanks to its different collaborations. what do you look at when choosing who to collaborate with?
SS: my goal is always to find partners able to break the rules. our motto, after all, is 'revolution is the only solution!' I am very aware I cannot compete traditionally with major design players, I have to find another way to be in the market.
DB: who is the perfect seletti costumer?
SS: our objects can be found in so many places around the world: at the rinascente design supermarket, 10 corso como and rossana orlandi in milan, at fleux in paris, at the moma store in new york and in a few days we are also opening our first monobrand in corso garibaldi in milan. these places attract many different customers but I tend to think that our ideal customer is contemporary, interested, curious, someone who likes diversity. surely not minimalist and not a lover of the total living idea with all objects matching in the house. it is someone who likes each piece for what that piece represent.
I think this is the reason why we are doing so well on the web through our e-commerce channels. through the internet we can reach so many different kind of people. the web impact has been so huge that yoox has just opened a seletti shop on their website!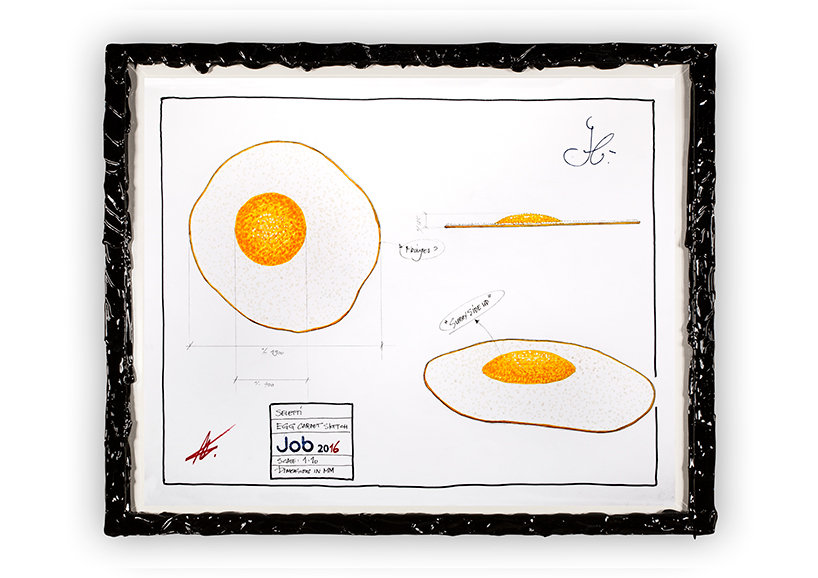 egg rug, BLOW
image © loek blonk
DB: why do you enjoy working with studio job?
SS: because they are passionate, they love what they do immensely. at whatever time of the time, whatever day of the year you contact job he is always there to pick up the hone or write you back. he is always ready to find a solution to any problem, even the smallest one. and every time the solution is creative, but it is something that can be actually done it is not an impossible idea which could never be realised. job and nynke have a great knowledge of the materials and of the production process and this is very important. they are 100% committed to the project and they do whatever they can to transform it into a success. then we have a special personal relation and this makes it all more fun!
DB: what do you think are the similarities between seletti and the studio job philosophy?
SS: I would say we are both maximalists in design and we love decoration! we both tend to work with common shapes but then add something to them, trying to create the unexpected; there is always a reference to real life in what we both do. then they develop always the most amazing patterns and this is something I have always loved.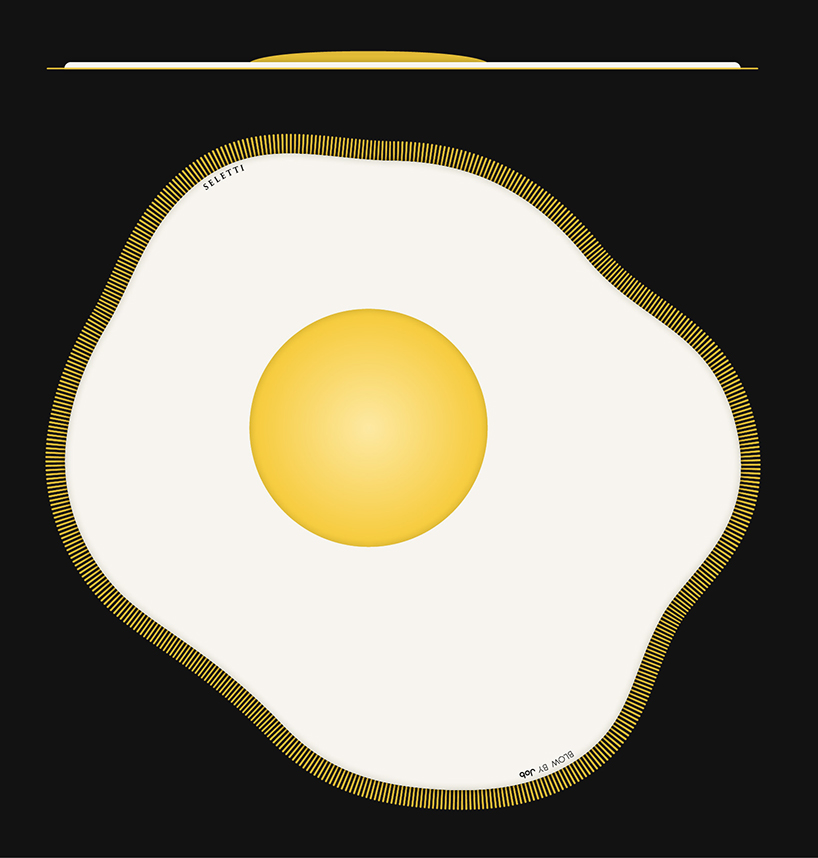 egg rug, BLOW
DB: the 'UN_LIMITED EDITIONS' marks the first instance of seletti working with upholstered furniture — how was that transition, and are there any areas you'd like to explore next?
SS: doing upholstered products is for seletti a huge achievement. but obviously I had to approach the matter my way! and my way is never a normal one…we will surely explore other typologies in the future, I think we are ready to do that but we will take all the time we need, because we will need to find the right innovative approach. this year at salone del mobile we decided to go big presenting this new adventure with the upholstered furniture: we have the crazy hot dog and hamburger by studio job, then a sofa by marcantonio raimondi malerba and a couple of armchairs decorated by TOILETPAPER with their images.
DB: why do think it's important that design remains affordable and accessible to a wider audience?
SS: being accessible is part of the seletti DNA and its heritage. it is somehow the mission of our brand. back when we use to import homeware from china for the shopping malls I always tried to find a way to give a twist to accessible products: adding fluorescent colors for example. this approach has paid off over the years and I still believe that there is a lot of interest for good, affordable design. the UN_LIMITED EDITIONS is the perfect example! a great design by studio job at an affordable price.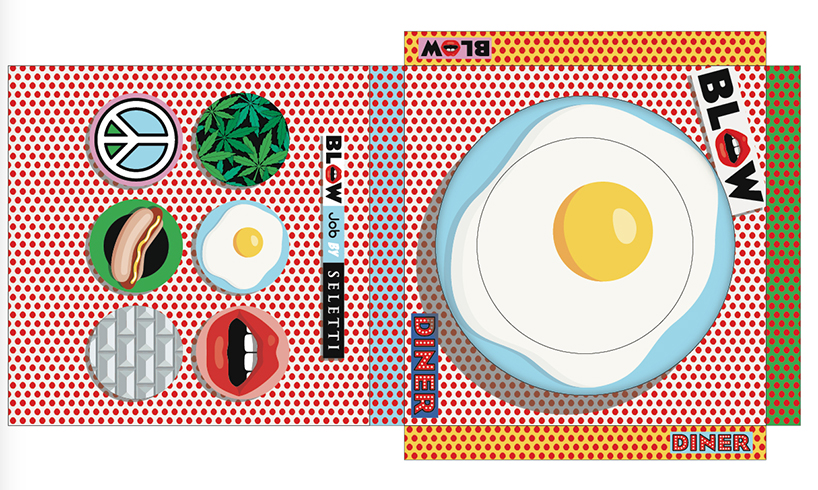 BLOW packaging
Save
Save
Save
Save
Save
Save
Save
Save
Save
Save
Save
Save
Save
Save
Save
Save
natasha kwok
I designboom
mar 23, 2017
KEEP UP WITH OUR DAILY AND WEEKLY NEWSLETTERS
a diverse digital database that acts as a valuable guide in gaining insight and information about a product directly from the manufacturer, and serves as a rich reference point in developing a project or scheme.
designboom will always be there for you
milan, new york, beijing, tokyo

,
since 1999