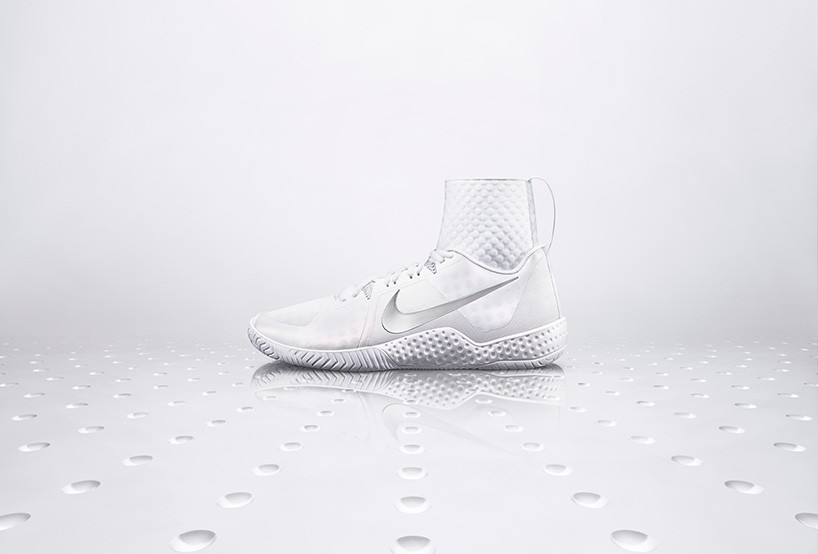 engineered specifically for serena williams, the NIKE design team, led by aaron cooper, developed the 'NIKEcourt flare' tennis shoes to deliver additional stability for the ankles. with serena having an issue with rolling her ankles, the team referenced the latest 'KOBE' signature footwear to add stability through a lightweight and minimal design. solutions were explored in the sports brand's innovation kitchen, where the idea of a neoprene ankle cuff was fabricated. It helps create the feeling that the shoe is an extension of the body.
with the all-white 'NIKEcourt flare' set to debut on the grass courts of wimbledon, designboom caught up with serena williams in london, and was able to ask her and aaron cooper a few questions on the new tennis shoes.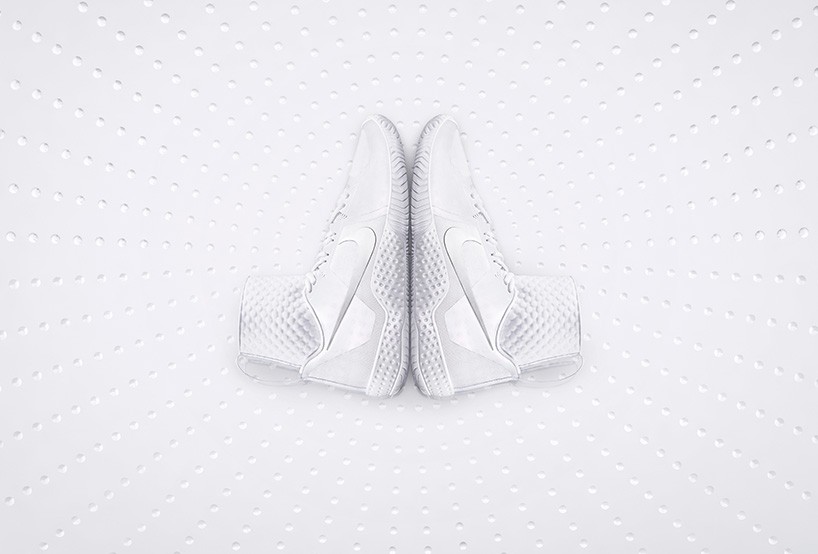 designboom (DB): could you outline the specific issue with your ankle and why you wanted a shoe that could provide it with additional protection?
serena williams (SW): I've always had ankle problems. I just don't have the strongest ankles. it actually all started a couple years ago in australia, where I was playing and I fell and rolled my ankle. from then onwards, I knew I had to find a shoe that will help me stabilize and be better. after that, we worked so hard and for so many hours, on this wonderful shoe. it became everything we wanted. it has a lot of stability in the ankle, it is fun and it can have so many new designs.
DB: with the footwear adhering to wimbledon's all-white color requirements, will there be more colorful and expressive versions to come in future competitions?
SW: well I have been wearing them for a while now so there have been a few colorways by now. however, we wanted to start out with pure white because this is the first shoe in tennis that has ever been done like this. it's the first shoe that has ever been so unique and different. when you think of something that is the first, you think of pure and white and complete, and this is why I think it's the perfect color.
wimbledon is obviously all white so we wanted to keep to that with the debut. then, we will start having some more fun with it, but for right now, we wanted to keep it simple, keep it clean, and keep it special.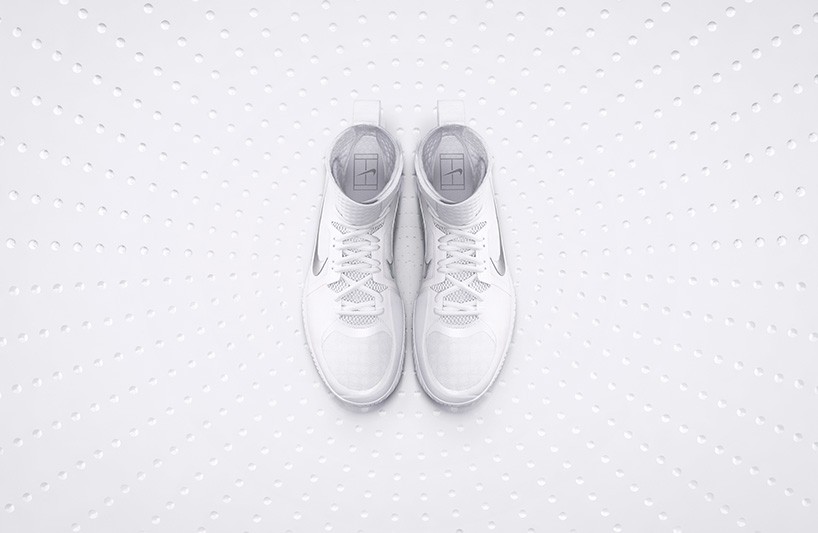 top view of the all-white tennis trainers
DB: as well as needing extra ankle support, did you have any other issues or desires that you challenged aaron and the NIKE design team with?
SW: I love working with aaron. we worked on this shoe for almost two years. I wanted a lot of stability, I wanted a lot of comfort and movement and space. sometimes I have had problems with my toes so space really helps. I wanted a lot of friction on the side because when I am running and sliding on the hard courts, and as the shoes are so light, I wanted to make sure that they wouldn't break. to be honest with you, this shoe has a lot more durability than others that I have worn. as well, I wanted it to be super light. I said let's make this the lightest shoe you can. when you are training, you don't want to wear a pound on your feet. you need them to be light because you need to be on your toes. when I was working with my physio coach, he said that he has never seen me so light on my feet before. the difference between wearing these shoes, as opposed to others in terms of performance, really had him floored.
DB: so the shoes have already given you more confidence, what other aspects of the shoes will help your performance at the championship?
SW: well to start with, more confidence gives me an advantage. I feel like the shoes make me faster, it is so light! you feel like you are just on your feet. a lot of shoes are making the foot do more of the work and to be more natural. with these, you feel every sensation but still have the support and stability without the bulk.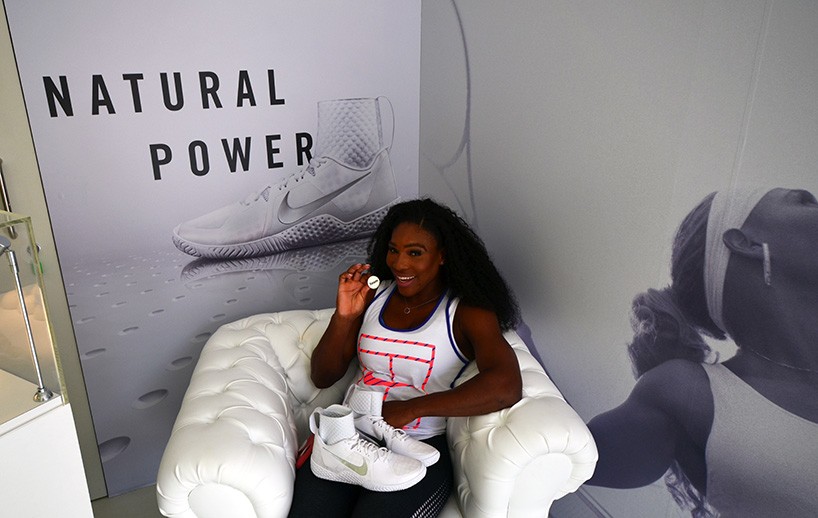 serena with the designboom badge
image © designboom

DB: using the shoes for matches that are many hours long, as well as multiple training sessions, how comfortable is your newest footwear and how do they rate against your previous pairs?

SW: they are so amazing. they are naturally comfortable. normally when I finish a match, I come out of my shoes but now, after the match, I'm walking around and I realize I still have to take them off. they are an extension of your foot and that's basically what they are, just with more stability. an extension is the perfect name for them.

DB: how involved are you in the design of your new tennis shoes? do you start the process by challenging NIKE to improve in certain aspects, or do you have an active role through-out the development?

SW: I was constantly involved in it and I had a great time working with aaron. I was involved in not only the looks but also the performance. we wanted a shoe that looks good, of course I'm a girl so obviously I wanted a shoe that looks great, but I'm also a tennis player so I need to perform well. the shoes had to be good for my joints and for my body. it needed to be the greatest shoe that I ever used. my only regret is that we didn't do this 10 years ago.


the NIKEcourt flare signals the next generation of tennis footwear
video courtesy of niketennis

designboom (DB): what were your first ideas when serena asked for a shoe that provided additional protection for her ankle?

aaron cooper (AC): there are many sources of inspiration when you work in design at NIKE. the first source is always the athlete. we listen to their voices and study the way they move. we also find inspiration from a number of external sources, be it a kung fu master or an F1 driver. but often times, inspiration comes from within. NIKE is home to a collective of incredibly talented people with incredibly brilliant ideas. so when serena asked for a shoe that would give her more stability, we found initial inspiration through a few projects that were already being worked on here. one was the kobe bryant signature series of footwear, which illustrate that stability can be achieved through a more minimal, low-profile shoe. we also found inspiration from a prototype that first surfaced in training and then later in basketball. the first seed of that idea actually came from working with a kung fu master. an insight we gained from him was this idea of unencumbered mobility. so with these ideas in mind, we set out to design a shoe for serena that would give her the stability she needed, but in a surprisingly flexible and lightweight package.

DB: how were you able to offer stability through a lightweight, minimal design?

AC: one of the ways the NIKEcourt flare delivers stability is through its neoprene cuff. the cuff is intended to help you feel like you are more connected to the shoe mentally, which enables you to be more aware of your body's movement in space. the resulting awareness helps deliver the stability serena needs to confidently attack each shot on the court.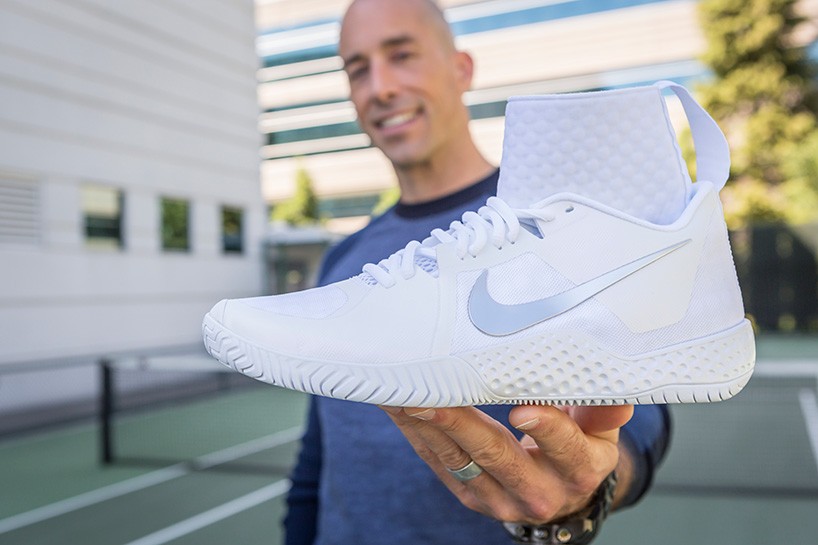 analyzing the movements of tennis players, durability has been added to specific points on the shoes
DB: with the normal perception that protection means extra support, which adds more material and weight, was it a challenge to prove to serena that less actually equaled more?
AC: ultimately, like all athletes, serena wants products that help her perform at the highest level. so she approached each idea we presented with an open mind. she's an incredible partner in that regard—always receptive, eager to learn and, perhaps most importantly, offer feedback, which is essential to our design process.
the first time I met with serena, I flew to her home in florida and brought the history of the kobe project with me. I showed serena that kobe's shoes evolved from bigger, bulkier product to a low top that is more flexible. of course, serena knows kobe and has a tremendous amount of respect for him as an athlete. so I think this helped convey the concept that less can actual be more in regards to performance footwear.
DB: as well as providing added protection, what else does the NIKEcourt flare offer to help maximize performance?
AC: in addition to stability, we aimed to make this shoe incredibly lightweight and flexible. we combined lightweight materials in the upper that deliver a holistic composite of breathability, strength and durability exactly where the athlete needs it. flexibility was a key consideration as well. having the proper flexibility in a shoe helps athletes react to each shot and get from one side of the court to the next as quickly as possible. one of our ultimate goals in design at Nike is to provide athletes with products that maximize their athleticism and deliver zero distraction. a lightweight and flexible shoe that moves with the body, not against it, helps us do that.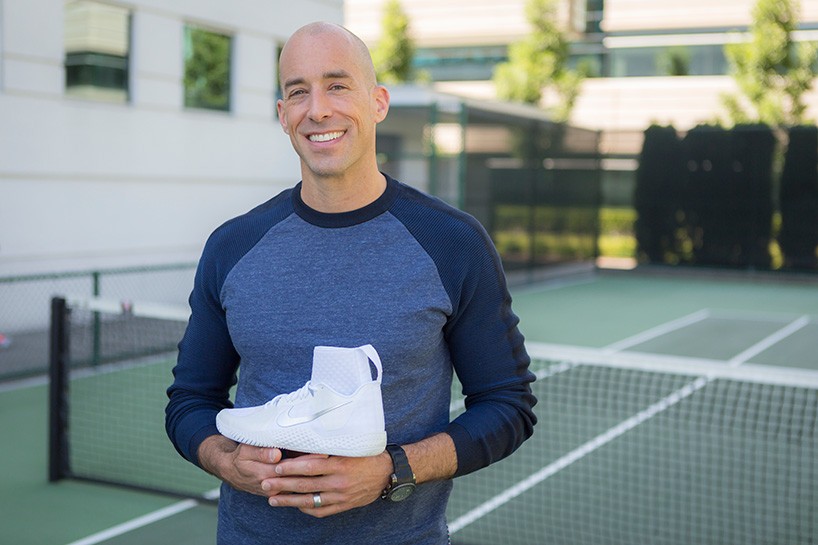 aaron with the white NIKEcourt flare
DB: how is NIKE continuing to strive for innovation and how are you able to achieve it with this shoe?
AC: At NIKE, we set out every day to create footwear and apparel that helps athletes run faster, react quicker and swing harder. we relentlessly pursue innovation because we believe great innovation is a gateway to helping athletes reach their bodies' full potential.
the NIKEcourt flare is one of the most innovative tennis shoes we've ever delivered. it's not only lightweight, but it's also extremely flexible and stable. this creates an impressive combination, all packaged in a unique silhouette. we see it as the future of tennis footwear and we're excited to bring it to all athletes.
DB: taking wimbledon's all-white color code into consideration, did the club's restrictions in terms of rules and heritage reduce the creativity, or did it spur more creative solutions?
AC: serena has been wearing the NIKEcourt flare since the beginning of the 2014 season, so we have had plenty of opportunities to experiment with colors. of course, with the upcoming tournament in England, some see the restriction to white as a limitation. but I didn't see that as a deterrent to creativity at all. rather, I have been waiting almost 10 years to design something for an athlete there, since the first time I witnessed the tournament in person. I wanted to take what some see as a limitation and turn it into an innovation. innovate white. we set out to embrace one of the most amazing sporting events and traditions in the world and work with their own history of innovation. we created a colorway that is "whiter than white." ultimately, we wanted the white to be so sharp that it glows when worn outside and set against the green grass courts. also, with how quickly Serena moves on the court, the white colorway will almost "ghost" as she glides from one shot to the next. serena loves the look and performance of the shoe, and we can't wait to see her in action over the course of the next few weeks.
a diverse digital database that acts as a valuable guide in gaining insight and information about a product directly from the manufacturer, and serves as a rich reference point in developing a project or scheme.
designboom will always be there for you
milan, new york, beijing, tokyo

,
since 1999