nov 16, 2012
shredded magazine furniture by jens praet
shredded magazine furniture by jens praetshredded ELLE decor magazines, clear resinimage © theo van pinxteren, courtesy of industry gallery
florence-based belgian designer jens praet has sent designboom his latest collection of shredded magazine furniture – to be unveiled at design miami. the series was developed in collaboration with the publication ELLE decor, where kilos of the glossy leftover magazines were transformed into a mass of splintered paper – making up the main ingredients for the set.
'shredded table', 2012edition of 8 + 2AP + 2Pshredded elle decor magazines, clear resindimensions: 750 x 1800 x 800 mm (h x w x d)studio jens praet for industry gallery DC & LAimage © theo van pinxteren, courtesy of industry gallery
the pieces are a reaction to the vast amounts of wastepaper produced in offices – converting otherwise useless documents into valuable and useful objects. in order for the material to fuse into a useable compound, the confetti-like mixture was met with resin, moulded, and allowed to harden – producing a firmness similar to wood and a peppery aesthetic. all pieces were manufactured by dutch company wandschappen for studio jens praet.
image © theo van pinxteren, courtesy of industry gallery
detail of the shredded materialimage © theo van pinxteren, courtesy of industry gallery
image © theo van pinxteren, courtesy of industry gallery
'shredded low table', 2012edition of 8 + 2AP + 2Pshredded elle decor magazines, clear resin160 x 1200 x 400 mm (h x w x d)studio jens praet for industry gallery DC & LAimage © theo van pinxteren, courtesy of industry gallery
'shredded library', 2012edition of 8 + 2AP + 2Pshredded elle decor magazines, clear resin1800 x 900 x 400 mm (h x w x d)studio jens praet for industry gallery DC & LAimage © theo van pinxteren, courtesy of industry gallery
image © theo van pinxteren, courtesy of industry gallery
the full collectionimage © theo van pinxteren, courtesy of industry gallery
may 21, 2014
may 21, 2014
nov 24, 2012
nov 24, 2012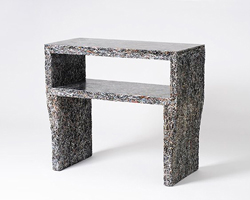 feb 10, 2011
feb 10, 2011