italian manufacturer SICIS's rooms project offers a total spatial concept with its wide-ranging portfolio of exclusive surfaces and furniture. all from one hand.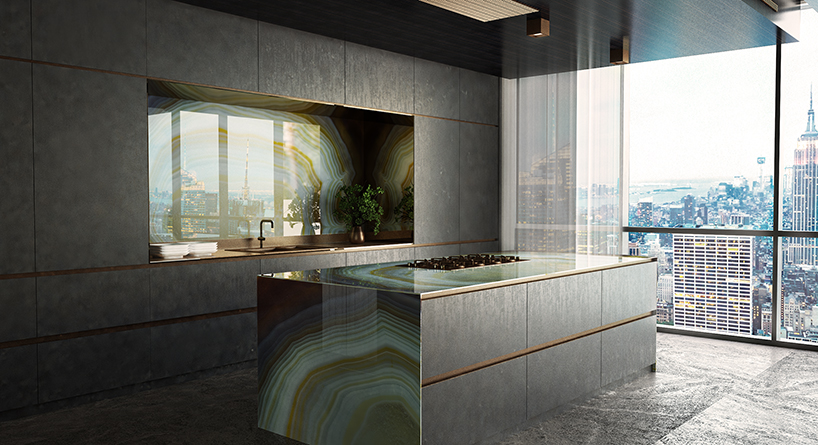 if the vetrite lazy susan set in a polished ebony koro table doesn't grab your attention at the new york apartment, then the gem glass splashback is sure to. either way, the manhattan skyline, not five feet away, takes a back seat
in order to get the most from life, our minds and bodies need to recharge daily. the place we do this – our own, human, wireless charger – is the home.
be it filled with smart technology, the latest materials or furniture from renowned designers, the environment as a whole must remain a calm and reassuring place to start and end the day.
this video tour of the SICIS showroom in milan features examples of the unique mosaic and vetrite surfaces, how they complement various products in the SICIS line and close-ups of the craftsmanship that goes into both
for SICIS, based in ravenna in northern italy, the home is the stage where the most important moments of everyday life happen. with flagship stores in milan, paris, london, madrid, new york and many more cities across four continents, the brand creates interiors with an inimitable italian spirit.
the company recently took on the ambitious and collaborative project 'rooms' to present their enlightened vision for how interior design can create homes exactly how we need them to be; calm, reassuring and stable environments.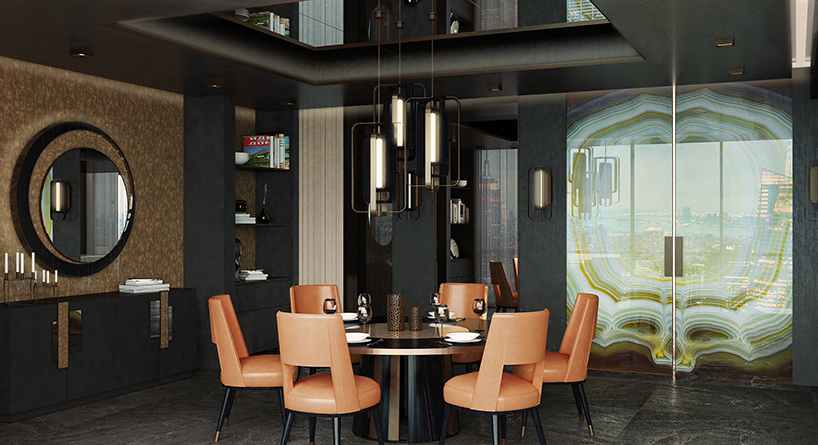 the apartment's gem glass vetrite surface really stands out amongst the slate grey kitchen cabinets (top), while the cosmic pattern is replicated on the other side of the room to transform double doors into an inter-dimensional portal
the 'rooms' project – which involved the fitting out of a new york penthouse and a villa in toronto – required SICIS's contract, home and project divisions to bring together selected pieces including furniture, lighting, fabrics and surfaces, from new and old collections. the company combined and complemented products with architectural and artistic elements such as dramatic mosaic constellations or their home-grown vetrite material, a block of glass with a polymer soul, adding depth, vibrancy and a touch of the spectacular to walls, surfaces and even some of the furniture.
in the villa, for example, a blake bookcase welcomes visitors into a reading space with integrated lighting presenting a patterned vetrite glass back panel to a rapturous audience. a pair of mosaic-topped owen tables have a characteristic edge while a large philippe table with a gemglass top complements the villa's soft palette and natural patterns. at the penthouse meanwhile, the special glass slabs give a serene sliced gemstone look to the kitchen, providing exotic splashback, work surfaces and glass double doors.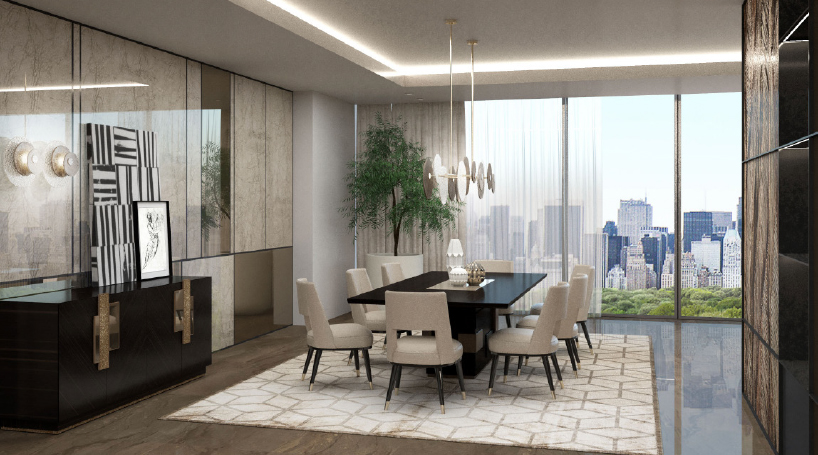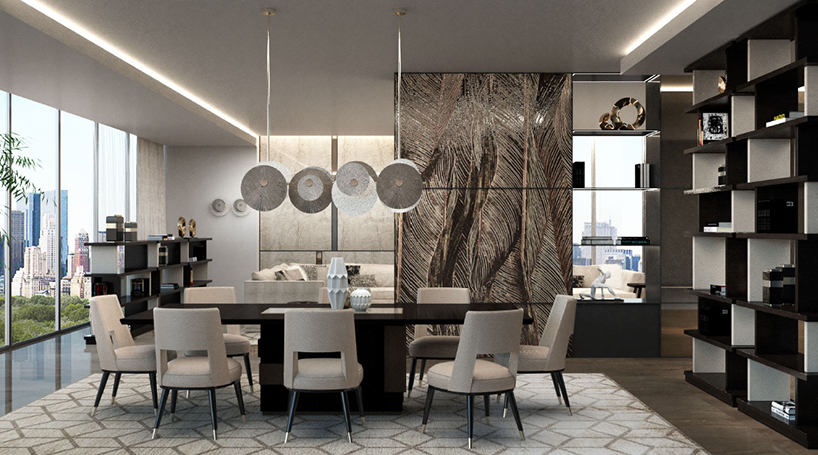 splitting the dining and seating areas creates a relaxed and informal living and entertaining space in the new york apartment, with the mosaic room divider doubling as an artistic and engaging centerpiece
but it's not only of big slabs of glass that SICIS are fans of – they like to smash it up into little pieces too: each of their showrooms boasts multiple mosaic artworks for sale and installation, while both 'rooms' locations feature stunning mosaic walls. the penthouse's living and dining areas are separated by a mosaic wall featuring an artistic feather pattern that feels like it's swaying in the breeze, while beside the villa's dining table sits a mosaic composition of plants and leaves, mirroring the tranquil scene outside.
as well as using glass to create a calm atmosphere, warming metal highlights subtly appear throughout the villa's living space too. in the venus ceiling lamp – created from blown-glass and edged with champagne metal, in the champagne base of the philippe table, in the outlined edges of gold mosaic in both owen tables, in between geometric cuts of vetrite that run up a double-height interior wall and in the minimalist window frames, giving a generous view of the soothing gardens beyond.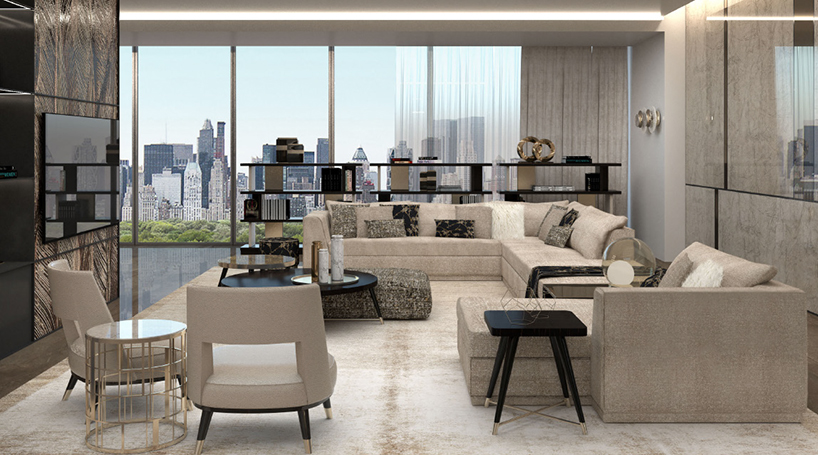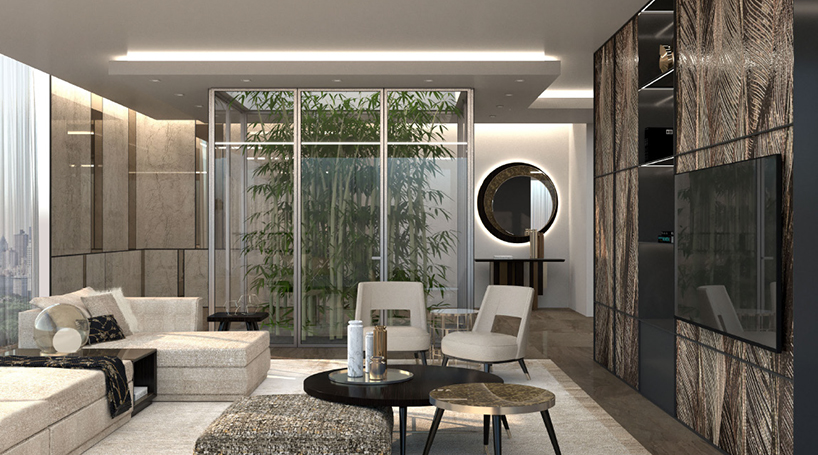 harmony is installed in the apartment as seating is split into three sections. corner sofa, chaise longue and twin armchairs. with plenty of surfaces within reach and unobstructed views of the TV, this is a calming, tension-free zone
both villa and penthouse feature floor-to-ceiling, wall-to-wall windows, which flood the space with natural light and create panoramic park views – city and central, respectively. large-scale greenery has infiltrated the interior space too. a life-size potted character joins its mosaic compatriots for dinner in the villa, while a private atrium in the penthouse is home to a cohesive centerpiece of bamboo.
these shared living spaces must be calm, harmonious places that bring people together and encourage positive social interaction. the linear quilted leather of the island sofa in the villa, for example, elongates the height and width of the interior. combined with a natural colour palette it gives the illusion of space and serenity and makes positive interaction easy. and by removing architectural blockades (walls), both villa and penthouse segregate designated areas with interesting features such as osaka bookshelves, split-level architecture, handcrafted mosaics or floor-to-ceiling wooden slats, creating open and welcoming spaces with a choose your own adventure narrative.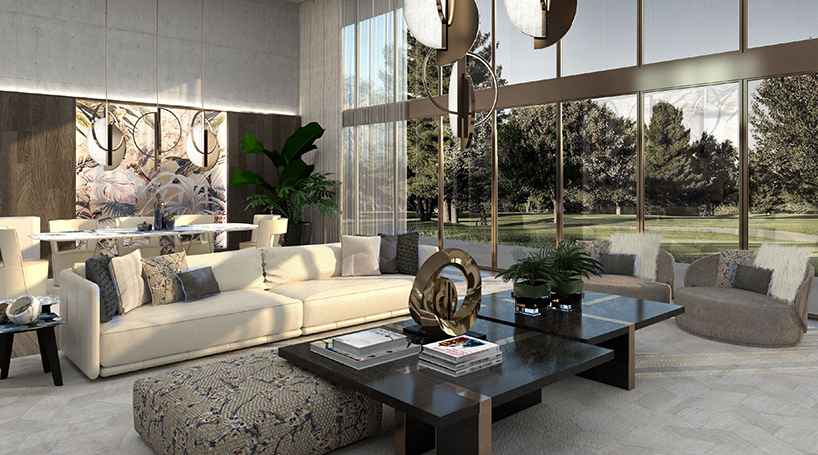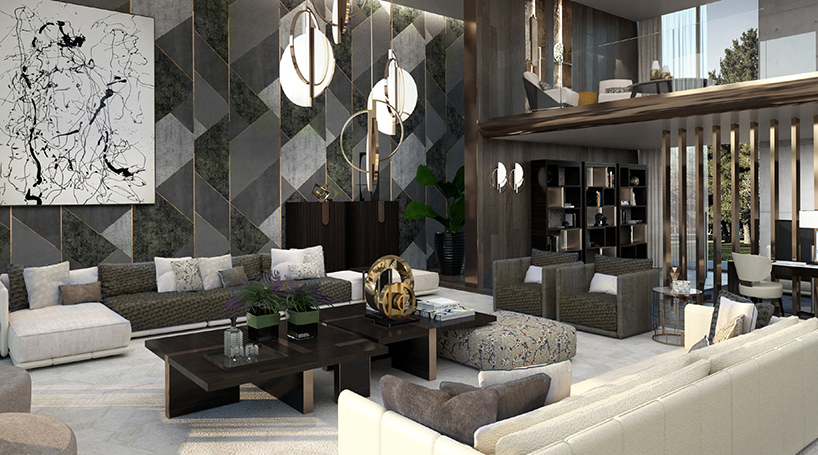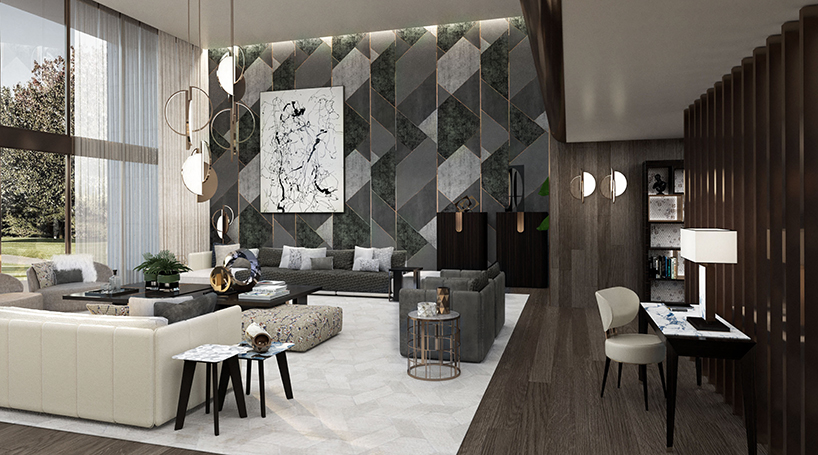 starting with a large, square box, the torontonian villa uses split-level architecture with mezzanine and room dividers to create an open, social space that still feels intimate. double-height windows on both sides wrap the room in light
in a torontonian bunker of peace away from the chaotic city and a new york penthouse that escapes the metropolis by going high instead of long, SICIS have combined extreme comfort with relaxation, complementing their own products and materials with the right interior architecture.
these exemplifying three-dimensional works inspire effective interiors, creating calm, stress-free environments that help shed the daily tension accumulated from the outside world.
guest feature by james wormald / architonic
a diverse digital database that acts as a valuable guide in gaining insight and information about a product directly from the manufacturer, and serves as a rich reference point in developing a project or scheme.