dec 20, 2013
silhouette eyewear production facility + design studio tour
silhouette eyewear production facility + design studio tour for 'my silhouette'
image © silhouette

this december, designboom was invited to participate in 'my silhouette', a bespoke eyewear project organized by wallpaper* magazine in collaboration with silhouette, at the family-owned company headquarters in linz, austria. based on personal style, varying skin tones, lens shape and prescription, designboom — alongside guest editors from wallpaper* magazine, yatzer and thisispaper — worked together with silhouette's in-house designers and resident ophthalmologists, to create a custom iteration of the 'titan minimal art' glasses. in 260 steps, the rimless eyepieces come to life under one roof.
from the raw titanium stamping to the final polishing stages and graphic application, the entire production process is a marvel in its own right. we take an exclusive behind the scenes tour of silhouette's manufacturing facilities, as well as the design department, which has been the breeding ground for some of the world's most influential and recognizable glasses.
my silhouette: 'eyewear wonderland'
video courtesy silhouette
since silhouette's inception in 1964, 'founders arnold and anneliese schmied wanted to create eyewear that was accepted as an accessory: jewelry for the face,' explains designer angela strecker. in the 1960's, 'glasses were never a necessity, but more than a visual aid,' she adds. influenced by the idea of positioning eyewear as a fashion piece, silhouette was the first to create frames that combined highest quality standards, ergonomic wearing comfort and for the first time, thoughtful and well designed spectacles. in 1999, the company's in-house designer gerhard fuchs revolutionized the eyewear industry by developing the world's first hingeless and screwless 'titan minimal art' frames. weighing a mere 1.8 grams (6.0 grams with lenses), the featherlight glasses are now used by all NASA astronauts on their space missions.
designboom's tech editor alongside guest editors from wallpaper* magazine, yatzer and thisispaper touring the HQ
image © silhouette

silhouette design department
image © designboom

silhouette color designer angela strecker giving some frame consultation
image © silhouette

silhouette chief designer roland keplinger discussing frame options with designboom's tech editor
image © silhouette

various lens colorways
image © silhouette

silhouette eyewear production + design studio tour in linz
video © designboom
testing skin tones for different frame colors
image © silhouette

silhouette color designers karin kitzberger and angela strecker
image © designboom

silhouette's industrial design team helps katarzyna kapuscinska from thisispaper create the perfect lens
image © silhouette

designboom's tech editor wearing his 'my silhouette' after approvals
image © silhouette

calibrating the frames for a perfect fit
image © silhouette

having some fun with the 1970's futura line from silhouette
image © silhouette

behind the scenes at the profile curving department
image © designboom

machine with embossing tool
image © designboom
profile curving
image © designboom
feb 20, 2017
feb 20, 2017
sep 26, 2016
sep 26, 2016
dec 09, 2015
dec 09, 2015
aug 19, 2017
aug 19, 2017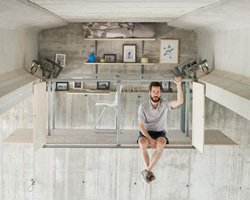 aug 17, 2017
aug 17, 2017
aug 17, 2017
aug 17, 2017