sinonimo essential is a coherent collection of essential tools designed to adapt and enrich the everyday ritual of espresso-making experience. pieced together to form one compact station, it includes all the elements necessary to make coffee including a tamper, tamp support, funnel and a knock box.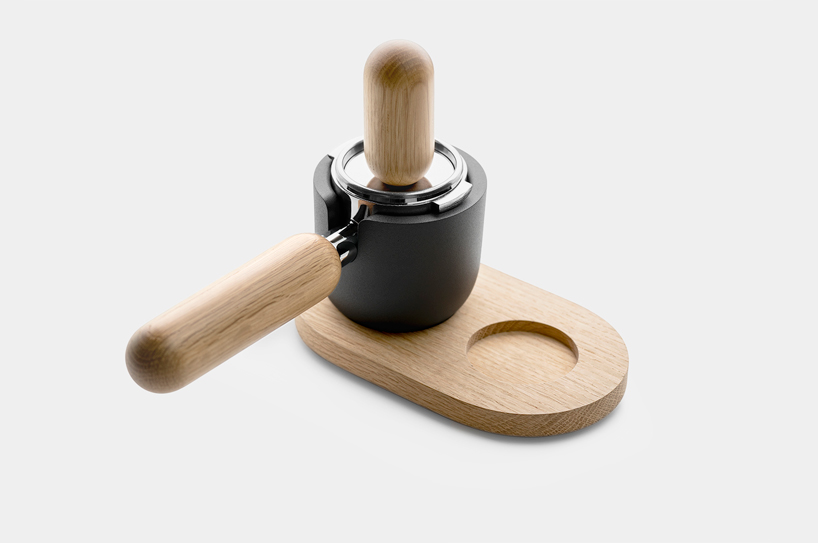 images courtesy of sinonimo
to creat the 'toolset' the sinonimo team first broke down the process of making espresso so that it could consider every single step of the journey. it then started experimenting with hundreds of sketches, 3D CAD and prototypes, using various mediums including 3D printing, CNCed aluminum, wood and cork, to test different coatings that would be suitable for each step.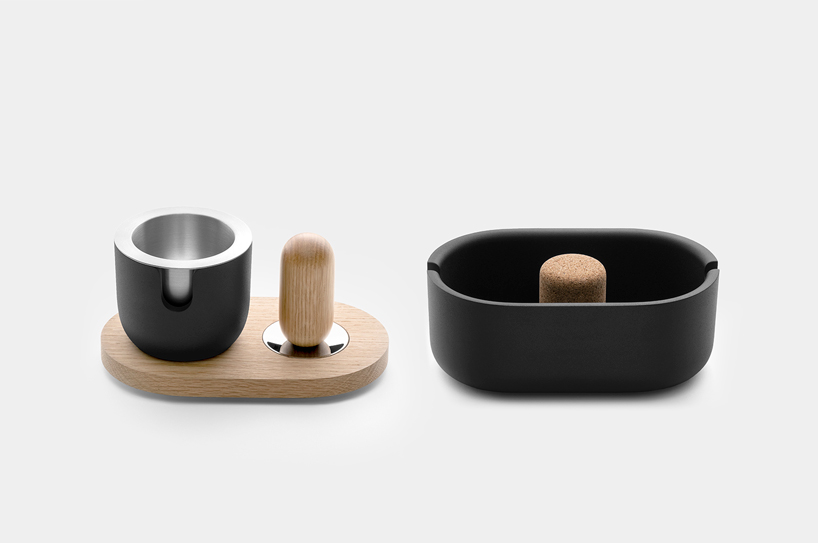 'we made a conscious decision to use materials that were almost indestructible,' explains ximena lauga, co-founder of sinonimo. 'for example, the hit bars on a knock box is commonly over-molded rubber over plastic and tends to break within a year. we chose unibody aluminum that is die-casted, post machined and polished, which is then bead blasted for adhesion.'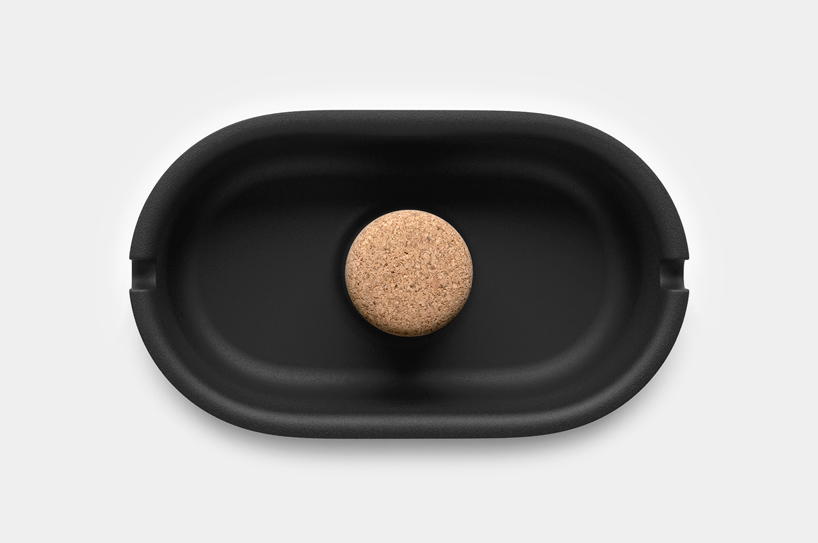 for the knock box and tamp station sinonimo chose a unibody aluminum that has been die-casted, post machined and polished, before being blasted for adhesion by a specifically designed hybrid coating. this hybrid coating involves combining liquid coating and powder coating to give a much durable finish, which prevents chipping when hit by sharp stainless steel parts of the portafilter.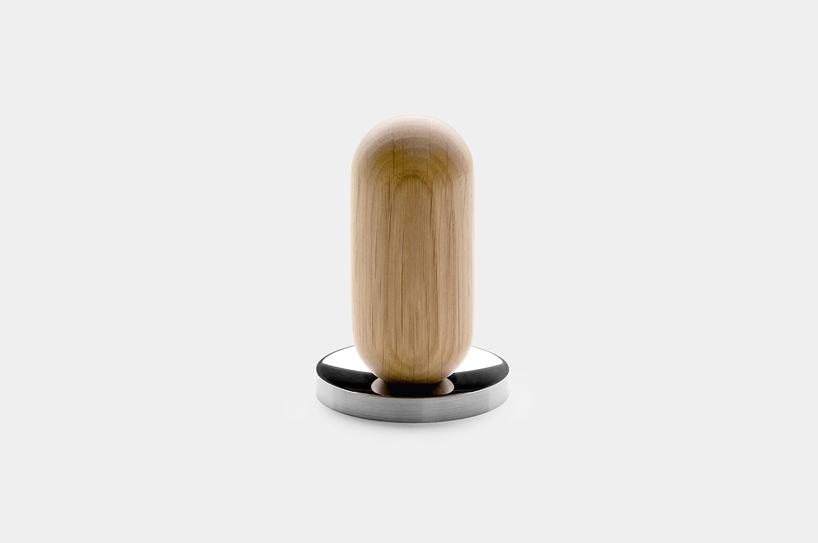 'a specific hydrophobic coating process for the oak lid ensures the condensation from pucks doesn't cause the wood to expand or warp and at the same time maintain the natural oak finish,' says lauga.
the tamp station's overall depth and neck depth are defined to cover the majority of leading 58mm portafilters out in the market considering both nozzle and bottomless portafilters. soft continuous curvature on the inner edge is present to prevent contact with sharp stainless steel edges of portafilter minimizing scratches and yet functions as visual warmth and depth.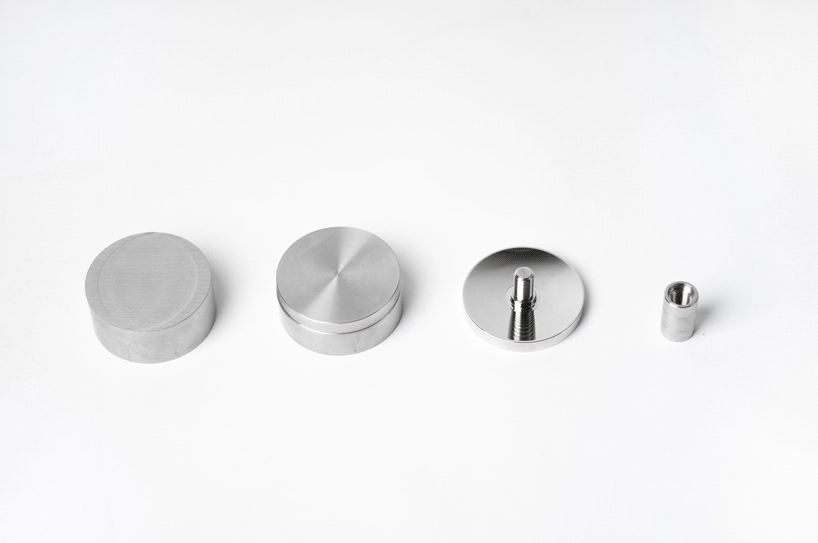 from the pressing of the coffee to its disposal, every step was considered an opportunity to enhance the experience through design. cork, for example, is used as the knock material not only because it is low-cost and easily replaced, but because of its sensory impact. the designers were fond of the sound when hitting it with the portafilter to release coffee grounds.
meanwhile the tamper, which is used to evenly press the fresh coffee ground into the portafilter, features a concave wooden handle to accentuate the feeling of pushing the stainless steel base downwards. the base and handle are designed to be easily unscrewed in case of any damage or to be replaced with future variants of handles such as aluminum for a heavier weight.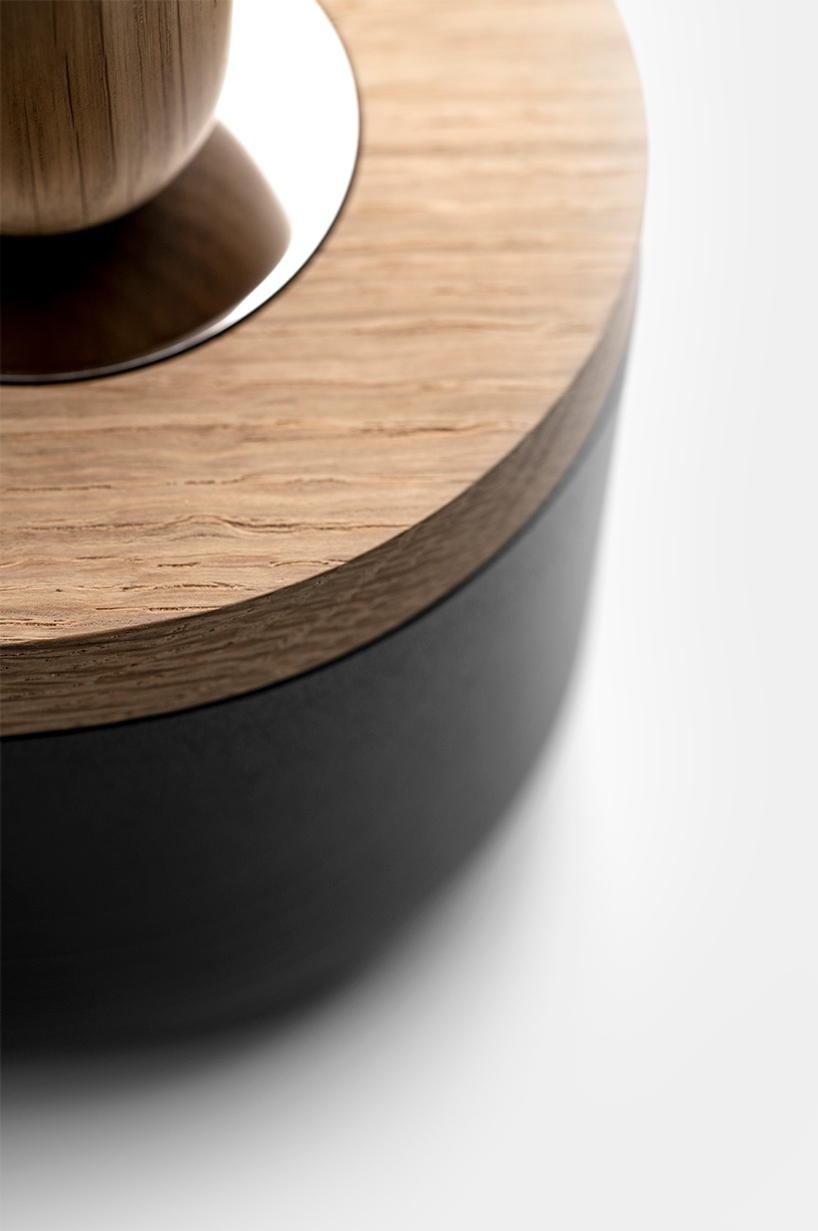 'with the funnel's overall appearance we considered the same 3D geometry of the inner surface of the tamp station.'
'this made sense as the funnel could live snug within the tamp station. overall height of the funnel is also based on using it with most common high-quality grinders in the market, we wanted to make sure it can easily fit and removed on the grinders, avoiding any friction during the ritual.'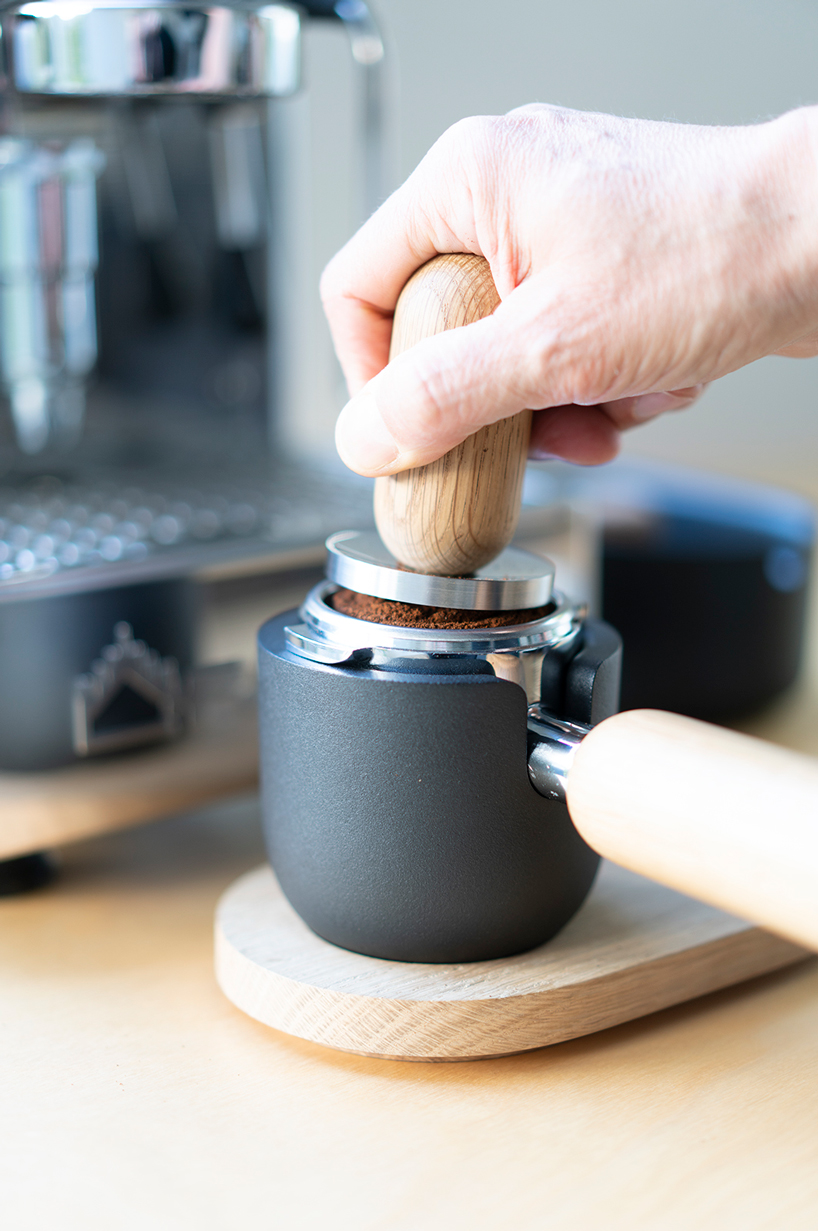 finally the oak tamp base/knock box lid maintains the beauty of a matte natural finish of oak character. to prevent the transformation from exposure to liquid and heat, the team spent a year of testing and creating a hydrophobic coating application process, which includes multiple layers of primer and coating on the bottom of the lid. finishing off with matte coating.
sinonimo employs the skills of a series of taiwanese craftsmen with over 50 years of combined experience working with wood and metal. by complimenting their skill with industrial machinery, a total of 74 steps produces one set of tools in just under four hours.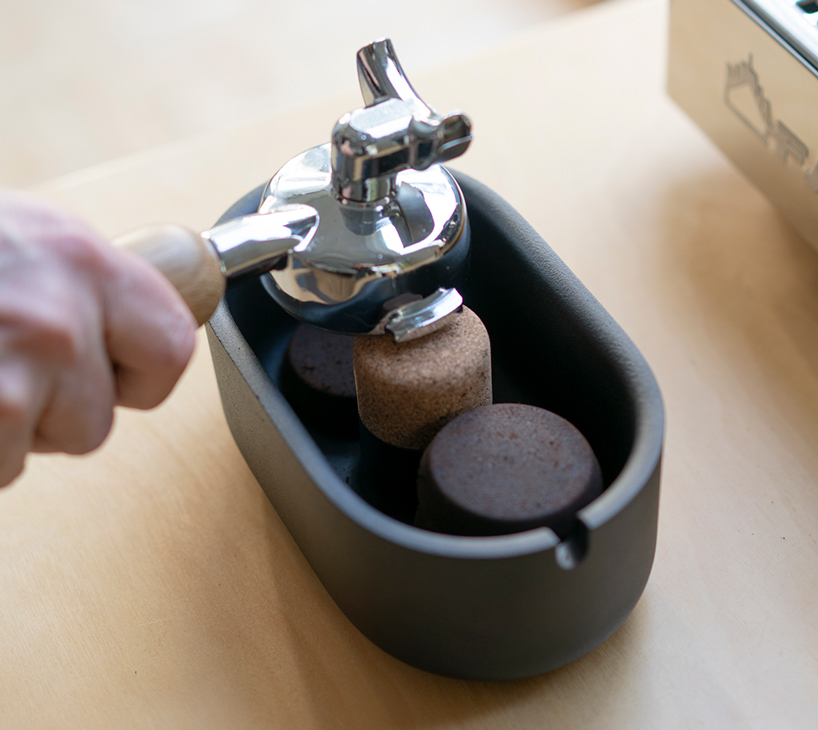 'tools are medium to translate an individual's character and value into tangible means and this applies to our sinonimo product making approach,' explains lauga. 'unlike traditional craftsmanship, this is a new age craftsmanship where its not about making everything out of hand but combining their human touch with ordinary tools in an ordinary workshop.'
'sinonimo essentials is the result of extraordinary craftsmanship in ordinary workshops,' she adds.
project info:
company: sinonimo
available: by invitation only
price: $199.95USD
aug 12, 2019
aug 12, 2019
apr 01, 2019
apr 01, 2019
feb 01, 2019
feb 01, 2019
jun 19, 2018
jun 19, 2018
mar 20, 2018
mar 20, 2018
jan 19, 2018
jan 19, 2018
a diverse digital database that acts as a valuable guide in gaining insight and information about a product directly from the manufacturer, and serves as a rich reference point in developing a project or scheme.