designboom attended the ribbon cutting of the newest sir hotel in barcelona (the second in spain — see our ibiza report, here). located in the premier shopping district, passeig de gracia, overlooking gaudi's casa milà, the sir victor property includes 91 guest rooms and suites, meeting rooms, a luxurious spa, boat for trips on the mediterranean sea, the great MR PORTER restaurant and a dazzling rooftop pool and bar that offers a beautiful view of the sagrada familia.
'sir victor takes inspiration from barcelona and its wider region – the city, the people, the nature and culture. through the integration of design, art and multi-functional spaces, we hope to bring something new and exciting to one of the most vibrant cities in europe' says liran wizman, founder and owner of sir hotels.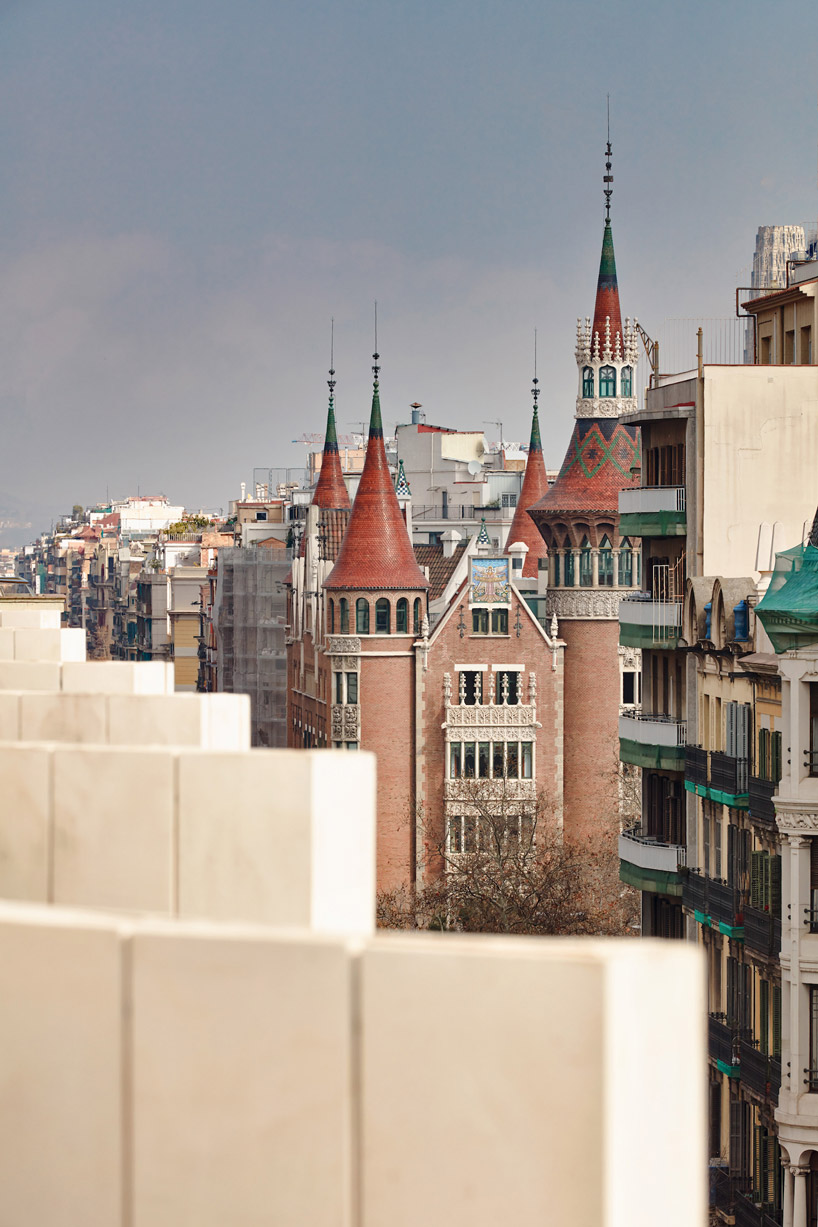 overlooking gaudi's casa milà
all images courtesy of sir hotels
a journey through contrasting landscapes, the design has been inspired by the seaside and the mountains. sir hotels enlisted long-time collaborators, interior design and architecture studio baranowitz + kronenberg, to head the creation of the multifaceted ground floor space. we met up with irene kronenberg and alon baranowitz to talk about the current state of hotel design and hear the behind-the-scenes story of the project's realization.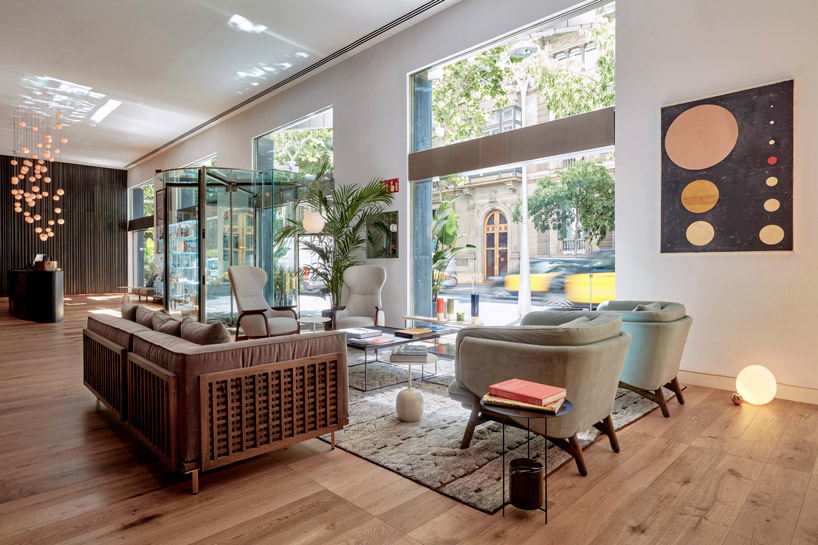 entering the lobby space induces a strong sense of warmth and welcome
designboom (DB): this hotel existed already and had its own language. it featured a purist, minimalist design that needed to be updated because, over many years, nobody had touched anything — how did you start?
alon baranowitz (AB): there were mainly two threads. one was the essence of the city barcelona, which is running from sea to mountain, and we wanted to capture that reality throughout all the public spaces in the hotel. we took the street side, the seaside and the mountainside with all their color schemes as points of reference. you enter from the street that results in a grounded environment and we bring you to an ocean experience with all this light, you climb the mountain with an airy earthy feeling. we believe it's a nice notion because it also resonates with the idea of that everything is actually open for you. when you enter as a guest or as a local, you really engage because it's inviting, and the scenery changes as you go deeper and deeper into the space.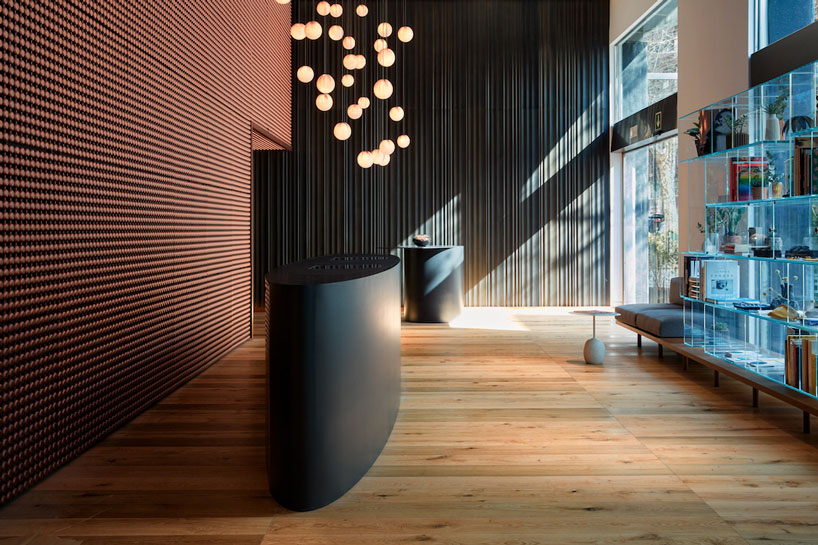 the reception area at sir victor
AB (continued): upon entering the light filled, oak floored reception area, visitors feel a bright playfulness complemented by an oversized carrara marble pool table and suspended, spherical lighting. continuing deeper into the hotel, earthier tones create a more intimate, intriguing ambiance. padded banquettes complemented by large circular ceiling lights and dark walnut furniture adorn the restaurant while textures and materials such as beveled marble, black leather and copper surfaces create a rich, stimulating palette…
you have different kinds of settings that are for different kinds of interactions up to the very intimate ones. an interplay between private to semi-private, to public. people with different moods enter through the revolving door, and you have to be able to accommodate their moods with something inside.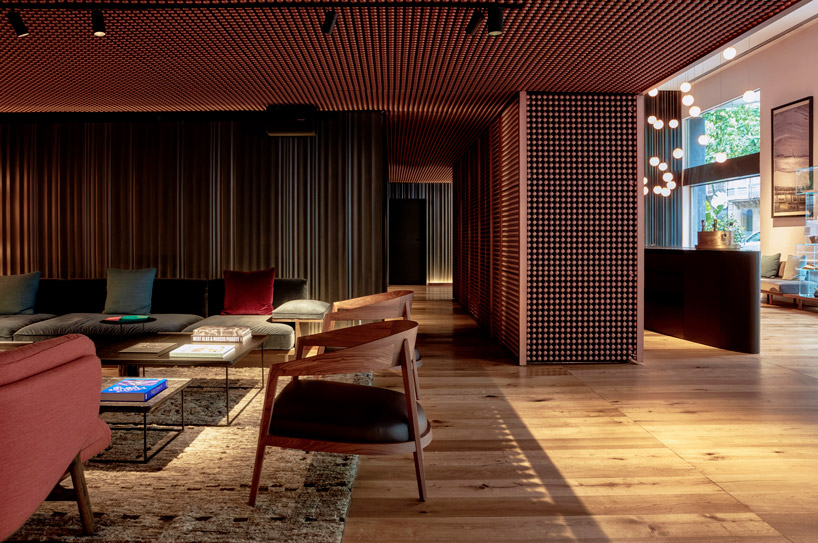 social spaces provide guests with intimate areas to read or relax
DB: what were the primary elements that informed the design?
irene kronenberg (IK): there's this beautiful story about this female writer — the name of the hotel is her name. victor català was the pseudonym of the catalonian writer caterina albert i paradís, who produced her greatest works at the turn of the 20th century. in 1898 at just 29, she became the first woman to be awarded with the esteemed jocs florals d'olot literary prize. soon a scandal erupted when the judges realized they awarded a woman. she couldn't really publish any of her work anymore, so she changed her name into a masculine name. she went on to break many more barriers in the literary world throughout her long career, and we're paying tribute to her name. we also installed a small library in the hotel mezzanine in her honor.
this became the second important feature in the design — how can we express her feminine side? her being a female through her masculine expression? we tried to celebrate something which is utterly feminine but expressed it in a very masculine way. for example, if you look at all these curtains that looks like soft drapes from afar, until you don't come close, you don't know what they are made of. when you touch them, you recognize suddenly they are made from metal and then you have this clash between — wait a minute — it looks so sensual and it's actually very intense, with a very strong character…or the ceilings, with these dots that resonate with the beads of a necklace and that became a surface.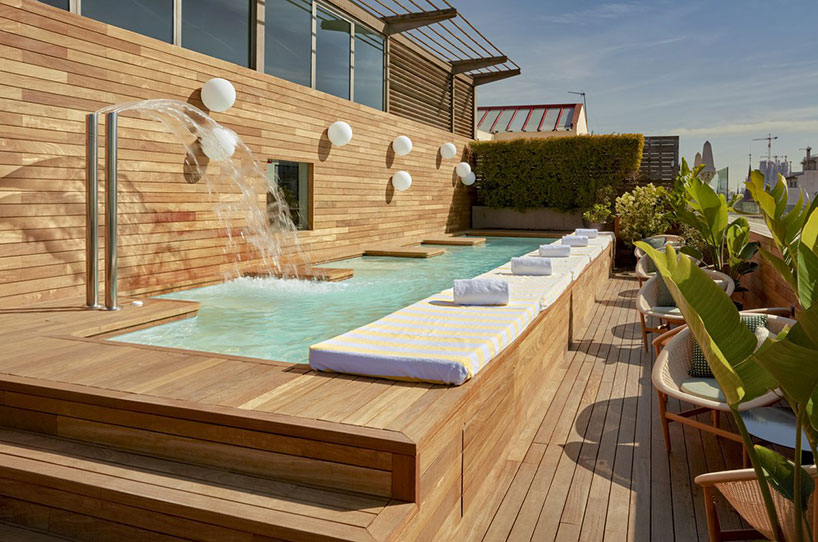 guests are invited to soak up the barcelona sun on plush sunbeds on the hotel roofdeck
DB: how did you achieve a sense of balance between the narrative of the hotel, and your personal stylistic choices?
AB: there is the story about the sea and the mountain, and then the story of a writer that expressed herself through a masculine name and personality that she had to invent herself. I think this is part of the charm that we try to capture in every one of our projects — not to interpret, not to be literal, but keeping it open and letting everybody think whatever they want about what they see. also there's a very catalan feeling inside, so much craft and so many details, but they are not suffocating.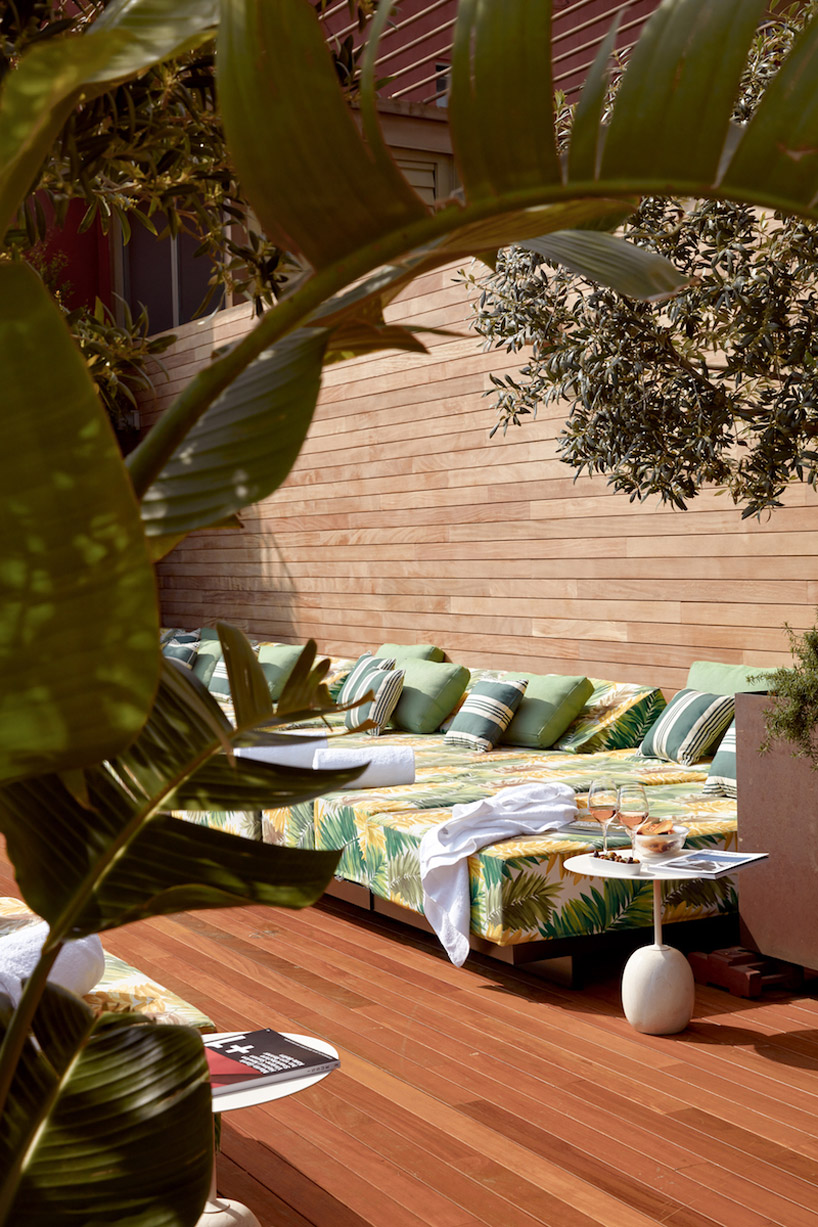 the roofdeck brings together a mix of styles and materials
IK: designers react to how people perceive things, and this is what we believe that interior design really is. of course, we use the same tools as architects and we practice architecture as well, but it's more like being a neurologist or a dentist. feminine to masculine and vice versa is something that is part of our culture today.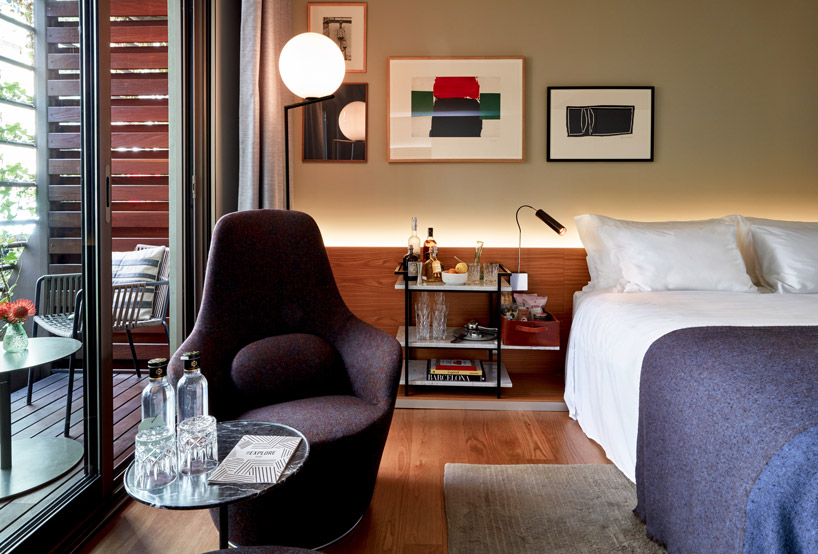 a view into a guest room
DB: in what ways do look at the geographical context of each project you're working on?
AB: one of the most important things in interior design is the circulation of energies. they're not the brainchild of finishes, energies come from the layout. then finishes and fabrics and lighting enhance it. if it's wrong, from the beginning, finishes are only a facade. when we come to a new city, we first listen and spend a lot of time hanging out, and talk to people. we try to capture the essence of the local culture. in amsterdam, for example, there is a calvinist environment. many people say: we don't need this, we can do with less, the mentality is 'we don't show off', no bling bling. dutch people don't want to be 'seen' in places…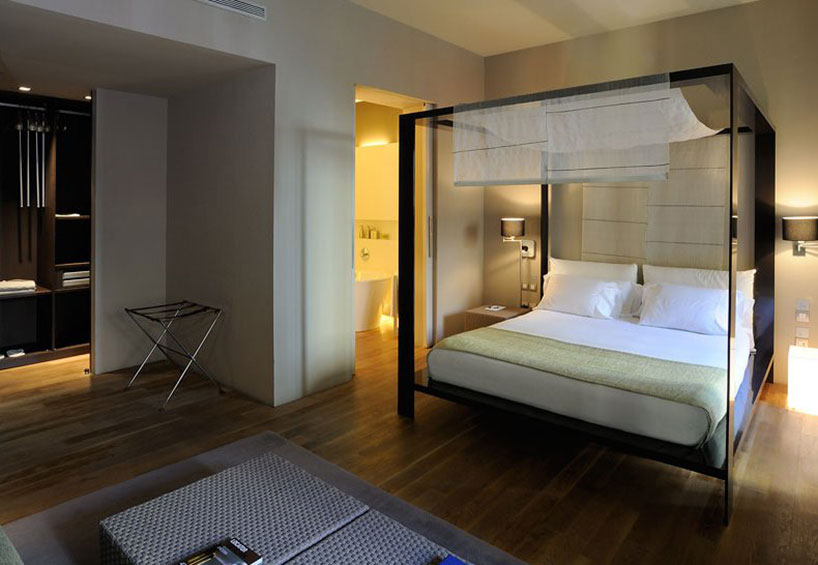 bright, big guest rooms seek to reflect the inspiring world of barcelona
DB: would you say there is a common thread that unites hotel design overall?
IK: there are certain things that will never change. a big, fresh towel wrapped around your body in the morning, for example…or sometimes you stay at amazing hotels, but you won't find enough space to place your own basics. this is annoying and could be the easiest part. luxury is a feeling, a big hug around you. the main thing that changed is that today people try to find a 'homely feeling' outside of 'family' — in a way, in the past, families were more caring, numerous, had a strong bond and you could go: I'm staying at this hotel and have this purist design experience but I wish to come back home soon. 'cold' elements like minimalism, and purism in design, are less appreciated.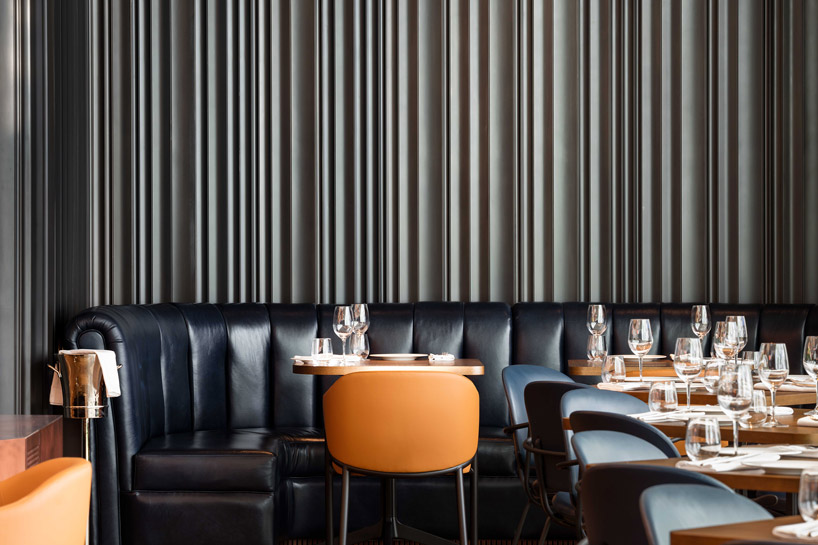 on site, restaurant MR PORTER blends the modern steakhouse with a chic, sleek lounge
DB: how have you seen the hotel and hospitality design industry evolve?
AB: the biggest change in hospitality is the transition from a space for sleeping, to a space to live in (working, having fun, dining). the new hospitality is trying to capture and captivate the audience with augmented experiences and events and bring the city inside, make the city part of the hotel, and make the hotel part of the city. there are so many variations. some hotels are becoming too extreme, but everybody understands that if a hotel wants to be successful, it has to engage with the city and allow the city to come in.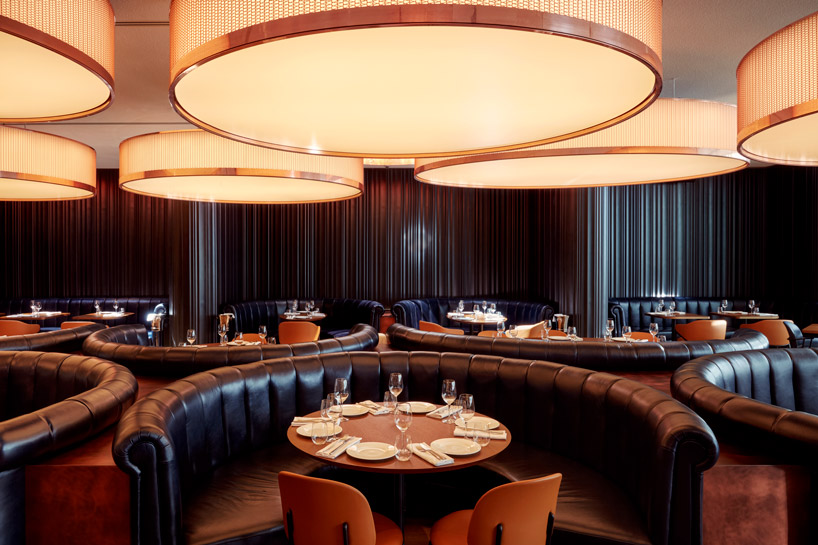 'there's a very catalan feeling inside, so much craft and so many details, but they are not suffocating'
IK: today we have resort hotels, but this is really a different conversation. most of the population of the world lives in the city and these kind of hotels often feature a crazy infrastructure. in a certain sense, these hotels offer escape and therefore can do much, but when you're talking about a more sustainable world, it's really all about how you spend your time. sleeping and eating has been the clue of the big corporate hotels of the past. today hotels are becoming a cultural machine. a place for things to happen.
AB: for many it's nice to feel the pulse of a city, but it's not like master planning. I think we will see more and more hotels being curated: we want to bring the communities inside and you collaborate with them. a very complicated process that you need to curate- what do you bring in, how do you bring it in, and when. all the time, something is happening in this hotel.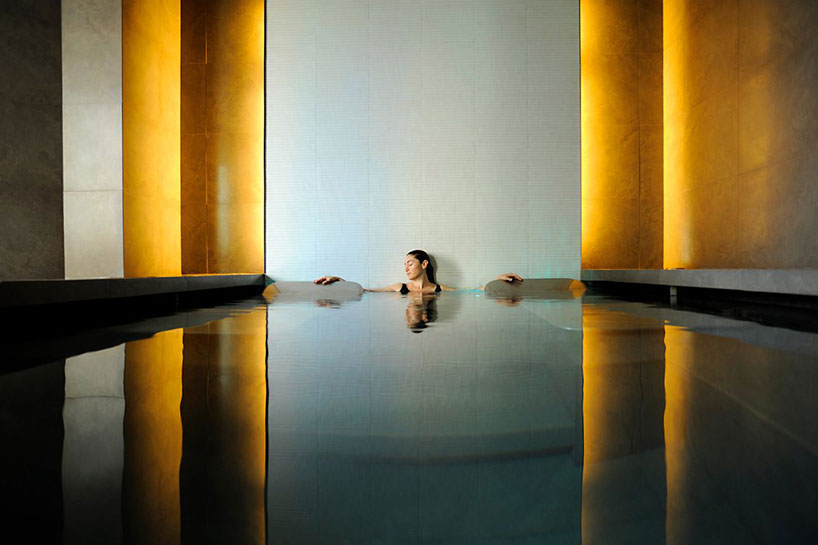 a spa and relaxation spaces are a highlight at sir victor
more info:
sir victor hotel, carrer del rosselló 265, barcelona, spain
set in a contemporary landmark by local architecture firm capella garcia, sir victor creates a catalan-inspired oasis in the heart of the city. sir victor rooms incorporate a neutral color palette and wooden furniture by B&B italia, cassina, and nani marquina's contemporary, handmade rugs.
sir victor connects to the vibrant lifestyle and community of the region through unique programming and amenities, providing locals and visitors an authentic insight to the catalan capital. live music performances by local artists invigorate the rooftop, offering guests a chance to cool down by the pool while taking in the sweeping panoramic views of the city. sir victor launches sir hotels' signature out-of-the-box experiences, sir explore. hosted by city residents, experiences include an 'off-the-grid' tour of some of barcelona's lesser known modernist architectural masterpieces and a gastronomic adventure tasting local delicacies and exploring the small alleys of barcelona.
sir victor is the sixth hotel to join the growing amsterdam-based sir hotels collection, following sir adam and sir albert in amsterdam, sir joan in ibiza, sir nikolai in hamburg and sir savigny in berlin. sir hotels is managed by the amsterdam-based hotel development and management company europe hotels private collection which was founded by liran wizman.
kieron marchese
I designboom
jun 12, 2019
a diverse digital database that acts as a valuable guide in gaining insight and information about a product directly from the manufacturer, and serves as a rich reference point in developing a project or scheme.
designboom will always be there for you
milan, new york, beijing, tokyo

,
since 1999