on the occasion of milan design week 2017, slamp and maison montblanc debut 'overlay', an elegant, technology enriched lamp said to serve the ideal writing experience. coinciding with the euroluce exhibition at salone del mobile 2017, the lighting design combines the values of both brands; luxurious apparel, essential aesthetics and sustainable innovation, to create a desk lamp that fits perfectly within their collections. its elegant, attractive and sensual design merges minimal forms with an artisan writing instrument rest built directly into the base, which acts as its on and off switch as users pick up and then place the pen back.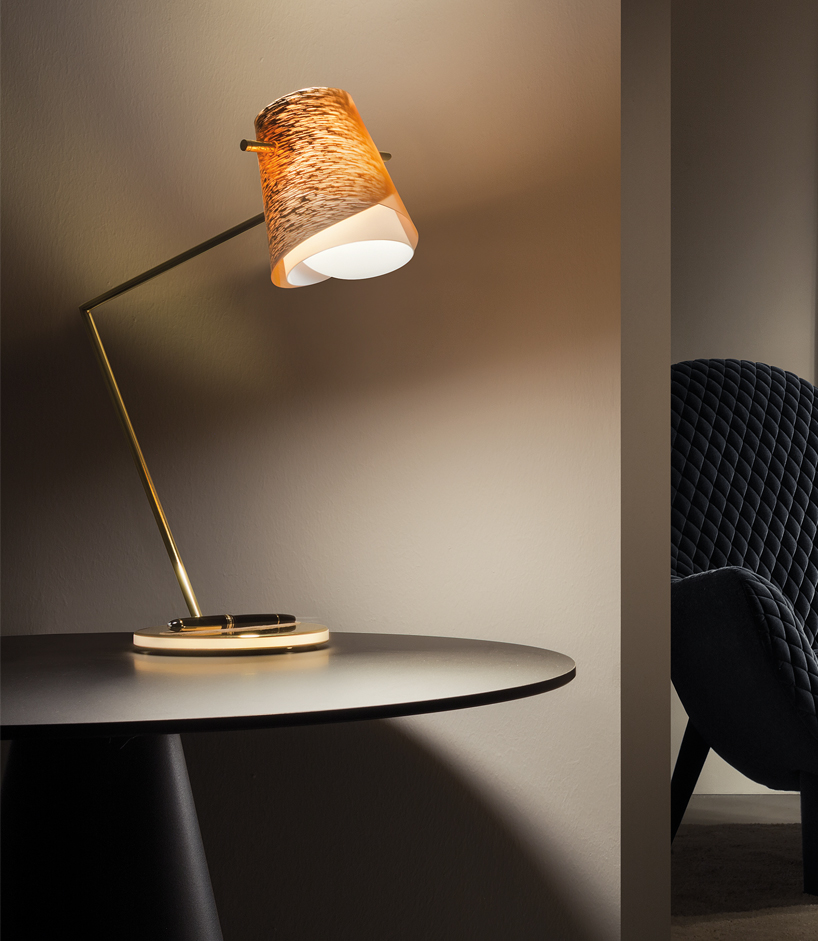 the object's beauty does not envelop the whole design, instead it enhances the overall experience that highlights craftsmanship, quality and an expression of 'ideal writing'. in a similar way, the abundance of top-of-the-range technology is apparent but hidden away in order to appear natural and express an extremely human-conscious interaction. designed by analogia project, a duo of designer andrea mancuso and architect emilia serra, the lamp features a brass body and base that is topped off by layers of slamp's patented materials, precisely cut to create a warm palette of varying densities. as well as the main light source in the shade, which uses brushed copperflex® material, a courtesy of light revolves around the circular base to create a constant illumination of the lamp and to further enrich the atmosphere.
the slamp and montblanc 'overlay' writing lamp's highlight is the playful and very sensual design of the main light component. hidden beneath the brass connection and the brushed copperflex® shade, its illumination acts upon the interaction between the innovative magnetic rest and any montblanc writing instrument. when removed, the lamp automatically turns on and then turns off again when the pen has been placed back.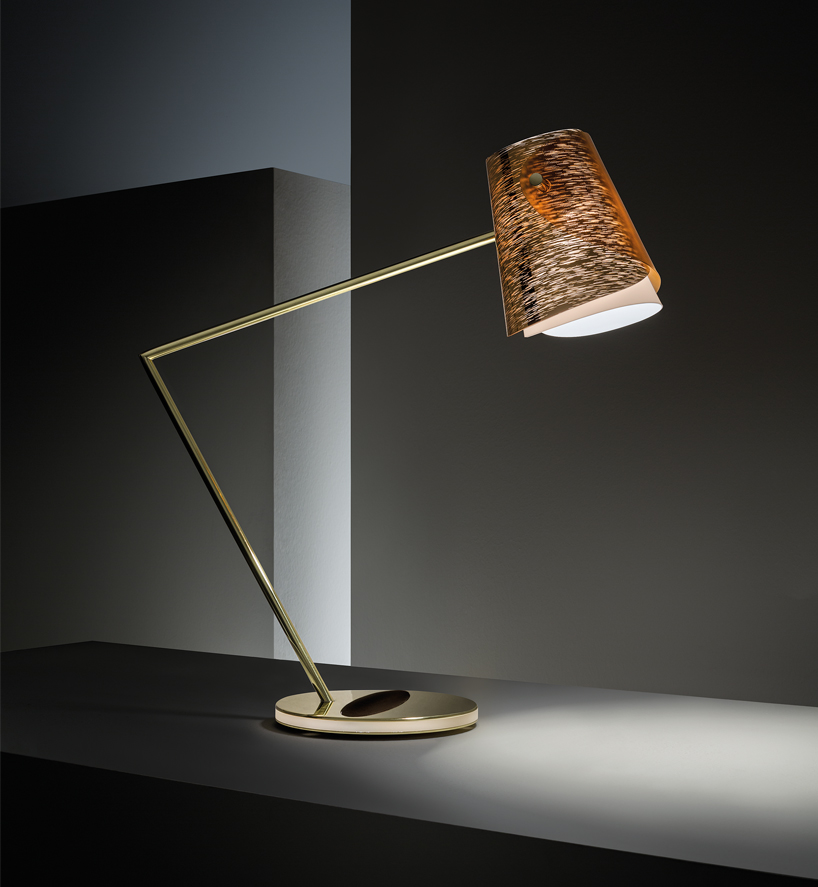 at an exclusive presentation in the montblanc flagship boutique in milan's via montenapoleone of the 'overlay' writing lamp, designboom spoke to christian rauch, CEO of montblanc italy, and roberto ziliani, CEO of slamp, who both provide insight into how the product is a balanced fusion between elegant design, advanced technology and human-centered experiences.
designboom (DB): how did the collaboration between slamp and montblanc start?
christian rauch (CR): it was not a strategic intention, it was a lucky coincidence. the two of us, roberto ziliani and myself, met each other six months ago at a dinner with a mutual friend. we got to know each other from there and were speaking a lot about robert wilson, who I know from other business ventures. I began explaining how the fastest way to transport an idea into a reality is to write it by hand, because it enables the up-most possibility with no limitations for creativity. he then rightfully said that without light, you don't get anywhere. then we were talking a lot about light, until we decided that one day we must do something together. roberto kindly invited me to visit slamp, which is close to rome, and I went there and was astonished by what I saw. they have a space that is really incredibly. it is a very, very unique place which services as a laboratory, think-tank and as a design studio, but also as a manufacturing site. all the objects they do, together with famous architects and designers, such as zaha hadid, daniel libeskind, robert wilson, are amazing, but when the concept is created, they really craft it by hand, and they insert a level of technology that I had never seen before. the combination between high tech and craftsmanship is something that I know perfectly from our reality in hamburg, switzerland and florence. we came up with the idea to create a lamp that is perfect for writing. our designers met each other in rome, milan, all over, and the process started in a unique way because it was so smooth and so inspired by both parties that it was designed and created in just six months.
DB: how did the design process work with montblanc?
roberto ziliani (RZ): it is a problem of filling the team with the quality of people. it is simple to speak with christian. my staff usually speak with strong personalities so are able to work in difficult and challenging situations. this is probably the reason why, in only six months, we were able to design something that fits perfectly for both montblanc and for slamp.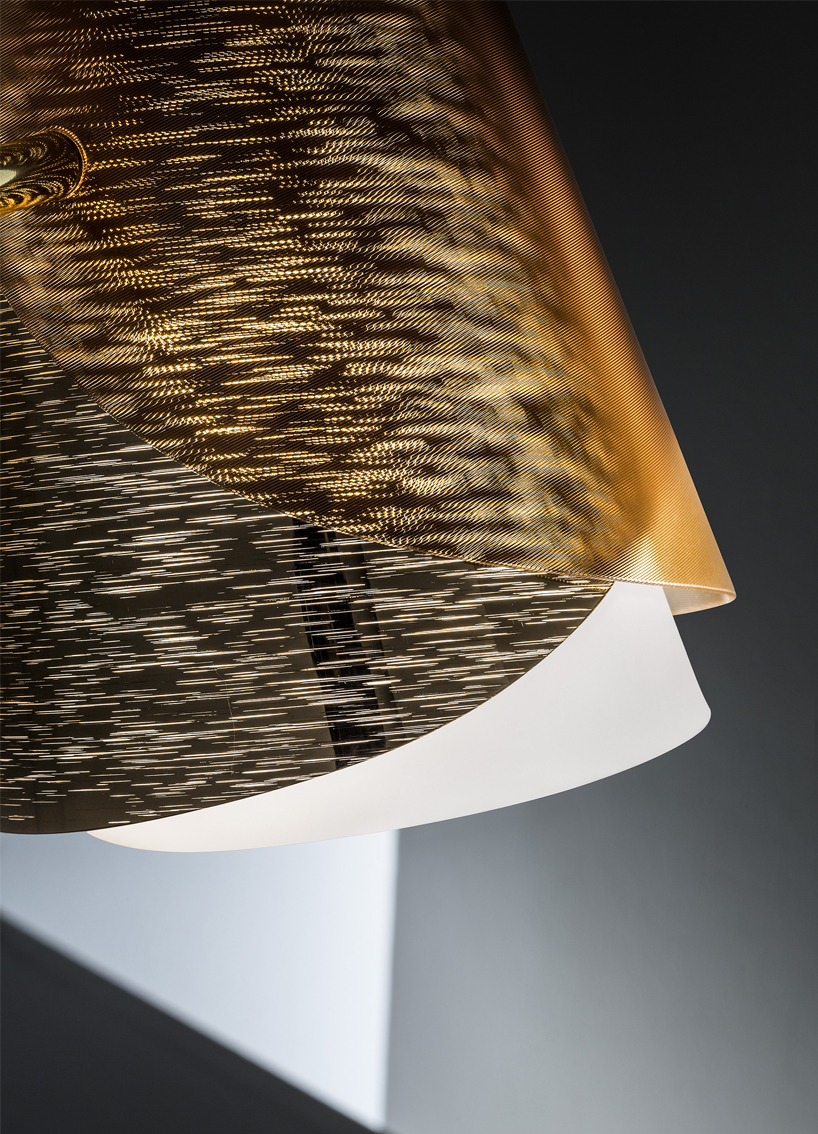 DB: what features make the product 'the perfect lamp for writing'?
CR: the interesting part of the project, and maybe the reason why we were so quick, was that we didn't start with a product brief. for montblanc, and I am sure for slamp too, we normally start with a proper product briefing which measures expected costs and key features, but we didn't speak about that at all. we spoke about the idea; that this lamp should provide inspiration like light provides inspiration to the one who writes. that was the only briefing we had, and with that liberty, slamp provided a lot of input which should have been ours, and we were providing input which should have been theirs. with that partnership, which was the first of its kind for montblanc, the project was so easy. it could have died at the very beginning, but in the end, it gave life to a wonderful creation. we just started working on a beautiful idea that was totally new land for the both of us. the idea was, and this was mantra of slamp, that the process to enable creativity with light, should not use technology to take away attention from that process. we wanted to create a lamp which follows the natural movement of a human making use of the light. it is the perfect lighting experience, but you never think about the technology that is inside. it is something hidden yet natural, but completely embedded with lots of high technology.
RZ: there is high technology in the material and the LED. there are two types of light; one in the base of the lamp that is always switched on so you immediately know where it is; the second is in the shade which switches on when you touch the writing instrument. it is a really thin LED that is seven hundred LUMINS, which is a lot for a desk lamp. the idea was to create a color temperature perfect for writing, so we tested many different options with many different people. we didn't want it to speak of high technology, instead we wanted to convey a very human sense. this is because design is something that must have good shape, but it needs to have a human element and understanding. the reason why we created this type of light was because we wanted to create the perfect instrument for writing. the combination between montlblanc and slamp created this new item, which we truly believe people will want. for us, when you design something that people ask for, it is a great success.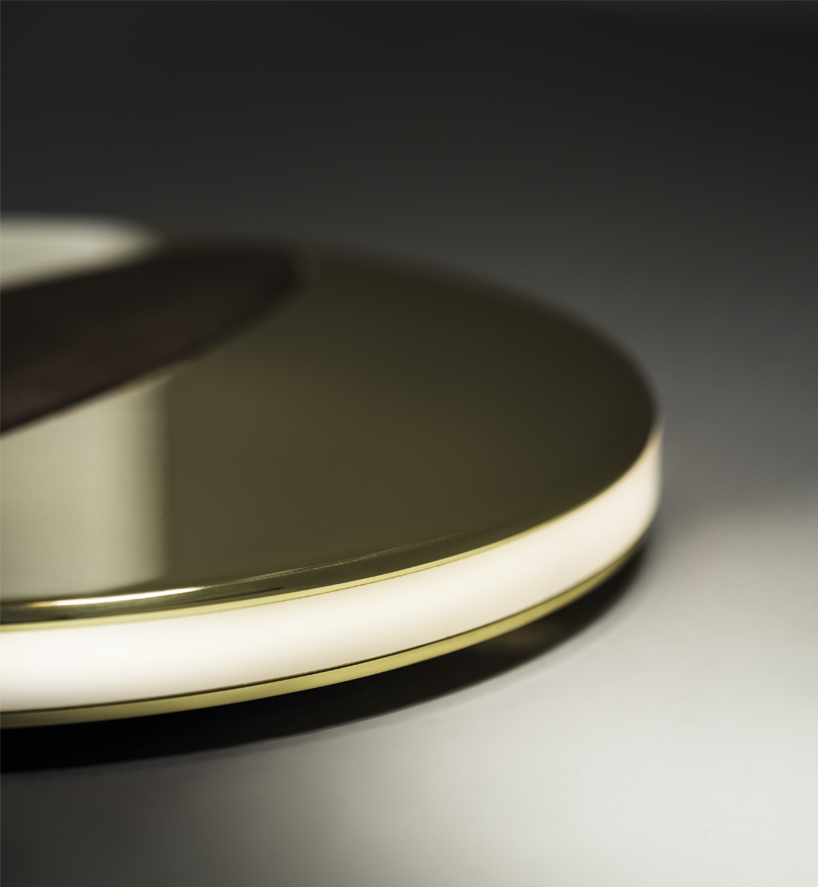 DB: was the technology developed specifically for this lamp or was it enhanced from previous projects?
RZ: it was specially developed for this lamp. our engineers decided the quantity of LUMIN and the type of LED, which is completely new. this is why we need one more month until we start production because it is a new LED from japan and is the top technology in the field right now. technology is very important, but the feeling needs to be different. the lamp does create a good feeling around the user, it allows them to write better, but the technology is invisible. the user notices the perfect movement, the good shape, and the good materials instead.
DB: it is a very exciting time for montblanc with the 'augmented paper' and smartwatch, will the maison continue to advance in the technology field?
CR: this was actually how the company was born 111 years ago. we always try and be on the edge of innovation, and pioneering spirit is the word which our founding fathers wrote in their books and we have always followed this. we need to be the first in discovering new technologies, new products, new fields of business, and also new territories. it is an unnatural movement where we always think and challenge ourselves to push boundaries. obviously, the privilege of designing in luxury is that you can surprise your consumers, so we don't ask people on streets what they want and then produce it. we aren't like that, we create something that will create excitement. sometimes it works and sometimes it doesn't work – mostly it does though. we are lucky about that, but it is a matter of effort as well. in this collaboration, it was different because no one asked us to do it and not one of us had done it before. it was created out of an idea and what I felt, and I do not get to say it often enough, when we met and the project was realized, it was like the maison had achieved a long time dream of ours, but hadn't truly discovered it until we met the creativity of slamp. we want to create the perfect writing experience and have strived to do so for 111 years. we create our own ink, paper, pen, etc, but we never thought about the light which enables everything. there is no life, no inspiration, no creativity, no writing without it, so we revisited that dream thanks to slamp. we presented it at salone del mobile and we received a lot of feedback from our existing clients where, so far, no one has asked us why we wanted to do it. instead, they have only asked when they could see it and have it, that was an amazing reaction to have.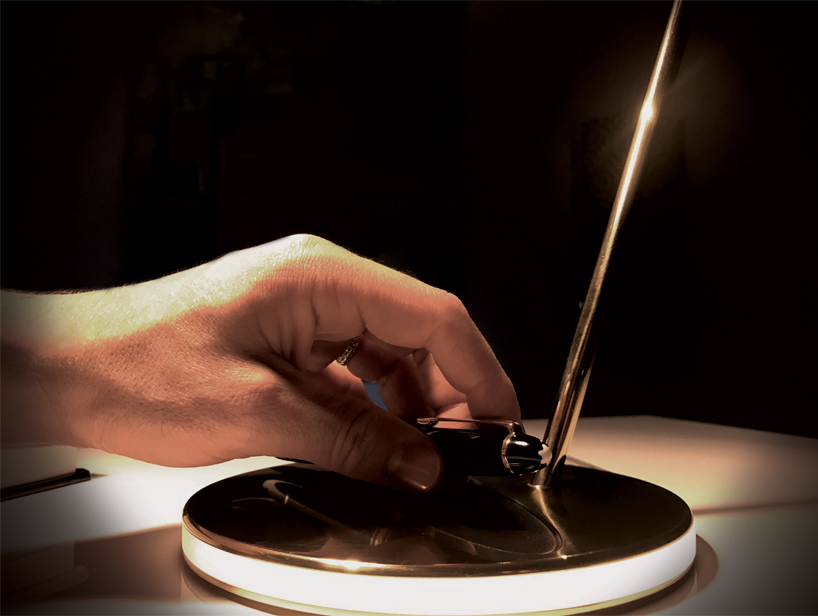 CR continued… slamp is approaching design and objects in a very different way, in comparison to other designers and companies. beauty is very important, but they think of a very philosophical process when developing a new project, where they understand the needs and values of the two brands. it could have been so complicated, but in the end, it was very simple.
RZ: it is always a matter of respect. I respect montblanc's values and I try to create something that not only tributes them but also amplifies their values. in the same way as montblanc, the maison helped us create with really unbelievable freedom. it is not so simple creating the perfect lamp, because normally you have a lot of issues when it comes to deciding opinion options, which also wastes a lot of time and normally means you don't have the right object anyway.
KEEP UP WITH OUR DAILY AND WEEKLY NEWSLETTERS
a diverse digital database that acts as a valuable guide in gaining insight and information about a product directly from the manufacturer, and serves as a rich reference point in developing a project or scheme.
designboom will always be there for you
milan, new york, beijing, tokyo

,
since 1999