oct 26, 2016
SPACE10 plants spherical, inhabitable 'growroom' in copenhagen
SPACE10, a future-living lab and exhibition space, has collaborated with architects mads-ulrik husum and sine lindholm on 'the growroom'. the urban farm and multi-sensory pavilion aims to generate a discourse about how we can bring nature back into our cities. exhibited at chart art fair in copenhagen, the architectural installation investigates the ways in which urban areas can feed themselves through food-producing structures, in turn tackling the ever-increasing demand for food.

image by rasmus hjortshøj (also main image)
lined with herbs, vegetables, and edible plants for visitors to smell, taste and enjoy, 'the growroom' is an artistic exploration of the potential of urban farming. SPACE10, together with architects mads-ulrik husum and sine lindholm, imagines a future where our cities become self-sustaining, supplying urban inhabitants with fresh, high quality food throughout the year. 'we envision a future where we grow much more food inside our cities,' says carla cammilla hjort, director of SPACE10. 'food producing architecture could enable us to do so.'

image by rasmus hjortshøj
at chart art fair, visitors were invited to step inside 'the growroom', experience the multitude of herbs and plants, and envision a future where food is produced in a sustainable manner. the spherical shape of the pavilion is divided into slices, which support the life and growth of plants by giving them access to sunlight. the installation in turn functions as both a growth-activator, and a shelter for visitors. 'we're inviting you to step inside the growing green haven, smell and taste the abundance of herbs and plants, and hopefully it will spark passion about growing your own food in the future,' hjort continues.

image by alona vibe

image by alona vibe

image by alona vibe

image by alona vibe

image by alona vibe

image by rasmus hjortshøj

image by alona vibe

image by rasmus hjortshøj

image by rasmus hjortshøj

image by alona vibe
project info:
project partners: chart art fair
project leader: joakim rex, together with architects sine lindholm, mads-ulrik husum
interaction designer: thomas sandahl christensen
gardener: sebastian dragelykke
SPACE10: kaave pour and carla cammilla hjort
Save
Save
Save
Save
Save
oct 03, 2017
oct 03, 2017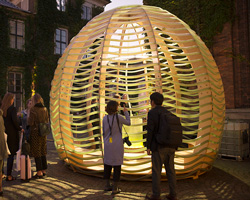 sep 05, 2017
sep 05, 2017
feb 21, 2017
feb 21, 2017
oct 23, 2017
oct 23, 2017
oct 20, 2017
oct 20, 2017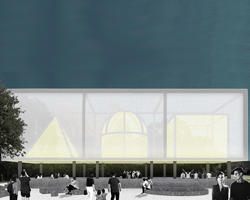 oct 20, 2017
oct 20, 2017
oct 31, 2017
oct 31, 2017
sep 08, 2017
sep 08, 2017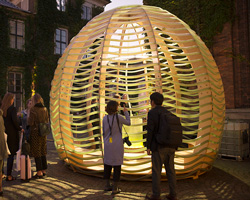 sep 05, 2017
sep 05, 2017