aug 18, 2012
spaceflavor architecture: small space living in a cube
'the cube' small space living by space flavor architecture image via
san francisco-based architecture, interior design and feng shui firm spaceflavor developed 'cube' – a compact mobile dwelling that cohesively combines the living and working requirements of its client, renowned feng shui practioner liu ming.
the two-storey design responds to ming's need to accommodate his growing feng shui classes within his 1,100 square foot living space, an oakland loft. the reconfigured apartment is based on feng shui principles of yin (private and closed) and yang (public and open) and ming's preference for zen-modernism, where, condensed into a succinct eight-foot cube is his habitual personal and work activities of study, sleep, and meditation. the loft can be easily re-arranged to suit his teaching obligations, while maintaining his own privacy requirements and also allowing him to orient the 'cube' towards propitious directions according to the chinese lunar calendar with high-capacity casters.
to move the structure elsewhere and reduce on-site fabrication, plywood components and a steel frame was pre-built to fit through a regular 3-foot wide door, then constructed on-site within 48 hours. rudimentary connections and parts permits ming to disassemble and reassemble the mini residence with common household tools.
to resemble chinese ink landscape paintings and complement the tatami mats, ash plywood panels were specifically chosen for their unique grain patterns. semi-transparent roller shades, a shoji screen and frosted acrylic walls encourage daylight to seep through, while still addressing and respecting the needs for solitude. openings to the study and the bed are placed at opposite corners to foster a sense of movement, imitating the natural flow of active yang and passive yin elements. separated from the happenings below, the meditation/tea ceremony loft is accessed by the concealed stair, and at night – like a lantern – the space glows, casting playful shadows on the luminescent screens for a whimsical finale to each day, through the story of architecture.
'the cube' in its closed configuration image via
user context conducting ceremonial practices on roof image via
demonstrating portability by moving the 'cube' on casters image via
side view detail of the interior image via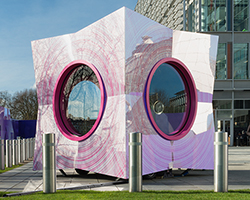 mar 05, 2017
mar 05, 2017
feb 27, 2017
feb 27, 2017
feb 24, 2017
feb 24, 2017