jun 20, 2011
stanislaw ploski: bonobo bent plywood bike
'bonobo' by stanisław płoski images courtesy of stanisław płoski
warsaw-based designer stanisław płoski has created 'bonobo', a bent plywood bicycle intended for urban cyclists. recently presented at DMY berlin 2011 as part of the 'perspective' exhibition, the bike features a strong and lightweight frame made solely from manipulated composite wood. balancing technology with a natural artisan quality, the design capitalizes on the inherent material properties, ensuring a smooth and comfortable ride.
side
contoured lines and contrasting colors provide the piece with a strong graphic aesthetic that seeks to reinterpret the classic archetypal model of a bike.
handlebar details
functional components selected for their simplicity require little attention from the user. a single gear drivetrain and
reliable hydraulic disc brakes are low-maintenance and can be swapped out with an internal gear hub or a belt drivetrain
depending on the needs of the rider.
wheel details
chain and pedals
bending the frame
construction of the frame
sanding
molds
frame and components
prototypes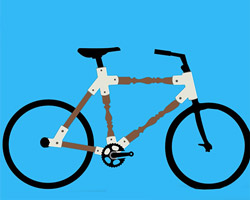 sep 22, 2017
sep 22, 2017
sep 20, 2017
sep 20, 2017
sep 14, 2017
sep 14, 2017
jul 10, 2011
jul 10, 2011
jun 26, 2011
jun 26, 2011
jun 26, 2011
jun 26, 2011