designboom met architect stefano boeri — who was recently elected president of la triennale di milano — to investigate how he and his team of curators intend to bring the institution back to its traditional, celebrated roots. the short answer is: through inspiring exhibitions, provocative conversation, and coordinated programming. what this entails is discussed below in an interview that explores the institution's new logo, the building itself and the upcoming 'broken nature' show curated by paola antonelli.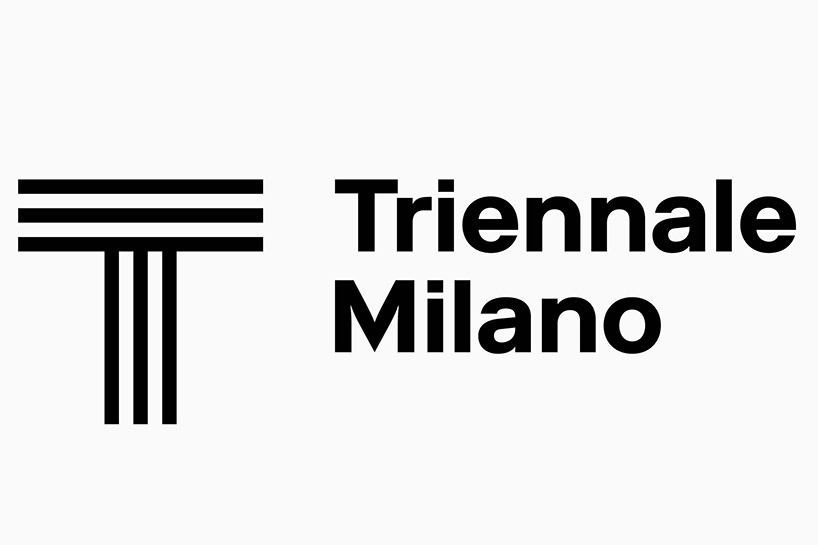 on february 15, 2019, the triennale revealed a new visual identity by NORM studio, and new website by accurat
designboom (DB): you have very ambitious plans for the triennale…
stefano boeri (SB): basically, we could start with the new logo. we have a series of concerns about the difficulty of putting together the three main souls (institution — building — triennial international exhibition) of this institution because it is at the same time a public institution dealing with performative arts, design, architecture, graphic design…producing, day by day, a program of public events.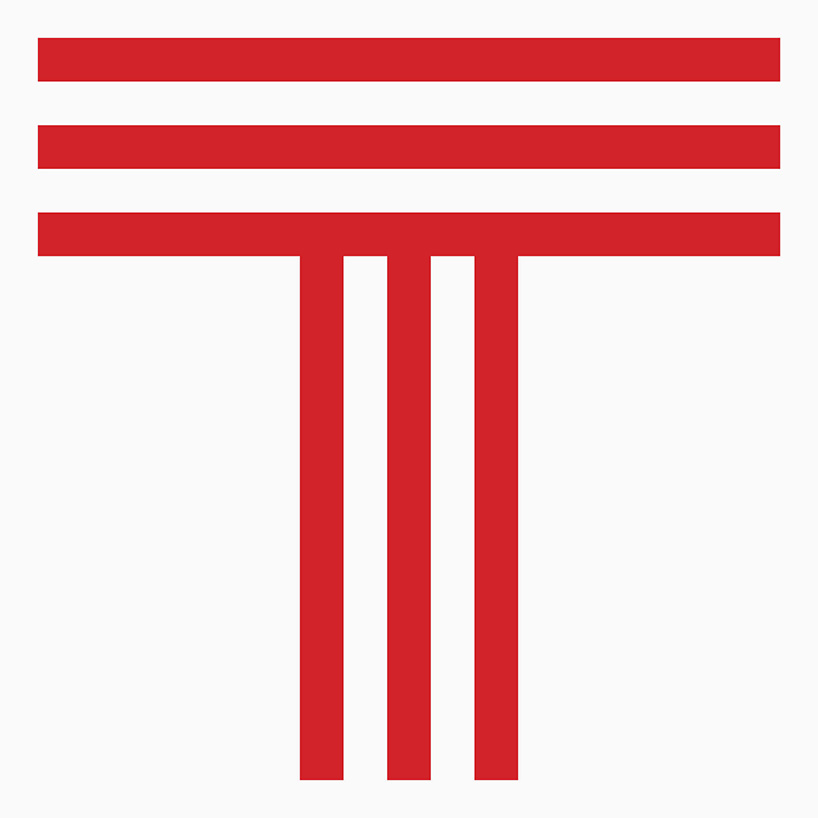 in the design of the new identity, the team wanted to pay homage to the history of graphic design and visual communication of the institution — from the historical international exhibitions, to the logos of italo lupi and pierluigi cerri, which have shaped the public identity of the triennale
SB (continued): then the triennale is a building with an important and amazing structure, built in 1933. it's still extremely contemporary! after 10 years of previously hosting the biennial and decorative arts event in monza, it bears witness to a period of architecture with a kind of monumental projection and the idea of empires. at the same time, it was perceived from the beginning as a multifaceted building — with a theater, a space for performative arts, exhibitions, visual arts, a garden, and a post office. it's a small city for arts in one edifice, and it has conserved its flexibility. this building in itself is a school of architecture. in the coming months, in order to bring the institution back to this era not only in spirit but in physical form, the palazzo dell'arte will be restored to the original rationalist architecture envisioned by giovanni muzio. our soul is embodied in the building. I think that going back to the original project is what we have to do.


the previous logo of la triennale di milano was designed by italo lupi
SB (continued): la triennale di milano was intended to be the apex where art, industry, and politics converged. some of the greatest minds of the time — including gio ponti and mario sironi — have been part of the institution. my aim is to bring la triennale back to this important center point and change the definition of what it is to be a cultural center; instead of a staid institution that has no connection to modern society. I believe we are at a time in society where open and honest communication is not only necessary, but revolutionary. when governments and political systems are no longer a reference point for progress, we look to other places, such as creative institutions, to facilitate that dialogue. my vision is to bring la triennale back to its traditional roots as the type of place where different points of view are considered, and controversial topics are discussed.
DB: is your vision to also broaden the reach of the triennale to an international audience, within the context of the pompidou or the barbican, for example?
SB: yes, we are establishing relationships with international institutions, such as haus der kulturen der welt, MoMA, serpentine, TATE…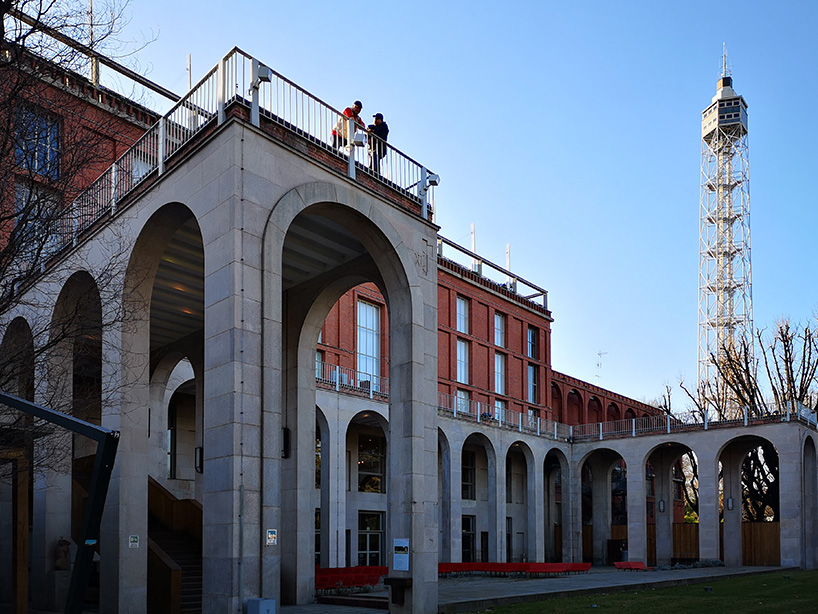 image © designboom
DB: would an exhibition here travel to those institutions?
SB: that is one idea, but we would also like to do things in collaboration, like a co-curated program with important international museums and academic institutions such as MIT, tonji university, harvard…
DB: what about national/local partners? are you collaborating with some universities?
SB: we are collaborating with the politenico di milano for the upcoming architectural week, and for salone del mobile we started a collaboration with bocconi university. we are also involving the city's penal institution, 'san vittore carcere': we invited them here and we went there and are planning to establish a group of architects and designers to design all the spaces of the jail, together with the inmates. then we have a special connection with the teatro alla scala and the piccolo teatro, to produce outdoor plays in the park. we also want to work on the relationship between milan and rome, which is a very delicate issue…(laughs)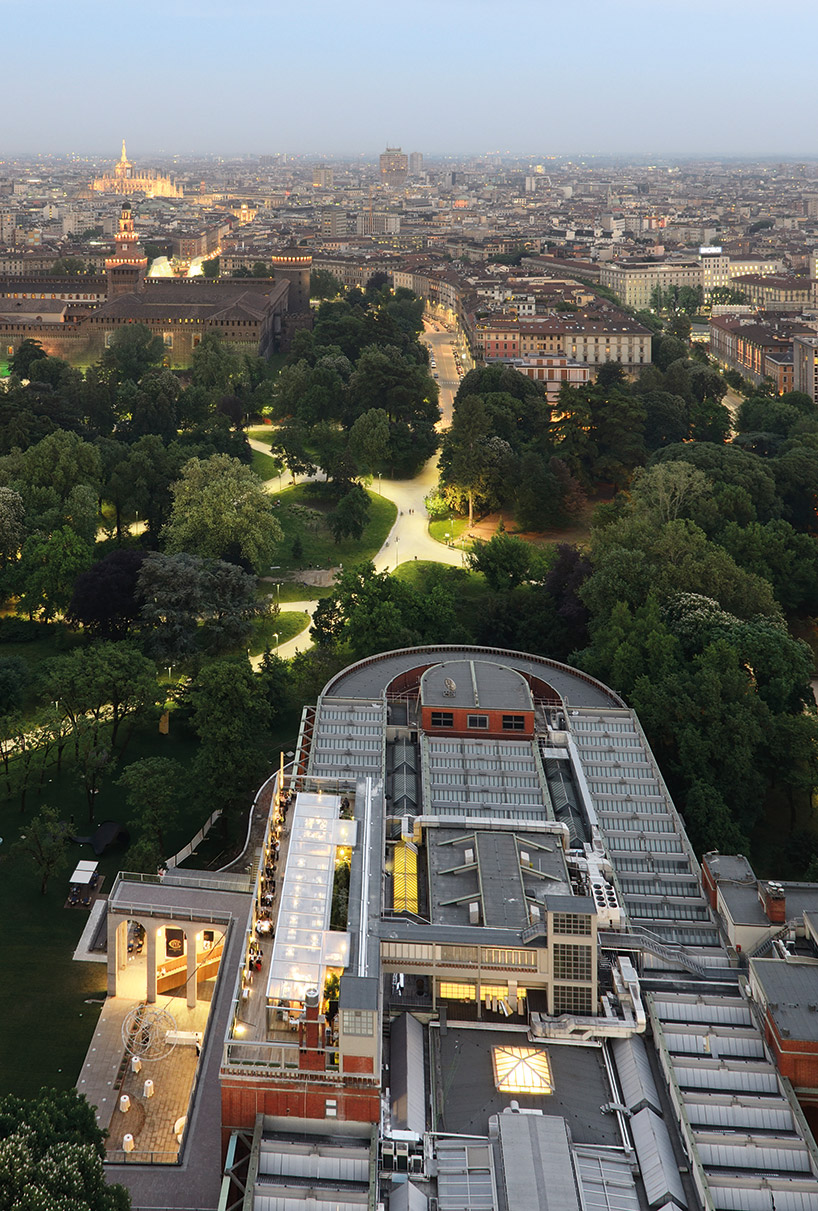 DB: your archive is a significant research base…
SB: yes — another important asset is the archive. it's amazing, containing several hundred pieces of design history, lots of letters, images, documentaries, and films. we seriously want to work on that. it's expensive to create an accessible archive, but it is of interest, simply because the history of the triennale is the history of one century. a century in dialogues, conflicts…it's documented here. gio ponti, in 1933, during the fascist period, was the one who invited le corbusier, and russian architects to come here, and until just after WWII, we had an amazing crowd full of creativity. the project with joseph grima is to bring together all the bits and bobs of our design archives and make them visible to the public. I think he will use a lot of text and pictures in order to create a dialogue between objects and materials, to illustrate the project and the resulting final product.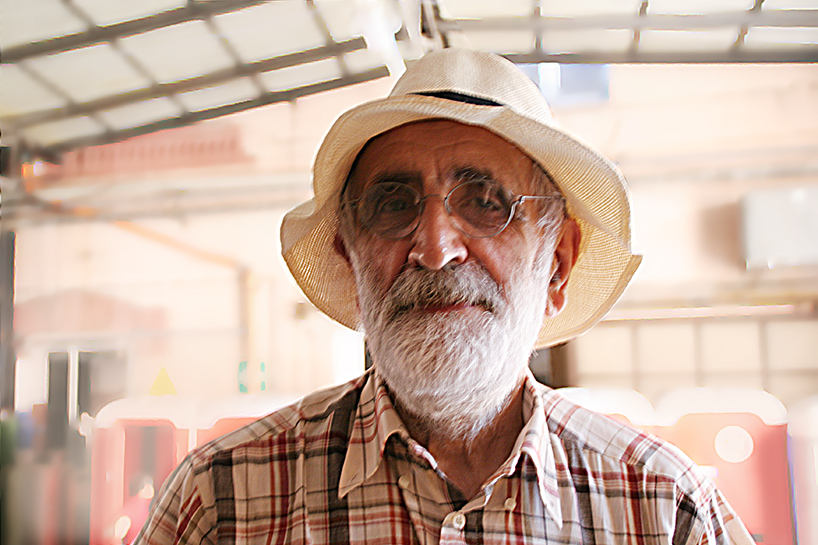 portrait of enzo mari — the triennale will host an exhibition of mari's work next year, curated by hans ulrich obrist
image © designboom
DB: it seems as if the triennale is also moving more towards art…
SB: yes, I think the point is exactly what to do with 'ART'. it's not so easy. we're moving towards this discipline because it's impossible not to touch it in a certain way. for instance, the fact that I asked hans ulrich obrist to curate the upcoming enzo mari exhibition is already a relevant step in that direction. it's not simply an exhibition curated by obrist, but also a dialogue. hans will gather a group of artists that will interpret enzo mari's career. it's an experiment — one of the formulas I would like to explore in the future. mari is a 'maestro' for all of us, probably the last one. I think it could be interesting, because it's also a way to use the perspective of visual and contemporary art in order to decipher the complexity of a profile like enzo mari's — who was an artist, a designer, a craftsman. who better than him could be the contemporary leonardo da vinci? (editors note: who died 500 years ago and 2019 is the year of leonardo da vinci.)
SB (continues): we are also interested in having performative arts. we are working on a program for september, october, and november with umberto angelini, the artistic curator of the theater, to turn the entire building into a theater. we are planning to have a space for visual arts, like a gallery — but that project I can't comment on much at the moment. I forgot to mention — we also want to have a radio channel. the themes will be our main subjects: architecture, design, etc. it will have the nature of a cultural radio.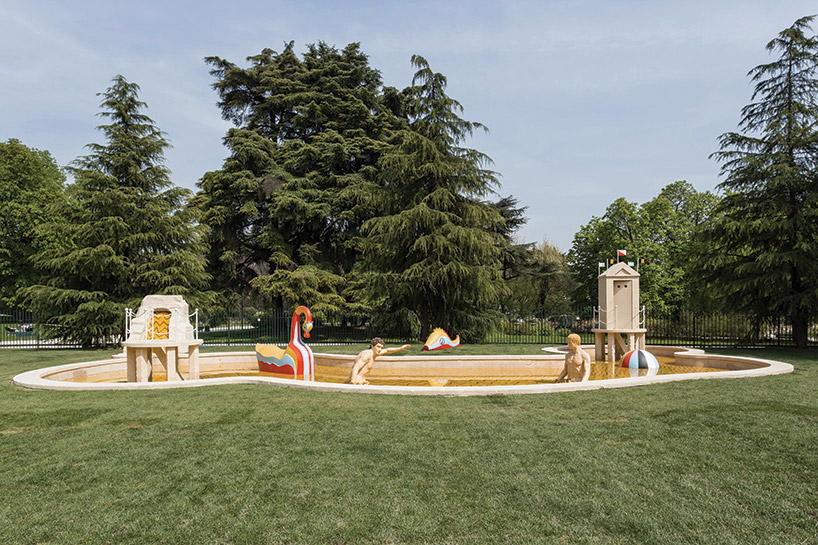 the 'mysterious baths fountain' was a project for milan's XV triennale in 1973 and is considered to be giorgio de chirico's greatest sculpture | image by gianluca di ioia
DB: can you share details about upcoming exhibition activities?
SB: the next year will be about enzo mari, then we'll have a bjarke ingels retrospective and a show with pedro reyes — the perfect example of a person who works between art, design and architecture.
DB: the triennial exhibitions are another part of the soul of the triennale. in a few days 'broken nature' will open…
SB: yes, the next international exhibition 'XXII triennale di milano' will open on march 1st. 'broken nature', curated by paola antonelli (senior curator of architecture and design at the museum of modern art) is an in-depth exploration of the strands that connect humans to the natural environment and that have been intensely compromised, if not entirely severed over the years. by casting a wide net on architecture and design projects, the exhibition will underline the concept of restorative design, and highlight objects and concepts at all scales that reconsider humankind's relationship with their environment, which includes both natural and social ecosystems.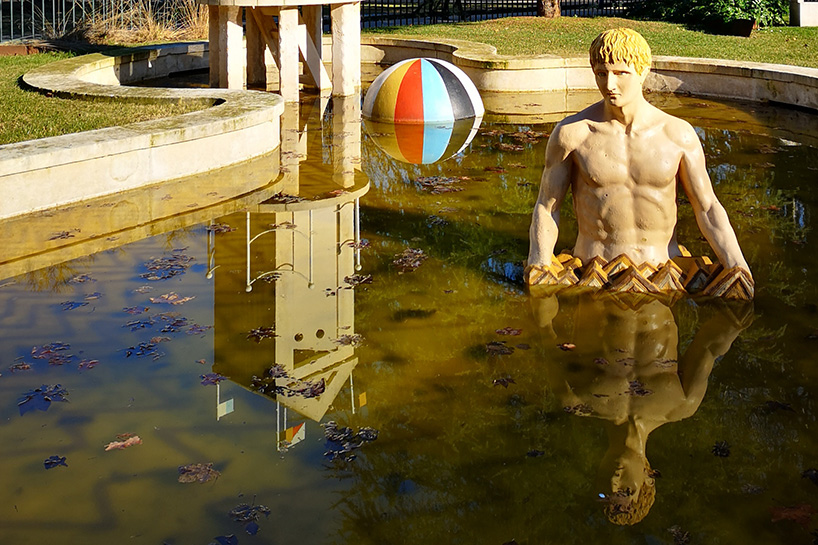 detail of the 'mysterious baths fountain' by giorgio de chirico
image © designboom
DB: what will happen to the permanent collection of italian design?
SB: another part of this larger vision for la triennale is to engage and enliven the institution's permanent collection of italian design. curator, designer and current creative director of design academy eindhoven, joseph grima has been selected to lead this effort as curator for design, fashion and craft. la triennale's permanent collection boasts more than 1,600 of the most iconic objects of italian design in the entire world. collectively they create a narrative about italian design — past, present and future. the depth of the collection also shows the economic, social, political, and technological changes in italy over the last two centuries. an esteemed board, comprised of nine prominent figures in italian architecture and design — actually paola antonelli, andrea branzi, mario bellini, antonio citterio, michele de lucchi, piero lissoni, claudio luti, fabio novembre and patricia urquiola — has been formed to support the process of acquisition and the future development of the permanent collection.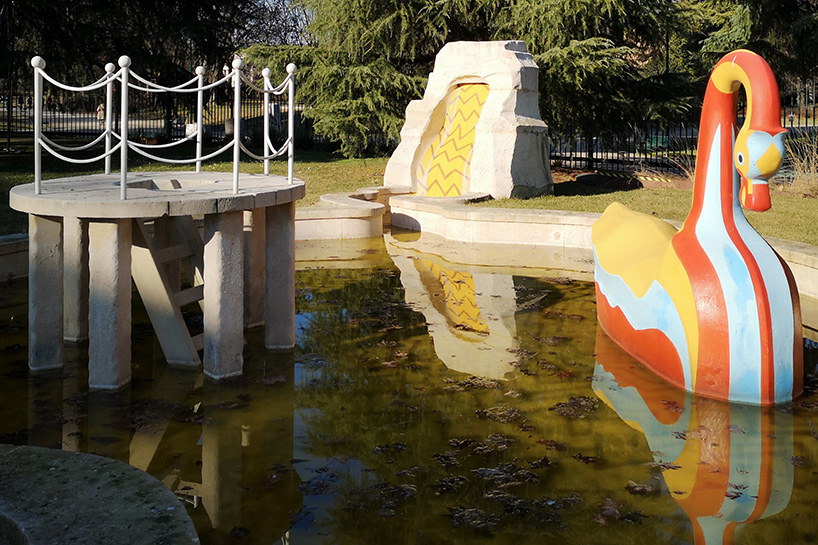 detail of the 'mysterious baths fountain' by giorgio de chirico
image © designboom
DB: you will propose architecture in many different ways?
SB: lorenza baroncelli, curator for architecture, urban regeneration, city, will focus on a series of exhibitions and explorations of topics that challenge contemporary cities such as migrations, urban growth, population development and informal settlements. under these themes, thought-provoking exhibitions will be presented throughout the year.
DB: and what is 'triennale off'?
SB: 'triennale off' is an urban regeneration project aimed at creating a meeting place for the city's residents. the green area in front of palazzo dell'arte, whose management has been granted by the city of milan to la triennale di milano, will be a part of an important urban regeneration project. the aim is to create a meeting place for citizens, a pathway through a green area for visitors to la triennale. the project calls for the installation of a series of services, equipment, and temporary pavilions, modelled after the serpentine galleries in london. in this area, artistic activities, events, performances, and a public programs will all take place. parco sempione will be the pulsating heart of the milanese summer.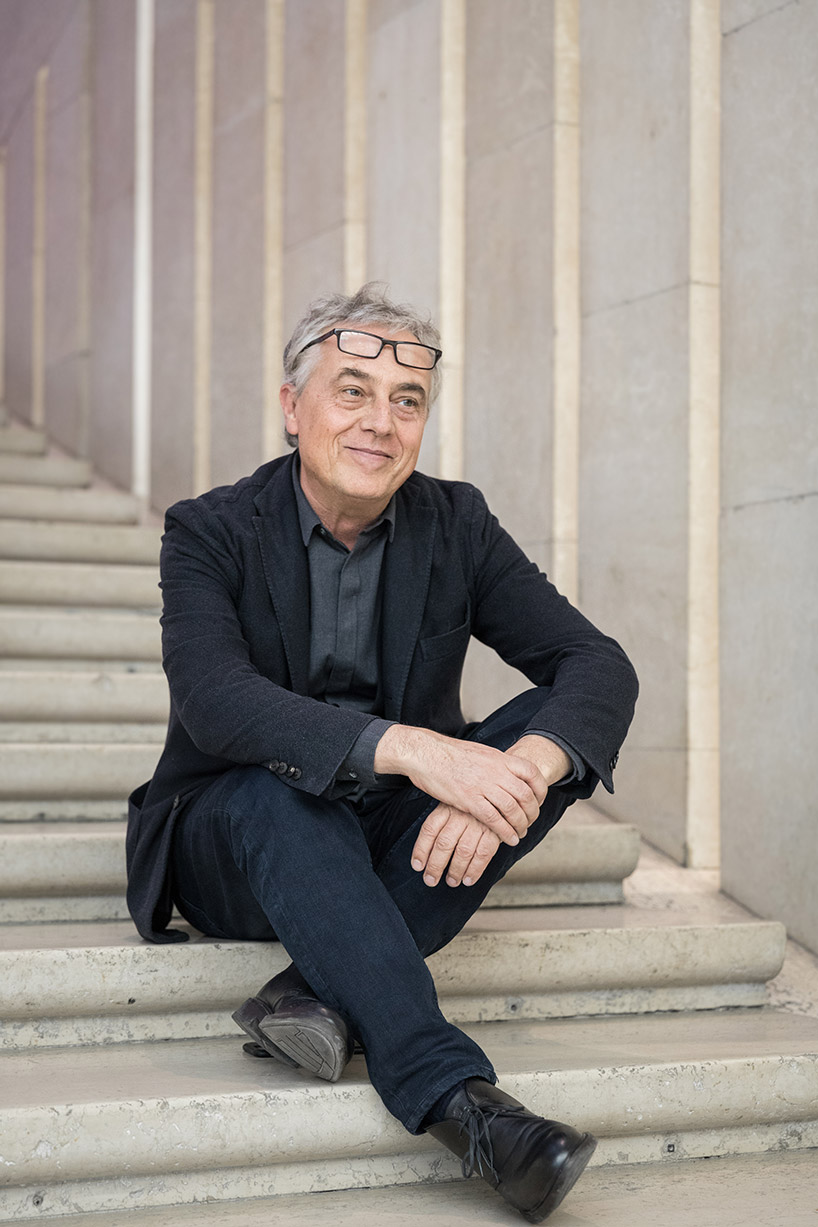 portrait of stefano boeri
juliana neira
I designboom
feb 18, 2019
KEEP UP WITH OUR DAILY AND WEEKLY NEWSLETTERS
a diverse digital database that acts as a valuable guide in gaining insight and information about a product directly from the manufacturer, and serves as a rich reference point in developing a project or scheme.
designboom will always be there for you
milan, new york, beijing, tokyo

,
since 1999