interview with product designer stefano giovannoni
stefano giovannoni has collaborated with a slew of international companies, building up a vast portfolio that encompasses a diverse range of objects — from consumer electronics, to kitchen appliances, cars to sanitary ware. he has worked extensively with alessi — having conceived more than 300 steel and plastic designs for the brand — and is behind some of its most popular and bestselling items, including the 'girotondo family' and 'mami' series. he is also the man behind the 'bombo' stool for magis which is the most copied product worldwide. these commercial successes have garnered him titles such as 'king mida of design' by cristina morozzi, and 'the most bankable designer' by eugenio perazza, CEO of magis. designboom interviews stefano giovannoni about his thoughts on what the role of the designer is in today's society, his considerable work in china and what has influenced his approach and practice over the years.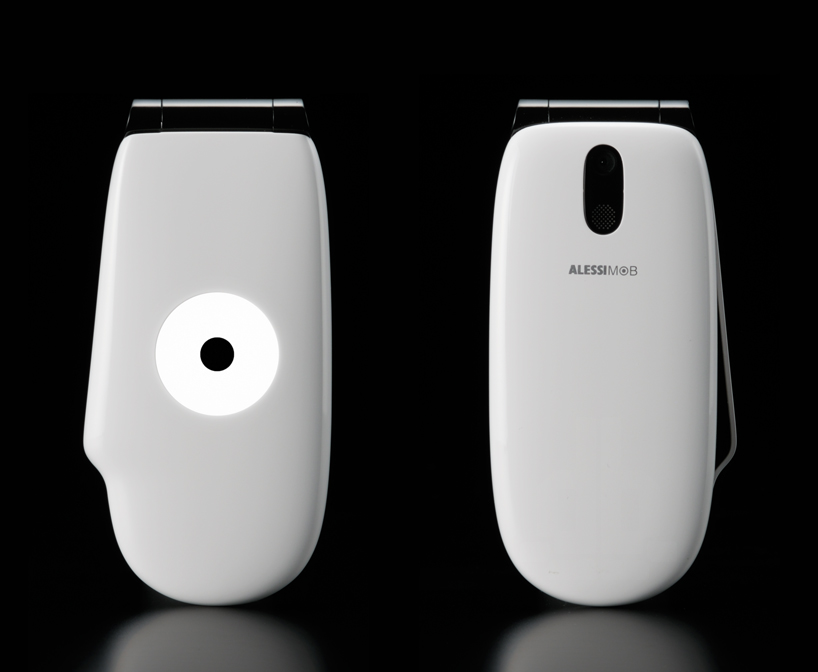 alessi, cellulare alessi, 2010
see more about this project on designboom here
designboom (DB): what originally drove you to study industrial design?
stefano giovannoni (SG): like many designers of my generation, I am an architect. I studied architecture in florence in the seventies, but I decided to shift to design when I understood that architecture was too connected to politics.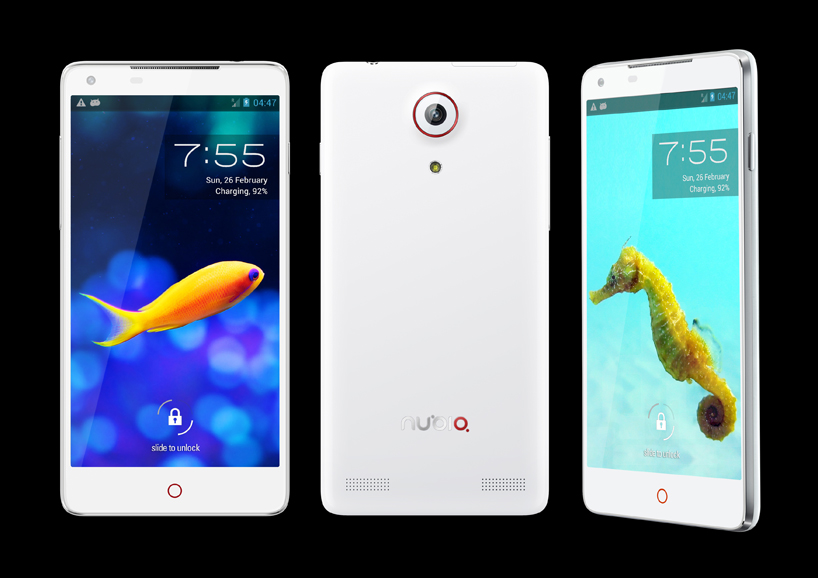 ZTE, smartphone
see more about this project on designboom here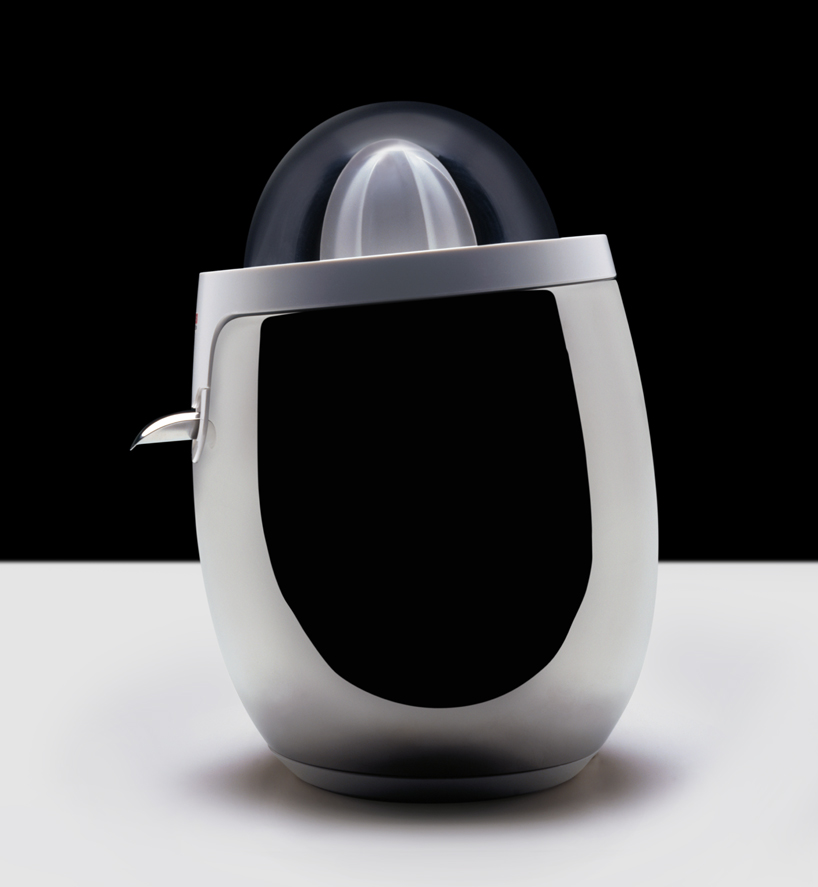 alessi, spremiagrumi, 2003
DB: what particular aspects of your background and upbringing have shaped your design principles and philosophies?
SG: architecture gave me a broad vision in which to approach the field. I could understand that design is not a matter of good or bad, but that it is deeply connected to the culture and economic development of our society.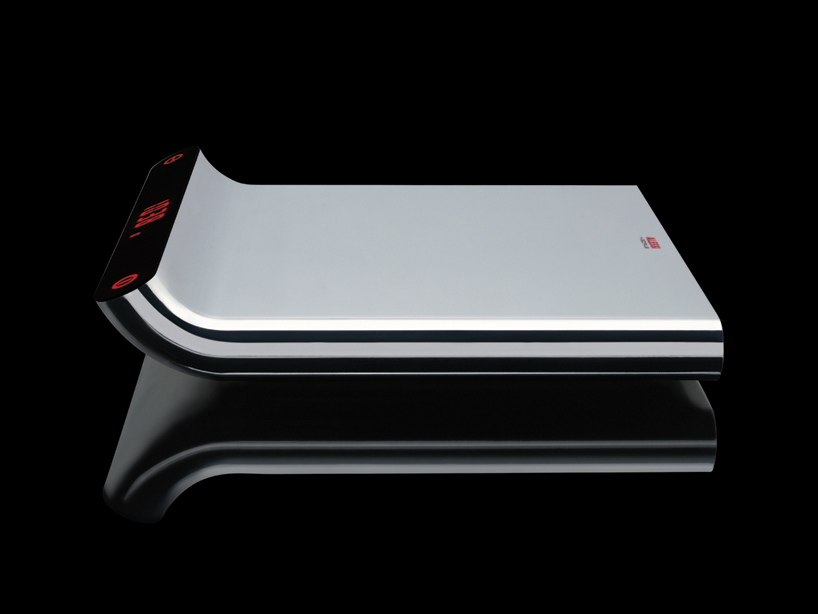 alessi, kitchen scale, 2003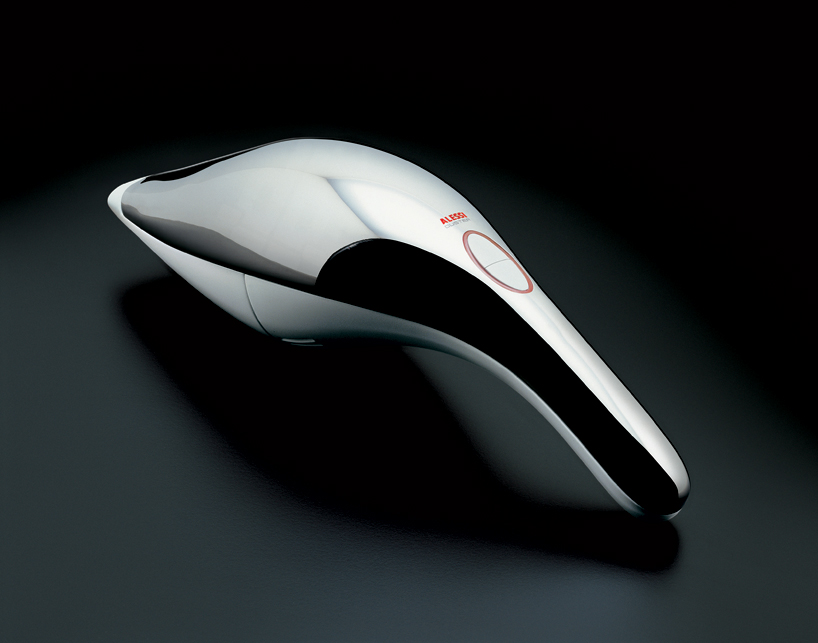 alessi, duster, 2003
DB: who or what has been the biggest influence on your work to date?
SG: on the one side when I studied in florence, my background was influenced by radical architects: sottsass, mendini, branzi, with whom I later had the chance to cooperate with when I moved to milan. on the other hand, when I was young, I read all jean baudrillard's books, and I was deeply influenced by his theories on consumerism and merchandise. my first plastic products for alessi were a direct response to baudrillard's theory about merchandise.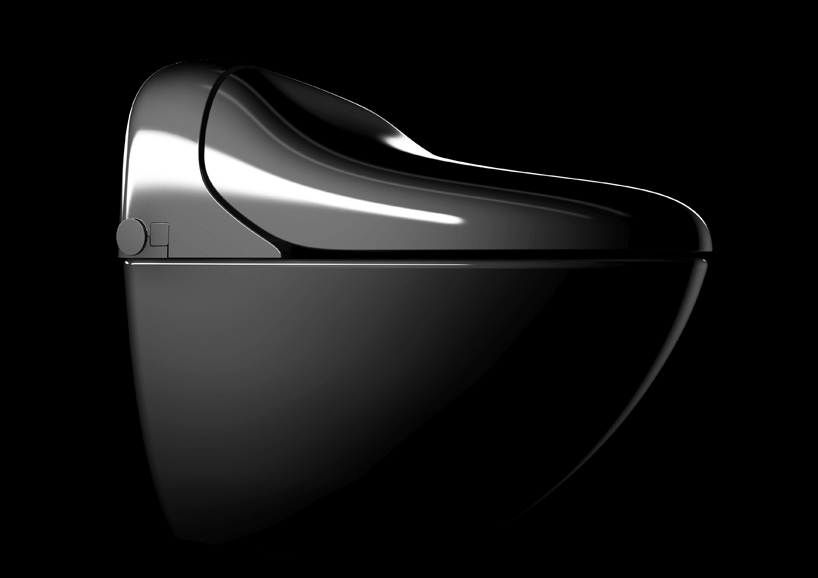 toto, washlet, 2009
see more about the project on designboom here
DB: how has your role as a product designer evolved over the last 10 years? and how much of this has been a result of technological advancements?
SG: during the last ten years, technology and globalization have completely changed completely approach. we have worked a lot with asian brands, first in japan (2004-2008), with companies such as NTT docomo, KDDI, NEC, toto, seiko, pulsar, kokuyo, mikakuto; afterwards in korea (2008-2012), with companies such as samsung, LG houses, amore pacific, SPC; nowadays in china (2012-2014) with companies producing electronics such as ZTE, nubia, reed and electric mobility.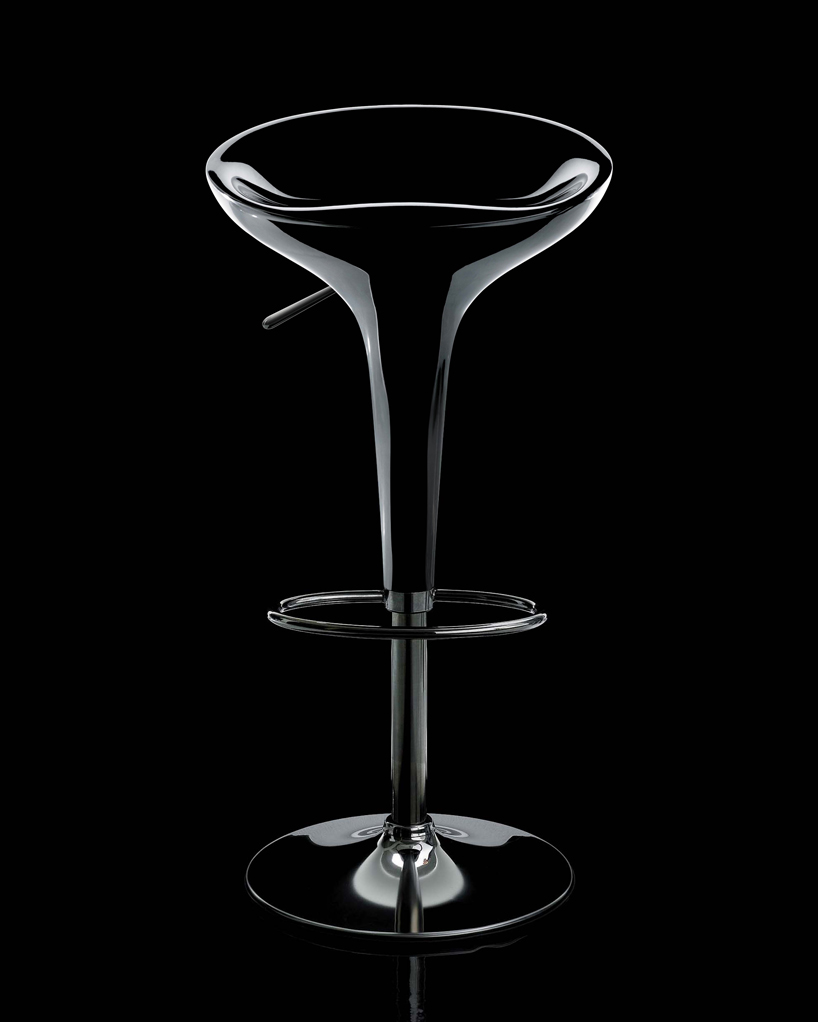 magis, bombo stool, 1993
DB: overall, what would you say is your practice's strongest asset and how have you developed that skill over time?
SG: when I started out in the field, I thought that in the context of industrial design, the quality of the product was directly proportional to the success of it on the market. this point gave me a little bit of a cynical but clear approach, considering the creation of a bestseller was my goal. this practice became a strong feeling in understanding the market, and succeeding in creating a lot of projects which gained record sales in several product categories.
'girotondo family' (for alessi) is heading towards 10 million products sold, gaining the absolute highest record of sales across the italian design scene; 'mami family' for alessi, as well as 'bombo stool' for magis or 'il bagno alessi' for LAUFEN have became icons, also achieving records of high sales for a long time. for this reason, I was defined as 'the champion of super and popular' by alberto alessi; 'the most bankable designer' by eugenio perazza, CEO of magis; and 'king mida of design' by cristina morozzi.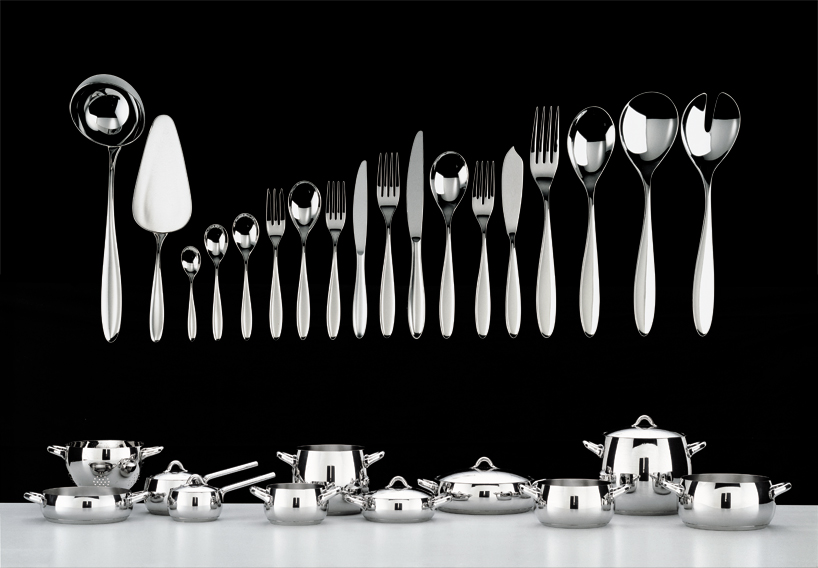 alessi, mami, 1993
DB: in your opinion, what is the role of a designer?

SG: the designer has to create products according to people's desire and imagination. the object has to be an expression of our society in its contemporary historical period and of its cultural and economic development.
in a sophisticated society we need objects which move further and further far away from basic functional needs, objects which correspond to our identity. the objects we own have to communicate messages about who we are.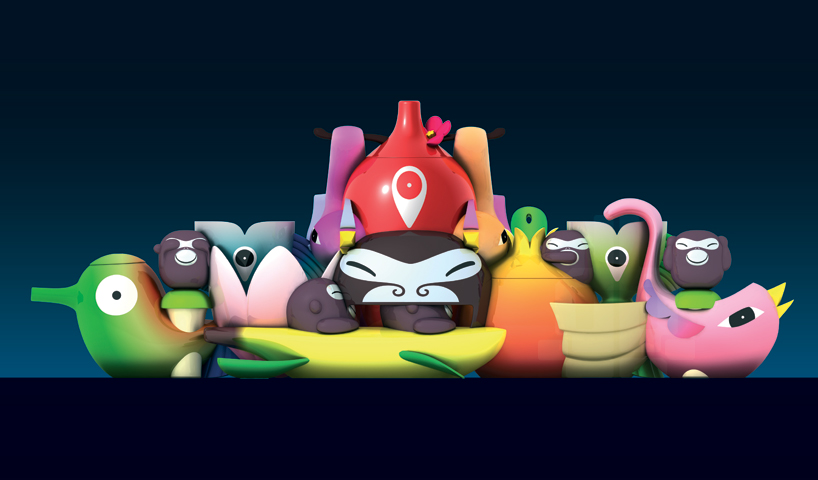 alessi, orientales, 2009
see more about this project on designboom here
DB: as an international studio, how do you approach addressing the cultural diversities of each project?
SG; as a professional and international design studio, it is very important to us to understand the companies we are working with. we have to understand what their target is, the technology they are able to adopt, the capability of their investment, the potential of their own distribution channel, their vision and mission. we are a very eclectic studio. at the beginning I refused to work on furniture because I was interested in the industrial design process — where the idea fits with technology and innovation; in order to understand the image of the product and its appeal on one side and the investments on the other side and their connection to sales and market.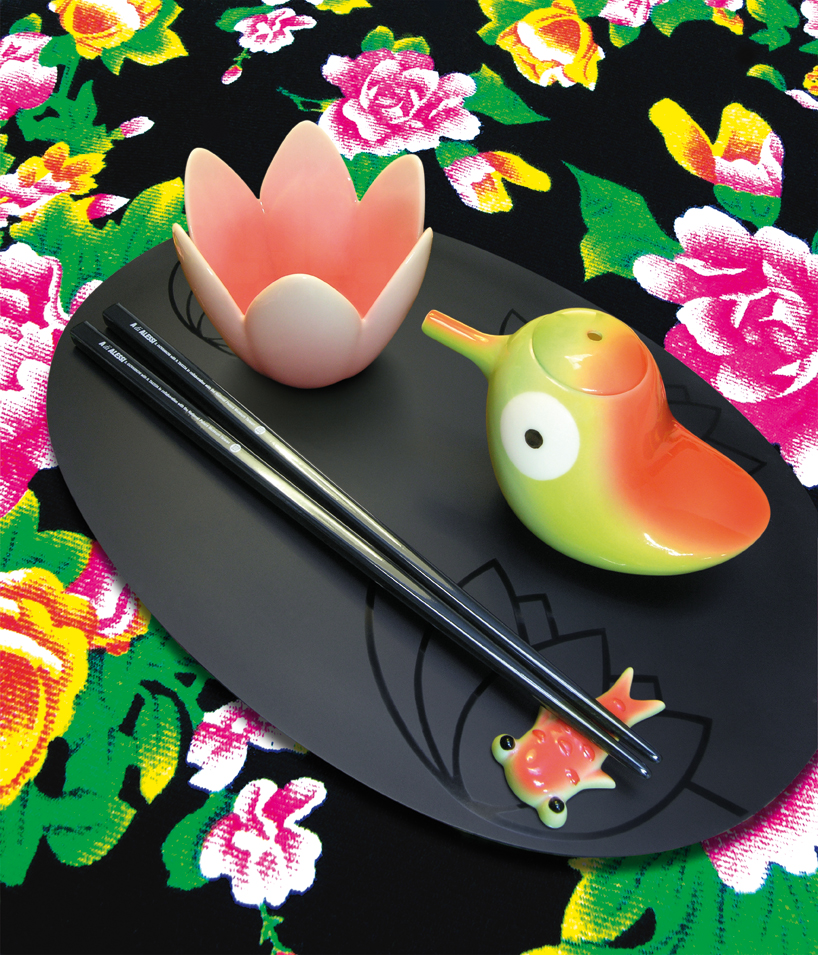 alessi, orientales, 2009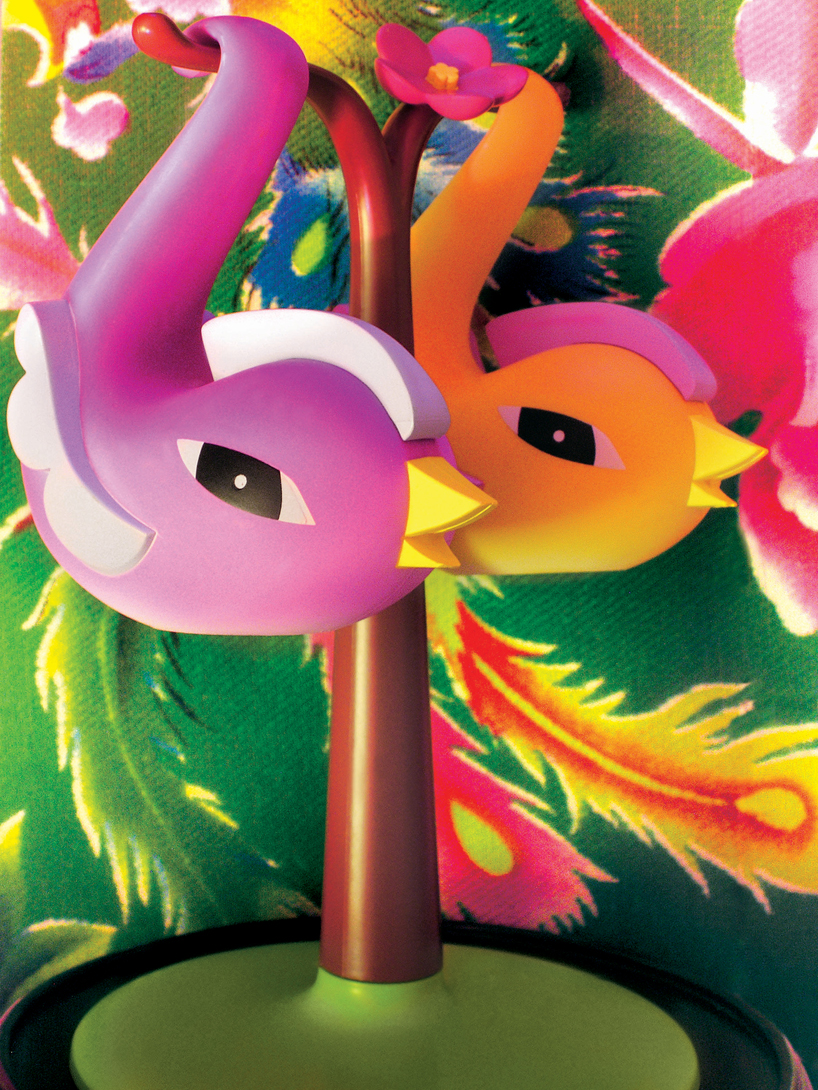 alessi, orientales, 2009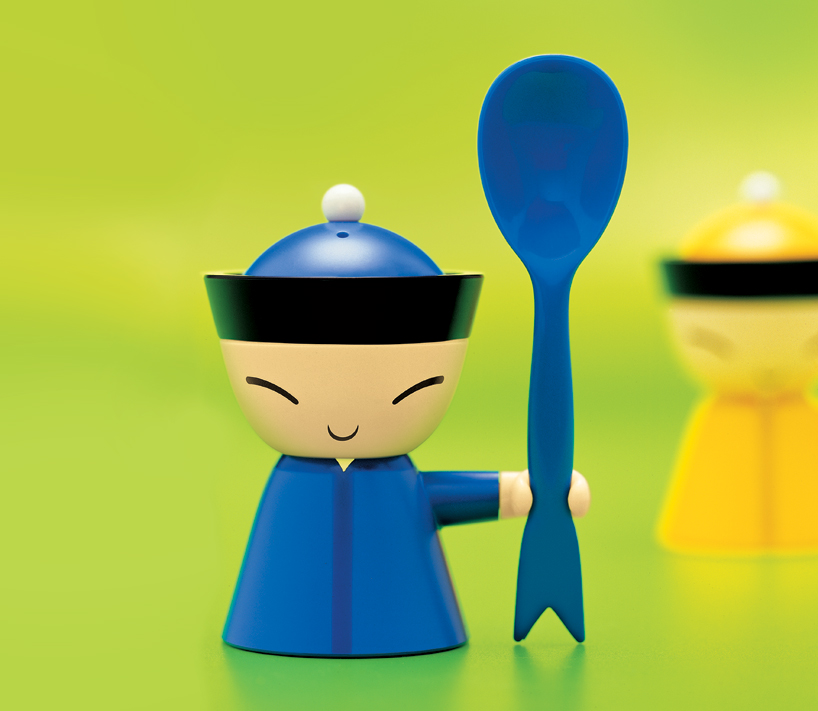 alessi, mr. chin
DB: in the last few years, you've been working quite extensively in china. what is it about the country (and greater asia) that has intrigued and driven you to establish your creative presence there?
SG: in europe, we have the best know-how, the most sophisticated companies, but the market is saturated with products. today designers and companies are producing objects which nobody wants and nobody needs. the design context is not producing wealth anymore, we are at the end of a period. designers and companies have to rethink their job in a completely different way. the old model of distribution channels is fading and it is coming to an end. internet and mass distribution channels are the future.
china today is 'the factory' — there are so many manufacturers there producing all kinds of goods. at this moment there is a high demand for professional designers who are able to upgrade the level of these companies from their role as suppliers, to taking on the position of a brand. the chinese government in this moment is promoting design as no other country has done before. we are establishing our branch studio in shenzhen, addressing our activity to art direction for chinese companies, start-up creation, joint ventures between italian and chinese companies, especially in electronics and electric mobility.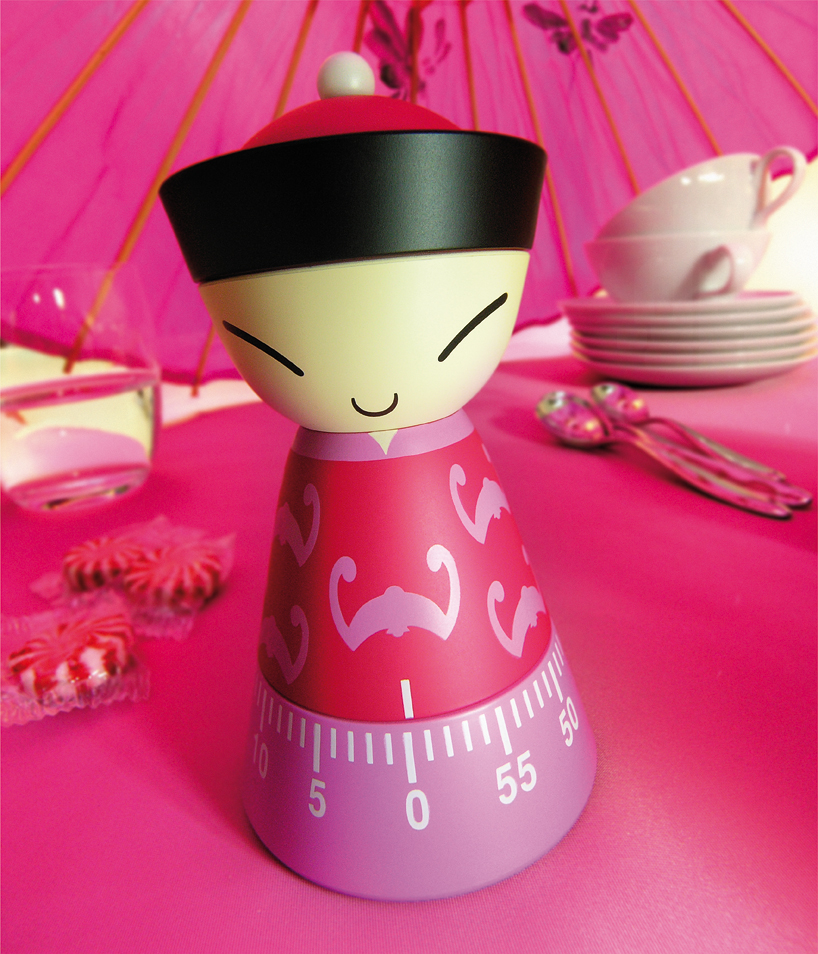 alessi, mrs. chin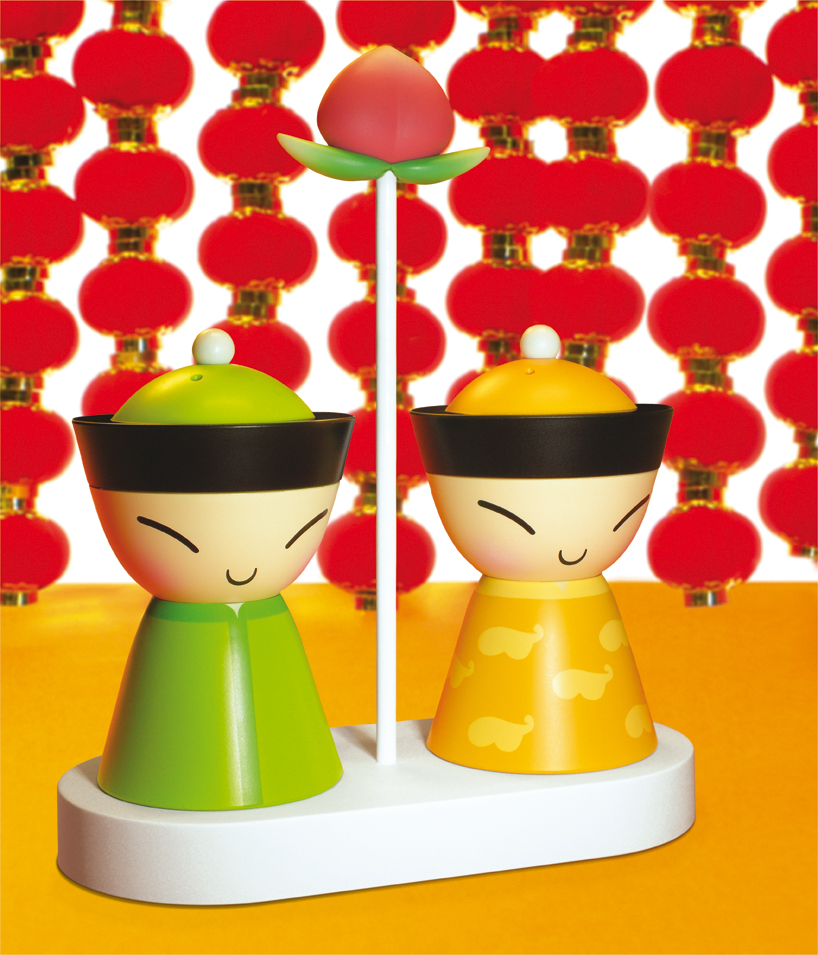 alessi, mr. & mrs. chin
DB: what are some of the differences you have noticed regarding the development of your creative ideas in europe in comparison to asia, from sketch to realized product?
SG: in this moment asian companies are at the beginning of the brand creation process. they are still at the start, but they are growing so fast because the chinese market is set to become the market for excellence in the next future.
I think that more than the difference between of the development of creative ideas, which is different everywhere from one company to another, the real difference is in the general perspective which today is a complete contrast between europe and the emerging country.
the difference of perspectives is immediate: in europe you feel that all market segments are saturated, companies do not create new real products anymore. in order to be considered an innovator, a designer has to develop something which will not be so easily accepted by the market. in china you immediately feel a very open scene, where if you have vision and ideas you can make everything come true.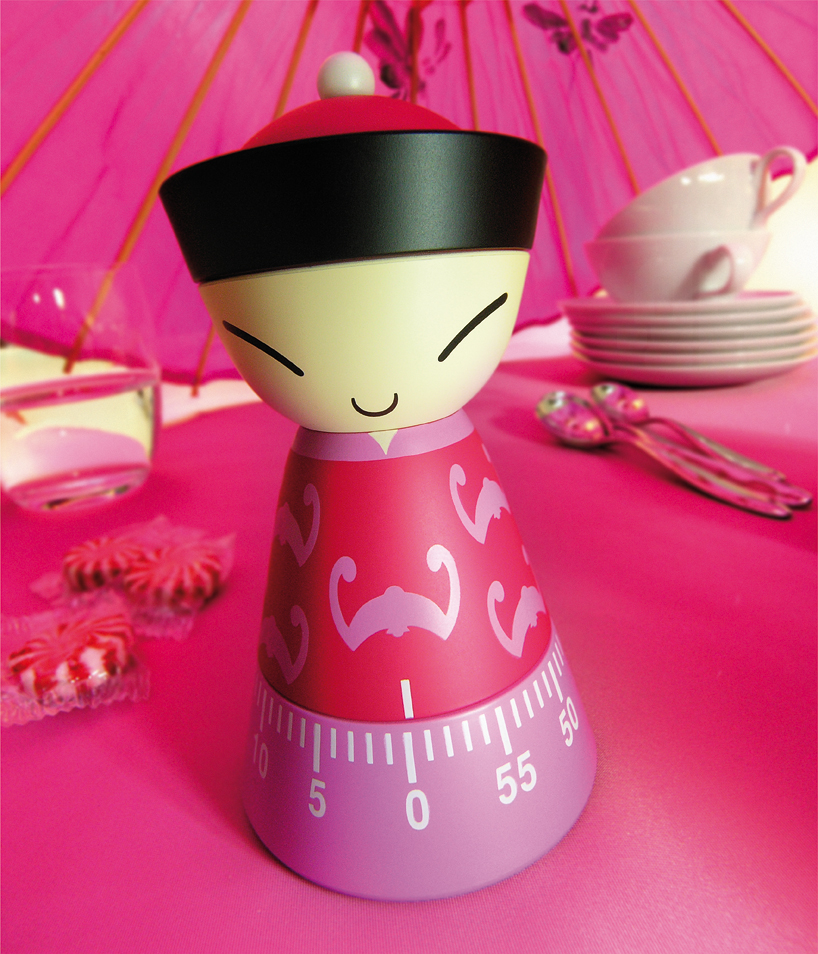 alessi, mrs. chin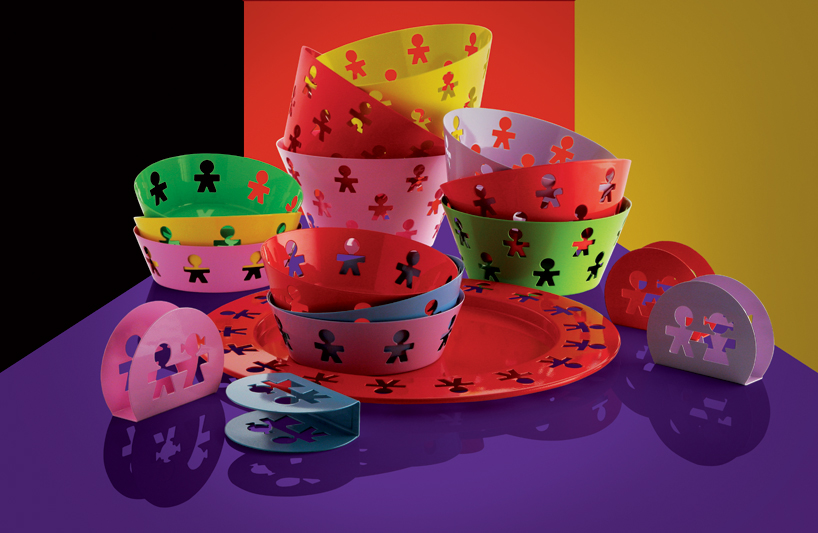 alessi, girotondo, 1993
DB: how – and to what extent – do other creative fields influence your design work?
SG: my work as a designer is deeply influenced by other creative fields, because a professional designer has to be able to understand and interpret his time in any kind of expressions, such as arts and music; but also economy and politics are crucial to understanding the context we are working in.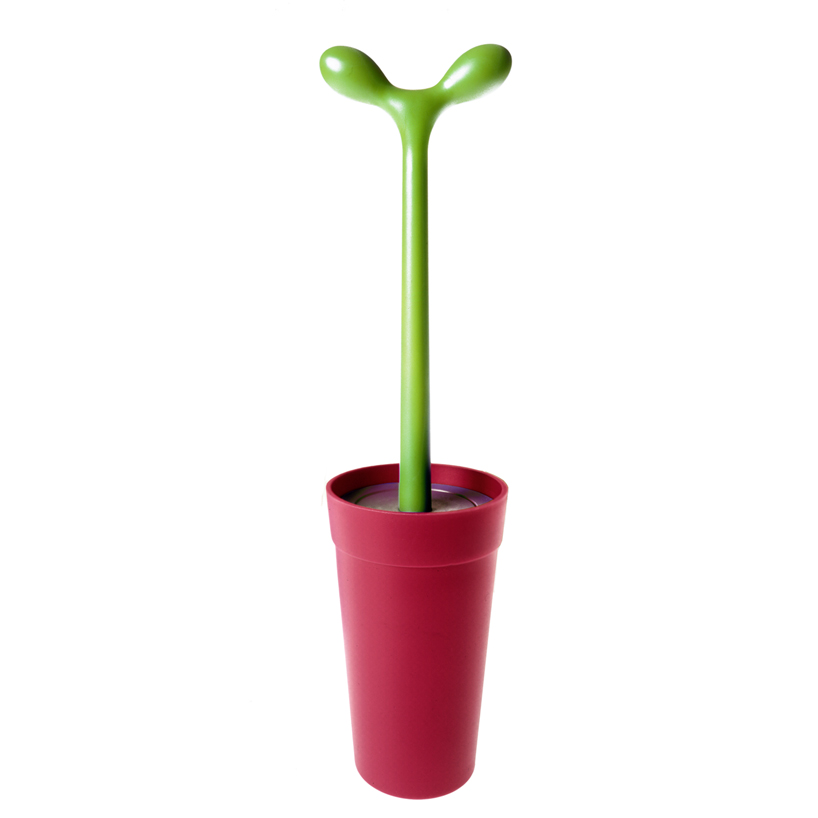 alessi, merdolino, 1993
DB: what are you currently interested in and how is it feeding into your designs?
SG: I have strong passion for music, cooking and fishing. when I was 5 years old I had a book where I used to design all kinds of fishes. that book was very important for me. by designing fishes in any detail, in order to comprehend the dissimilarities among different typologies, I not only achieved a very good capability in drawing, but also understood how nature expresses itself through a variety of species — the relationship between the character of the fishes, their physical shape, the environment where they live and the food they eat. being able to learn from nature is one of the most important things for a designer.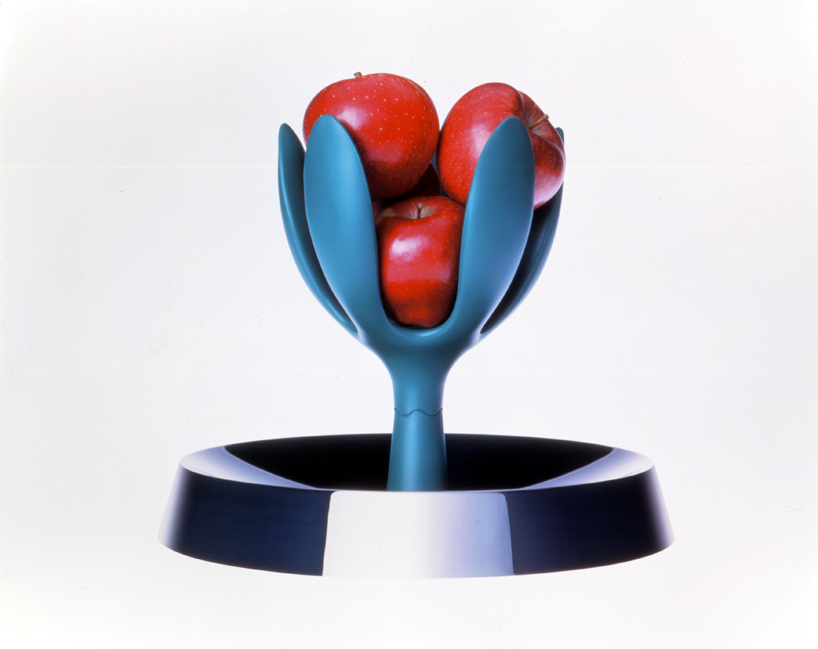 alessi, fruit mama, 1993
DB: do you have any advice for the young designers?
SG: I have a very simple and clear piece of advice: 'think big! absolutely avoid working with any company'. most of the young designers today come out from university and start working for small companies which give them the possibility to make their ideas easily visible. this is very dangerous. the risk is being involved in a low level practice with the ambition of doing something of worth, being involved in a spiral which, at the end, cuts off the potential of your imagination. young designers have to create extraordinary objects, they have energy and powerful ideas, they have to try to avoid compromises.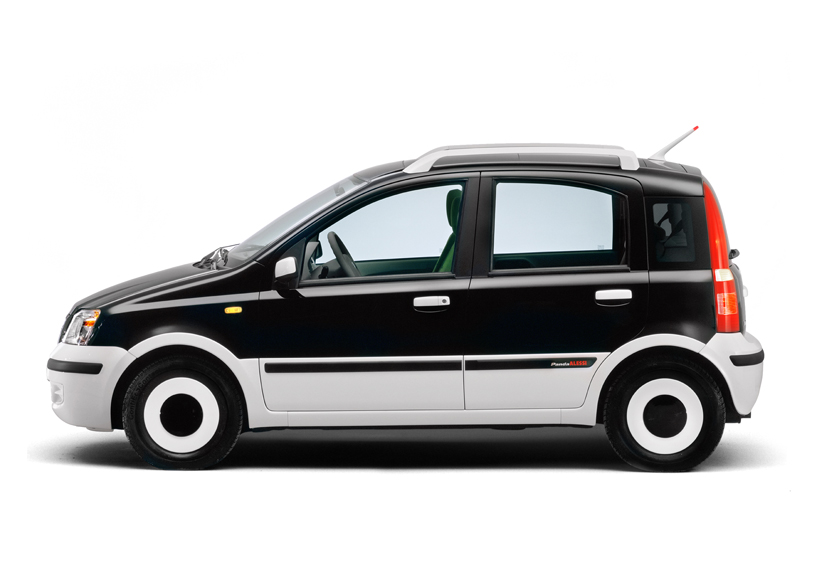 alessi, panda alessi, 2003
DB: what is the best/worst advice you have received?
SG: the best advice I received was to avoid the excess of perfectionism, which, anyway, I have never been able to avoid. the worst advice… I do not remember, because never followed it…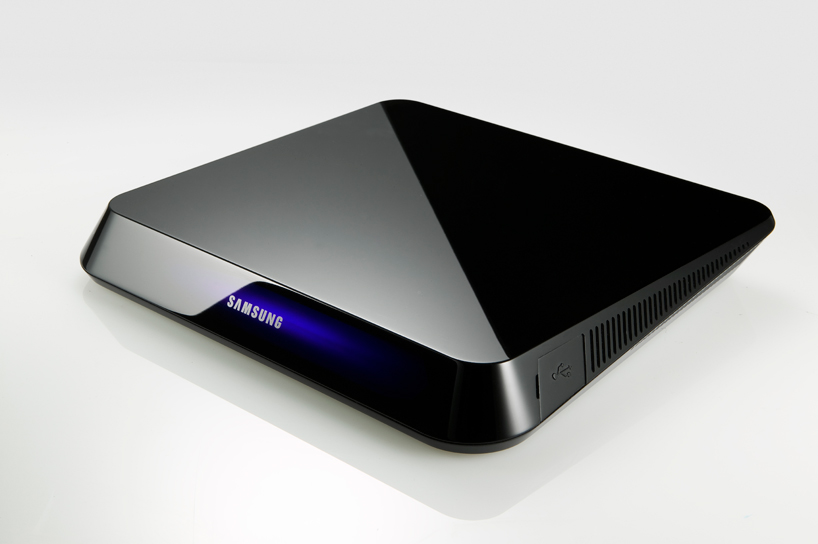 samsung, google TV, 2011
DB: what is your motto?
SG: move according to your desire and your imagination.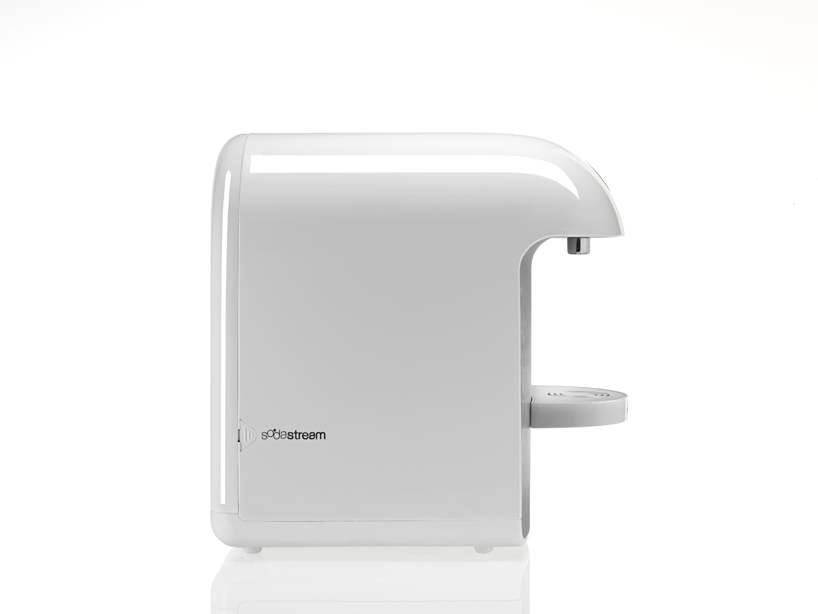 sodastream, aquabar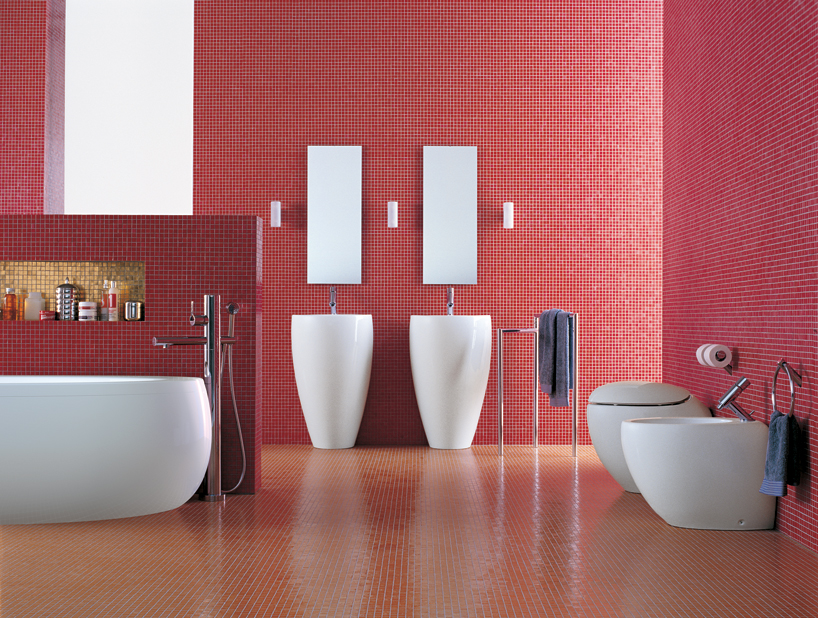 il bagno alessi, 2012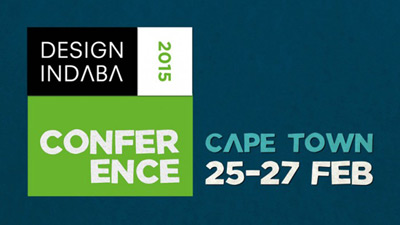 design indaba conference 2015
stefano giovannoni has been a speaker at the design indaba conference 2015 in cape town. the event is all about illustrating how design, creativity and innovation can positively impact the world. so much more than a 'how-to' conference, this is a forum fueled by inspiration that breeds ideas, ingenuity and innovation. the conference is an opportunity to listen to the world's foremost creatives, entrepreneurs and trendsetters.
a diverse digital database that acts as a valuable guide in gaining insight and information about a product directly from the manufacturer, and serves as a rich reference point in developing a project or scheme.
designboom will always be there for you
milan, new york, beijing, tokyo

,
since 1999