earlier this year, designer stelios mousarris brought us the 'wave city' coffee and dining tables — a series of surfaces drawn from the mind-bending manipulation featured in the hit film 'inception'. the collection was made from wood, steel and 3D printing technology, illustrating a sidewalk scattered with skyscrapers that seemingly lifts into the air and folds back onto itself in a continuous curve. now, mousarris extends the line of designs with an edition in black matte, forming a sleek and sophisticated addition to the series. 

the all-black edition forms a sleek and sophisticated addition to the series
mousarris' re-edition boasts a slimmer line and a sleek matte black finish. beneath its smooth, undulating surface lies a dark and dense city of structures and skyscrapers, reminiscent of a 'neo-noir' atmosphere. filled with dramatic shadows, patterns, and a stark contrast between light and dark areas, the all-black edition features a robust steel frame that allows the designer's fictional skyline to rest firmly in place.

a sidewalk scattered with skyscrapers seemingly lifts into the air and folds back onto itself

the warped form is drawn from the mind-bending manipulation present in the hit film 'inception'

the black edition features a robust steel frame

the re-edition boasts a slimmer line and a sleek matte black finish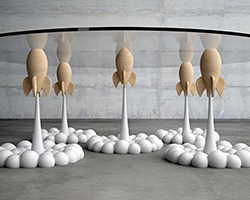 jun 13, 2016
jun 13, 2016
feb 24, 2016
feb 24, 2016
jan 05, 2016
jan 05, 2016