with natural materials and traditional craftsmanship, australian designer nic graham creates the 'QT/chillax' collection for stellar works. composed of a lounge, highback and standard chair, sofa, stool, and coffee table, the furniture pieces combine the laidback spirit of modern australian life with mid-century scandinavian design. it does so by highlighting retro details with a light touch, such as its gentle forms and the subtle contrast of its genuine materials.

the 'QT' chair merges a powder coated steel frame with solid wood arm rests and patterned upholstery
all images courtesy of stellar works
initially developed for australia's QT hotels brand, the stellar works' 'QT/chillax' collection by nic graham are warm and welcoming additions to any contemporary interior. although conveying a casual appeal, the designs showcase a luxurious aesthetic overall, as a result of its natural materials, quality craftsmanship, and slender shapes. powder coated steel frames minimally curve to support and connect the soft upholstery to the solid wood features.

the 'chillax' lounge chair is styled with slender and contouring shapes

evoking a retro-inspired aesthetics, the designs play with a subtle contrast of its genuine materials

the furniture pieces combine the laidback spirit of modern australian life with mid-century scandinavian design

nic graham's collection for stellar works includes a lounge, highback and standard chair, sofa, stool, and coffee table
sep 26, 2017
sep 26, 2017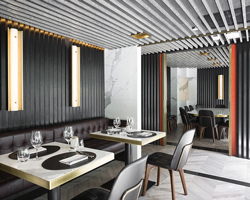 dec 15, 2016
dec 15, 2016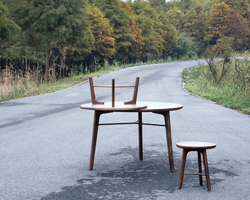 apr 19, 2016
apr 19, 2016
feb 04, 2016
feb 04, 2016
may 20, 2015
may 20, 2015