during london design festival 2017, studio appétit, conran + partners and german gymnasium challenges the boundaries between food and faith through architecture and design. 'the food religion: TRIBUTE' is an expressive and interactive culinary experience that explores the idea of food worship in contemporary culture. it builds upon how our attitude to edibles over recent years has amplified due to the influences of social media trends, where a global following of 'foodies' are seeking the holy grail of food.
'the food religion' is a concept we have been developing in the studio for almost two years now. it is the merge of our love to challenge conventional boundaries of traditional disciplines and translate them into new worlds of sensory stimulations with the striking relevance of food culture in all walks of life. this first installation, headlined by our collaboration with conran + partners will focus on the notion of culinary tribute. by playing with the scales of human experience between the monumental structure and the personal consumption experiences, we have created a highly detailed, multi-faceted exploration that is set to take the visitors on a physical and spiritual journey,' explains ido garini, creative director, studio appétit.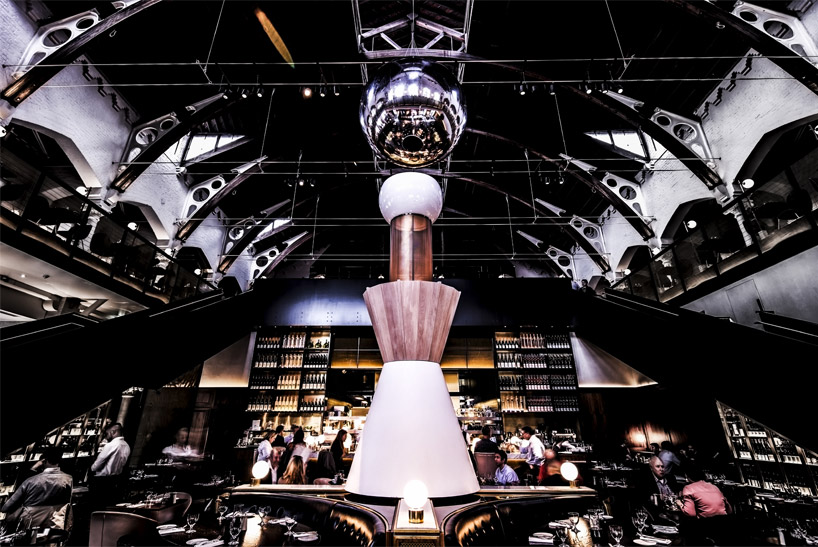 the central sculpture fits as if a holy shrine within a temple
sculpted within the cathedral-like volume of the german gymnasium by king's cross in london, visitors are welcomed by the multi-layered, ceiling-high 'food religion' installation. its base, created from claybrook stone, represents the foundations of food and cooking which rises into a celebration of consumption. as the design ascends, it incorporates more materials and finishes, such as mark taylor design's timber, into lighting's metal and lighting, aarnio originals' specially designed edition of their 'ball' chair, and multi-disciplinary sutdio milk's structure.
'our 'food religion' installation showcases the beauty and integrity of five materials taken from the bauhaus curriculum. we worked within their natural strengths and limitations to drive their form, scale and texture with a simplicity, unique shape and function coming together to create a 'gesamtkunstwerk'' says tina norden, director, conran + partners.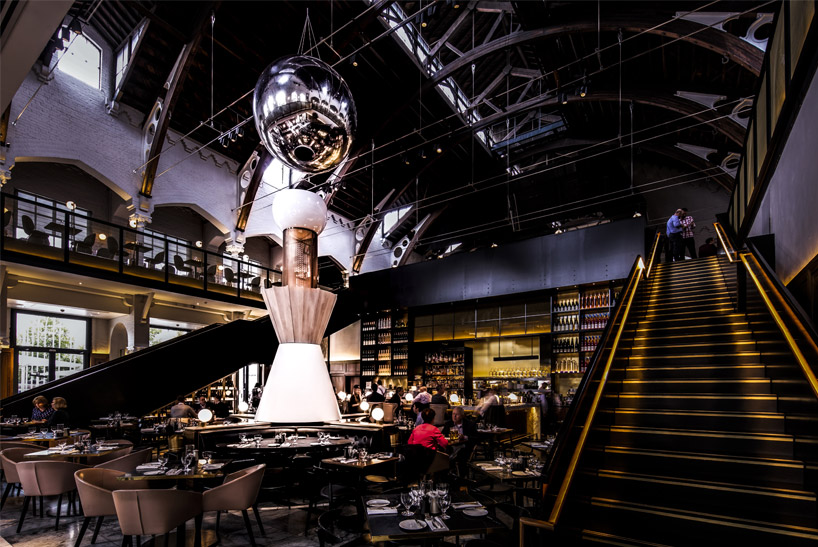 the temporary installation envisions the process of food from cooking to consumption
studio appétit's culinary experience, during london design festival 2017, explores the juxtaposition between food and ritualistic values embedded within religion. just as they provide us with time-honored means for expressing and experiencing devotional emotions, the ritual and common practice of eating questions why food is not yet considered similarly. at an exclusive, ceremonial-like tasting, designboom was invited to participate in the gathering of flavor, interaction and consumption.
similar to that of most religions, where followers are welcomed into a new community after a moment of test, guests of 'the food religion' must complete their own 'rite of passage: ENTERY'. balanced on a golden brass skewer, underneath the 'raw nature' display dome by the studio and a 2-billion year old finnish stone plate by hukka, a greek olive represents the passage, echoing the mythology of the greek goddess athena's gift to her people.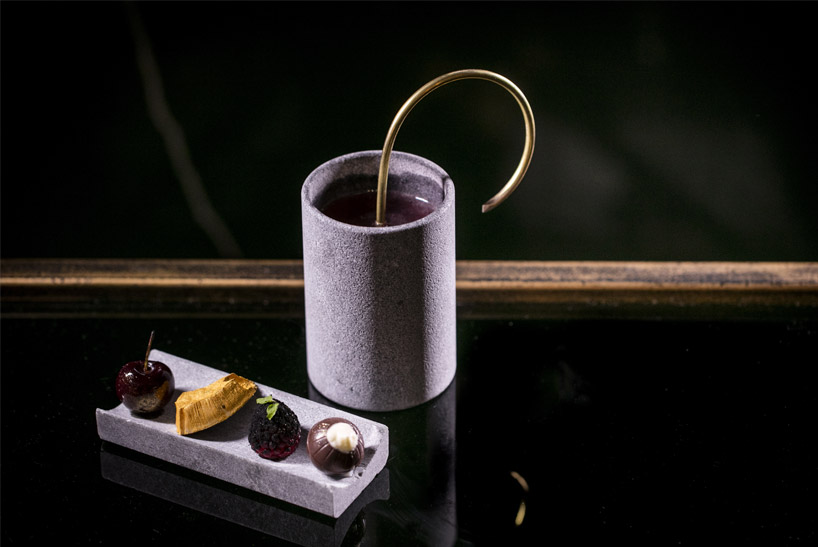 guest are able to create new tastes through combining different flavorable delicacies
in 'the rite of form: CREATION', the culinary experience builds upon religion's ability to create new worlds afresh. in the form of an ambrosia of a black forest cherry cocktail served within a straight stone carved cylinder cup by dutch design brand vij5, dinners can craft their own dish using a unique garnish of pieces. these delicacies are arranged on appétit's new bauhaus tableware collection, whereby they can be impaled on to a arched brass skewer. this 'food religion' ritual references our modern day obsession with sharing our food creations on instagram.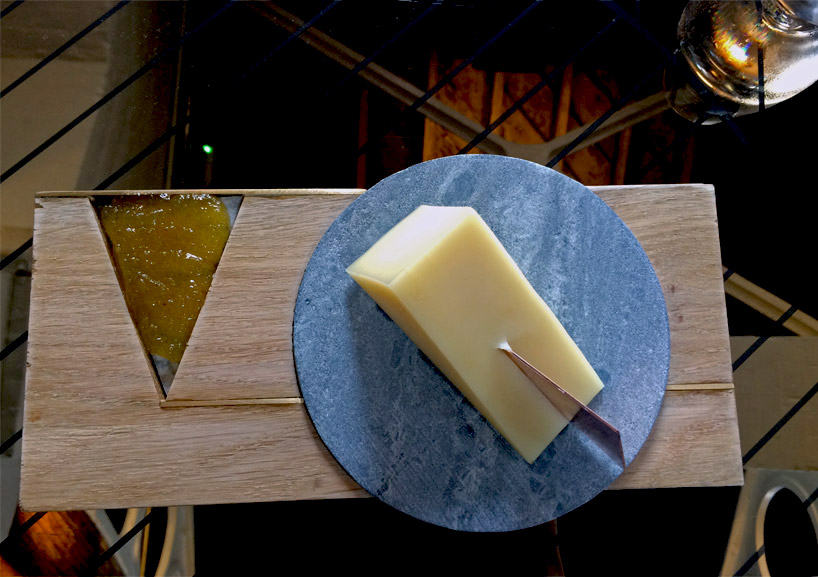 the cheese and fig mustard are served on an oak board with a stone insert and copper triangle knife
image © designboom
referencing how our food religion is obsessed with the right combinations, 'the rite of sacralisation: holy match' pairs english craft cheese with fig mustard. once again designed by the studio, this duo is placed on an oak board with a removable stone circle insert and a complimenting copper triangle knife. this ritual is followed up by a taste of nothing within 'the rite of abnegation, morals and coriander: RESTRICTIONS'. the dish is influenced by a recipe of a japanese raindrop cake, with guest invited to eat a piece of jelly textured mineral water.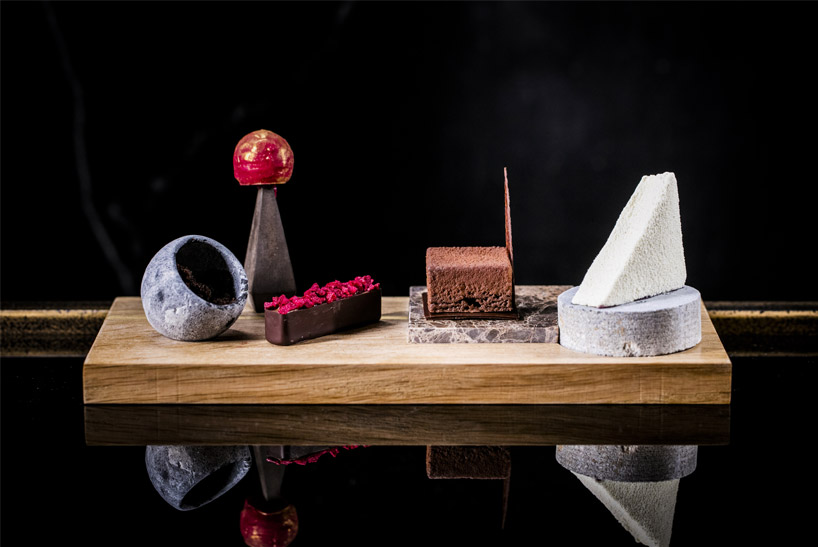 the final ritual allows followers to give back to the experience
in the final ritual, 'the rite of the cherry: TRIBUTE', a re-imagined black forest cake is served as a geometric dessert playground. placed on an oak base with brass inserts, a mix of quartz, ceramic and soapstone miniature, the dish is an artful deconstruction of the german dessert – even being officiated to law with a spraying of kirsch water. the experience incorporates an element of tribute as guests are encouraged to 'give back' a piece of chocolate to later be melted into sculptures.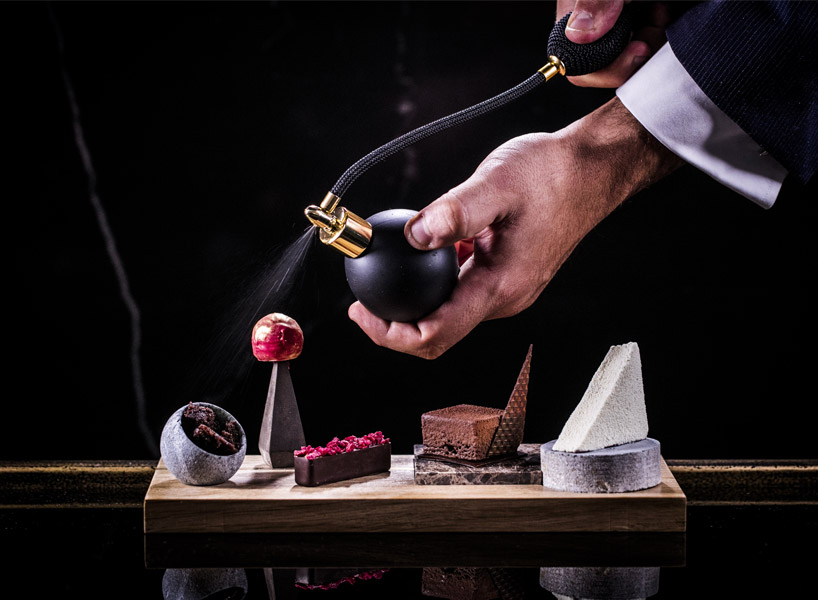 according to german traditions, a black forest cake cannot be classed if it hasn't had kirsch water included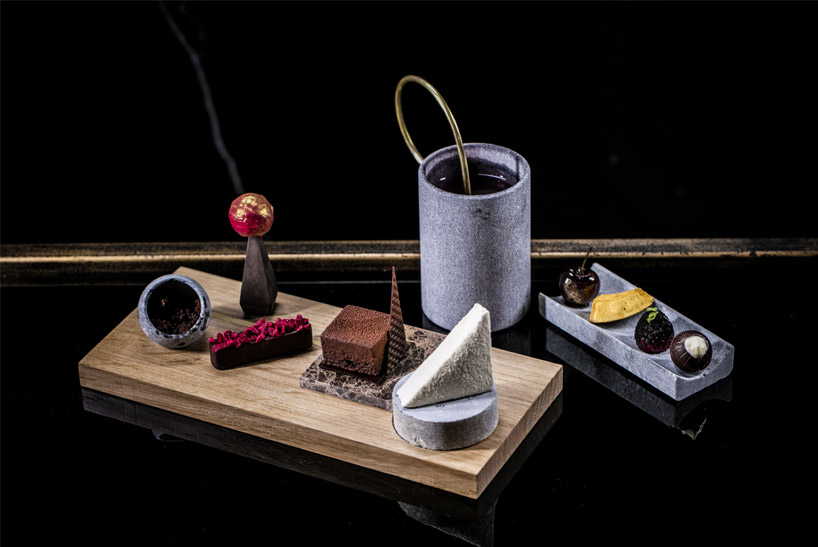 the experience challenges the boundaries between food and faith through architecture and design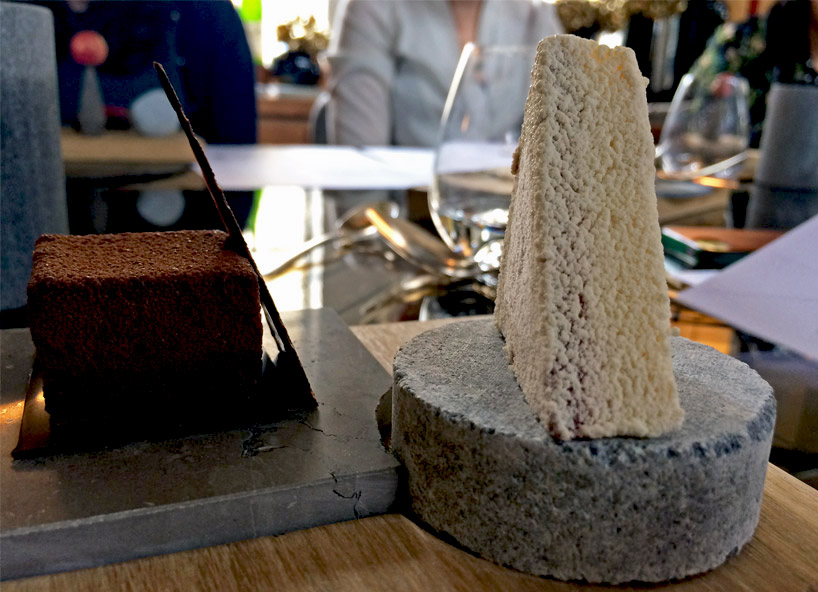 the dessert's pieces have been placed as a geometric playground
image © designboom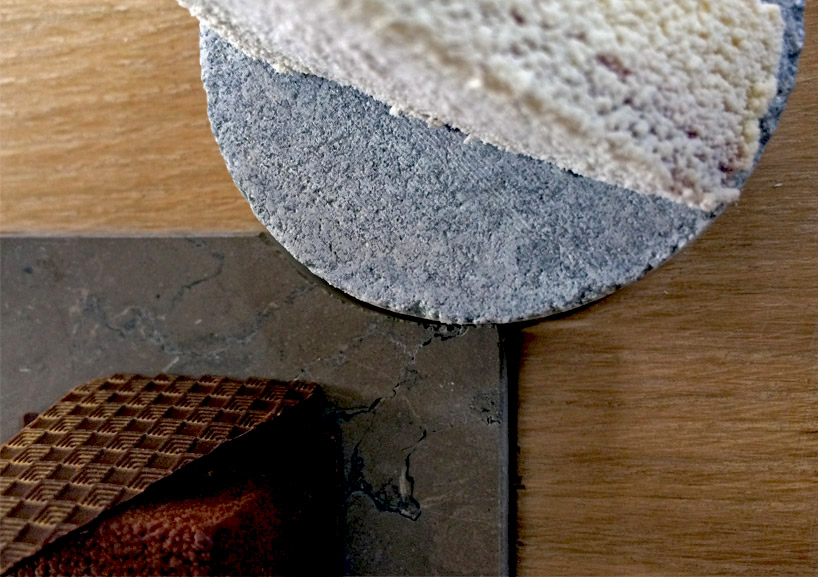 studio appétit has designed a new bauhaus tableware collection
image © designboom
Save
jun 03, 2020
jun 03, 2020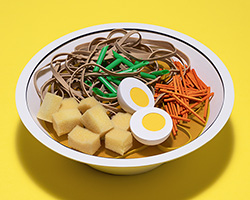 may 22, 2020
may 22, 2020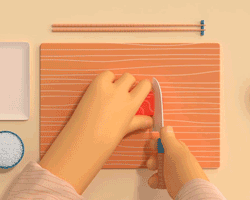 may 08, 2020
may 08, 2020
apr 29, 2020
apr 29, 2020
mar 30, 2020
mar 30, 2020
mar 26, 2020
mar 26, 2020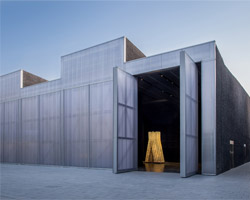 nov 23, 2017
nov 23, 2017
oct 18, 2017
oct 18, 2017
oct 15, 2017
oct 15, 2017
oct 24, 2014
oct 24, 2014
a diverse digital database that acts as a valuable guide in gaining insight and information about a product directly from the manufacturer, and serves as a rich reference point in developing a project or scheme.