jun 09, 2013
studio formafantasma creates souvenir for the city of vienna

studio formafantasma create souvenir for the city of vienna
all images by federico floriani
the vienna tourist board invited six different design studios from six different european nations to capture their view of vienna in the form of a three-dimensional souvenir for the austrian capital. among ding3000 (germany); big game (switzerland); ionna vautrin (france); hector serrano (spain); and pearsonlloyd (UK), formafantasma's (italy/the netherlands) 'wien spilkarten'–a deck of cards depicting historical references of vienna in a contemporary graphic way–won. the duo has included texture samples from museum archives, modernist buildings and traditional austrian products as their imagery for the deck which has been locally produced by traditional playing cards company piatnik & söhne.

the symbol which represents the club references the weave of straw seen in the thonet chair no. 14
here are some references found in the deck of cards as described by formafantasma:
the club samples the weave of the straw in the thonet chair no.14, while the diamond symbol is a square turned at ninety degrees, alluding to the recurring quadratic theme in the work of josef hoffmann. the ace of diamonds features hoffmann's iconic kubus armchair, designed in 1910, while the ace of hearts is the 'heart of adolf loos' and is accompanied by the title of his 1913 essay 'ornament and crime'. the spade symbol has been replaced with the eicheln (acorn), one of the suits used in germany and austria, especially in the southern regions. these suits explicitly refer to rural culture and seasonal harvesting. as a reinterpretation of such characteristics the six is designed with five acorns stacked at the bottom of the card as if the fruit had fallen from a tree. the king of hearts is armed with elegance. his sword is carved with the title of the essay by adolf loos 'why a man should be well-dressed' while the texture of his vest samples a textile designed by josef hoffmann for the austrian company wiener werkstätte. the queen of hearts is the french american-born dancer josephine baker. she is wearing the house designed for her in 1927 by adolf loos, but never built. the armour of the jack of hearts is a side view of the steiner house, designed in 1910 by adolf loos and located in st. veit-gasse 10, vienna. the two jokers are pictured as waiters of a viennese kaffeehaus. one wears the iconic hat of the famous coffee brand julius meinl. on the tray coffee is served traditionally, with a spoon laid upside down on the cup. the other joker carries the 'candy dish', one of the most iconic pieces of the j. & l. lobmeyr viennese glass manufacturer, designed by oswald haerdtl in 1925.
the cards are available for purchase from the MAK museum shop in vienna.

king of clubs

packaging

jokers are depicted as waiters holding traditional austrian manufactured products

house of cards
project credits:
design and concept: studio formafantasma, andrea trimarchi and simone farresin
development: francesco zorzi
photos: federico floriani
producer: piatnik, vienna
client: vienna tourismus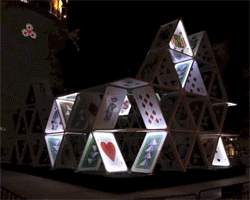 jul 03, 2014
jul 03, 2014
feb 02, 2012
feb 02, 2012
aug 23, 2011
aug 23, 2011
jul 19, 2017
jul 19, 2017
apr 04, 2017
apr 04, 2017
apr 03, 2017
apr 03, 2017