apr 22, 2012
studio job: altdeutsche möbel for moooi
'altdeutsche blanket chest' by studio job for moooi
dutch brand moooi presents 'altdeutsche möbel', a new collection of furniture consisting of a blanket chest, grandfather clock and cupboard. designed by dutch-belgian duo studio job, the aesthetic aspect of the pieces are derived from the decorative manner antique frankish furniture, translating old german hand-painted objects into playful designs.
presented during milan design week 2012, 'altdeutsche möbel' is composed of solid pine wood works which are stained in white become blank canvases for an intricate hand-finished study of man's double nature. 'on the one hand the worker bee who needs the aid of tools and machines to produce efficiently, on the other hand, the philosopher, who constantly searches for meaning inside himself and in the world around him. machines, nature philosophy, life and death converge in a network of symbolic images creating a tightly knot pattern that reproduces the colorful, chaotic and mysterious nature of life.'
the magic of the blanket chest originates from intricate patterns of symbols designed on its surface, creating a mysterious message that waits to be interpreted…
'altdeutsche grandfather clock'
a playful interpretation of old frankish furniture holding all its beauty and atmosphere souvenir is hidden in a secret compartment of the clock
'altdeutsche cupboard' by studio job for moooi
the cupboard, adorned with bananas, feathers, gears, keys, roses, safety pins, skulls… stands as a symbolic interpretation of life's essence. the imagery tickles our imagination, and points towards life's beauty and mystery.
'altdeutsche cupboard' by studio job for moooi (detail)
detail image © designboom
concept sketch of the 'altdeutsche möbel' collection photo by designboom
job smeets and nynke tynagel of studio job portrait © designboom
mar 08, 2013
mar 08, 2013
jul 18, 2012
jul 18, 2012
jul 17, 2012
jul 17, 2012
jun 30, 2012
jun 30, 2012
jun 29, 2012
jun 29, 2012
jun 28, 2012
jun 28, 2012
moooi
(14 articles)
may 02, 2016
may 02, 2016
apr 26, 2014
apr 26, 2014
may 12, 2013
may 12, 2013
aug 20, 2017
aug 20, 2017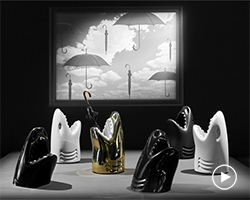 may 26, 2017
may 26, 2017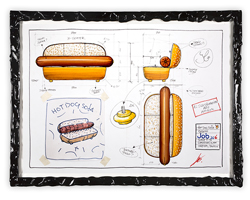 mar 23, 2017
mar 23, 2017