nov 29, 2011
studio job: containers II at design miami
'containers II' (2010) by studio job collection of five unique pieces all image by r. kot
dutch-belgian design firm
studio job
(job smeets and nynke tynagel) has developed a collection of five domestic canisters entitled,
'containers II'. the project began during the design process of '
piece for peace
' which the duo developed in association with
belgian crystal producer
val saint lambert
. it was at this time that smeets and tynagel stumbled upon a supply of
hundred year-old hand-blown crystal pieces that were never crafted into finished products. studio job decided to transform five pieces
from the unfinished stock and rework them into unique vessels: a coffee pot, a waste basket, a saucepan, a picklehaube and a stewpan.
thus, 'containers II' was born.
to individualize each piece, the original crystal has been colored and intricately cut, offering a rich textured surface, while polished and patinated bronze elements have been added to characterize the works according to their proposed functions. the completed sculptural containers are exhibited on a high gloss white and gold gilded wood pedestal. the functional yet surreal works of art are presented by galerie VIVID as part of design miami 2011.
'coffee pot'
colored and cut crystal, polished bronze, wood, high gloss polished coating
46 x 150 x 38 cm / 18.0 x 59.1 x 15.0 inches
'poubelle'
colored and cut crystal, polished bronze, wood, high gloss polished coating
34 x 158 x 37 cm / 13.4 x62.2 x14.6 inches
'stewpan' (frigate U.S.S. united states)
colored and cut crystal, polished and patinated bronze, gilding, faience, wood, high gloss polished coating
54 x 160 x 33 cm / 21.3 x 62.9 x 12.8 inches
'picklehaube'
colored and cut crystal, polished bronze, wood, high gloss polished
40 x 165 x 31 cm / 15.8 x64.9 x 12.3 inches
'saucepan'
colored and cut crystal, polished bronze, wood, high gloss polished coating
78 x 150 x 38 cm / 30.5 x 59.1 x1 5.0 inches
supply of original crystal
the studio job team at atelier photo by a. blommers / n. schumm
dec 11, 2011
dec 11, 2011
dec 11, 2011
dec 11, 2011
dec 08, 2011
dec 08, 2011
dec 06, 2011
dec 06, 2011
dec 05, 2011
dec 05, 2011
dec 04, 2011
dec 04, 2011
aug 20, 2017
aug 20, 2017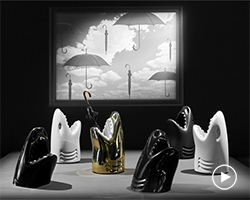 may 26, 2017
may 26, 2017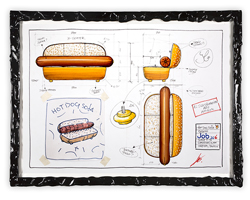 mar 23, 2017
mar 23, 2017