feb 25, 2011
studio job + willem nieland: firmship 42
'firmship 42' by studio job + willem nieland images courtesy of studio job
antwerp based studio job has collaborated with dutch nautical architect willem nieland to create 'firmship 42', a classically crafted boat finished with a detail and precision that reinforces its timelessness. featuring a warm and neutral palette, the ship aims to modernize traditional nautical aesthetics.
the deck, interior and color palette were all designed under the direction of studio job with the forceful and sculptural exterior, measuring 42 feet in length, designed by nieland.
looking from the pilothouse into the cabin
natural teak on the doors, floors and cabin interior offset the otherwise grey surfaces of the body, railings and throttle. exposed teak on the exterior of the boat will eventually grey with age, further emphasizing the monochromatic scheme. on the cabins interior, the teak is applied in areas to appear as though it is planks of seamlessly joined wood.
cabin
inside, icons of the seafaring past have been subtly introduced through upholstery and prints that include graphic interpretations of anchors, moby dick and skull and crossbones. a stained glass window between the cabin and the pilothouse displays the same iconography.
dining area
studio job's previously produced bronze bell and marquetry cabinet are incorporated into the design, which consists of a series of pieces – both inside and out- that were created specifically for the this project.
bedroom
the dining table and benches turn into a second bed
bathroom
pilothouse
detail of the steering wheel
detail of exterior doors
top view
'firmship 42' on the water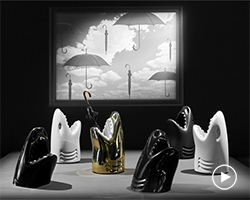 may 26, 2017
may 26, 2017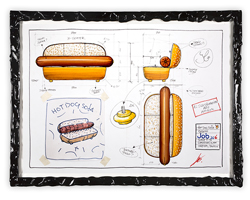 mar 23, 2017
mar 23, 2017
jan 19, 2017
jan 19, 2017
jul 24, 2017
jul 24, 2017
jul 04, 2017
jul 04, 2017
jul 03, 2017
jul 03, 2017