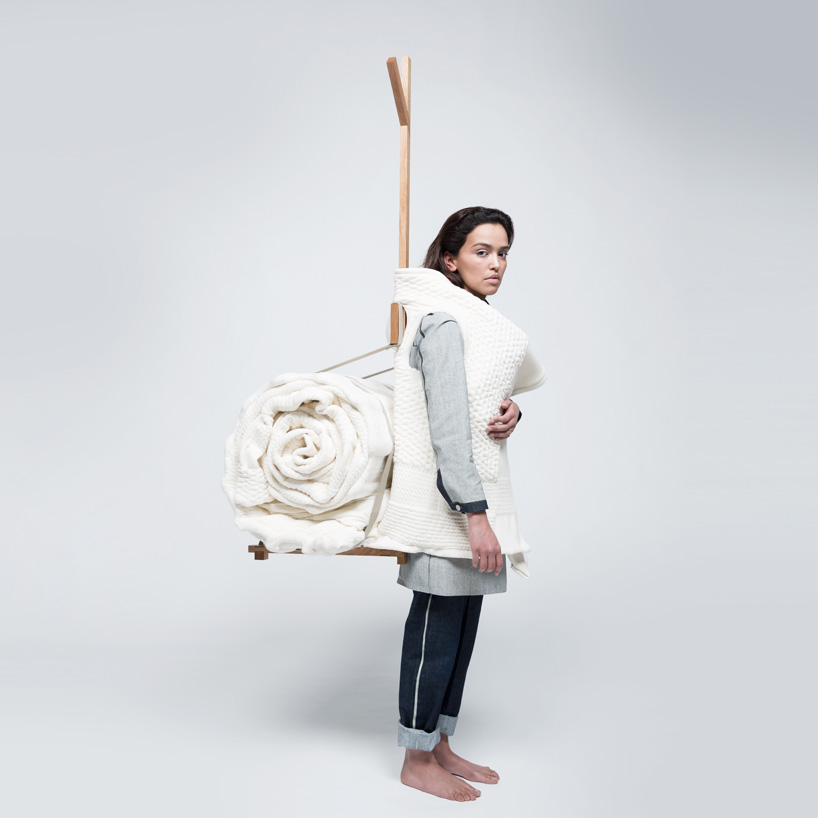 mar 07, 2014
studio makkink & bey envisions nomadic interiors for the future
studio makkink & bey envisions nomadic interiors for the future
photo by rene van der hulst, commissioned by TM
the textielmuseum in the netherlands takes a look at one hundred years of textiles in dutch interiors with 'living spaces'. the exhibition traces the production and usage of fabric in the netherlands over the course of the last century, presenting conceptual rooms that offer a survey of the trends and fashions in textiles employed in dutch households over periods of 10 to 20 years.
to set the stage for the museum's extensive collection, studio makkink & bey conceived a display organized by seven distinct periods: dutch art nouveau, 1930s modernism, the post-war period, the alternative 1970s, postmodernism, recent dutch design, concluding with a concept room of the future. each of the domestic zones question the role of textiles in the interior, with each of these rooms based on a quintessential design that is indicative of the era which it is representing.

'vouwplaats'
photo by rene van der hulst, commissioned by TM 
it can be observed that many of the interiors are a mix of old and new, and that the ideal home that architects and designers envision is one that very few people can afford. in order to illustrate this tension between ideal and reality, film fragments are shown within each space, either supporting the design or offering an opposing image. this is evidenced for example in the middle-class living room from 1910 that is adorned with furniture and textiles by well-known designers such as T.C.A. colenbrander (1841-1930), T.W. nieuwenhuis (1866-1951) and chris lebeau (1878-1945), contrasted by images of working-class families living in poverty in dark, single-room dwellings; additionally accompanying music, news reports or television programmes, paint a bigger picture of daily life during the period at hand.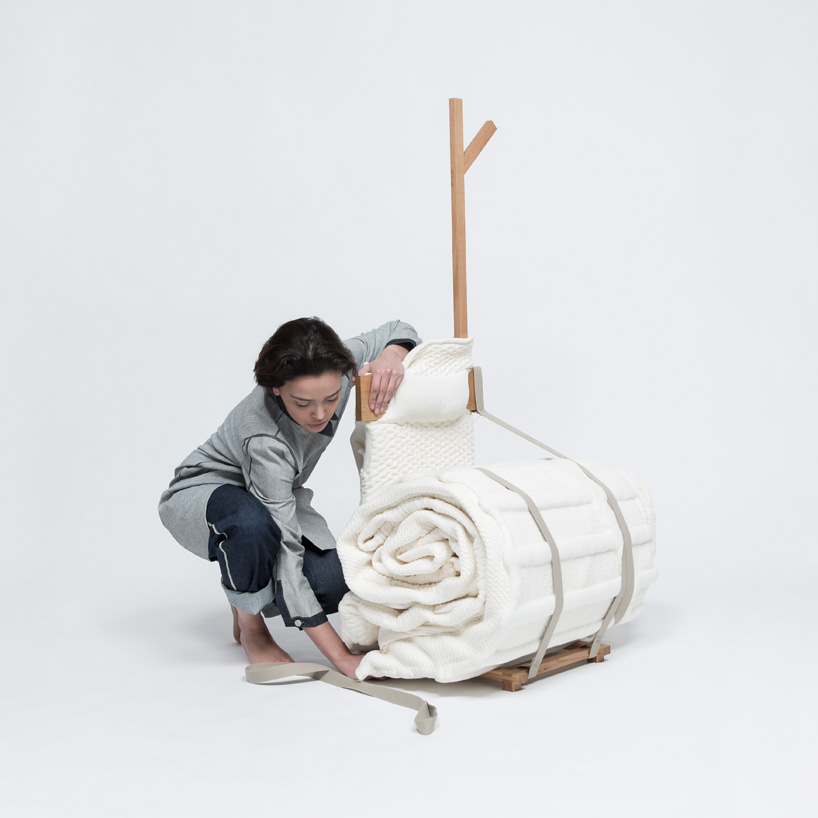 'vouwplats' is a knit mattress that functions as a rocking chair and sleeping mat
photo by rene van der hulst, commissioned by TM
'living spaces' offers a complex interplay of past and present, bringing light to different periods and social classes, expressed through interior design. to complement the underlying historical aspects of textile development represented in the exhibition, textielmuseum commissioned studio makkink & bey to offer their vision of the interior of the future. their response is a series of humble objects that are influenced in form and function by flexible and nomadic living, which they have conceived together with the cultural institution's textiellab.

'vouwplats' unravels into a sleeping mat
photo by rene van der hulst, commissioned by TM
'vouwplaats' is a knitted mattress that combines the functions of rocking chair and a sleeping place, supported by a wooden frame that allows the user to pack up the mat and wear it much like a vested backpack making it easy to transport.

'warmteweefsels' photo by rene van der hulst, commissioned by TM
'warmtekleed' is a dining room concept that proposes a rug / table cloth that can be carried within a wooden basket that can be flipped to serve as a side table or stool.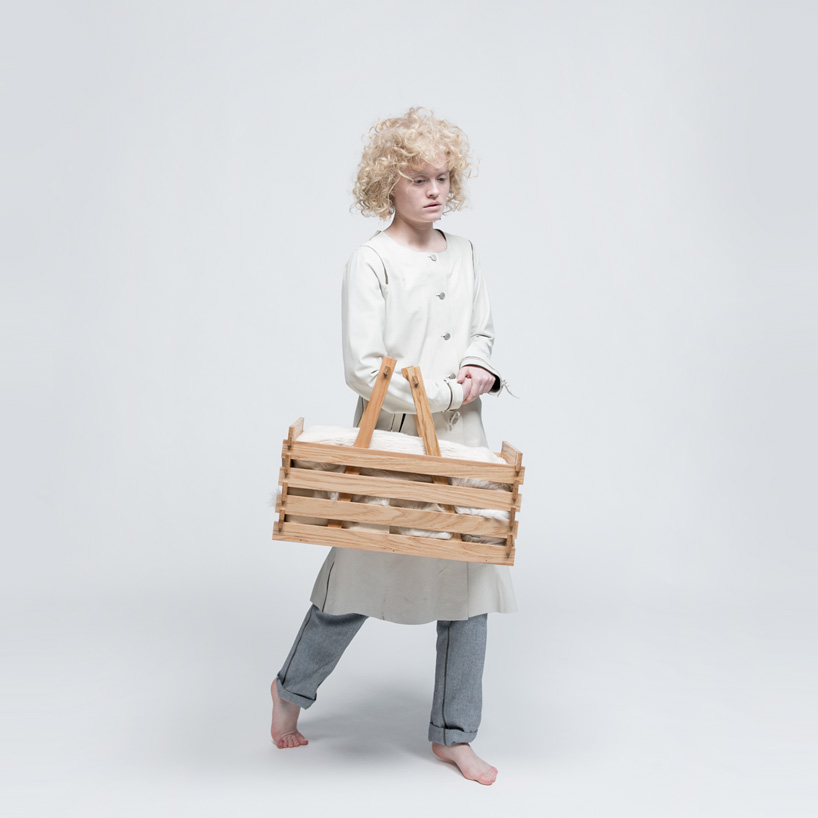 a wooden carryall transports a blanket and alternatively can be slipped over to serve as a small table or stool
photo by rene van der hulst, commissioned by TM
'vensterlicht' is a flexible room divider that is packaged to look like an umbrella, that extends upwards and which features a sheath a silk sheath.

the wooden crate can be carried like a basket
photo by rene van der hulst, commissioned by TM
on now until may 11th, 2014, 'living spaces' gives a fascinating look into the history of textile use in dutch interiors.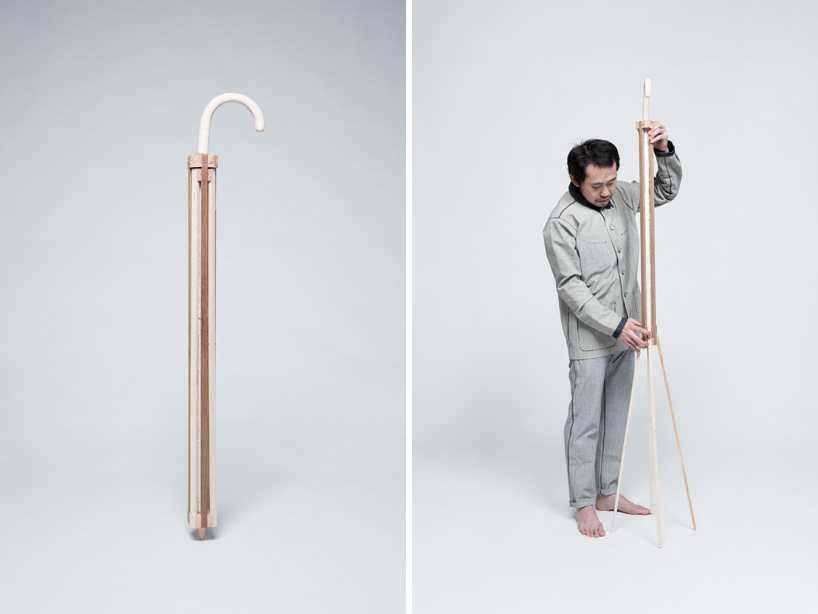 'vensterlicht'
photo by rene van der hulst, commissioned by TM

the 'vensterlicht' room divider takes formal references from a closed umbrella
photo by rene van der hulst, commissioned by TM
sep 06, 2016
sep 06, 2016
aug 18, 2016
aug 18, 2016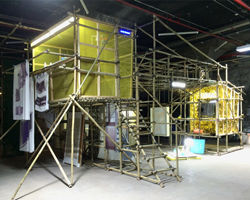 dec 16, 2015
dec 16, 2015