for the fifth consecutive year, swarovski and design miami/ present the swarovski designers of the future award, and this year's winners have been tasked with responding to specific briefs across three categories: architectural surfaces and building materials, home décor, and lighting. the award invites the winning creatives to use swarovski's resources to develop a prototype that illustrates environmentally conscious design, takes into consideration the brand's existing catalogue of products, and explores the potential for wider collaboration between brand and designer.
selected from around the world for their innovative design approach, shanghai-born installation artist juju wang, dutch design duo studio klarenbeek & dros, and london-based lighting designer raffe burrell present the results of their collaboration during design miami/ basel 2019.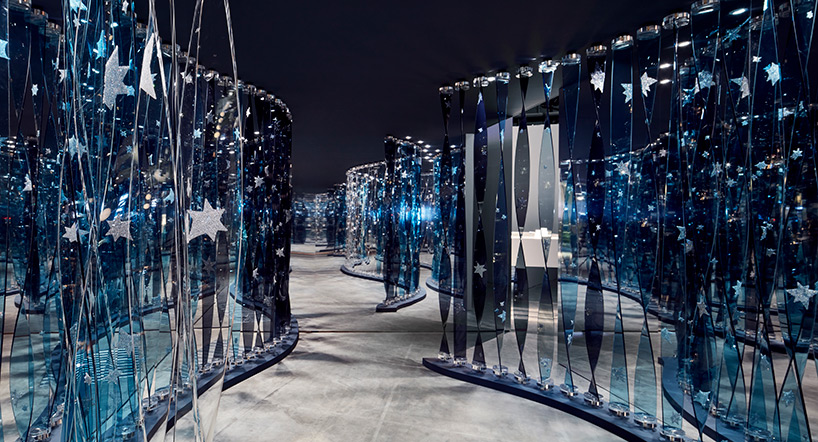 sea-cret by juju wang
all images by mark cocksedge
the laureates were invited to visit swarovski's headquarters to discover its legacy of innovation, and explore its archives. the crystal brand worked closely with each designer throughout the design process, building on its own legacy of developing bold, evocative and thoughtful products. manufactured in wattens, austria, the three final pieces by the chosen creatives featured the most responsible crystal on the market: swarovski's patented advanced crystal formula, which enables the crystals to be lead-free while retaining a brilliance and sparkle.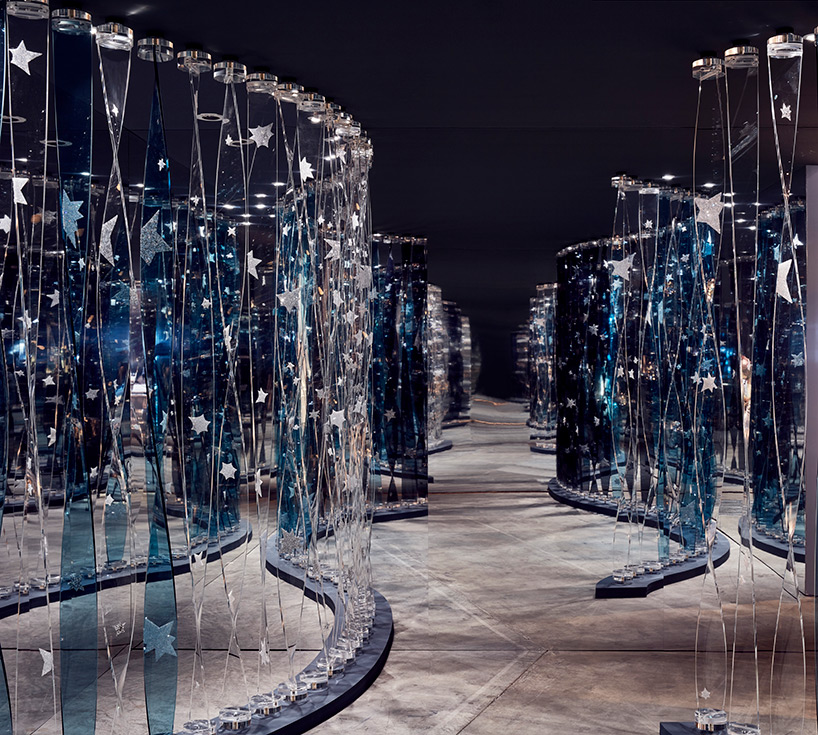 responding to the architectural surfaces and building materials theme, designer juju wang has worked with swarovski's architectural innovations team to explore the idea of a kinetic architectural facade. embracing the brand's heritage, wang was inspired by the importance of water and the integral role it has played in swarovski's history in exploring how a dynamic patterned design can create a sense of calmness and depth in a space. her immersive experience presented at design miami/ basel transcends the boundaries of a traditional flat surface using free flowing energy that mimics sunlight reflected on the surface of water.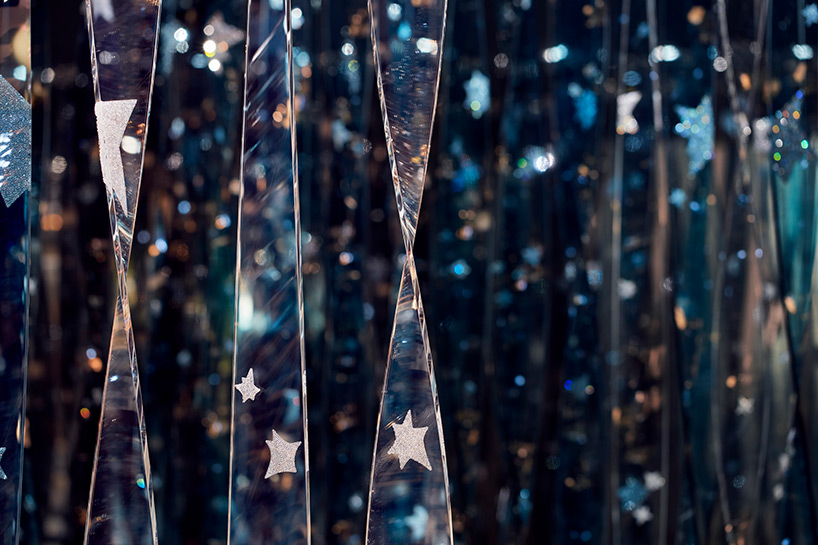 wang's installation 'sea-cret' offers a 'mesmerizing endlessness', intensified by 830,000 crystals in five bespoke colorways of swarovski crystal rocks. encouraging visitors to involve all five senses, the installation also features a bespoke soundtrack and accompanying fragrance. the sound of waves hitting the shore, along with a delicate scent personally selected by wang both serve as reminders to take a moment for stillness and contemplation.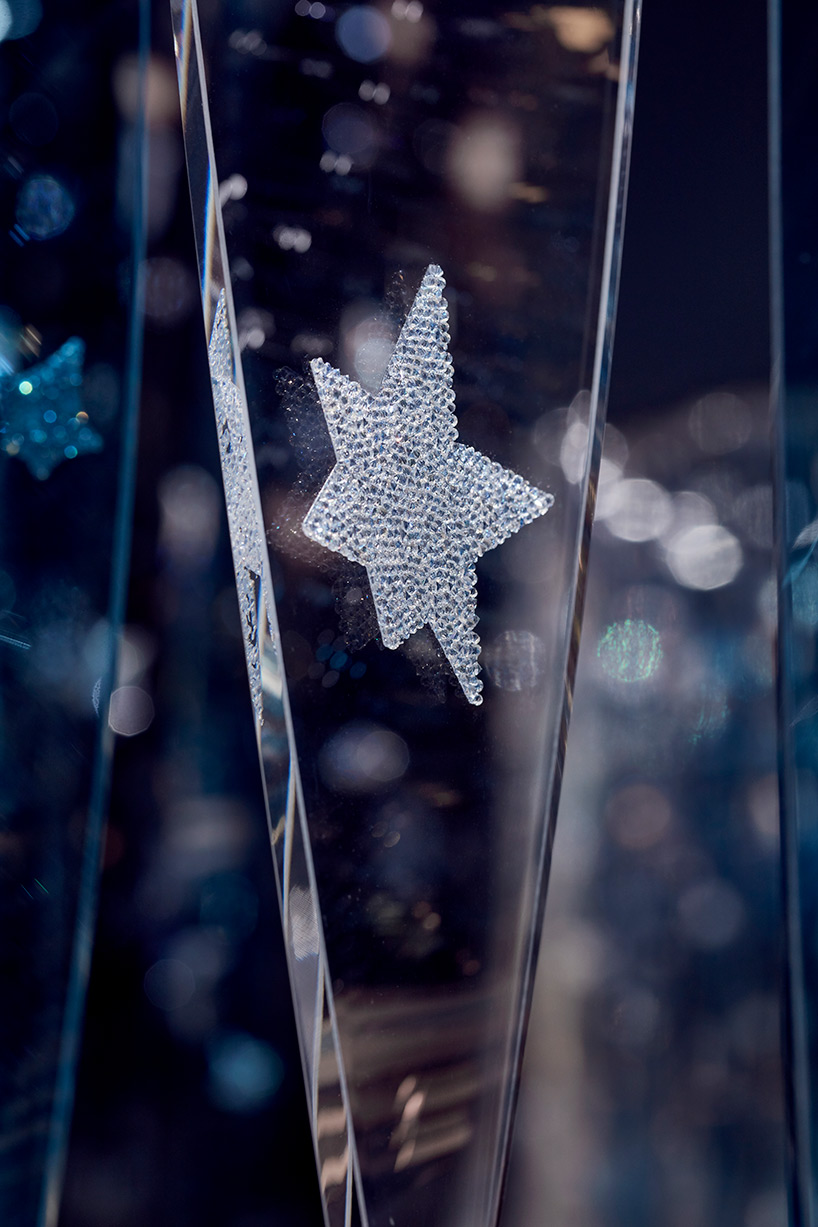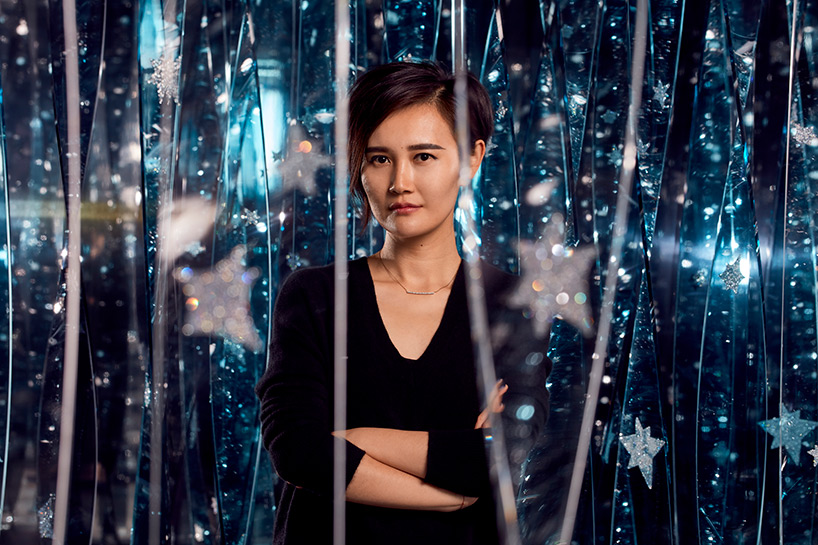 for the home décor category, studio klarenbeek & dros present a series of 3D printed crystal objects informed by the reduction of the arctic icecaps observed between 1984 and 2012 due to global warming. the designer duo worked closely with swarovski's innovation division to explore traditional crystal cutting and the possibilities of 3D printed crystal, using the material for the first time ever in light sapphire to emulate the arctic's waters.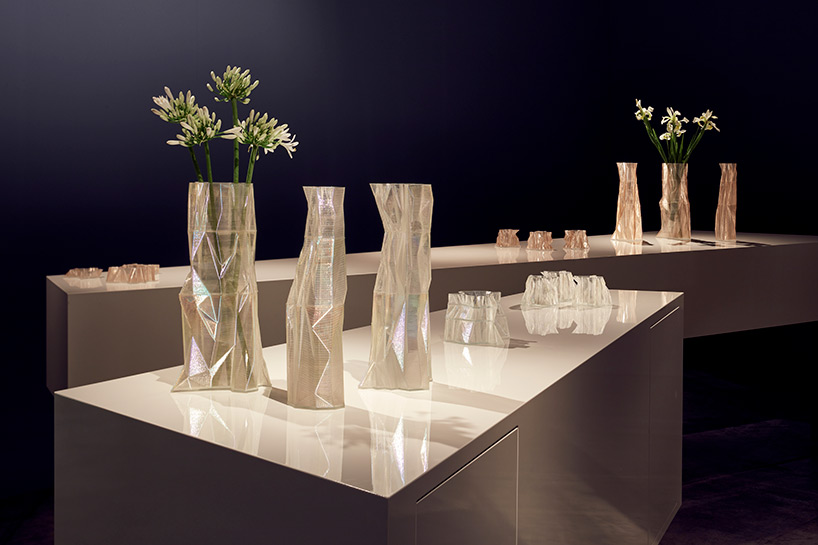 reorient: arctic collection by studio klarenbeek & dros
swarovski's technicians have spent the last two years developing 3D crystal capabilities to create more detailed structures not possible when cutting crystal in the conventional way. klarenbeek & dros' 3D-printed crystal vases, decorative trays and candle holders work together to create a table top tableau that reflects the ever-changing icecaps, and expresses unique interpretations of swarovski's signature sparkle.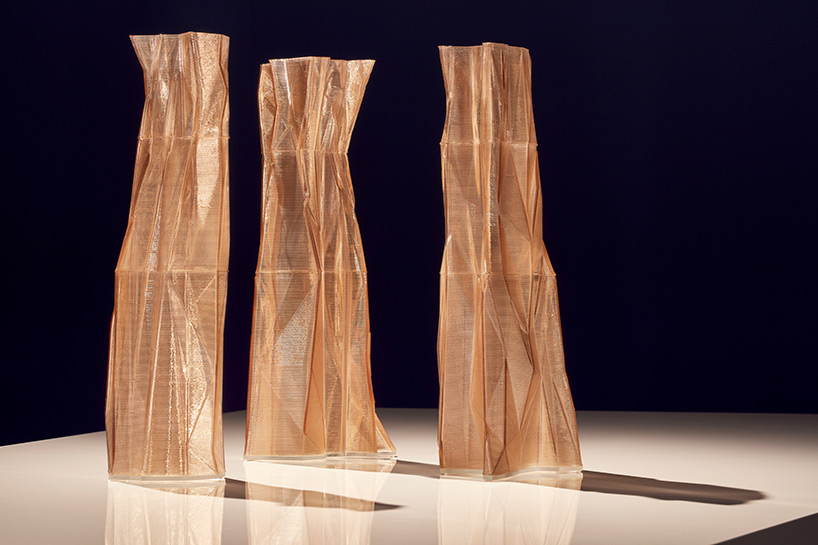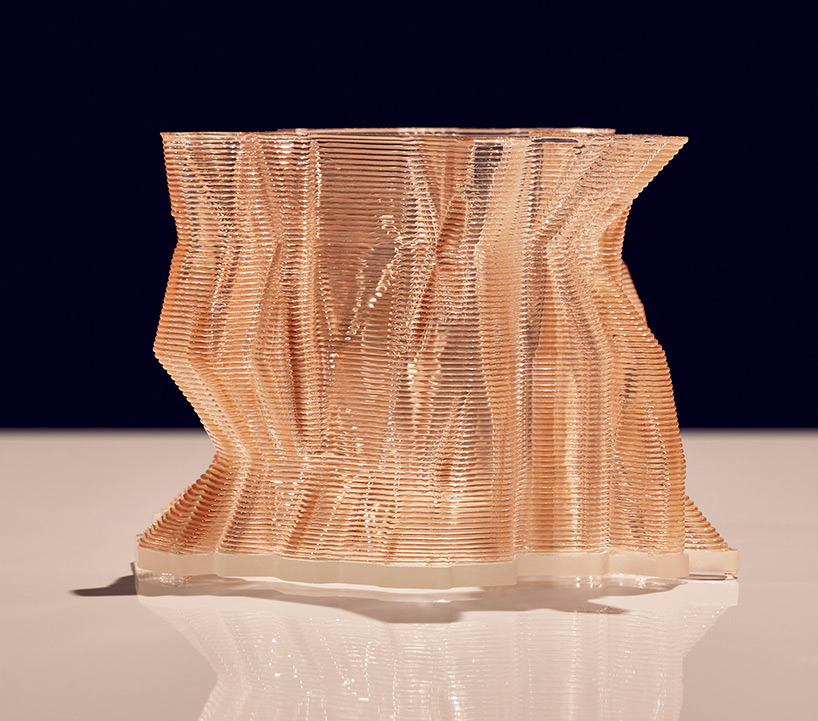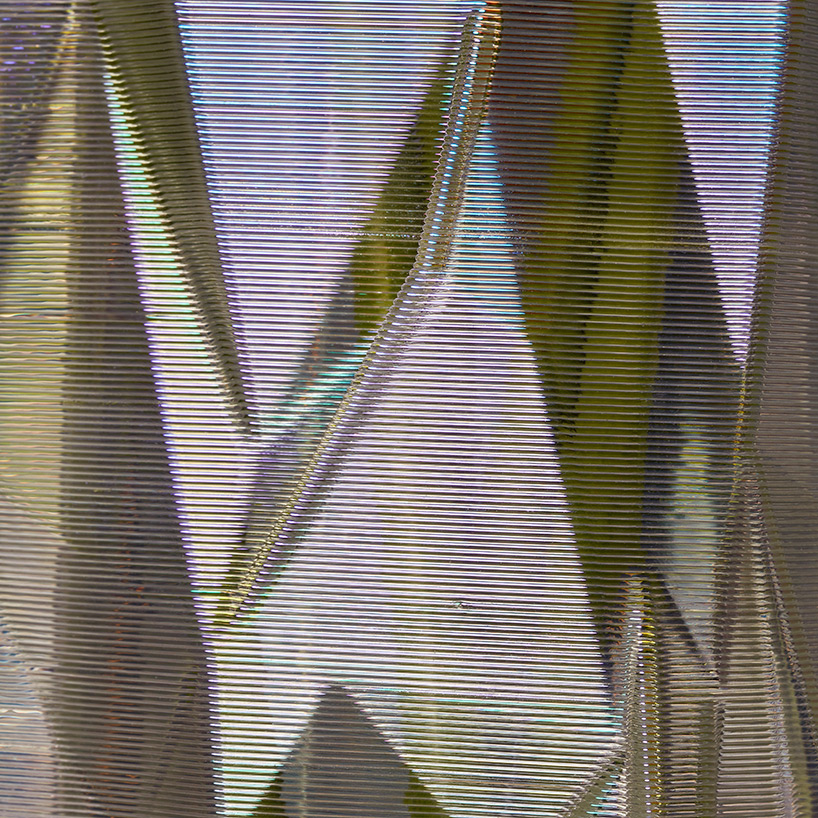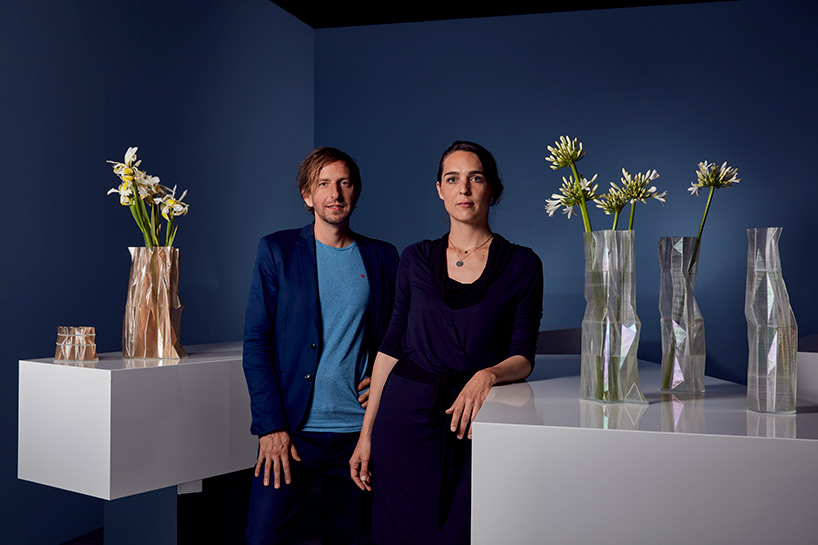 answering the lighting brief, raffe burrell has designed a collection of pieces that draw inspiration from waterfalls in the tyrolean mountains — ones which surround swarovski's headquarters in wattens, austria. burrell paired this natural environment with the art deco movement, delivering a contemporary twist on the traditional chandelier that highlights repetition of structure within the design. the designer chose to use existing blue shades of crystal components — which reflect the shapes that form as water cascades down the mountains — simultaneously reducing the environmental impact through the manufacturing process.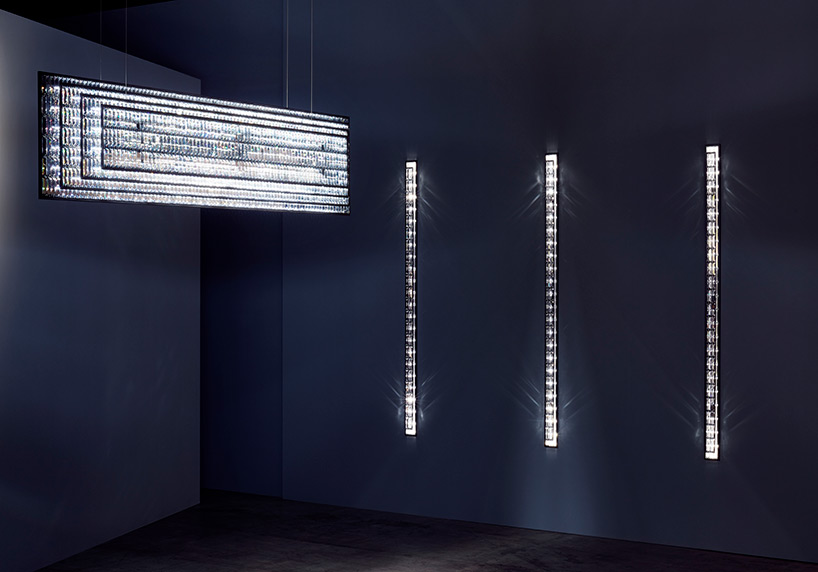 reflection by raffe burrell
'knowing that water is so key to swarovski,' burrell says, 'I wanted to use the prism crystal to reflect the shapes created by water cascading down a waterfall – whilst keeping the design contemporary and less like a traditional art deco piece but still somewhat inspired. swarovski crystal elevates it to a new level – it wouldn't be the same without it.'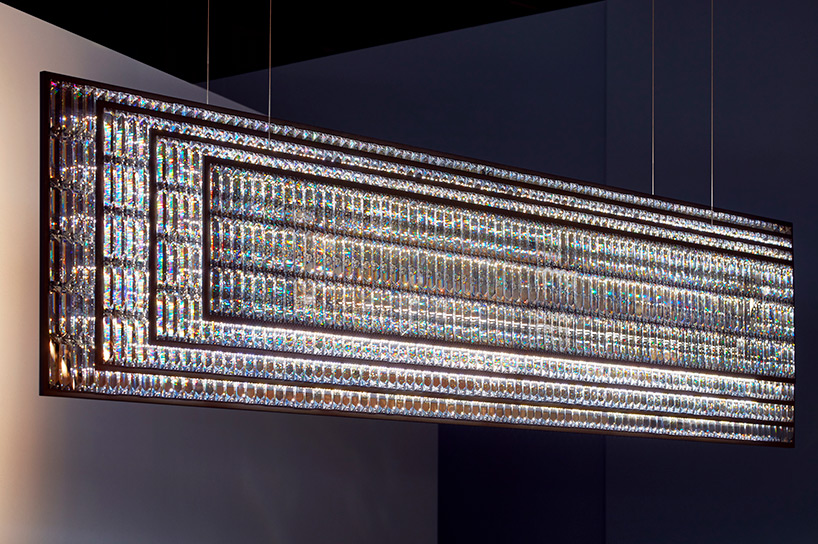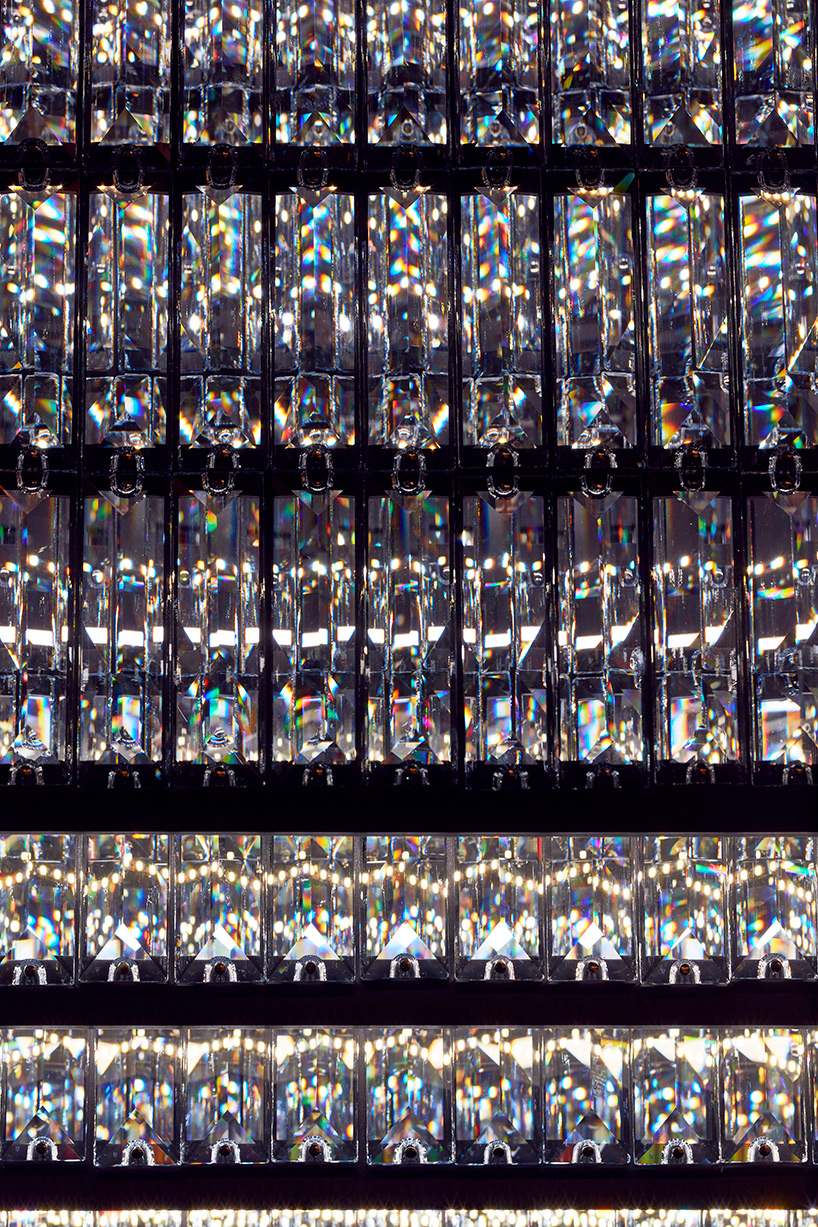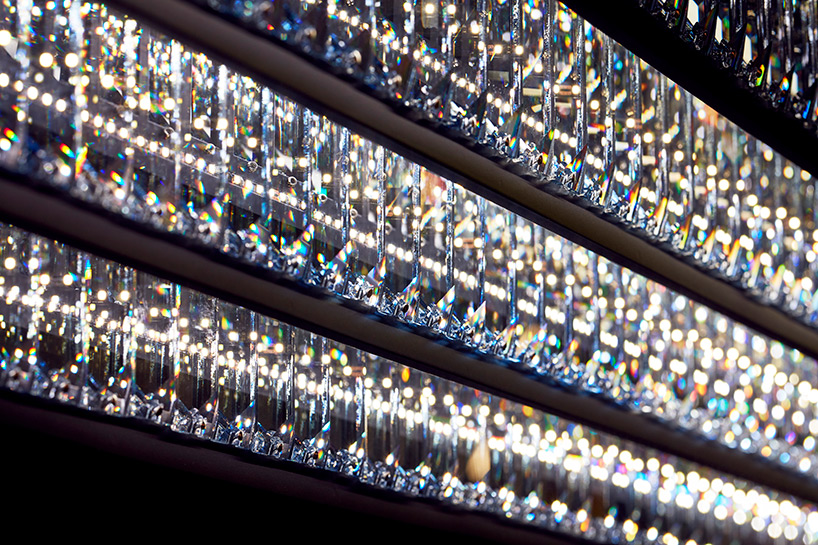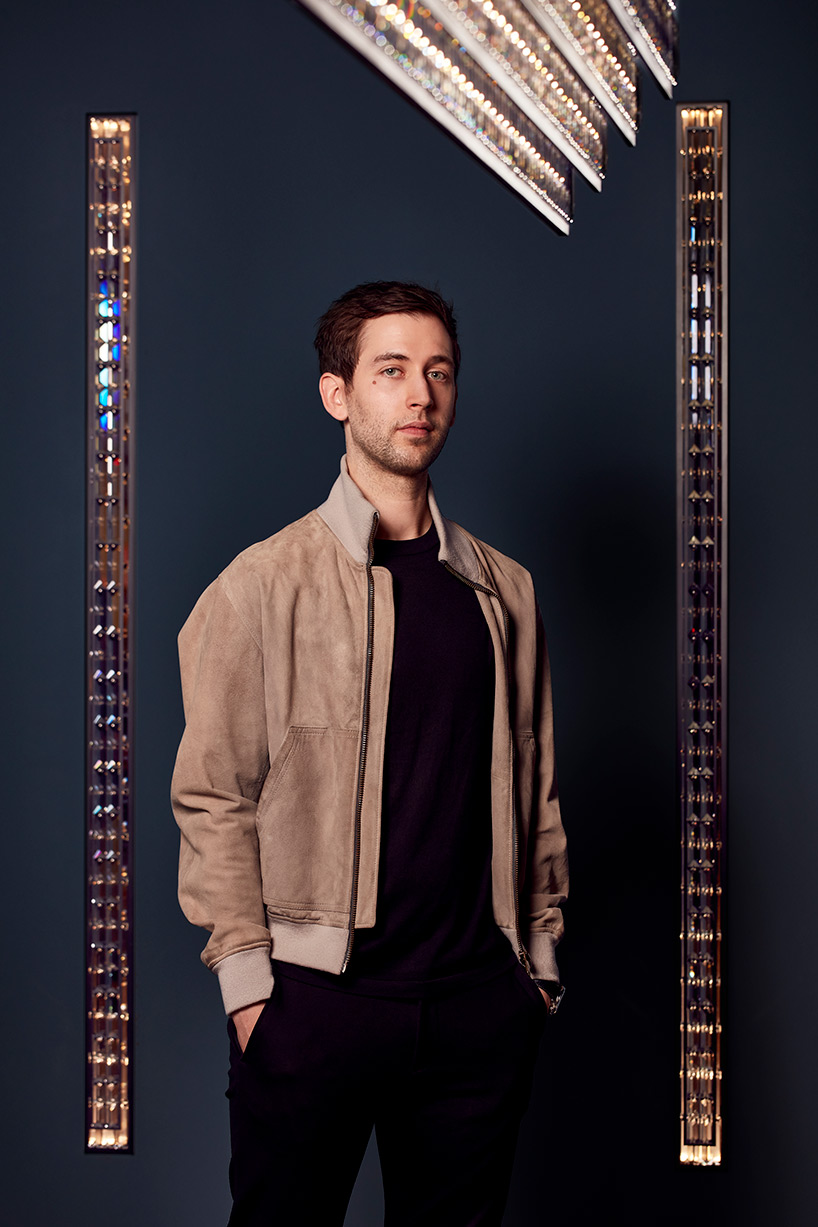 jul 23, 2019
jul 23, 2019
jun 17, 2019
jun 17, 2019
jun 16, 2019
jun 16, 2019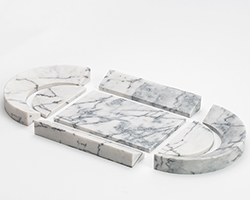 jun 09, 2019
jun 09, 2019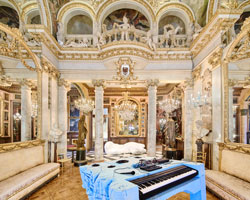 may 30, 2019
may 30, 2019
may 30, 2019
may 30, 2019
apr 05, 2020
apr 05, 2020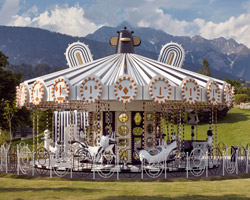 jul 08, 2019
jul 08, 2019
mar 22, 2019
mar 22, 2019
a diverse digital database that acts as a valuable guide in gaining insight and information about a product directly from the manufacturer, and serves as a rich reference point in developing a project or scheme.